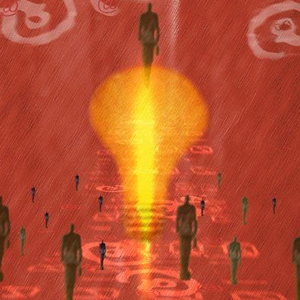 Commentary: African American Scientists and Inventors
by Black Kos Editor, Sephius1


Walter McAfee (1914-1995) in Ore City, Texas, attended public schools in Marshall, Texas, graduating high school with honors. He enrolled in Wiley College (Texas) where, in 1934, he graduated magna cum laude with a bachelor's degree in Mathematics. In 1937 he earned a Master of Science in Physics from Ohio State University. McAfee earned a Ph.D. in physics from Cornell University in 1949.
During World War II, Walter McAfee was a member of the U.S. Army Signal Corp Engineering Laboratories. There he distinguished himself in electromagnetism and radar. He was a member of the Project Diana team that was responsible for the first lunar radar echo experiments in 1946. The goal of Project Diana was to determine if a high frequency radio signal, could penetrate the outer atmosphere of the earth.
(con't.)
The solution was to send a radar signal to the moon and bounce it back to earth. For this they needed an accurate computation of the velocity of a position on the moon relative to a position on the earth. Dr. McAfee performed the calculations, and on Jan. 10, 1946, the experiment was successfully conducted. Unfortunately, McAfee's contributions to Project Diana (even his name) were not mentioned in news reports about the experiment.
Dr. Walter McAfee was a scientific advisor to the U.S. Arm Electronics Research and Development Command. For 42 years he worked for the government at New Jersey''s Fort Monmouth including service as director of a NATO study on surveillance and target acquisition. He was also a scientific advisor to the U.S. Arm Electronics Research and Development Command. He concurrently lectured in atomic and nuclear physic and solid state electronics at Monmouth College from 1958 to 1975.....Read More

In 1956, President Eisenhower presented McAfee with one of the first Secretary of the Army Research and Study Fellowships, which he used for post-doctoral studies in radio astronomy and ionospherics at Harvard University. With colleagues Felix Lavicka and Ockle Johnson, he analyzed data collected during high altitude nuclear explosions over the Pacific in 1959-60, and they showed for the first time that such explosions could cause communication black-outs. McAfee held a number of research and supervisory positions in the areas of wave propagation, passive sensing, target acquisition, and battlefield surveillance up to his 1985 retirement. He also taught courses in atomic and nuclear physics and in solid state electronics at Monmouth University from 1958 to 1975. He maintained membership in AAS throughout these changing responsibilities and interests......Read More
~~~~~~~~~~~~~~~~~~~~~~~~~~~~~~~~~~~~~~~~~~~~~~~~~~~
News by dopper0189, Black Kos Managing Editor
~~~~~~~~~~~~~~~~~~~~~~~~~~~~~~~~~~~~~~~~~~~~~~~~~~~

~~~~~~~~~~~~~~~~~~~~~~~~~~~~~~~~~~~~~~~~~~~~~~~~~~~
Can 'shopping while black' become a thing of the past? The Grio: Barneys damage control.
~~~~~~~~~~~~~~~~~~~~~~~~~~~~~~~~~~~~~~~~~~~~~~~~~~~
In less than a week, Barneys New York went from being one of the nation's most admired luxury department stores to becoming the target of damning allegations of racial discrimination.
Rev. Al Sharpton and community members met with the CEO of Barneys today to discuss the claims made by 19-year-old Trayon Christian, who filed a lawsuit last week with Manhattan Supreme Court alleging he was racially profiled by a store clerk after he purchased a $350 belt.
Another similar case surfaced this week when 21-year-old Kayla Phillips said she was recently stopped and questioned by NYPD after she purchased a $2,300 purse from the same flagship store in New York.
The revelation of these incidents has angered the black community, with some African-Americans vowing to never shop at the store again.
"We have a huge problem with people's constitutional rights being violated in this city," Rashad Robinson, the executive director of ColorOfChange, the nation's largest online civil rights organization, told theGrio.
"Now that we see this happening in more stores, it leads to a lot of questions. It's a larger issue," he adds, referencing recent allegations of similar discriminatory activities at Macy's and Bergdorf Goodman.


~~~~~~~~~~~~~~~~~~~~~~~~~~~~~~~~~~~~~~~~~~~~~~~~~~~

~~~~~~~~~~~~~~~~~~~~~~~~~~~~~~~~~~~~~~~~~~~~~~~~~~~
This is a good question. ColorLines: What Do People Get Out of Racist Costumes? A Cognitive Psychologist Explains.
~~~~~~~~~~~~~~~~~~~~~~~~~~~~~~~~~~~~~~~~~~~~~~~~~~~
It's one thing to repeatedly warn against wearing racist costumes. But it's another thing entirely to understand why people wear them in the first place. We asked Kristina Olson, a cognitive psychologist who teaches at the University of Washington and whose work focuses on race, to shed some light on the thought process.

Every year around Halloween we see photos of people in racist costumes. As a cognitive psychologist, can you talk a little bit about what goes on in people's minds when they wear these get-ups?

I wish we could blame things like ignorance and people really not knowing the significance of things like blackface, but it's hard for me to imagine in 2013 that people could really be ignorant to the history of what things like blackface have represented. Given that this comes up every single year, sometimes multiple times per year, it's hard to say that it's ignorance.
As someone who studies race and is really interested in how people think about race, often we've moved into a place where a lot of race bias we see is a lot more implicit. But these kinds of events come up and I think we forget that there is still this pretty blatant kind of race-biased behavior. The people that seem to do it don't understand or are choosing to ignore the fact that this kind of racist humor not acceptable. One thing that I try to take from events like this is that part of the reason why they make the news is because not everyone thinks it's okay so when it goes happen, there's an outcry because so many of us realize how inappropriate it is.

One interesting thing that you sort of alluded to just now is that there seems to be this lack of empathy when people wear racist costumes. There was the story of the guys this year who dressed up like Trayvon Martin and George Zimmerman, for instance. The thing that people fall back on so often in this is, "But I'm not racist!" We have these ideas that racism has to be very explicit— and in these cases they definitely are — but people are able to distance themselves from their actions



~~~~~~~~~~~~~~~~~~~~~~~~~~~~~~~~~~~~~~~~~~~~~~~~~~~

~~~~~~~~~~~~~~~~~~~~~~~~~~~~~~~~~~~~~~~~~~~~~~~~~~~
The Ernest J. Gaines Award for Literary Excellence is the nation's biggest literary prize for African-American writers. The Times-Picayune: Novelist Attica Locke wins biggest U.S. award for African-American writers.
~~~~~~~~~~~~~~~~~~~~~~~~~~~~~~~~~~~~~~~~~~~~~~~~~~~
Novelist Attica Locke has won the Ernest J. Gaines Award for Literary Excellence, adding the nation's biggest literary prize for African-American writers to her expansive resume.
Administered by the Baton Rouge Area Foundation, which announced Locke's award on Tuesday (Oct. 29), the annual award comes with a $10,000 prize. It is named after one of Louisiana's most prominent authors.
Locke got the nod for her second novel, "The Cutting Season," which was published by Dennis Lehane Books.
"The Cutting Season" tells the story of a fictional 2009 murder on a Louisiana sugar plantation – a crime that exposes secrets dating to the Civil War. In unraveling the mystery, Locke examines larger issues of race and class.
Locke, a native of Houston, is the seventh writer to win the Gaines award. Previous honorees include Dinaw Mengestu, Victor Lavalle, Stephanie Powell Watts, Jeffery Renard Allen, Ravi Howard and Bogalusa native Olympia Vernon.


Attica Locke has won the 2013 Ernest J. Gaines Award for Literary Excellence for her second novel, "The Cutting Season." (BRAF)
~~~~~~~~~~~~~~~~~~~~~~~~~~~~~~~~~~~~~~~~~~~~~~~~~~~


~~~~~~~~~~~~~~~~~~~~~~~~~~~~~~~~~~~~~~~~~~~~~~~~~~~
Today, Republicans in the Senate voted to block two key Obama nominees: Rep. Mel Watt of North Carolina for the Federal Housing Finance Agency, and attorney Patricia Millett for D.C. Circuit Court of Appeals judge. Watt, a member of the Congressional Black Caucus, was apparently blocked because Republicans said they didn't want a politician running the beleagured housing agency, according to Politico. The FHFA is expected to do more to help homeowners and those who've been displaced from their homes due to the housing crisis that started in 2009 — a crisis that hit homeowners of color hard while leaving them out of the benefits of the current recovery.
Watt is a real estate lawyer, and in Congress he serves as a member of the Financial Services committee. He has advocated for policies to secure affordable housing and end predatory lending.
Congressional Black Caucus Chair Marcia Fudge said in a statement that she is "very disappointed" that Watt wasn't advanced forward to lead the housing agency. There is only one other time in history that a sitting member of Congress has been blocked from the President's nomination to a Cabinet-level post — Rep. Caleb Cushing of Massachusettes for Treasury — and that was before the Civil War.
"This is a disgrace to this body and a disservice to the American people," said Rep. Fudge.
Also blocked was attorney Patricia Millett, who formerly worked for the U.S. Justice Department and is a board trustee for the Lawyers' Committee for Civil Rights Under Law. Millett has been voted one of Washington, D.C.'s 100 Most Influential Women Lawyers by the National Law Journal and one of the 100 Most Powerful Women in Washington, D.C. by Washingtonian Magazine. She's also a second-degree black belt in Tae Kwon Do.


~~~~~~~~~~~~~~~~~~~~~~~~~~~~~~~~~~~~~~~~~~~~~~~~~~~


~~~~~~~~~~~~~~~~~~~~~~~~~~~~~~~~~~~~~~~~~~~~~~~~~~~
My friends know I love maps, especially interactive ones. I would love to see one of thse covering the entire New World, especially Haiti, Brazil, and the USA. ColorLines: This Scholar Created a Brilliant Interactive Map of Slave Rebellions.
~~~~~~~~~~~~~~~~~~~~~~~~~~~~~~~~~~~~~~~~~~~~~~~~~~~
Vincent Brown, a professor of African and African-American History at Harvard, has made study of the Transatlantic Slave Trade accessible in a new way. Brown has created an interactive map of Jamaican slave uprisings in the 18th century called, "Slave Revolt in Jamaica, 1760-1761, A Cartographic Narrative."
Brown teamed up with Axis Maps to do the project. "An emerging alliance between historians and mapmakers promises to enlighten public perceptions of black insurrection…As with more recent disturbances, people at the time debated whether the slave insurrection in Jamaica in 1760-61 was a spontaneous eruption or a carefully planned affair," Brown said to a British newspaper. "Historians still debate the question, their task made more difficult by the lack of written records produced by the insurgents. Cartographic evidence developed in collaboration with Axis Maps shows that the rebellion was in fact a well-planned affair that posed a genuine strategic threat, not an indiscriminate outburst."


To see the interactive map, go to
revolt.axismaps.com/map.
~~~~~~~~~~~~~~~~~~~~~~~~~~~~~~~~~~~~~~~~~~~~~~~~~~~


~~~~~~~~~~~~~~~~~~~~~~~~~~~~~~~~~~~~~~~~~~~~~~~~~~~
Unfortunately we need to hold the celebrations on the end of "Stop and Frisk" in NYC. ColorLines: Federal Appeals Court Blocks Stop-and-Frisk Ruling.
~~~~~~~~~~~~~~~~~~~~~~~~~~~~~~~~~~~~~~~~~~~~~~~~~~~
In a blow to civil rights, the Second Circuit U.S. Court of Appeals has blocked a judge's landmark ruling about stop-and-frisk. In mid-August of this year, Judge Shira Scheindlin concluded that New York Police Department officers routinely violated the rights of people of color by using racial profiling to target people to be searched under the controversial program.
The City of New York appealed, however—and today, Judge Scheindlin's ruling was remanded, because appeals court found that Scheindlin "ran afoul of the Code of Conduct for United States Judges," by granting interviews about the case, and exposing her partiality. That means that Scheindlin's off the case, her ruling—which included the implementation of an independent monitor to track reforms, and a pilot program for officers to wear lapel cameras—has been stayed, and a new district judge will be chosen at random. New oral arguments on the case are now expected in March of next year.
You can read the Appeals Court's decision for yourself in its three-page entirety.


~~~~~~~~~~~~~~~~~~~~~~~~~~~~~~~~~~~~~~~~~~~~~~~~~~~
Welcome to the Black Kos Community Front Porch!
Pull up a chair and sit down a while and enjoy the autumn air.