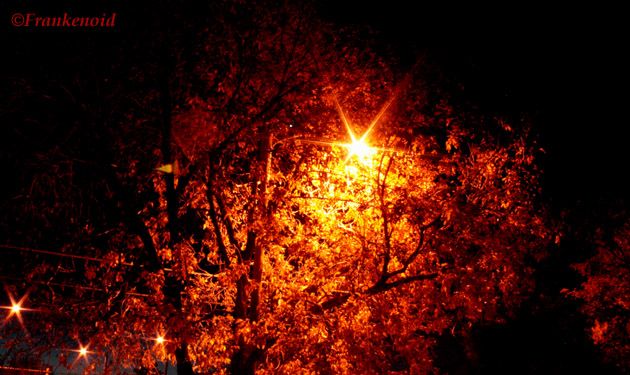 Good morning, and fall has fallen. Welcome to Saturday Morning Garden Blogging.
During October we were a bit colder than normal here in Denver — 3.2° colder than normal out at the airport. We also had less moisture than normal, although the first measureable snow of the year arrived on time.
I took this photo of the neighbor's tree early Halloween morning; I was hoping to get another try at catching the way the streetlight plays with the leaves yesterday morning but alas — the gusty winds of Halloween had stripped it of it's leaves.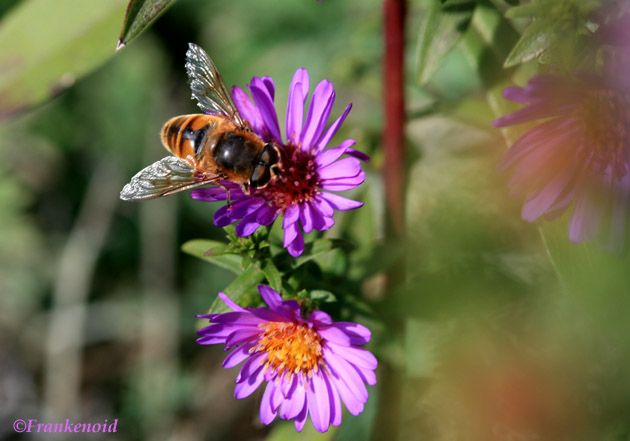 We have had a lovely mix of cooler, cloudy days interspersed with days of warm sunshine. Last weekend I took advantage of a lovely day to move a couple of stands of iris, rescue a daylily from being overwhelmed by another stand of iris, and to plug a few daffodil and hyacinth bulbs into the ground.
At least, that was the plan.
And the plan went straight into the shitter at the point of rescuing the poor, struggling daylily — trying to separate out one corner of a stand of overgrown iris is impossible.
So instead of having just a few iris to divide, and find room for elsewhere, I ended up with a tub of iris to relocate.
And, since I hadn't planned on dividing all those iris this year, I didn't mark which variety was which while they were in bloom. All I know for sure was it was a mix of varieties, and I don't have other stands of most of them — so I need to replant them all. Just need to find some room in the back flower beds to turn into an iris nursery.
We're forecast to have a couple of days of warmth, with the high getting to the 60s under sunny skies, so I'll be able to work at getting the iris rhizomes into the ground.
That's what's happening here. What's going on in your gardens?