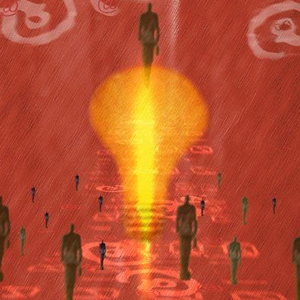 Commentary: African American Scientists and Inventors
by Black Kos Editor, Sephius1


Roger Arliner Young (1914-1955) was the first African-American woman to receive a doctorate in zoology, after years of juggling research and teaching with the burden of caring for her invalid mother. Her story is one of grit and perseverance.
Roger Arliner Young grew up in Burgettstown, Pennsylvania. In 1916, she entered Howard University. In 1921, she took her first science course, under Ernest Everett Just, a prominent black biologist and head of the zoology department at Howard. Although her grades were poor, Just saw some promise and started mentoring Young. She graduated with a bachelor's degree in 1923.
(con't.)
Her relationship with Just improved her skills, and he continued working with her. According to his biographer, Just probably chose a woman protégé because he thought men more likely to pursue lucrative careers in medicine than to remain in academe.* Just helped Young find funding to attend graduate school.
In 1924 she entered the University of Chicago part-time. Her grades improved dramatically. She was asked to join Sigma Xi, an unusual honor for a master's student. She also began publishing her research. Her first article, "On the Excretory Apparatus in Paramecium," appeared in Science in September 1924. She obtained her master's degree in 1926.
Just invited Young to work with him during the summers at the Marine Biological Laboratory, Woods Hole, Massachusetts, starting in 1927. Young assisted him with research on the fertilization process in marine organisms. She also worked on the processes of hydration and dehydration in living cells. Her expertise grew, and Just called her a "real genius in zoology."
Early in 1929, Young stood in for Just as head of the Howard zoology department while Just worked on a grant project in Europe. It was the first of many trips to Europe for Just and the first of many stand-in appointments for Young. In the fall of that year, Young returned to Chicago to start a Ph.D. under the direction of Frank Lillie, the embryologist who had been Just's mentor at Woods Hole. But she failed her qualifying exams in January 1930.....Read More
~~~~~~~~~~~~~~~~~~~~~~~~~~~~~~~~~~~~~~~~~~~~~~~~~~~
News by dopper0189, Black Kos Managing Editor
~~~~~~~~~~~~~~~~~~~~~~~~~~~~~~~~~~~~~~~~~~~~~~~~~~~

~~~~~~~~~~~~~~~~~~~~~~~~~~~~~~~~~~~~~~~~~~~~~~~~~~~
This has been a very good year for black themed films. BusinessWeek:
In Hollywood, Black Is the New Black.
~~~~~~~~~~~~~~~~~~~~~~~~~~~~~~~~~~~~~~~~~~~~~~~~~~~
The only film on this weekend's box-office Top 10 that wasn't on more than 2,000 screens was director Steve McQueen's acclaimed 12 Years a Slave, which expanded from a little over 100 screens to 410 and earned an impressive $4.6 million. Even in its limited introduction, the slavery drama has earned $8.7 million so far and is already being held up as an Oscar front-runner. It's set to start making a lot more money very soon with an expansion to about 1,000 theaters next week.
The film, which stars Chiwetel Ejiofor as a free man from New York who is abducted and sold into slavery in the South, may also wind up being the most prominent example of what has been, by all accounts, a remarkable year for movies dealing with the subject of race. It comes on the heels of Lee Daniels' The Butler, which has so far grossed $115 million and is also likely to be an Oscar contender. Earlier this year, meanwhile, the Jackie Robinson biopic 42 made $95 million, off a $40 million budget.
Even when films dealing with race haven't made boatloads of money, they have managed to seize the cultural spotlight. The independent Fruitvale Station, with echoes of the Trayvon Martin shooting, found itself in theaters right around the time of the verdict in George Zimmerman's trial and became an important part of the conversation. (Fruitvale made around $16 million—a very respectable amount given its low budget and modest release.)
Thanks to films such as these and others, including Blue Caprice and the upcoming Black Nativity, this year "may go down in the scriptures as the greatest year for black actors, directors, and themes in Hollywood history," Vanity Fair's James Wolcott wrote recently. While politicians periodically call for national dialogues on race, he noted, only Hollywood appears to be heeding that call.
This hasn't always been the case. For a long time, in fact, Hollywood was wary of the subject. Even as stars like Denzel Washington, Morgan Freeman, Samuel L. Jackson, and Will Smith became major players, their movies often shied away from tackling the issue; only occasionally would a film like Do the Right Thing or Boyz N the Hood break through. George Lucas, of all people, famously spent 23 years trying to make Red Tails, his film about the Tuskegee Airmen. Along the way, just about every Hollywood studio said no to the project over supposed concerns that the story's all-black heroes would fail to resonate with "mainstream" audiences. (The film was finally released last year and made a relatively tepid $48 million at the box office, far less than the $100 million that Lucas is reputed to have spent making and marketing it.)


~~~~~~~~~~~~~~~~~~~~~~~~~~~~~~~~~~~~~~~~~~~~~~~~~~~
The web is opening up opportunities for POC to tell their own stories. Slate: A Day in the Life of a Black Actress.
~~~~~~~~~~~~~~~~~~~~~~~~~~~~~~~~~~~~~~~~~~~~~~~~~~~
While filming a movie for Nickelodeon a few years ago, actress Andrea Lewis had an eye-opening experience. One of her fellow cast members showed his agent around set, addressing everyone by both their real and character names. When he got to Lewis—the only black person on set—he introduced her as "Andrea … the urban one." As she recalls on her website,

I was so confused, I mean I understand that I'm the only black girl in this movie and more than likely I was cast because they needed a dose of color and this is their way of showing "diversity" but to be introduced to someone in that way? The urban one? Wow! I didn't see myself that way.
That moment inspired her to write and star in Black Actress, a new Web series appearing on Issa Rae's YouTube channel. In the premiere episode, Lewis plays Kori Bailey, an actress returning to the ever-stressful auditioning world after a "much-needed" hiatus and a breakup with her boyfriend, whose own acting career seems to be on the rise.
~~~~~~~~~~~~~~~~~~~~~~~~~~~~~~~~~~~~~~~~~~~~~~~~~~~

~~~~~~~~~~~~~~~~~~~~~~~~~~~~~~~~~~~~~~~~~~~~~~~~~~~
Relaxer cream and the dependence on it to maintain bone straight hair—has fallen out of favor. The Grio: Natural hair care's next wave.
~~~~~~~~~~~~~~~~~~~~~~~~~~~~~~~~~~~~~~~~~~~~~~~~~~~
According to research by consumer trends firm Mintel, relaxer sales have "declined 26% since 2008 [when sales were at $206 million] and 15% since 2011 when sales reached $179 million—the only category not to see growth."
Mintel expects sales to drop even further this year to an estimated $152 million as African-American women increasingly opt for styles that don't require them to chemically alter their natural curl pattern. The Mintel report found that, "in the past 12 months, nearly three-fourths (70%) of Black women say they currently wear or have worn their hair natural (no relaxer or perm), more than half (53%) have worn braids, and four out of 10 (41%) have worn locks."
Moreover, 48 percent of the women Mintel polled, "believe natural or curly hairstyles exude confidence and the same percentage consider them daring. Meanwhile, 45% of Black women think natural coifs are trendy." This report marks a real shift in African-American beauty culture, and is something of a resurgence hearkening back to the dawn of the Afro.


A black woman with natural hair. © Lvnel - Fotolia.com
~~~~~~~~~~~~~~~~~~~~~~~~~~~~~~~~~~~~~~~~~~~~~~~~~~~
These ancient amulets form an important link in the depiction of blacks in classical Greece. The Root: Scarabs Bear the Faces of Black Men.
~~~~~~~~~~~~~~~~~~~~~~~~~~~~~~~~~~~~~~~~~~~~~~~~~~~
Black-head scarabs are directly derived from the literal form of the sacred scarab, or kheper. Representations of this highly venerated insect go back to the earliest period of Egyptian history. The scarab beetle was both a symbol of the spontaneous generation of life and of the sustaining energy of the sun as it coursed through the sky. These mystical associations invested the image of the scarab with a great range of spiritual powers. As objects of personal adornment for the living, scarabs functioned as amulets to be worn on one's person or as stamps for the sealing of documents and important goods. Scarabs, including the black-head type, often bear inscriptions recording the hope of the bearer for good fortune.
Black-head scarabs originated during the late Egyptian Middle Kingdom (circa 1600 B.C.). The convex, oval form of the scarab provided a shape comparable to that of a human head. Even on such a small scale, the heads reveal an impressive, keenly observed variety of black facial types. Although the features of some heads may be exaggerated, they are never caricatural and reveal no trace of racial animosity.
A full millennium later, production of these black-head scarabs continued at Naukratis and other locations around the Mediterranean, sure proof of their popularity and continual relevance within Egyptian culture. Many of the heads made at Naukratis bear the raised marks of ritual scarification on their foreheads. These distinctive features resemble the actual practice of ancient Nubians living in present-day southern Egypt and northern Sudan.
The Egyptians firmly believed in the auspicious power bestowed by the imagery of their gods. It follows that the head of a black also held some mystical significance, since it evolved directly from the scarab type and was used for the same purpose. Although the derivation of this belief remains obscure, the same apotropaic qualities continue to have been attributed to the image of the black in later periods of antiquity.



Scarabs with heads of blacks (modern casts). From Naukratis, Egypt. VI century BC.


OXFORD, ASHMOLEAN MUSEUM


~~~~~~~~~~~~~~~~~~~~~~~~~~~~~~~~~~~~~~~~~~~~~~~~~~~

~~~~~~~~~~~~~~~~~~~~~~~~~~~~~~~~~~~~~~~~~~~~~~~~~~~
Lonnie Johnson was handsomely compensated following a royalty dispute with the toy-making giant. Atlanta Journal-Constitutiont: Super Soaker Creator Awarded $72.9 Million From Hasbro.
~~~~~~~~~~~~~~~~~~~~~~~~~~~~~~~~~~~~~~~~~~~~~~~~~~~~
The Atlanta-based company behind the Super Soaker water gun and Nerf toy guns has been awarded nearly $73 million in royalties from toymaker Hasbro Inc., according to the law firm King & Spalding.
Johnson Research and Development Co. and founder Lonnie Johnson have been in a royalty dispute with Hasbro since February, when the company filed a claim against the giant toy company. According to King & Spalding, which along with the A. Leigh Baier P.C. law firm represented Johnson, Hasbro underpaid royalties for the Nerf line toys from 2007 to 2012.
*
Johnson, a nuclear engineer, Tuskegee University Ph.D. and former NASA scientist, founded his company in 1989. It was the same year he first licensed the Super Soaker, which generated more than $200 million in retail sales two years later, the company said. The toy was licensed to Larami Corp., which was later purchased by Hasbro.
Johnson holds more than 80 patents, with more than 20 pending, the company said, which said sales of the Super Soaker have approached nearly $1 billion.
As an Alabama high school senior, Johnson finished building a remote-controlled robot with a reel-to-reel tape player for a brain and jukebox solenoids controlling its pneumatic limbs, according to a 2008 profile in the Atlanta Journal Constitution


~~~~~~~~~~~~~~~~~~~~~~~~~~~~~~~~~~~~~~~~~~~~~~~~~~~
Welcome to the Black Kos Community Front Porch!
Pull up a chair and sit down a while and enjoy the company.