I grew up in a town that, even then, was three to four times the size of the town I live in now. And it was only an hour away from a big city. We had field trips from my school at least once a year. We would go to places in town such as the art museum and the natural history museum; we would go to the university and see a play once a year. I remember seeing the long ranks of school buses lined up in the parking lots and along the streets on campus and the magical experience of getting out of school to do something else, and not feeling as though I was playing hooky (I was a good girl and didn't do hooky, at least at that age). We would go to Kansas City, to the history museum where you could crawl into a tipi, and my last field trip in school was to the art museum when I was in an art class my sophomore high school year, in 10th grade. I don't know when I had been there on a class fieldtrip before (my parents had taken me a couple of times in addition), but I remember wishing that I could have gone somewhere else. Ironic now that I am still going to that same museum on a regular basis, and that now I keep track of the special exhibits and encourage my students to go on their own.
In school we would sometimes do very careful preparation for the field trip, and sometimes it was completely new and the moment of discovery was the point of the trip. Most of the time we never thought about (or knew about) how much it cost to rent a bus or how much the gas cost. That was back at the time society still thought funding education was not a bad use for taxes. It is something I think about now, and I am very happy that our university gallery has raised money to bring school groups to campus from the small surrounding towns. I hope for some of them it will make an impact and they will still be visiting museums in their dotage, like me.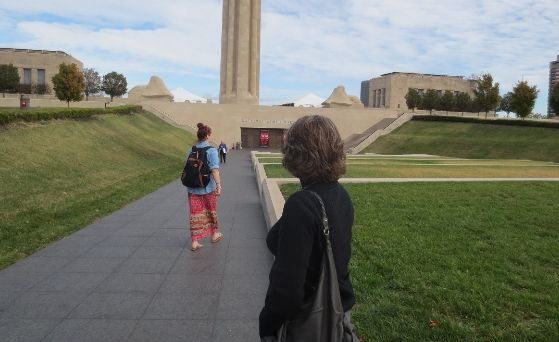 The entrance to the National World War I Museum at Liberty Memorial, Kansas City, MO.
I have been thinking about the impact and value of field trips because I took one with my undergraduate museum class two weeks ago. We met with curators and archivists and a registrar and some people who work as museum educators. They talked about what they have done in their careers, and what their current jobs entailed. One of the things that was repeatedly stressed was the importance of knowledge of computer programming and databases. This made my computer science major very happy.
Two years ago, when last I taught this class, the class went to St. Louis, to visit two museums where alumni had administrative positions. It was a successful trip, or so I heard. I had been experiencing great pain from ruptured discs in my lower back and I decided that four hours out and four hours back on a bus would not be a pleasant (or even tolerable) experience, and so I had a couple of colleagues who were able to supervise the trip. They met with several of our graduates and in the morning, at the Missouri History Museum, had a discussion with curators and others involved with a major exhibit, and in the afternoon visited the St. Louis Art Museum to meet with the education director, where they learned about the newest ideas in museum education, and then met with alumni who worked at the art museum and were at grad school in the city. The reason my school funded the trip was because it fulfilled my School's identified priorities of connecting students with alumni and promoting an understanding of the practical career possibilities that arise from their liberal arts degrees. These were good goals for the school and I think they were achieved by that field trip.
But there was something more to the experience than just achieving these goals, something both greater and more impactful than them, and yet at the same time, something that is smaller and more personal. It was fun. It was enriching, but it was also exciting. They got a behind the scenes view of museums and a sense of how being a museum professional would be, but they also had a break from sitting in a classroom or being in a small town. The short term impact of the fun of a field trip is important, but fun has a bigger impact in the long run. They remember the pleasure at visiting a museum, and although the museums they visit may not be the first ones they might choose to go to (which is why I pick two very different types of them each year), they may be more likely to return to ones if they enjoyed their college encounter. But the fun is also a part of the experience of the curators, educators, and other professionals they encountered. These are people who enjoy their jobs. The idea that work can be fun, challenging, and exciting in a wide variety of ways is important for college students to see. That inquiry and exploration can take place outside of a classroom, but can be a way of life. My goal for the class, and in fact, of any class I teach, is that "lesson." I know they are hearing over and over and over again that value in life and career choice is measured by salary. I know that is important, but I want students to know that there are a variety of potential measures of the worth of a job or career.
This time I specifically picked two museums that were different from those we had visited in the past. At one of them, a student who took my museum class two years ago now has an important position, so that was already on my list. In fact, both museums really almost picked themselves. At the National World War I Museum, we had an opportunity to visit what is honestly a state of the art global history museum, with technology in all sorts of contexts, superb objects in gorgeous displays, and a very important story to communicate.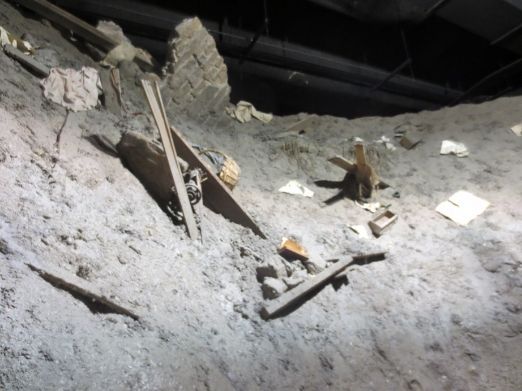 A reconstruction of what "over the top" looked like in the midst of trench warfare in World War I.
We are coming up on the centenary of the Great War, and my university is a participant in the Museum's initiative to record and commemorate the war in Missouri. I don't know what sort of commemoration my university is going to be doing (and the US centenary is not until the spring of 2017 so we have time to plan), but I want students to be more sensitive to the implications of the War to End All Wars. My ideal situation would be to take all our students (or perhaps only the freshman) and pack them off to see the museum, perhaps as a freshman week experience. The people who work there are very fine professionals, and they are well aware of the uniqueness of their museum within the U.S. (it is the only museum dedicated exclusively to WWI), and the rarity of the museum in a world-wide context.
My class met with the chief curator, the archivist, and registrar, and educator, and then students had an hour and a half or so to wander around the museum at their own pace. Some examined displays to get an idea of how they could do an exhibit on the Great War at our institution, while others spent a lot of time exploring the digital interactive displays which are laid out on big light tables. One student sat herself in one of the sound booths to listen to poetry being read and music of the Great War and started to write a bit of her own.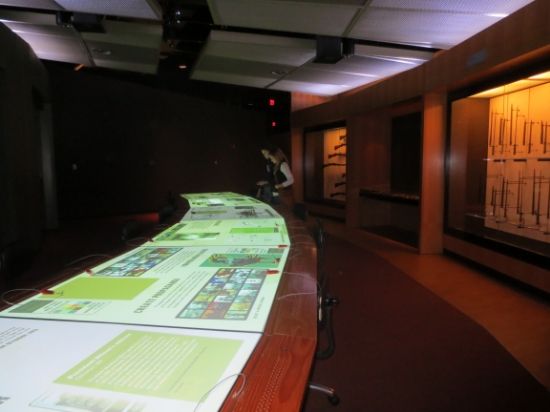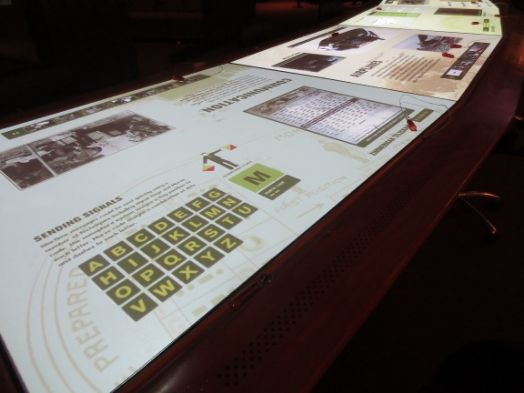 And we were treated well by Science City. I had planned to go there second, so that students would have a chance to run around and play and release their energy, after the more academic museum in the morning. I figured they would be able to run and jump and play with such things as a human-sized hamster wheel (hint: the best time to go to an interactive museum like that is after school groups would have left for the day on a weekday -- Tuesday at 3? We had the museum to ourselves, almost!). Then the idea was we would relax and calm down at the end with a planetarium show. It would have worked well, too, except they were too excited to be calm. I know they were happy, because I was treated to rather raucus karaoke almost the whole way back!
I don't think I needed to set a specific credit-bearing assignment for the experience. The experience itself, getting to see behind the scenes of two very different museums, was enough. They will remember it, and remember the long long field trip that was so much fun, even if we didn't get back to campus until 10:30 at night. Whether they go on to work in a museum, or teach school or college students, or simply have children of their own who may be going on field trips themselves, I think having made this trip will be a useful thing for their knowledge of history, museum practice, and for their attitudes toward what a museum visit can be.
And besides, even when you are an adult, it is just as wonderful to take a field trip as it was when you were in school. It may or may not be life changing, but it is still pretty cool.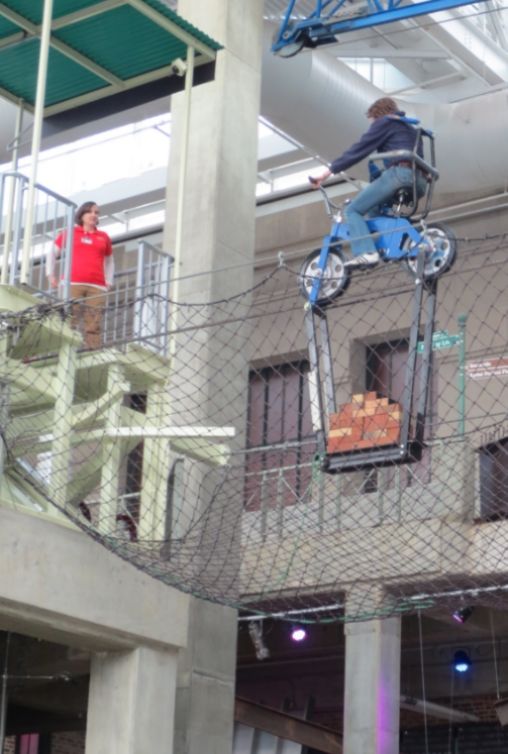 High wire bike at Science City.