In many cultures, such as in the United States, after death a body may be placed in some type of container for disposal. American English has two words for this container: coffin and casket.
Coffin:
Coffin came into English from Greek where it originally meant "basket of reeds, rushes, or bark." "Coffin" came into English in 1380. It was borrowed from the Old French "cofin" which came from the Latin "cophinus" which was taken from the Greek "kophinos" (κόφινος). In the Linear B syllabic script for Mycenaean Greek the word is written as "ko-pi-na."
When English adopted "coffin" the word was used to mean "box" and "chest" as well as "basket". It also came to be used in referring to a pie dish and the hollow space under a horse's hoof.
Sometime in the 1500s, "coffin" came to be used to describe a wooden burial box used for the dead. Today, this is the primary use of the word.
Casket:
The origins of "casket" are found in French. From the 1400s through the 1700s it referred to a small ornamented box for jewels. In the mid-1800s, the Americans tweaked the word a bit and undertakers began to use "casket" instead of "coffin." The word "casket" appears to have more elegance—i.e. the body is placed into an ornamented box for jewels, therefore the body is a valuable object.
Some Americans explain that a coffin is a six-sided box, while a casket is four-sided, rectangular container.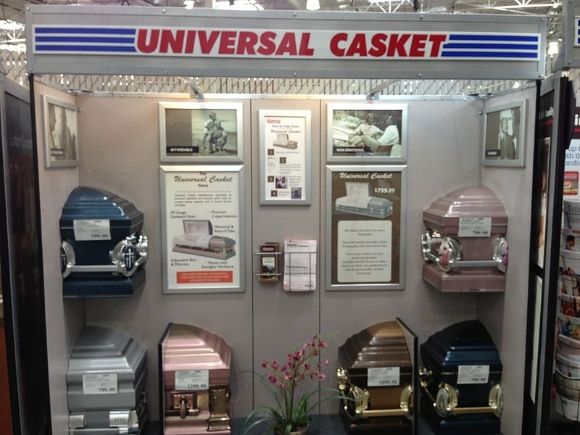 Shown above is a casket sales kiosk at Costco.