Incumbent U.S. Senator Brian Schatz (D-HI) has established a progressive record, focusing on climate change, Social Security, environmentally friendly forms of economic development and support for women/gay rights. He ranks high in Progressive Punch rankings along with Hawaii's other senator, Mazie Hirono. Hawai'i is a deeply progressive state (which today signed marriage equality into law).

It's expected Republicans will mount only token opposition (if any) to Schatz in next year's election. But he faces a primary challenge from conserva-dem Congresswoman Colleen Hanabusa in the Aug. 9 primary.
Schatz is campaigning as a progressive, as he's put together a coalition of labor and environmental groups. His campaign's message is that he should be allowed to continue working on the causes he's passionate about. Indeed, the campaign says he in fact will win because his progressive ideology is shared by most Hawai'i Democrats..
Hanabusa has yet to formulate a basis for ousting one of the most progressive Senators - other than implying that Schatz is too liberal and misrepresenting the memo.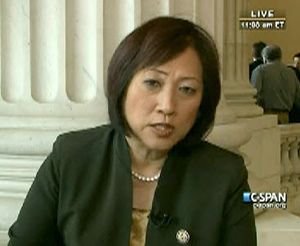 Just yesterday, her campaign sent yet another email announcing that she's writing off progressives (referred to by her spokesperson as "a single ideological group of Hawaii voters"), apparently in the quixotic hope of getting Republicans and independents to show up at polling places on a Saturday next summer and pull a Democratic ballot. Hawai'i has open primaries in which any voter can vote any party's primary.
It's a strange strategy, considering that Ed Case twice in the last decade tried to win a Senate seat in Hawai`i on the same basis and failed miserably both times. Case's claims that Daniel Akaka in '06 and Mazie Hirono last year were too liberal were solidly rebuked by the electorate.
But Hanabusa is a better fundraiser than Case and has more ties within the Democratic Party establishment (including former staffers to late Senator Daniel Inouye who are trying to again land D.C. jobs) and conservative elements of the labor movement (particularly the ILWU and building trades who also endorsed anti-environmentalist, anti-gay, anti-woman Mufi Hannemann in previous elections.)
Schatz's path to victory might not be as easy as that enjoyed by other Hawai`i progressives in recent years.
So, he could use some help. You know what to do: