Well hello there,
The usual disclaimers apply. This is a community open thread diary. It's being posted to the Street Prophets group but we've no membership requirements in the comments. All are welcome to join in, relax, have a cookie. You don't have to react to my blithering; it's an open thread. You can decorate the comments in your own style.
Just a quick update on the Czech political situation above and a peek at my latest artistic efforts below.
A few weeks ago the Czech Republic held some interesting parliamentary elections but as of this morning at least no definitive coalition government has been negotiated. The winning and losing parties continue to gnaw at themselves with a few entertaining news items being reported.
Well, Hašek and Tejc resigned their positions in the party leadership of ČSSD-- while maintaining that they see nothing bad in their covert meeting with President Zeman. But it seems that, for now, the ambitious pair are claiming that they'll support party leader Sobotka and work to maintain party unity.
Zeman himself is getting around in a wheelchair after he injured his knee in a fall. He made a statement that roused a lot of anger among people with physical disabilities. He said that he hopes to postpone any official naming of the members of parliament who will make up the new government until after he is out of the wheelchair and the ceremony can be handled "in a dignified manner"-- yeah, he continues to act like a real twit.
In related news, the founder of the break-away political party SPOZ that was formed to support Zeman has gone beyond his denouncement of the mismanagement of the party during the recent election which garnered them a laughable 1.5% of the vote. After turning off the SPOZ website (claiming that his reason for doing so was that hackers had filled it with porn) he has called for an audit of the campaign and is threatening to form yet another political party.
The main figure in ANO 2011, Andrej Babiš is under a lot of pressure to get the matter of his alleged ties to the secret police under communism investigated and resolved. As ČSSD, ANO and KDU-ČSL and other possible players enter into negotiations to form a coalition government there are still a few of these inner-party wranglings going on. Sobotka has said that he hopes to have the new government sworn in by New Year's Eve.
And my favorite, and his own favorite I'm sure, David Rath is out of prison and bookmakers are placing very long odds on him scampering over the border before the end of the year. I think the latest is 500:1 against on him vanishing. This as the trials continue and one of the largest construction firms in the country is accused of involvement in the corruption and bribery scandal. In a recent interview Rath admits to knowing about the illegal financing of campaigns and one particularly sneaky little scheme--
... where a company makes an agreement with the agency that provided the party with billboards or rallies. The sponsor gives money to the agency which then provides services for the party at a reduced price of perhaps, 20%. "So on the invoice it appears that the party got everything cheaply while the real costs were largely covered by dirty money."
Sounds to me like the sort of thing that must be happening all the time in the USA.
Sorry I didn't scrounge up anything about Hungary this week. Nothing jumped out at me from the news sources I browse either in paper or pixels.
A bit of blithering about my week and a picture I'm working on lie beyond the ginger hairball.
Too many bright days meant I accomplished zero work on my oil painting. But I did get some work done on an ink drawing that I plan to finish with lots of delicately detailed crosshatching. I scanned it before I added too much detail and began digitally adding some grey tones to my scanned image. Here's a look at the work in progress: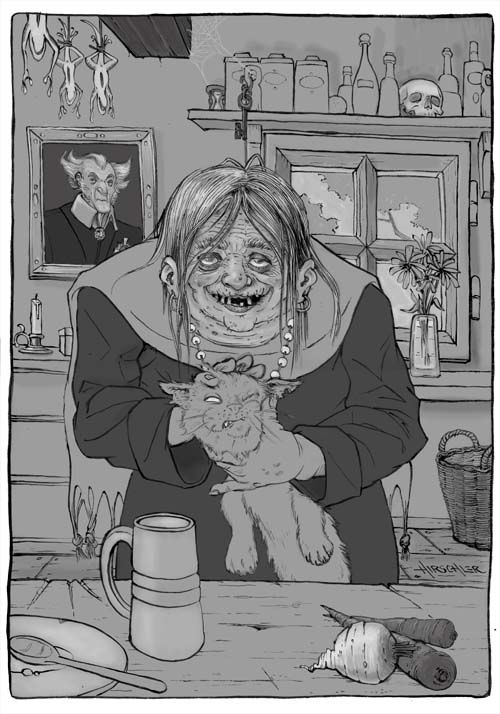 The black line work there is done with a brush, which happens to be my favorite tool for applying ink. The original is just over 11" x 16". I suppose this character will find her way into a collection of fantasy genre short stories I hope to write and illustrate over the next month or so.
On Wednesday I managed to finally get a contract signed and arrange payment for my graphic design work on a book written and illustrated by other people. I've been doing large and small changes to the book since the early Spring. The last phase of my involvement with this project should be next week when hopefully we'll be taking it to the printers.
I suppose all this work on other people's books has made me think more about publishing my own books. There have been some very informative diaries around Daily Kos on the subject of self-publishing (like this one, and that one) that make me feel as if I may have finally found something to replace my income from drawing storyboards.
And I continue to pick away at a website design for a friend. I think we've finally got all the images together-- now I just need to make all the buttons work.
First dusting of seasonal snow in Prague this morning. As a romper in snowdrifts I'm already looking forward to more. We had the winter tires on the car a couple weeks ago. The snow was pretty much gone by 9:00 when I walked over to the post office to buy some stamps so we could send out our Thanksgiving invitations. Should be a good crowd again this year. Last year my Favorite Female was at a conference in London during Thanksgiving Thursday so we moved our annual family gathering to the weekend. I've decided to make it a tradition and we'll be feasting on Saturday this year. And looking back on how things ended up between the pilgrims and the natives I'm pretty happy with not keeping the date.