Every day is a new day and with that, a new opportunity.
EVERYONE is welcome and please join us each morning at 7:30 AM PACIFIC
to tell us what you're working on, share your show & tell, vent, whatever you want...
...this is an open thread. Nothing is off topic.
(Diarist's note: I had a wonderful time at the Indianapolis Kossacks meetup yesterday. Many thanks to CityLightsLover for organizing it and for the great car magnet. I will leave it to her to blog it, though!)
Do you use any unusual idioms?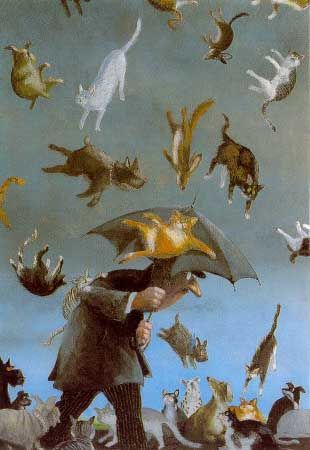 An idiom is a group of words established by usage as having a meaning not deducible from those of the individual words (e.g., raining cats and dogs). An idiot is a Teabagger (e.g., Sarah Palin). Now that we have cleared that up, let's talk about idioms.
Idioms are a source of great pleasure to logophiles but a pain in the ass to people trying to learn a new language. How do you explain "raining cats and dogs" to someone trying to learn English? Or "everything but the kitchen sink."
My mother used to say she was "busier than a bee in a tar bucket." I still use that one sometimes and get strange looks from people. But I have actually observed a yellow jacket buzzing around a tar bucket as a kid so I get it.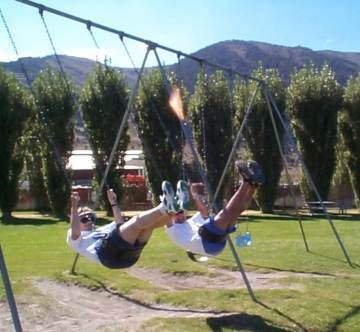 I heard a good one on the NPR show A Way with Words yesterday on my way to the Indianapolis Kossacks meetup. A caller said when she was a girl that when she was swinging on a swing set, if someone began swinging in synch with her, she would say, "Get out of my bathtub." I have never heard that expression before, but I think it's great. Neither of the hosts had heard it either. One of the hosts speculated with two theories: (1) When one was elevated on the swing, one was in a position similar to being in a bathtub or (2) it referred to the scooped out ground underneath a swing which resembles a bathtub in shape. There are various explanations on Teh Tubz.
This is off-topic, but speaking of that NPR show, a caller also inquired about the word meetup. He was an older guy and complained that the new president of his organization (I forget what it was) had begun using the term Meetup with a capital "m." The caller wondered why he didn't call them "meetings" and why he used a capital letter. The host explained that there was a website called meetup.com and perhaps that was why he capitalized it, although he shouldn't capitalize it unless the rules of grammar called for it. He also noted that meeting was a more formal term, implying a podium and an agenda. A meetup was more a casual get together involving people with similar interests. It was funny that I was moments away from my first Kossack group meetup when I heard that description. I wondered what the poor old guy would think of "meat-up."
Well, back to idioms. I like vivid ones like "the lights are on but nobody's home" and "don't cry over spilled milk." On the NPR show they also talked about the term "cracker jack," as in "GTP is a cracker jack plumber" or "Hunter is a cracker jack satirist" or "side pocket is a cracker jack pool player."
Just remember not to mislead someone trying to learn English when you say someone has "lost his head" or needs to "shake a leg."
So how about you?
Do you use any unusual idioms?

Image Credits:
Raining cats and dogs courtesy fizmarble.com
Swings courtesy kayeway.blogspot.com
Cracker Jack courtesy turnofthecenturyamerica.blogspot.com

Latest Updates on Kossack Regional Meet-Up News Below the New Day sunrise cloud
:: COMMUNITY BUILDING UPDATES ::
Let's build communities!

Every region needs a meatspace community like SFKossacks.
We take care of each other in real life.
I urge YOU to take the lead and organize one in your region.
Please tell us about it if you do and we're here for advice.
•
THINK GLOBALLY, ACT LOCALLY
>>>Instructions on
HOW TO FORM A NEW DAILY KOS GROUP
NEW GROUPS IN THE PROCESS OF ORGANIZING:


Send a Kosmail to the organizers and ask for an invitation to the group.

• Northern Indiana Area: Kosmail Tim Delaney

• Long Island: Kosmail grannycarol

• Northern Michigan: Kosmail JillS

• Nebraska: Kosmail Nebraska68847Dem

• Westburbia Chicago Kossacks: Kosmail Majordomo

• Caprock Kossacks (Panhandle/Caprock/Lubbock/Amarillo area) : Kosmail shesaid

• West Texas Kossacks (including Big Bend Region and El Paso) : Kosmail Yo Bubba

• Las Vegas Kossacks: Kosmail miracle11

• Vermont Kossacks: Kosmail 4Freedom

• Silicon Valley Kossacks: Kosmail Glen The Plumber

Note to the above new leaders: Feel free to leave a comment any day reminding readers about your new group. Also, tell us about your progress in gathering members. Kosmail me when you've chosen a good name for your group and have created a the group. Then I'll move you to the NEW GROUPS LIST. When you've planned a date for your first event I'll make a banner for you to highlight your event in our diaries and your diaries.
These are the groups that have started since * NEW DAY * began. Please Kosmail navajo if you have started a group before that.
NEW GROUPS LIST:

• California Central Valley Kossacks - Formed: Jul 29, 2012, Organizer: tgypsy

• New England Kossacks - Formed: Aug 6, 2012, Organizers:
Clytemnestra for Lower New England (Conneticut, Massachusetts, Rhode Island)
nhox42 for Upper New England (Maine, New Hampshire, Vermont)

• Houston Area Kossacks - Formed: Aug 7, 2012, Organizer: Chrislove

• Kossacks in India - Formed: Aug 14, 2012, Organizer: chandu

• CenTex Kossacks - Formed: Sep 9, 2012, Organizer: papa monzano

• Central Ohio Kossacks - Formed: Sep 26, 2012, Organizer: VetGrl

• Kansas City Kossacks - Formed Oct 15, 2012, Organizer: [Founder stepped down]

• Phoenix Kossacks - Formed Oct 16, 2012, Organizer: arizonablue

• Chicago Kossacks - Formed: Oct 31, 2012, Organizer: figbash

• Koscadia the Pacific Northwest coast from Northern California to Alaska
- Formed Oct 17, 2012, Oganizer: Horace Boothroyd III based in Portland, OR

• Boston Kossacks - Formed: Nov 7, 2012, Organizer: GreyHawk

• Motor City Kossacks South East Michigan (Detroit) Area - Formed: Nov 10, 2012, Organizer: peregrine kate

• Pittsburgh Area Kossacks - Formed: Nov 12, 2012, Organizer: dweb8231

• Salt Lake City Kossacks - Formed: Nov 17, 2012, Organizer: War on Error

• Twin Cities Kossacks - Formed: Nov 17, 2012, Organizer: imonlylurking

• Dallas Kossacks North Texas - Formed: Nov 21, 2012, Admins: Catte Nappe and dalfireplug. Please contact them to join the group. An Event Organizer needed.

• The Southern California Inland Empire Kossacks - Formed: Dec 3, 2012, Organizer: SoCaliana

• Los Angeles Kossacks - Formed: Dec 17, 2012, Organizer: Dave in Northridge

• Northeast Ohio Kossacks - Formed: Jan 16, 2013, Organizer: GenXangster

• Kansas & Missouri Kossacks - Formed: Jan 17, 2013, Organizer: tmservo433

• I-77 Carolina Kossacks who live from Columbia, SC to north of Winston-Salem, NC. - Formed: Jan 30, 2013, Organizers: gulfgal98 and eeff

• Indianapolis Kossacks - Formed: Feb 6, 2013, Organizer: CityLightsLover

• Southwest Ohio Kossacks - Formed: May 10, 2013, Organizer: Dr Erich Bloodaxe RN

• Northern Arizona Kossacks - Formed: Jul 5, 2013, Organizer: Sam Sara

• Mexican Kossacks - Formed: Apr 14, 2013, Organizer: roberb7

• New York Hudson Valley Kossacks - Formed: Oct 27, 2012, Organizer: boran2

• North Carolina Triangle Kosmopolitans - Formed: Aug 2, 2013, Organizer: highacidity
ESTABLISHED GROUPS LIST: (List will grow as we discover them)

• SFKossacks Founded by navajo, Formed: May 2, 2005

• Maryland Kos Founded by timmyc, Formed: Feb 23, 2011. Contact: JamieG from Md for a group invite.

• New York City Founded by Eddie C - Contact the group organizer for meet-up events: sidnora

• Baja Arizona Kossacks, Event Organizer: Azazello

• Three Star Kossacks Tennessee, Founded by maryKK, Formed: Apr 8, 2011

• Nashville KosKats, Founded by ZenTrainer Formed: Jan 30, 2012

• Virginia Kos Founded by JamieG from Md, Formed: May 3, 2011

• Kos Georgia Founded by pat208, Formed: Feb 13, 2011

• Colorado COmmunity Founded by Leftcandid, Formed: Feb 13, 2011

• New Mexico Kossaks Founded by claude

• Philly Kos Founded by mconvente Formed: Aug 29, 2011

• DKos Florida Founded by ThirstyGator, Formed: Feb 14, 2011, Currently organizing: Kosmail Vetwife to be included in next event.

• Oklahoma Roundup Founded by BigOkie, Formed: Feb 13, 2011, Currently organizing: Kosmail peacearena to be included.

• DKos Asheville Founded by davehouck, Formed: Feb 13, 2011 - Organizing Assist by: randallt

• San Diego Kossacks Founded by La Gitane, Formed: Nov 18, 2011

by tmservo433 ♥ for Kansas & Missouri Kossacks
L-R: Some where in this photo are Kossacks Glitterscale, Man Oh Man and tmservo433.
Please visit tmservo433's diary for a description of the rest of the attendees which were mostly non-Kossacks, but folks who should be there, such as, State Legislator John Wright. tmservo433 gathered a great group of Progressives and hopefully we can get a few more of them to join us at DKos. Kudos to tmservo433 for reaching out and uniting like-minded folk in Missouri!
You can join Kansas & Missouri Kossacks by sending a Kosmail to tmservo433.

by navajo ♥ for SFKossacks
L-R: SFKossacks meeting at the home of Andrew McGuire in the Wine Country
You can join the SFKossacks by sending a Kosmail to navajo.


by randallt ♥ for DKos Asheville
Asheville, NC gets out the vote!

The following is a brief roundup of the DKos Asheville Voter Registration Project's fourth outing. We've been setting up every Tuesday now for the last four weeks at Earth Fare, a natural food store at Westgate Shopping Center in Asheville. We have a nice spot on the patio outside the store. This time with less people but more snow, freezing weather and a killer wind!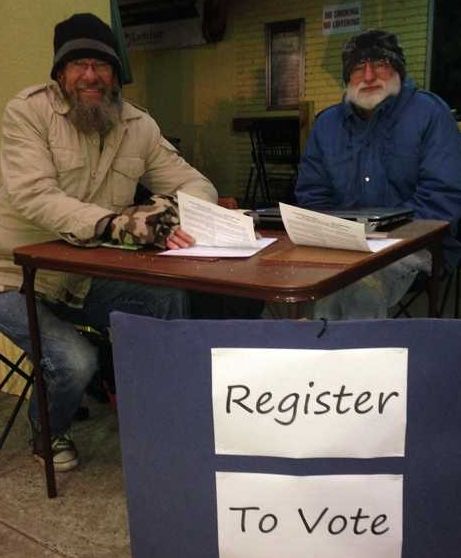 L-R: Intrepid volunteers, randallt and davehouck. Braving the cold.
My favorite excerpt from randallt's diary:

Mystery Kossack?

When I was inside getting my pizza, a woman came up to David with a great story. She was recently reading Daily Kos and had seen our pictures from one of our diaries or in the New Day daily post. On her way to the store today she was wondering if she might see us and she did. She was thrilled.
You can join
DKos Asheville
by sending a Kosmail to
randallt
.

Wednesday, October 30th

I-77 Kossacks Last Minute Meet-up

ORGANIZERS: Fineena and SteelerGrrl


L-R: Fineena, Steelergrrl, steelerdude, edrie, eeff, Poz, cskendrick

Reporting diary: I-77 Kossacks mini-meetup 10/30, updated with better photo

:: Events Currently on the Books for ALL Kossacks ::
Sunday, November 17th

Los Angeles Kossacks Meet-up

TIME: 2:00 PM
LOCATION: The Luggage Room Pizzeria
260 S. Raymond Avenue • Pasadena

ORGANIZER: Send Dave in Northridge a kosmail to attend.

RSVPs:
1. Dave in Northridge
2. susans
3. Otoelbc
4. Joe Bacon
5. jakedog42
6. DontTaseMeBro
7. DontTaseMeBro's husband
8. SanFernandoValleyMom
9. Flowingone
10. MugWumpBlues
11. Chiwere
12. Lisa
13. Richard (Mr. Lisa)
14. Shockwave
15. delphine

Maybees:
Zwenkau
deniserobb
mvanier


Latest diary: LA Kossacks: Meetup: Sunday, November 17, 2 PM, The Luggage Room, Pasadena: UPDATE


Sunday, November 24th

Colorado COmmunity Kossacks Meet-up

TIME: NOON
LOCATION: Annie's Cafe & Bar
3100 E Colfax • Denver

ORGANIZER: Send ColoTim a kosmail to attend.

RSVPs:
1. ColoTim
2. Phoenix Rising
3. Leftcandid
4. BadKitties
5. whoknu

Maybees:
bristlecone77


Latest diary: Colorado Meetup November 24th


Saturday, December 7th

Connecticut Kossacks Meet-up!

TIME: Noon
LOCATION: The Shamrock Pub & Grill
210 Meadow St. • Waterbury

The Shamrock is a short walk from the MTA Metro North Station. If anyone wants to take Amtrak, thankgodforairamerica can pick you up in Meriden and drive you to the event.

ORGANIZER: Send thankgodforairamerica a kosmail to attend.

RSVPs:
1. thankgodforairamerica
2. gchaucer2
3.

Maybees:
annieli


And for those with great fortitude:

TIME: 3:00 PM? or so (if you're not too tanked...)
LOCATION: Waterbury Skating Center
60 Harvester Road • Waterbury

RSVPs:
1. thankgodforairamerica
2.
3.

Maybees:

Latest diary: [Waiting for linked diary]

Send navajo a kosmail if you post a diary about an event so we can update our round-up.

Okay. Floor's open.
Tell us what you are doing on this NEW DAY?