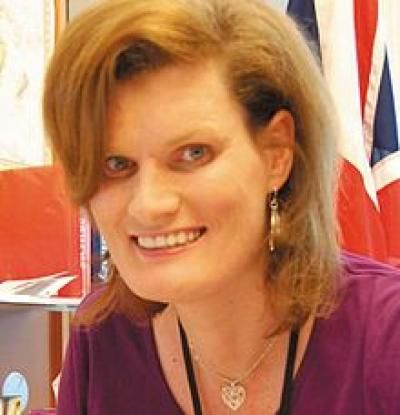 Nikki Sinclaire, 45, is a British Member of the European Parliament. She was party secretary of UK Independence Party until she resigned after a disagreement with party leader Nigel Farage over UKIP's alignment with racist, homophobic, and extremist parties. She then founded a new party, the single-issue We Demand a Referendum, which calls for the British public to be given the right to decide on EU membership.

She has also proved unable to collaborate adequately with the voluntary party in the UK, particularly with the regional committee in the West Midlands. The national executive committee has therefore removed the whip; Nikki Sinclaire may no longer describe herself as a UKIP MEP, and she may not stand as a UKIP candidate in the forthcoming general election.

-UKIP
She sued UKIP MEP Godfrey Bloom for sex discrimination and won her claim after UKIP offered no defense. Bloom had referred to her as "a queer."
On November 17 Ms. Sinclaire came out as a having been born male. There are reports that there is an autobiography, entitled Never Give Up, available somewhere. I finally located it at Junius Press. It is scheduled to be released on November 25 and will be available on Kindle.
The book's foreword reportedly reads:

There was one great secret that Nikki never shared with anyone other than her close friends and family.

Her's is a powerful personal story. Yet she insists it is only one facet of her life, and though it tormented her childhood and teenage years, it is one that no longer dominates her or her future.

As the first 'sex change' parliamentarian in Britain, Nikki Sinclaire has made history. But she is likely to be far happier, in the future, being known less as a statistic than for her conviction politics.
She says she has known that she was really a girl since she was three.
It sounds weird, but I knew something was wrong even then — I've always felt I was in the wrong body. I remember dressing up as a girl on my first day of school. It then started to happen every day. The other kids knew I was different.

--Nikki Sinclaire
She had a troubled childhood after discovering she could not undergo gender reassignment until she was 21. She says she used "sex and clubbing" in order to get through the hardest years. She became estranged from her parents after disclosing her plans to them.
She says that the surgery she underwent almost killed her.

After the operation I developed deep vein thrombosis and was immobile for nearly a year.

I suffered from depression, was on 21 different tablets and felt like I wasn't in control of my own life.

Gender re-assignment surgery nearly killed me — but it was something I had to do.

If I hadn't become a woman I would have led a lonely, neurotic life, forever out of place, endlessly consulting doctors and therapists at public expense. As it is I have become a happy, fulfilled achiever and I have repaid, in tax, the cost of my NHS operation many times over.

--Sinclaire
The day after she came out, she
dropped another bombshell
when she revealed that four years after her surgery, she was attacked and raped in central London.
Ms. Sincllaire says she was walking home along a busy road when someone grabbed her arm and kicked her leg to knock her over.

I gasped, overbalanced and landed painfully with a suffocating weight on top of me.

--Nikki Sinclaire
After the attack she was taken by a nurse friend to a hospital in Dartford, Kent, where DNA samples were collected and medics photographed her bruises. Since this happened in 1999, before the government recognized transwomen as women, her rape was only classified as an assault.
Ms. Sinclaire says she had begun to feel attracted to women shortly before her attack, after having no attraction to them as a youth, but the attack made her very 'anti-men' and led to her identification as a lesbian. She is now in a long-term female partner. They have been a couple since 2006, but do not live together.
In the 2012 American elections, Ms. Sinclaire campaigned for Tim Kaine in Virginia and canvassed for President Obama.

I don't want my past to overshadow it and believe my constituents will continue to support me.

I feel passionately that true equality happens only when your colour, creed, gender or sexuality is not a label used next to your name. We are not there yet.