Perhaps a bit more of a personal diary this week although--
The usual disclaimers apply. This is a community open thread diary. It's being posted to the Street Prophets group but we've no membership requirements in the comments. All are welcome to join in, relax, have a cookie. You don't have to react to my blithering; it's an open thread. You can decorate the comments in your own style.
Those of you looking for political news from this part of the world will probably be disappointed. The two big winners of the parliamentary elections last month are sitting down to talks to decide how the ministry posts will be divided. Andřej Babiš, leader of the second place ANO 2011 party, has told the leader of the leading party ČSSD, Sobotka that unless ANO gets the post of Finance Minister Sobotka will have to find someone else to join his coalition. Sobotka had originally proposed that the Prime, Finance and Interior Ministers should all be from one party but he remains optimistic that negotiations will not dissolve into a battle of personalities.
And that's about it from this end. But beyond the elegantly whorled ginger hairball I've got a few photos to share and a bit of nearly shameless self-promotion.
Shall we get the self-promotion out of the way first? I did manage to miss the latest Kos Katalogue bloggathon. I've been saying that I need to check the group page more often. Living several time-zones removed from most of you I'm sort of the stubby-tailed end to most things around Daily Kos. So here's a little stubby-tailed addition to what you might have seen of my work on The Kos Katalogue Mothership:


This is a richly detailed brush and ink drawing with layers of grey tones added in a painterly fashion using Photoshop-- the original is approximately 11" by 16" and I will be having archival quality full-sized prints made of it. They'll be signed and I suspect I'll be able to make them available for about $50. A message to me via kosmail or a note in the comments is enough to reserve one or multiple prints.
Alternately, you could head over to my on-demand printing store and look for Meg's smiling face on a wide variety of swag.
Oof, are you still with me?
How about a few photos as a meager reward for sitting through my sales pitch...
The dominant feature of Prague's eastern skyline is the still controversial Television Tower; voted #4 in CNN's 2012 list of ugliest structures in the world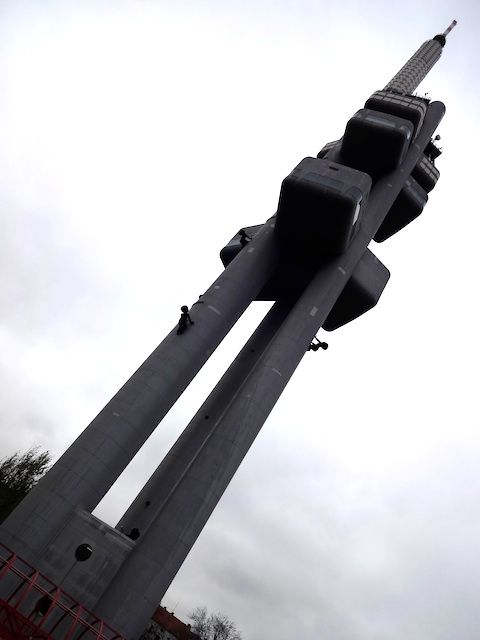 In 2000 the artist David Černy installed 10 huge statues of babies, in black plastic, crawling all over the tower. The immense popularity of the installation brought the babies back permanently the following year. After my haircut on Wednesday I walked past the tower on my way home and took a couple of pictures. I remember telling someone on Daily Kos about the babies and their disturbing faces. From the ground it's not easy to see the faces of the babies clearly but I found one and zoomed in for a closer look: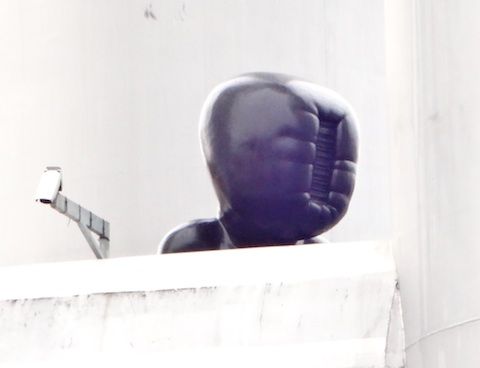 Yeah, most people say,"How cute, and silly!"
Creepy, although it should be obvious at this point that I rather enjoy creepy.
Today I got out and about again to help a friend of mine buy phone and internet service. After our errand we looked for a place for dinner and beer in the area and discovered that practically all of our old haunts had closed and we wandered for quite awhile. It was a dry pub crawl. We passed the memorial to the student protests and the Velvet Revolution. The anniversary was Sunday the 17th and there were still thousands of candles covering the ground along with wreaths, flowers and photographs: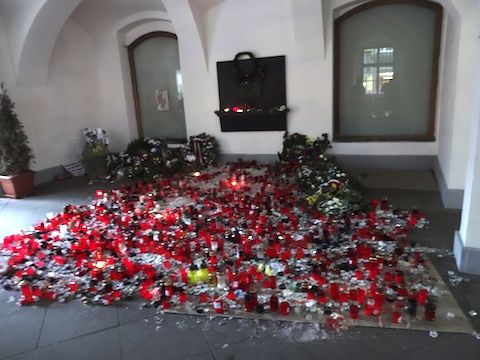 We crossed the river at the end of Narodní street where we saw two police officers catching wildly flapping swans with their hands and carrying them from one side of the bridge over to near their van parked on the other side.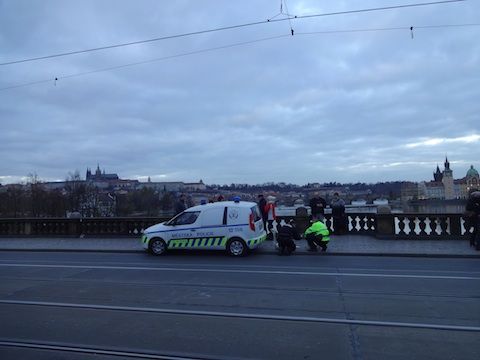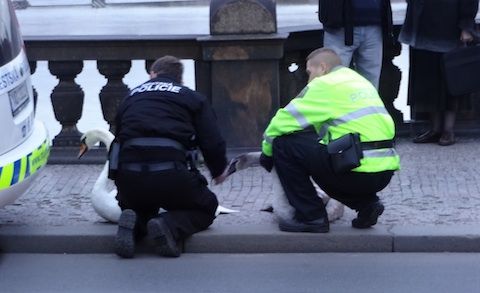 We didn't know what had happened. Had the swans been injured in some way? Were they just belligerently blocking traffic? The officer on the left had such confident control over his swan that he turned to touch the beak and neck of the juvenile swan held by the other officer. Perhaps examining it for injuries?
Eventually we found a place that met all of our criteria: good cheap beer, reasonably priced Czech food and a not overly smoke filled dining area. One sign that we'd found the right place was not being instantly handed an English/German menu. We'd stumbled upon the sort of pub where the locals go after work for a couple of beers before they head home to face the family. It was the sort of pub where a pack of twelve young students might just wander in on a Friday night hoping to find a table. The sort of pub where you find men sitting by themselves reading newspapers at tables around the bar and middle-aged women having a beer with an old friend in the dining area in the back.
And the food was good.
We decided we'd be back. We also decided that one day, perhaps in the Spring when the weather was warmer, we'd make a day of wandering around the downtown taking notes and making maps of new haunts to replace our lost ones.