Every day is a new day and with that, a new opportunity.
EVERYONE is welcome and please join us each morning at 7:30 AM PACIFIC
to tell us what you're working on, share your show & tell, vent, whatever you want...
...this is an open thread. Nothing is off topic.
How's your immune system in the winter?
What tips or tricks for staying well do you have?
Flu season hasn't really appeared in northern California yet, but it always picks up around the holidays, and I start using various strategies to ward it off, along with seasonal colds. Since I've hit on my current regimen I've only had a couple of mild, short colds over the past 4 years that, although annoying, didn't make me lose any work. (Watch me get slammed this year after saying that!)
Have you ever had the flu? I mean the real flu, the knock you down, throw your fevered ass in bed and everything aches including your eyelashes kind of flu. It's no fun.
My patients often ask me (in tones of trepidation) if I get flu shots. Of course I do! I'm a big fan of preventative medicine! And then I usually spend a little time debunking various myths about the flu shot. No, it can't give you the flu, etc etc and thank you veddy much Jenny McCarthy. My advice?

Fear the Flu, Not the Flu Shot!
But that's just one part of staying healthy in the winter. Here's some other ways I work on my resistance while seeing sick people all winter:
"Shields up!"
That's what I say to myself any time I walk into my office or into any public space where there might be sick people. Just as I consider every driver on the road a potential idiot until proven otherwise, every person I meet in winter is contagious with something whether they're showing symptoms or not. I imagine Star Trek shields instantly surrounding me on my command. This may just be wishful thinking on my part, but it does increase my vigilance and viral awareness. All the other steps below are part of enhancing the shields (which just got a major upgrade from the flu shot).
Wash Your Hands!
Yeah, gotta wash those hands frequently and also make the most conscientious effort possible to not touch your face, something I do all too often. No rubbing eyes or nose, no resting chin on palm, just plain don't touch! It pokes holes in the shields!
Vitamin D3:
Several years ago a patient of ours who is a nutritionist began encouraging us to increase Vitamin D3 intake in winter for its potential anti-viral properties. Coincidentally or not, I haven't had more than a mild one day cold since starting this. We're seeing that our patients who get blood tests for Vitamin D levels are nearly always deficient. It makes sense-- people stay indoors more, spend more time in front of computers, and wear sunscreen when they go out. The following is not medical advice -- I suggest you do your own research -- but here's what we take: 5,000 IU Vitamin D3 once daily during cold and flu season, and at the first sign of a scratchy throat or other warning sign, increase it to 10,000 IU for up to 5 days. For an extra added bonus Vitamin D3 also helps with depression, including S.A.D., something I also used to struggle with quite a bit in winter.
Rest!!
It turns out that lack of sleep does compromise your immune system. If I'm feeling tired, or run down I'll take a hot bath and go to bed early, and once or twice each winter when I'm feeling particularly vulnerable I reward myself with a Day in Bed (which means, sadly, not the same thing it did in my youth...) where I stay in my pajamas, make no plans, and hang out reading or watching TV all day.
Along the lines of rest and sunshine....for over 20 years now we've taken our vacation in the winter and go somewhere on the coast in Mexico. In the past we've gone in January, but are now experimenting with Thanksgiving week, which means less time off from work and, this year, a 26th anniversary celebration thrown in. It wards off the S.A.D. and means we'll go into the winter flu season well-rested and hopefully well. Ironically, we both caught the flu one year in Puerto Vallarta. The weather was rainy and the resort was packed with Minnesotans who were hacking and coughing, spreading their own strain of virus. My guess is we got it from them or from riding the buses and not washing hands afterwards. You really have to hold on to the railings-- those bus drivers are pretty wild guys down there! Lesson being, flu shots aren't 100% reliable, and you still have to keep your shields up all winter.
So, how do YOU do with the flu?


Latest Updates on Kossack Regional Meet-Up News Below the New Day sunrise cloud
:: COMMUNITY BUILDING UPDATES ::
Let's build communities!

Every region needs a meatspace community like SFKossacks.
We take care of each other in real life.
I urge YOU to take the lead and organize one in your region.
Please tell us about it if you do and we're here for advice.
•
THINK GLOBALLY, ACT LOCALLY
>>>Instructions on
HOW TO FORM A NEW DAILY KOS GROUP
NEW GROUPS IN THE PROCESS OF ORGANIZING:


Send a Kosmail to the organizers and ask for an invitation to the group.

• Northern Indiana Area: Kosmail Tim Delaney

• Long Island: Kosmail grannycarol

• Northern Michigan: Kosmail JillS

• Nebraska: Kosmail Nebraska68847Dem

• Westburbia Chicago Kossacks: Kosmail Majordomo

• Caprock Kossacks (Panhandle/Caprock/Lubbock/Amarillo area) : Kosmail shesaid

• West Texas Kossacks (including Big Bend Region and El Paso) : Kosmail Yo Bubba

• Las Vegas Kossacks: Kosmail miracle11

• Vermont Kossacks: Kosmail 4Freedom

Note to the above new leaders: Feel free to leave a comment any day reminding readers about your new group. Also, tell us about your progress in gathering members. Kosmail me when you've chosen a good name for your group and have created a the group. Then I'll move you to the NEW GROUPS LIST. When you've planned a date for your first event I'll make a banner for you to highlight your event in our diaries and your diaries.
These are the groups that have started since * NEW DAY * began. Please Kosmail navajo if you have started a group before that.
NEW GROUPS LIST:

• California Central Valley Kossacks - Formed: Jul 29, 2012, Organizer: tgypsy

• New England Kossacks - Formed: Aug 6, 2012, Organizers:
Clytemnestra for Lower New England (Conneticut, Massachusetts, Rhode Island)
nhox42 for Upper New England (Maine, New Hampshire, Vermont)

• Houston Area Kossacks - Formed: Aug 7, 2012, Organizer: Chrislove

• Kossacks in India - Formed: Aug 14, 2012, Organizer: chandu

• CenTex Kossacks - Formed: Sep 9, 2012, Organizer: papa monzano

• Central Ohio Kossacks - Formed: Sep 26, 2012, Organizer: VetGrl

• Kansas City Kossacks - Formed Oct 15, 2012, Organizer: [Founder stepped down]

• Phoenix Kossacks - Formed Oct 16, 2012, Organizer: arizonablue

• Chicago Kossacks - Formed: Oct 31, 2012, Organizer: figbash

• Koscadia the Pacific Northwest coast from Northern California to Alaska
- Formed Oct 17, 2012, Oganizer: Horace Boothroyd III based in Portland, OR

• Boston Kossacks - Formed: Nov 7, 2012, Organizer: GreyHawk

• Motor City Kossacks South East Michigan (Detroit) Area - Formed: Nov 10, 2012, Organizer: peregrine kate

• Pittsburgh Area Kossacks - Formed: Nov 12, 2012, Organizer: dweb8231

• Salt Lake City Kossacks - Formed: Nov 17, 2012, Organizer: War on Error

• Twin Cities Kossacks - Formed: Nov 17, 2012, Organizer: imonlylurking

• Dallas Kossacks North Texas - Formed: Nov 21, 2012, Admins: Catte Nappe and dalfireplug. Please contact them to join the group. An Event Organizer needed.

• The Southern California Inland Empire Kossacks - Formed: Dec 3, 2012, Organizer: SoCaliana

• Los Angeles Kossacks - Formed: Dec 17, 2012, Organizer: Dave in Northridge

• Northeast Ohio Kossacks - Formed: Jan 16, 2013, Organizer: GenXangster

• Kansas & Missouri Kossacks - Formed: Jan 17, 2013, Organizer: tmservo433

• I-77 Carolina Kossacks who live from Columbia, SC to north of Winston-Salem, NC. - Formed: Jan 30, 2013, Organizers: gulfgal98 and eeff

• Indianapolis Kossacks - Formed: Feb 6, 2013, Organizer: CityLightsLover

• Southwest Ohio Kossacks - Formed: May 10, 2013, Organizer: Dr Erich Bloodaxe RN

• Northern Arizona Kossacks - Formed: Jul 5, 2013, Organizer: Sam Sara

• Mexican Kossacks - Formed: Apr 14, 2013, Organizer: roberb7

• New York Hudson Valley Kossacks - Formed: Oct 27, 2012, Organizer: boran2

• North Carolina Triangle Kosmopolitans - Formed: Aug 2, 2013, Organizer: highacidity

• Silicon Valley Kossacks - Formed: Oct 31, 2013, Organizer: Glen The Plumber
ESTABLISHED GROUPS LIST: (List will grow as we discover them)

• SFKossacks Founded by navajo, Formed: May 2, 2005

• Maryland Kos Founded by timmyc, Formed: Feb 23, 2011. Contact: JamieG from Md for a group invite.

• New York City Founded by Eddie C - Contact the group organizer for meet-up events: sidnora

• Baja Arizona Kossacks, Event Organizer: Azazello

• Three Star Kossacks Tennessee, Founded by maryKK, Formed: Apr 8, 2011

• Nashville KosKats, Founded by ZenTrainer Formed: Jan 30, 2012

• Virginia Kos Founded by JamieG from Md, Formed: May 3, 2011

• Kos Georgia Founded by pat208, Formed: Feb 13, 2011

• Colorado COmmunity Founded by Leftcandid, Formed: Feb 13, 2011

• New Mexico Kossaks Founded by claude

• Philly Kos Founded by mconvente Formed: Aug 29, 2011

• DKos Florida Founded by ThirstyGator, Formed: Feb 14, 2011, Currently organizing: Kosmail Vetwife to be included in next event.

• Oklahoma Roundup Founded by BigOkie, Formed: Feb 13, 2011, Currently organizing: Kosmail peacearena to be included.

• DKos Asheville Founded by davehouck, Formed: Feb 13, 2011 - Organizing Assist by: randallt

• San Diego Kossacks Founded by La Gitane, Formed: Nov 18, 2011

• Massachusetts Kosmopolitans Founded by mem from somerville, Formed: Feb 13, 2011

by CityLightsLover ♥ for Indianapolis Kossacks
CityLightsLover pulled together another Indianapolis Kossack event. This time at a Mexican restaurant complete with her orangey Daily Kos tablescapes and schwag she produced herself.
Here's their group photo: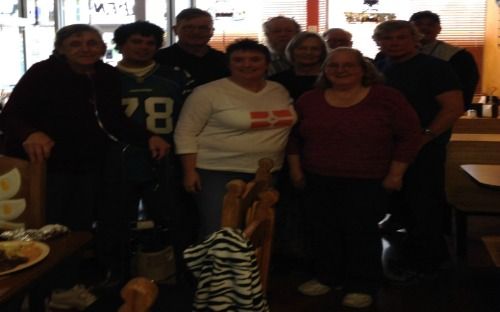 Lol. ONLY THE SHADOW KNOWS... Use your imagination and guess what these Kossacks really look like. L-R: maryabein, MKDAWUSS, Tim DeLaney, CityLightsLover, im2004Lurker, Mrs. Mokurai, Furbabies2013, Dragon5616, Mokurai and MITHRA666
Please visit CityLightsLover's diary for many MORE photos of those Daily Kos tablescapes and food pr0n! Enjoy! You can join Indianapolis Kossacks by sending a Kosmail to CityLightsLover.




by randallt ♥ for DKos Asheville

Asheville, NC gets out the vote!


The following is a brief roundup of the DKos Asheville Voter Registration Project's fifth outing. We've been setting up every Tuesday for the last five weeks at Earth Fare, a natural food store at Westgate Shopping Center in Asheville. We have a nice spot on the patio outside the store. This week with no icy wind and much more moderate temps. Oh it was cold alright, just not stupid cold. Back to having three of us was great. LamontCranston, David and Myself received many thumbs up and "thank you's" from passers by and shoppers and more than a few questions as to why we were doing this now. "Didn't we just have an election?". We officially re-registered one voter and took advantage of the interaction to do some Daily Kos evangelism. And here is a tease for next week. It involves llamas!

LamontCranston, our new Salvation Army bell ringer friend, randallt and davehouck

You can join DKos Asheville by sending a Kosmail to randallt.




by tmservo433 ♥ for Kansas & Missouri Kossacks




Organizer tmservo433
~Photo Courtesy of Michael Bersin

tmservo433 delivered a great event. Almost 30 people attended what tmservo433 calls the first session of the evening that lasted until 11:30 P.M. The second session of the evening included about ten more people lurking outside the door and some working as hotel staff inside the room. So after the meet-up ended, on-lookers from the hall and hotel service people wanted to talk about what they overheard coming out of the ballroom. For example, the round table discussion about the importance of increasing the minimum wage resonated with the waitstaff and they chimed in about that with strong opinons. A ballroom dancing couple applauded the progressive discussion they could hear on the other side of the partition. This event united progressives within its reach!

Please visit tmservo433's diary for written details on this terrific event! You can join Kansas & Missouri Kossacks by sending a Kosmail to tmservo433.




by tmservo433 ♥ for Kansas & Missouri Kossacks


L-R: Some where in this photo are Kossacks Glitterscale, Man Oh Man and tmservo433.

Please visit tmservo433's diary for a description of the rest of the attendees which were mostly non-Kossacks, but folks who should be there, such as, State Legislator John Wright. tmservo433 gathered a great group of Progressives and hopefully we can get a few more of them to join us at DKos. Kudos to tmservo433 for reaching out and uniting like-minded folk in Missouri!

You can join Kansas & Missouri Kossacks by sending a Kosmail to tmservo433.




by navajo ♥ for SFKossacks


L-R: SFKossacks meeting at the home of Andrew McGuire in the Wine Country

You can join the SFKossacks by sending a Kosmail to navajo.

:: Events Currently on the Books for ALL Kossacks ::

Sunday, November 24th

Colorado COmmunity Kossacks Meet-up

TIME: NOON
LOCATION: Annie's Cafe & Bar
3100 E Colfax • Denver

ORGANIZER: Send ColoTim a kosmail to attend.

RSVPs:
1. ColoTim
2. Phoenix Rising
3. Leftcandid
4. BadKitties
5. whoknu
6. apca
7. wade norris
8.

Maybees:
bristlecone77
Merry Light


Latest diary: Colorado Meetup November 24th and also COlorado COssack MeetUpdate!


Saturday, December 7th

Connecticut Kossacks Meet-up!

TIME: Noon
LOCATION: The Shamrock Pub & Grill
210 Meadow St. • Waterbury

The Shamrock is a short walk from the MTA Metro North Station. If anyone wants to take Amtrak, thankgodforairamerica can pick you up in Meriden and drive you to the event.

ORGANIZER: Send thankgodforairamerica a kosmail to attend.

RSVPs:
1. thankgodforairamerica
2. gchaucer2
3.

Maybees:
annieli


And for those with great fortitude:

TIME: 3:00 PM? or so (if you're not too tanked...)
LOCATION: Waterbury Skating Center
60 Harvester Road • Waterbury

RSVPs:
1. thankgodforairamerica
2.
3.

Maybees:

Latest diary: [Waiting for linked diary]

Send navajo a kosmail if you post a diary about an event so we can update our round-up.

Okay. Floor's open.
Tell us what you are doing on this NEW DAY?