Lord have mercy!
I just love watching and rewatching the video clip of Craig Cobb being told that his DNA analysis indicates that he has 14% Sub-Saharan background. I was laughing as hard as everyone else. Trisha Goddard was so right when she said, "You have a little black in you."
A few years ago we had a couple of students from West Africa at a tiny little school in eastern Montana. They were the only students who consistently responded to my questions prefaced by, "Yes, sir." Or "No, sir." One student came by my office and wondered aloud if the only thing Americans ate was hamburgers. So I promised him I would sneak into the cafeteria one afternoon and fix them up some real dinner. What did we have? Roast chicken and rice smothered with a hot, spicy stew of black-eyed peas and yams. With fried plantains, cornbread, and watermelon. I'm making a yam and black-eyed pea stew right now.
I realized that many of the foods we Southerners love are actually from West Africa. Fried chicken? Remember the English and French ate duck and goose. Black-eyed peas? Just like the cow peas of West Africa. Melons of all sorts? They wouldn't be growing in Yorkshire. And it makes sense. The first rice grown in North America was raised by West African slaves specifically selected for their knowledge of rice agriculture - the Gullah-Geechee. A delicious irony, indeed, that over the years slave cooks converted their masters to their own food preferences.
I was born just before the end of legal segregation in the South and spent my first few years in Alabama. I am forever grateful that my father took us to Puerto Rico when I was six. We were whisked from the epicenter of massive resistance to racial equality - to a culture where one's race mattered little to none. Still, our grandmother lived in Birmingham and we saw enough during those hot summers of the mid-1960s.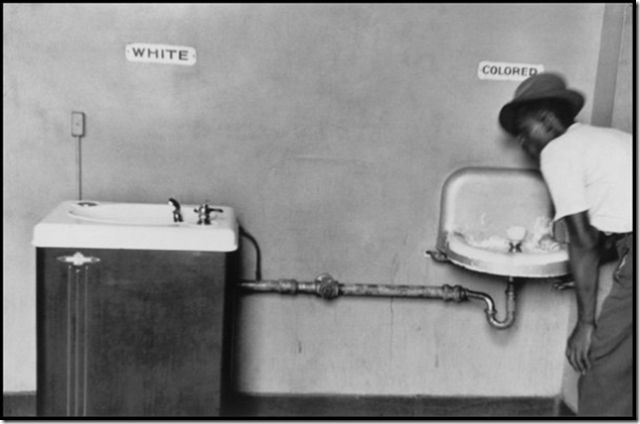 I remember one incident when I was about four before we left Alabama. We were at the new L&N train station in Birmingham. It was built in 1960 in a last desperate attempt to preserve segregation. In this case, the "separate, but equal" was a fairly accurate description. The two halves of the station were identical with separate waiting areas equally furnished and separate restrooms, of course. Between the two halves was the ticketing and baggage area.
We were waiting for the train to Montgomery when I wandered over to the "Colored " section. My mother and the station agent ran after me and told me I had to go back to the other side. I said, "Why?" Just like most four year old kids. Mother probably hissed something about "White folks and colored folks" in a tone that suggested that I was in deep trouble. I kept saying, "But why?" I dug my heels in and had to be dragged out by my mother with the help of the station agent.
I don't know why I remember this one incident so well, but I guess the supposed seriousness of my offense seemed way out of proportion to my actions. I also now know that an African American kid doing the same thing would have been treated way differently. In fact, an African American kid wouldn't have done what I did because his parents would have already warned him or her in no uncertain terms. Another thing I remember is how African Americans in the "Colored" waiting room were smiling broadly during this little episode. I think it was a lot more than a little kid acting up.
I have never bothered to have a DNA check of my background. On my mother's side we go back a zillion years in the South. And I know that my great-grandfather did a little messin' around. You know - that branch of the family tree no one seems to talk about. I would not be in the least bit surprised if I turned up with 14% Sub-Saharan DNA like Craig Cobb. But it really doesn't matter.
Despite the unthinkable horrors inflicted upon African Americans over the centuries of slavery and despite the grinding poverty of so many poor whites and despite the wealth of the few in the elite, there was a shared culture that came about in the South - DNA or no DNA. We know that there is the shared DNA, often from the repeated sexual assaults on slave women, but also from relationships which transcended race - none more so than that of Richard and Mildred Loving.
When I am laughing so hard I am about to pee in my pants and I finally catch my breath, I often say, "Lord have mercy!" I don't know whether that is a black expression or a white expression. I used to be embarrassed if I said it accidently. I'm not any more. And I'm just about to sit down to a dinner of yams and black-eyed peas over rice with a nice, hot slice of cornbread. Baked in a cast-iron skillet, of course.