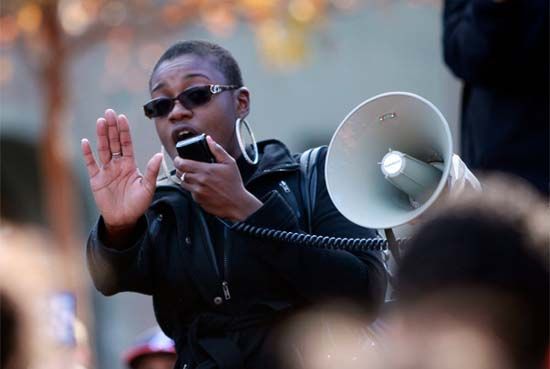 Champagne Ellison, San Jose State University senior, at protest rally (Karl Mondan)


Racial hate is not 'hazing'
Commentary by Black Kos Editor Denise Oliver Velez
Colleges and universities are supposed to be "institutions of higher learning". They are also places we expect our children to be safe. Yet once again there are headlines highlighting racism on campus.
No - not in Alabama or Mississippi, or Georgia.
This time it's at San Jose State in California.
I'm tired of people pointing at the south as the last bastion of racism in the U.S.
I'm also tired of headlines using the term "hazing". It diminishes the severity of the racism.
I agree with Reverend Jethroe Moore II:
"This is not simple hazing or bullying. This is obviously racially based terrorism targeted at their African American roommate," Reverend Jethroe Moore II, president of the San Jose/Silicon Valley NAACP said in a statement Saturday. "The community will not stand idly by and allow for any student of color to be terrorized simply due to the color of his skin."
This isn't simple campus fun and games. Three white students
have been charged
.
The students currently face misdemeanor hate-crime and battery charges for allegedly forcing their 17-year-old black roommate to wear a bicycle lock around his neck and taunting him with racial slurs that referred to slavery...

Campus officials learned about the alleged incidents last month, when the parents of the black freshman, who has not been identified, went to his dorm room and saw a racial slur on a dry-erase board, according to reports.

The student later told campus police that he had been repeatedly harassed, saying four of his roommates called him "three-fifths," referring to a slavery-era provision of the Constitution that counted slaves as three-fifths of a person. According to campus police, the roommates hung a Confederate flag in their suite and one had Nazi paraphernalia in his dorm room
A fourth student
has been suspended
.
The parents of the victim issued a statement:

As a family, we are deeply disturbed by the horrific behaviors that have taken place against our son. Our immediate focus is his protection.

We have taken a stand on this matter. Our response prompted the community to be alerted of the appalling conduct of the students involved. We appreciate the outpouring of support from our family, community and the efforts put forth by the Black Student Union of San Jose State University.

We are hopeful the District Attorney's office will take the necessary measures to ensure justice will prevail for our son.

Due to the sensitivity of the ongoing investigation, we are requesting privacy.

To protect his identity and not complicate the investigation, no further comments will be made at this time.
I'm not surprised. My own campus in NY is still confronting a series of incidents - the most recent one was a sign posted in a dorm "
Emmett Till deserved to die
"
One of my colleagues wrote:

The incident at my college was actually the latest in a series of racist occurrences at New Paltz in the past few years. For a self-proclaimed liberal college in a liberal town in one of the most liberal states in the country, these blatant displays of racism are both frustrating and frightening. New Paltz, both the college and the town, proudly promotes diversity, multiculturalism, tolerance, acceptance, and understanding. However, the recent spate of racist episodes challenges the very foundation on which these well-intentioned ideals are based.

What's equally upsetting is that these events are not unique to SUNY New Paltz. As the Journal of Blacks in Higher Education details on its website, racist incidents continue to plague colleges and universities across the United States. Whether it's "colored only" or whites only" signs being placed ("jokingly") on water fountains, confederate flags being hung in dorm rooms, racist skits being performed at fraternity or sorority events, racist graffiti being spray painted on campus buildings, or opposing players being taunted with racial slurs at sporting events, racism is undeniably widespread in higher education.
It is patently obvious from the listings on the JBHE site, that this is not a bunch of old folks, who are dying out. These are young people, ostensibly getting educated.
As teachers, parents, students, and anti-racists we must raise our voices, and protest while we educate.
The battle is far from won.
~~~~~~~~~~~~~~~~~~~~~~~~~~~~~~~~~~~~~~~~~~~~~~~~~~~
News by dopper0189, Black Kos Managing Editor
~~~~~~~~~~~~~~~~~~~~~~~~~~~~~~~~~~~~~~~~~~~~~~~~~~~


~~~~~~~~~~~~~~~~~~~~~~~~~~~~~~~~~~~~~~~~~~~~~~~~~~~
Her autobiography is a one-of-a-kind perspective of an educated, empowered, world-traveling daughter of a royal family, which no one wanted to publish until now. The Root: An African Princess Who Stood Unafraid Among Nazis.
~~~~~~~~~~~~~~~~~~~~~~~~~~~~~~~~~~~~~~~~~~~~~~~~~~~
Between 1939 and 1946, Fatima Massaquoi penned one of the earliest known autobiographies by an African woman. But few outside of Liberian circles were aware of it until this week, when Palgrave McMillian published The Autobiography of an African Princess, edited by two historians and the author's daughter.
The book follows Massaquoi, born the daughter of the King of Gallinas of Southern Sierra Leone in 1904, to Liberia, Nazi Germany and the segregated American South, where she wrote her memoirs while enrolled at Tennessee's Fisk University.
She died in 1978, and her story could have died with her.
For the most part, it did. That is, until Konrad Tuchscherer, St. John's University specialist in African history and language, stumbled upon it on microfilm while conducting research.
"I just thought it was the most amazing piece I had ever seen. I was very interested in the history of the Massaquoi family because they had such an important role in spreading the Vai script," he told The Root.
Ultimately, his interest in the tale took on significance beyond the proliferation of that particular ancient West African written language. "It's evidence that not only was there this thriving literary tradition among African people, but it was one that included women," he says. "Fatima is a granddaughter of a queen, a literate and empowered woman."
Determined to share the story, Tuchscherer hunted for contact information for Massaquoi's only daughter, Vivian Seton, who lives in Maryland. "I told her, 'I read your mother's autobiography and I want to be part of having it to be published.' "
Seton immediately agreed, insisting that her mother had predicted, on her deathbed, that one day "a man would call" and would want to publish her story. She joined Tuchscherer and Virginia State University historian Arthur Abraham, helping to coordinate a transcription and translation of the original text, and to find a publisher, which Tuchscher says was the most difficult part of the process.


Fatima Massaquoi, Arthur Massaquoi, and Momolu Massaquoi, Hamburg, Germany, ca. 1924.
COLLECTION OF VIVIAN SETON
~~~~~~~~~~~~~~~~~~~~~~~~~~~~~~~~~~~~~~~~~~~~~~~~~~~~~
Haiti's Prime Minister toured Silicon Valley's elite tech firms trying to persuade them to share support and innovation with the poorest country in the Americas. Miami Herald: Haiti's prime minister tours Silicon Valley.
~~~~~~~~~~~~~~~~~~~~~~~~~~~~~~~~~~~~~~~~~~~~~~~~~~~~~
From Google to Facebook to Apple, Haiti's Prime Minister Laurent Lamothe took a whirlwind tour through Silicon Valley's most elite tech firms, persuading some of the world's wealthiest and most successful corporate executives to share support and innovation with the poorest country in the Americas.
"Oh, cool!" he said Wednesday, slipping on Google Glass — Internet-connected eyeglasses — at Google Inc.'s headquarters before a ride in the company's driverless car.
Lamothe joins a growing stream of politicians, celebrities and CEOs taking these popular roadshows where they do a little business, a little schmoozing and quite a bit of questioning about how innovation happens in this booming tech region.
If there was an opposite of the affluent Silicon Valley, where entire municipalities have free Wi-Fi, it could be impoverished Haiti, where fewer than 1 percent of Haitians are regularly online.
But there are Internet cafes throughout Port au Prince, and cellphone use is leapfrogging landlines. Some of the millions of dollars of earthquake relief and recovery aid has been spent on trying to get the country wired, including a $3.9 million program launched this fall to deploy 65 miles of optical fiber in the country's southern region.
On Wednesday, Lamothe was sharing his vision for an even more wired Haiti, which begins with gathering data, from mapping all of the health clinics to conducting a census-like count of the population. The country has no ZIP codes and would like to replace its mail address system, which includes mentioning proximity to mango trees or intersections, with geolocation.


Haiti's Prime Minister Laurent Lamothe wears Google Glass during a demonstration and tour at the Google headquarters complex Wednesday, Nov. 20, 2013, in Mountain View, Calif. Eric Risberg / AP

~~~~~~~~~~~~~~~~~~~~~~~~~~~~~~~~~~~~~~~~~~~~~~~~~~~


~~~~~~~~~~~~~~~~~~~~~~~~~~~~~~~~~~~~~~~~~~~~~~~~~~~
Esperanza Spalding sings in Guantánamo protest music video. Miami Herald: 'Let 'em out,' Esperanza Spalding sings in Guantánamo protest video.
~~~~~~~~~~~~~~~~~~~~~~~~~~~~~~~~~~~~~~~~~~~~~~~~~~~
Grammy-winning musician Esperanza Spalding has joined forces with human rights groups advocating closure of the Guantánamo prison camps in a new, protest music video that was released online Monday.
"What does in the name of freedom mean?" the bass player sings as she alternately dons red, white and blue attire during the five-minute video that features cameos by Stevie Wonder and Harry Belafonte to the refrain of "Let 'em out."
Spalding, a bass player who straddles classical, jazz and pop, released the video as the Senate considers whether to continue restrictions on transfers from the prison camps in southeast Cuba.
As of Monday the prison held 164 captives, 84 of them approved for transfer in the first year of the Obama administration.
The video — entitled "We are America" — also features a shackled person in a trademark Guantánamo orange jumpsuit and black hood.
"In my America they don't stand for this," sings Spalding, who won a Grammy for Best New Artist in 2011. "We are America, in my America we take a stand for this."




~~~~~~~~~~~~~~~~~~~~~~~~~~~~~~~~~~~~~~~~~~~~~~~~~~~

~~~~~~~~~~~~~~~~~~~~~~~~~~~~~~~~~~~~~~~~~~~~~~~~~~~
I've learned to keep an eye out for the Daily Caller, Hannity, Drudge, and other right-wing sewer spewers attempts to start race wars. Slate: Sorry, Right-Wing Media: The "Knockout Game" Trend Is a Myth.
~~~~~~~~~~~~~~~~~~~~~~~~~~~~~~~~~~~~~~~~~~~~~~~~~~~
I remember the summer of 2011, a story about a crowd of teenagers at the Wisconsin State Fair randomly attacking fairgoers went viral as a sign of a burgeoning race war. The Milwaukee Journal Sentinel fanned the flames, calling the teenagers "rampaging youths" who caused "mob-like disturbances":

"Then around the closing time of 11 p.m., witnesses told the Journal Sentinel, dozens to hundreds of black youths attacked white people as they left the fair, punching and kicking people and shaking and pounding on their vehicles."
"Dozens to hundreds"? When witnesses can't differentiate between 24 and 100's, should we really rely on them to speculate whether a crime was racially motivated? One of the reasons the story gained so much traction could have stemmed from the fact that Milwaukee is the most segregated city in the country, and it validated white residents' fear that their black neighbors are dangerous.
Now, the false trend story of black mob violence has cropped up again, as it seems to do annually, in conservative media outlets. (McKay Coppins wrote about this phenomenon in BuzzFeed last year.) The new scare is the "knockout game," in which black youths supposedly attack innocent people just for fun. Conservative pundits decry the MSM for suffering from political correctness and whitewashing crimes perpetrated by black people, but a more reasonable explanation for why most media outlets aren't devoting round-the-clock coverage to the knockout game is that—sorry, Sean Hannity—there is no hard data showing that it's a trend.
An important clarification: the game definitely exists, and has been around for at least a couple of years. I'm not claiming the game doesn't exist. But the idea that it's reached epidemic levels, or that it's only being played by young black people, is a fallacy. As Alan Noble convincingly writes, "Analyzing data is not as simple as watching some YouTube videos and Googling 'knockout game.'" And when it comes to the knockout game's supposed popularity, the data is almost entirely anecdotal:

Here's the fascinating thing about this "spreading" trend: nobody seems to have any evidence that it's spreading, or that it's new, or that it's racially motivated, or that black youths are the ones typically responsible, or that whites are typically targeted. This hasn't stopped Mark Steyn, Thomas Sowell, and Matt Walsh from describing this specifically as a crime committed by blacks against whites, CNN from claiming that it is "spreading," or Alec Torres at NRO from say it is "evidently increasing [in] popularity."
This is precisely the type of story meant to animate the deepest recesses of our lizard brains—"Danger lurks around every corner! Identify your enemy!" At the epicenter of this narrative is Colin Flaherty, a writer for WorldNetDaily who probably has a Google alert set up for "black suspect." He's made it his life's work to report any single crime perpetrated by a black person in the U.S. against a white person. In a recent blog post, he lists as evidence six separate crimes in Philadelphia over the course of two years, which share nothing in similarity except for the fact that they involved black people.
~~~~~~~~~~~~~~~~~~~~~~~~~~~~~~~~~~~~~~~~~~~~~~~~~~~~~~~~~~
~~~~~~~~~~~~~~~~~~~~~~~~~~~~~~~~~~~~~~~~~~~~~~~~~~~~~~~~~~
Voices and Soul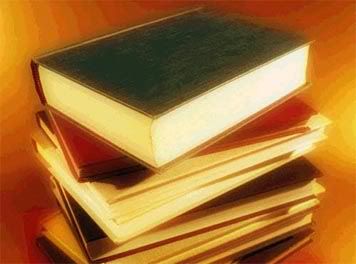 by Justice Putnam
Black Kos Poetry Editor
From a coldwater den and onto the concrete embankment, along a dirt farm road and the paved back highway; then up the cracked hillside steps and onto the ruined viewing platform; we look west across a white thorn wind buffed sea.
The sun has just set and the gray light darkens.
The cost?
$2.50

But that dashing, dauntless, delphic, diehard, diabolic cracker likes his fiction turned with a certain elegance and wit; and that anti-anti-anti-slum-congestion clublady prefers romance;
Search through the mothballs, comb the lavender and lace;
Were her desires and struggles futile or did an innate fineness bring him at last to a prouder, richer peace in a world gone somehow mad?

We want one more compelling novel, Mr. Filbert Sopkins Jones,
All about it, all about it,
With signed testimonials to its stark, human while-u-wait, iced-or-heated, taste-that-sunshine tenderness and truth;
One more comedy of manners, Sir Warwick Aldous Wells, involving three blond souls; tried in the crucible of war, Countess Olga out-of-limbo by Hearst through the steerage peerage,
Glamorous, gripping, moving, try it, send for a 5 cent, 10 cent sample, restores faith in the flophouse, workhouse, warehouse, whorehouse, bughouse life of man,
Just one more long poem that sings a more heroic age, baby Edwin, 58,

But the faith is all gone,
And all the courage is gone, used up, devoured on the first morning of a home relief menu,
You'll have to borrow it from the picket killed last Tuesday on the fancy knitgoods line;
And the glamor, the ice for the cocktails, the shy appeal, the favors for the subdeb ball? O.K.,
O.K.,
But they smell of exports to the cannibals,
Reek of something blown away from the muzzle of a twenty-inch gun;

Lady, the demand is for a dream that lives and grows and does not fade when the midnight theater special pulls out on track 15;
Cracker, the demand is for a dream that stands and quickens and does not crumble when a General Motors dividend is passed;
Lady, the demand is for a dream that lives and grows and does not die when the national guardsmen fix those cold, bright bayonets;
Cracker, the demand is for a dream that stays, grows real, withstands the benign, afternoon vision of the clublady, survives the cracker's evening fantasy of honor, and profit, and grace.
~~~~~~~~~~~~~~~~~~~~~~~~~~~~~~~~~~~~~~~~~~~~~~~~~~~~~~~~~~
~~~~~~~~~~~~~~~~~~~~~~~~~~~~~~~~~~~~~~~~~~~~~~~~~~~~~~~~~~