We have a really abbreviated round-up on this Thanksgiving Day.


I'm thankful @KagroX knows the rules of the Senate.
— @LOLGOP
David (Kagro X) Waldman's radio show archives can be found by hitting the radio link in the menu just below the page header (near the search box).
Small example: earlier today I found myself trapped in a place with CNN on in the background, showing a fair-and-balanced account of losers and winners. First, the loser: a guy who admits that Obamacare has gotten him a plan cheaper than the insurance he had, but who has found that his current allergist is off-network. Annoying, no doubt; but there are other allergists, and this particular one probably didn't help the case by saying that he's thinking of refusing to take Medicare patients, too.

And in any case, insurance with restricted networks is hardly something new to Obamacare.

Then, the winners: a couple with no insurance at all, because her premium would have been prohibitive and he has a preexisting condition that won't let him buy any kind of insurance at all — but now both covered, at a very affordable price, by Covered California.

I don't know about you, but these don't sound to me like equivalent stories.

At this rate, the whole horrors-of-Obamacare meme will be gone in weeks, not months. But the GOP echo chamber won't be able to let it go.
Been saying it for weeks and I will say it again. GOP is ill prepared for when Ocare starts working. The have no [ahem] Plan B.
Alec MacGillis on state Medicaid expansion:
My pessimism has been validated. Roughly half of the states are still refusing to accept the expansion, leaving uncovered the more than 5 million people who were supposed to qualify under the law – anyone making up to 138 percent of the poverty level.

That said, there have been a few indicators recently that have left me wondering whether a tide might be turning on this, including one I already noted earlier this month, the election of Terry McAuliffe, who made Medicaid expansion a central issue in his race for Virginia governor. In no particular order, here are six other recent developments:
More politics and policy below the fold.
I've long thought that while disapproval of the law is very real, and a serious problem for Dems, public opinion is more nuanced than many Republicans — and neutral commentators — have allowed for. Disapproval means different things; it does not necessarily translate into support for the GOP position of repeal; and doesn't mean the public isn't prepared to give the law a chance to work. Today's poll would suggest those nuances remain — even when the crush of bad press for the law could not possibly be worse. Republicans may be so certain that the law's doom is sealed that they are not entertaining any other possible outcomes, but if this poll is right, that view is still a minority position.

Of course, all of this is moot unless the administration makes the law work over time.
Jonathan Cohn
:
There have been plenty of stories focusing on the older workers paying more, but almost none about younger workers paying less. You could make a case for focusing on the former more heavily: Hardship is bigger news than unexpected good luck. But by such a lopsided margin? That's hard to justify.

And that pattern, unfortunately, is one we've seen over and over in this debate. People giving up their current plans get tons of attention. People getting new coverage don't. Those Americans paying higher premiums next year have been all over the media. Those Americans paying lower premiums haven't. There are exceptions. In the L.A. Times, Hiltzik had a terrific article Tuesday about Californians gaining coverage and saving money through California's exchange. But those articles are hard to find.

Obamacare is a complicated story to tell, with good news and bad news and plenty in between. The media should cover all of it. But for the last few weeks it has mostly told one side of the story—the side that Boehner and his allies want you to hear.
Epistemic closure is another way of saying conservatives live in their own bubble. As Greg Sargent notes above, conservatives are convinced that Obamacare has already failed. With the lousy media coverage, it's almost understandable.
One key goal: Getting the Web site to handle 50,000 concurrent users by Dec. 1. This is a data point that Bataille has brought up on multiple calls as a crucial goal for the Obama administration.

"On December 1, [the site] will be able to handle 50,000 users at the same time," Bataille said. As to how many users the Web site can handle right now, [Medicare spokeswoman Julie] Bataille cited a 25,000 concurrent user figure that she has brought up on previous press update calls. Bataille said that work will continue over this week to ensure that HealthCare.gov can meet that goal by Saturday.
Chris Cillizza
:
All of which is why Nov. 30 matters so much. Democrats already have ample reason to run as far away from Obamacare as possible. Should the Obama administration fail to meet a self-imposed deadline to solve the technical problems with the Web site, there would be yet another reason for Democrats running for Congress in red and purple states and districts to put more daylight between themselves and the law.

But signs of improvement would be a much-needed bit of good news for Democrats tethered to the law by way of their prior support. While no one expects congressional Democrats to give Obamacare a big bear hug simply if the Web site starts showing noticeable signs of improvement, at the least, it wouldn't inflame the intra-party tensions that have already surfaced.

To some Democrats, it would also clear a hurdle that has prevented the party from touting the specifics of law, which they think would help sell it to the public.
"As long as the technology is a disaster, no one is going to cover all the positive reforms in Obamacare," said Paul Begala, a veteran Democratic strategist.
Judd Legum:
The internet is ablaze with some fairly shocking news: Obama is closing the Vatican embassy! "Obama's call to close Vatican embassy is 'slap in the face' to Roman Catholics," proclaims the Washington Times, in an article that has attracted more than 2700 comments and was prominently featured on the Drudge Report. "OBAMA 'INSULTS' CATHOLICS IN VATICAN-EMBASSY SHUTDOWN," reports WND. The Daily Caller piles on with "Catholics furious over Obama plan to close Vatican embassy site." Breitbart reports that "the Obama administration is trying to diminish and discredit the Vatican's role in the world because it's pro-life, pro-family, and pro-religious freedom values is at odds with the Regime's pro-abortion, pro-gay marriage stance."

So you might be surprised to learn that, in fact, Obama is not closing the embassy — or diminishing U.S. diplomatic relations with the Holy See in any way.
Best sign Obamacare website is doing better is that GOP is back to making up controversies
http://t.co/...
http://t.co/...
— @JuddLegum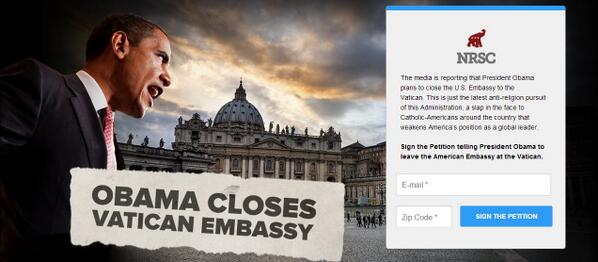 EJ Dionne
with some Thanksgiving thoughts:
A call to responsibility lies at the heart of gratitude. If faith without works is dead, gratitude without generosity of spirit is empty. By reminding us of how much we owe to others, or to social arrangements, or to fate, or to God, gratitude creates an obligation to repay our debts by repairing injustices and reaching out to those whom luck has failed. Gratitude is a response to acts of love. It demands more of the same — nothing more, nothing less.