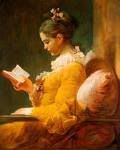 Dear Readers:
It only takes one day to find out so much about all of you wonderful R&BLers and Kossacks. The first Secret Biblio-Santa has already been informed who is their recipient of a book from them this Holiday Season. While I can't name the Secret Santa, I think it will add to the fun to name who is the very first R&BLers Secret Biblio-Santa recipient ever.
And that person is. . .
Please turn the page. . .
bookgirl!
Could it get any better? Yes! Yours could be the next name mentioned in tomorrow's update diary. Let me add even more fun. Here are the names of potential Secret Biblio-Santas and tidbits of information about what their reading interests are:
If you become the Secret Santa for one of them, you may find this info useful.
Diana in NoVa "The books I like most are Kindle e-books, and should be murder mysteries set in England or one of its dominions. (No Barbara Cleverly--bought her two most recent and couldn't get through them.)"
P Carey "I'm adaptable!"
RenMin "I still have unread books from two Christmases ago!"
You can be Sana's Helper and offer suggestions of books you think each of these people might like in the comments below. Even a Wish List could use supplementing, especially when it comes from the kinds of expert readers we have around here.
Update on how to become a Secret Biblio-Santa
*Submit your name to me using DKos PM system with a description of your reading taste, whether you want tree or e-books, and your Amazon User Name for your public accessible Amazon (or other retailer's) Wish List where your Santa can choose a title as your gift and have it automatically sent to you.
*If you wish to receive a book from another online source than Amazon, be sure that it accepts PayPal.
*If you wish to receive only specific titles and do not want to be surprised by someone else's choice for you, then you will have to pay for your own book(s) by setting up a "book registry" debit account at your supplier of choice. Then allow the Santa to choose one of those titles.
*Gifters may spend whatever amount they choose. Self-gifters, of course, ditto. In either case, it's your money to be as generous or budgetary conscience with as you choose.
*In some cases, you may have to provide your personal snail mail address if the retailer is not set up like Amazon for buying a gift for someone other than yourself.
You can set up an Amazon Wish List here: http://www.amazon.com/...
You might want to call it "R&BLers Wish List" so your Secret Biblio-Santa will know they are at the right place.
And check out Ellid's diary, Books So Good They're Giftable: Housekeeping, and Holiday Shopping Recs if you missed it for more book gifting ideas. Don't worry, these aren't "Books so Bad, They're Coal" recommendations. These are the real thing.
Other than that, nothing's happening!