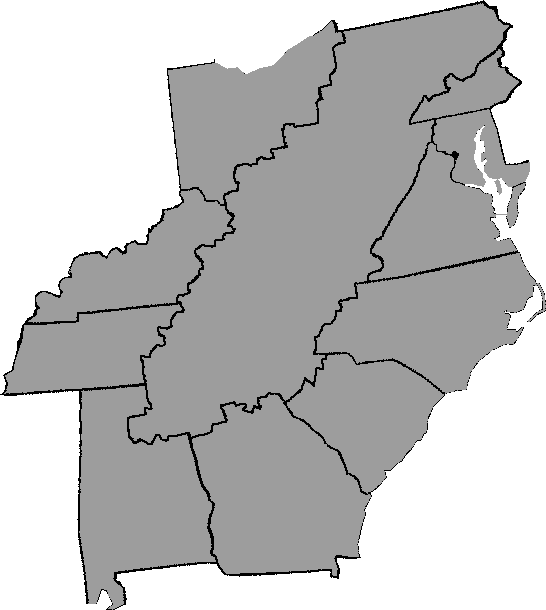 Regional Outline of Appalachia and the Remaining Surrounding States.
In Part 1 of the state of Appalachia series we looked at what the political and demographic make up of the Appalachian region would be if it were one big state. At 17 million people in 2010 it would be one of the biggest states throughout American history and by far the whitest of that group. From 1960-1996 it would have been a key swing state but had since become heavily Republican at the presidential level for over a decade while the 1994 and 2010 waves translated that partisan lean downballot by making Appalachia implacably Republican. Meanwhile, every single surrounding state becomes more Democratic.
This segment which concludes the series on Appalachia, looks at what the impact would be on the politics of the states which would cede territory to the newly formed super state. While in part 1 its creation caused a few states and electoral votes to shift around over the period of 1960-2012, redrawing the lines did not swing any election in the electoral college, but as you're about to see many states would have elected different parties to particular offices without their Appalachian region present. In addition to this look at statewide elections, I will also map out an alternate outcome for the 2012 US House of Representatives elections based upon the partisan realities in these remainder states and Appalachia itself.
Head below the fold for a look at key changes to outcomes of statewide elections from 2000-present, some hypothetical redistricting, and maps.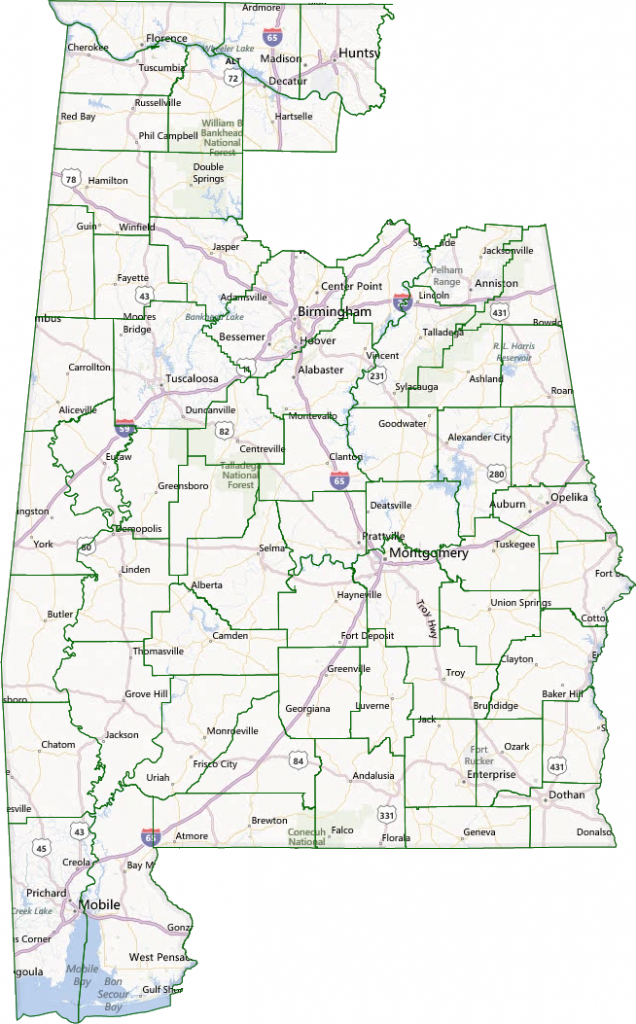 (click most maps for larger image)


Starting off is Alabama which loses its northeasternmost counties which make up a relatively modest portion of its total population. However that area of the state is dark red both presidentially and in local elections and without it, Obama's vote share rises by almost two points while the downballot average for the 2010/2012 cycles improves by about 1%. Since Alabama is so heavily polarized among racial lines, this shift to the Democrats goes hand in hand with the state getting 2% less white. Still, that's not enough to make Alabama too hospitable for Dems, though that was not always the case. Democrats won statewide offices pretty much every cycle up until 2010 and even last year in 2012 the two contested statewide offices saw the Democrat win over 45% of the vote. In this new state of Alabama, state Supreme Court candidate (yes those are partisan offices in AL) Robert Vance fell just 0.8% short of pulling off an upset against controversial "10 commandments in the courthouse" former Supreme Court justice Roy Moore who had been previously removed from the bench. Even Lucy Baxley, a former Lieutenant Governor, Dem gubernatorial nominee, and then incumbent Public Service Commissioner would have only lost reelection by 6% despite Romney winning by about 19%.
In future elections, the loss of the Appalachian region would be even more favorable to the Democratic Party since this once stronghold region has been swinging away much faster than almost any other part of the state while the Black Belt region of the state has been trending Democratic. Looking back at elections since 2000 though, it is largely due to the region only swinging hard to Republicans after about 2010 that the outcome changes in only one out of the 71 statewide elections with both major party candidates with Democrats winning the Supreme Court race in 2008. Many Dems to marginally better without it, but some do worse statewide or see little change.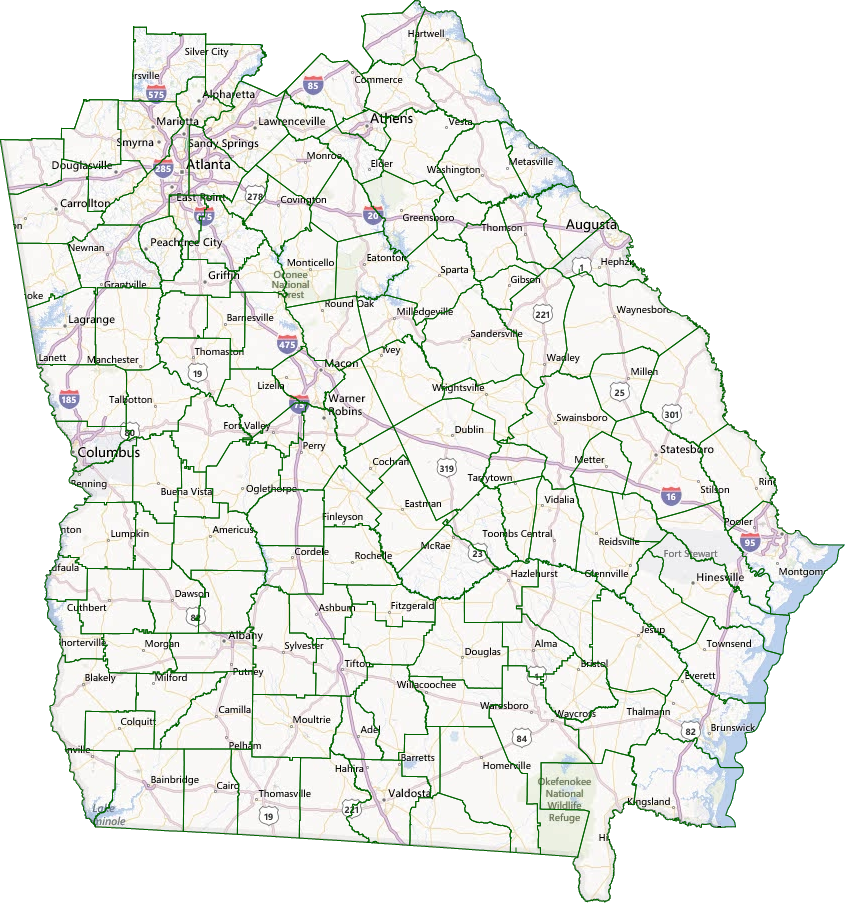 Unlike Alabama, Georgia becomes a legitimate swing state without its Appalachian counties. It loses a similar share of its population which causes the state to get 3% less white and Obama sees his vote share improve by 2.5% and narrow his loss so considerably that at just a 2.8% Romney win despite zero campaign investment, Georgia would have almost certainly been a key swing state in 2012 similar to North Carolina. In 2008 Obama came even closer and lost by just a mere 0.6% which I believe would have flipped with investment re-targeted from Pennsylvania and Virginia. Going forward the state would continue to be a top electoral college target given the Democratic trend and very high floor for both parties.
Down the ballot, the state shifts a little less than 2.5% to the Democrats under the 2010-2012 average. This is in part because minority turnout is lower in midterms while Democrats typically outperform Obama levels of support in rural and particularly Appalachian Georgia. As with the presidential outlook, the accelerated pro-Democratic trend is happening all the way down the ballot as well with growth in the state causing it to become more diverse and likely become majority minority by the next census.
Looking at particular elections, it must first be noted that Georgia is the only state in the country without some form of top two or jungle primary that requires runoffs for general elections after party nominations have been decided. This electoral law hurts Democratic chances considerably as their base voters disproportionately turnout at lower rates in runoffs than Republican base voters. However, it is worth noting that even when Republicans were largely safe in their campaigns, they would still be forced into a runoff from time to time or even finish behind the Democrat going into the runoff.
This would have happened in 2012 with the Republican narrowly failing to avoid a runoff with a 4.5% plurality for the Public Service Commission, the lone statewide office on the ballot that year, but they would have been the overwhelming favorite in that runoff. In 2010 former governor and gubernatorial nominee Roy Barnes and our Attorney General candidate Ken Hodges came just shy of forcing a runoff, but given the year and a December runoff, they probably would have been suffered a massive loss in that event. Still, every single Democrat running that year ranged from 42.5% to 47.5% of the vote, giving you an idea of the high floor characteristic of heavily inelastic states like Georgia.
2008 is where we see the runoff system seriously screw over Democrats. Rather than lose by 3% in round one before getting demolished in round two, Democratic senatorial nominee Jim Martin actually comes in first over incumbent first term Republican Saxby Chambliss with a 0.7% plurality win. Our Public Service Commission candidate did even better, just narrowly failing to win outright with 49.7% to the Republican's 45.5%. Yet predictably, both candidates lost by solid margins in the runoff with Martin losing by 11% and Powell by 9.5% for PSC. This story repeats itself in 2006 where the Democrat actually did come in first for Public Service Commission in the whole of Georgia only to lose the subsequent low turnout runoff, but here it's another frustratingly close 49.8% of the round one vote and just a runoff 3% loss. Going back further, there actually is one election where the outcome changed with the Democrats winning the Public Service Commission race way back in 2002, though several close races got even closer like Gov. Barnes' 2002 loss.
Most importantly with Georgia though is how much peril Republicans are in without a heavily Republican bedrock in northern Georgia to provide a counterweight to demographic change. Next year's senate race starts off as a Tossup between Michelle Nunn and whichever Republican makes it through the primary slug fest for the open seat. Even more worrisome for the GOP is defending the state in presidential years when minority turnout is much better and when the state starts out as a legitimate Tossup that could see tens of millions of dollars of investment from both sides. This Democratic trend would show little sign of stopping either as older conservative voters age out and are replaced by younger and less white ones. The one part of the actual state of Georgia where Democrats could significantly lose ground among white voters is yielded to Appalachia, meaning that Dems can't really fall much further and have a pretty solid floor of about 46% or so when they legitimately contest elections.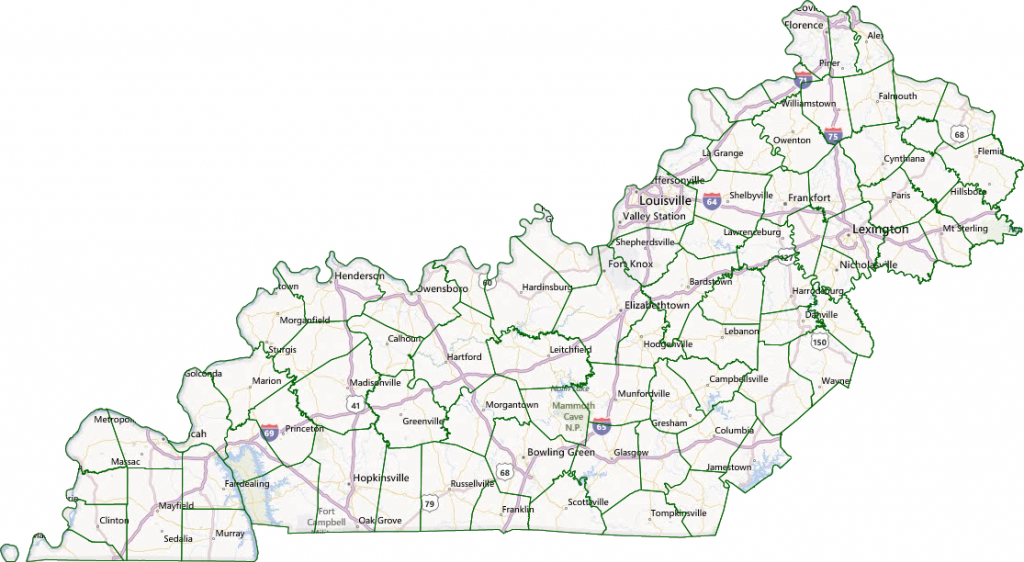 Our next state is Kentucky which is the first to see a significant difference between the impact of our new Appalachia state on presidential elections and downballot. Appalachian Kentucky was one of Obama'st worst areas in the entire country and without it, he holds Romney below a 20% win and sees his vote share increase nearly 3%. But unlike Georgia or Alabama, this part of Appalachia has a huge share of conservative registered Democrats who vote D locally and R for president. State Democrats gain less than a single point on average without this region of eastern Kentucky and there weren't enough close races for the outcome to flip. Interestingly, this region has been trending very strongly Republican and in the earlier cycles of the last decade, its loss actually made Kentucky better for Republicans. With the coal industry dying and the Democratic Party evolving towards a consensus to combat the pollution of fossil fuels though, this region will continue trending away downballot and thus its removal will improve Kentucky for local Democrats even more so in future cycles. In fact, a large part of central and particularly urban Kentucky has been trending mostly Democratic in recent cycles which should help to keep the remaining state competitive, even if maybe not quite at the federal level.
Except that every single point matters for senate minority leader Mitch McConnell in 2014 when several polls now have shown him tied or behind, particularly with his effort to attack his opponent for supporting a so called "war on coal" being less effective. McConnell now only won by about 5% in 2008 in this new state while Rand Paul was held to a 10% win for 2010 senate. Predictably though, 2004 Dem senate candidate Dan Mongiardo does marginally worse since his base was in Appalachian eastern Kentucky, but he's not the only one from earlier in the decade who performed better in Appalachia than the rest of the state. I bet that if you went back far enough you could probably find some Democrats who lose without Appalachia, but that was not the case for the period I collected data.

Maryland loses the smallest proportion of its population to Appalachia of all 12 states, but with those panhandle counties being dramatically more Republican than the rest of the state, it moves about a point towards Dems. There really isn't much of a difference though since the state has already become Safe D under any circumstances, but going back to the last Republican win in 2002 still sees Bob Ehrlich win the governorship but by 2.6% instead of 4%. As with pretty much every other state, this swing will be exacerbated more in the future as the Appalachian counties are trending Republican and the rest of the state Democratic up and down the ballot.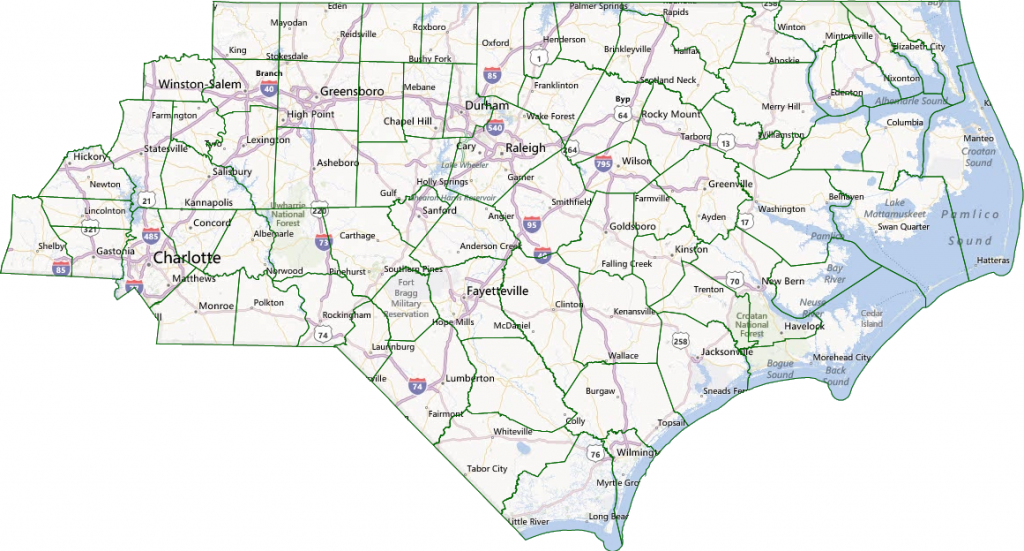 Similarly to Georgia, North Carolina is a state where the shift to Democrats from the loss of Appalachia is incredibly damaging to Republicans, not because it represents a seismic shift, but because their position there is already so tenuous at the statewide level. NC was the only state of the bunch to flip outright to Obama in 2012, seeing his 2% loss become a 0.4% win and a more solid 2.6% win in 2008. But where the real damage is done is downballot where that 1% Dem swing made the difference in several statewide races over the past decade. For starters there is 2012 Lt. Governor which Republicans won by about 0.2% and now becomes a 2% Democratic win for Linda Coleman. All of the Democratic incumbents now won by not insubstantial margins, ranging from 6% to 11%. Republicans' two incumbent statewide office holders both saw their margins decrease from about 6.5% to about 4.5%. Going back to the 2008, 2004, and 2000 cycles, Democrats would have picked off the incumbent Republican Labor Commissioner in 2008 by making up just 1%, while Erskin Bowles' 2nd disastrous run results in just a 3% loss to Richard Burr for US Senate in 2004. Republicans that year would have failed to win both the Auditor's race and Agriculture Commissioner's race, while in 2000 Labor Commissioner Cherie Berry would have yet again lost narrowly, giving Democrats a clean sweep that year. That makes for 5 of their 13 downballot wins for any partisan office being reversed over the last 13 years!
In the future, North Carolina would continue to trend Democratic and without its Appalachian region at a somewhat quicker pace than it otherwise would. However unlike pretty much every single other state with part of southern Appalachia, western NC has considerable pockets of strong Dem voters and even liberals in places like Asheville despite little legacy influence of the fossil fuel industry and a heavily white population. Kay Hagan would definitely be in a stronger position though since adding 2% to her margin can't hurt when hers is a key race for a Republican senate in 2014, while Pat McCrory would be in a world of trouble in 2016 against popular Attorney General and likely candidate Roy Cooper. McCrory performed very strongly in western North Carolina compared to the rest of the statewide ticket, even outside his home Charlotte area while Cooper has a strong base in the greater Raleigh area. Like its neighbors to the south, North Carolina would continue to be one of the most important swing states at all levels for the next several cycles.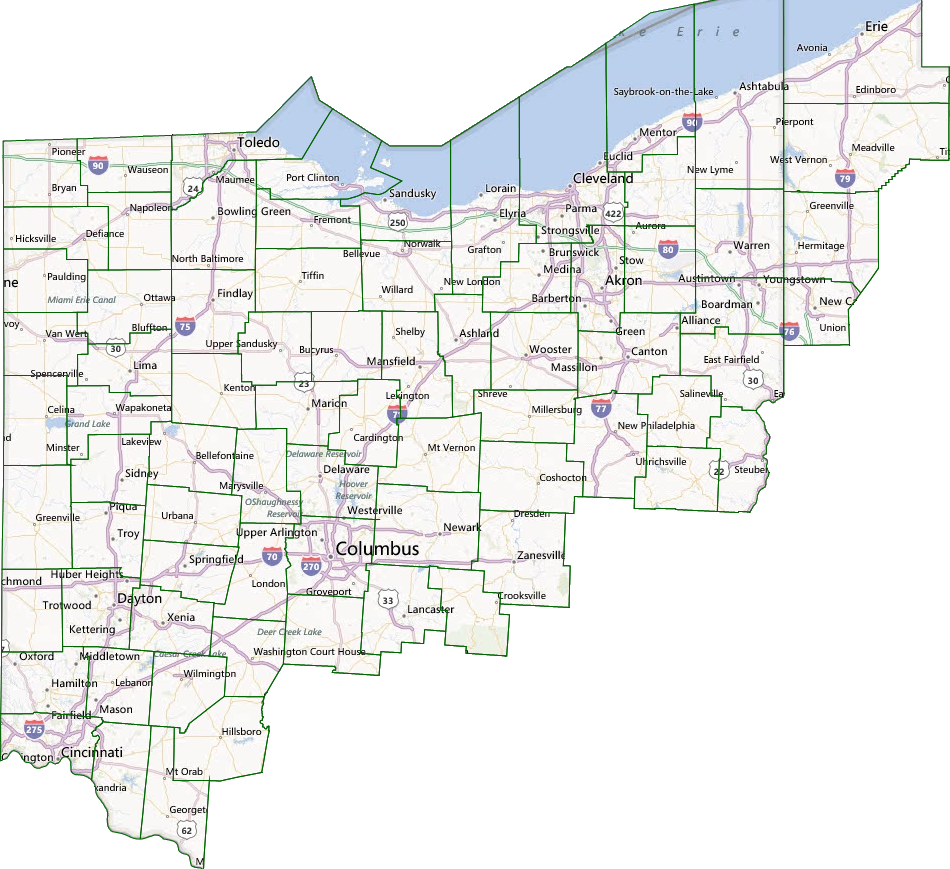 Perhaps the oddest state of the bunch to do was Ohio since it had to gain northwestern PA so that Pennsylvania wouldn't become non-contiguous. It was the only one to not see its population shrink by any significant amount even though it did shed a larger proportion of its original size than Maryland, because the portion of Pennsylvania it gained was of similar size to the counties ceded to Appalachia. As you might expect, the electoral changes are quite minimal except that this being the quintessential swing state in the country, Obama going from a 3% to 3.6% win makes an appreciable difference for Republican chances in the electoral college. Part of why this doesn't translate downballot though is that southeastern Ohio was where Obama underperformed local candidates the most while the dropoff wasn't that bad in places like Erie Pennsylvania where he did well. While there is some variability to the estimation method I used to predict 2010 and 2012 downballot results in Pennsylvania for Ohio's races, this pattern is entirely within reason and not dissimilar from the adjacent northeastern counties in Ohio home to places like Youngstown. No downballot races changed outcomes over the period I examined, but that minor change upballot was still critical for the electoral college. John Kerry does .2% better bringing him to just a 1.8% loss, while Obama wins by 5.4% in 2008. Republicans have to win Ohio to even have a shot at the presidency while Democrats don't and it just got a little harder for them here.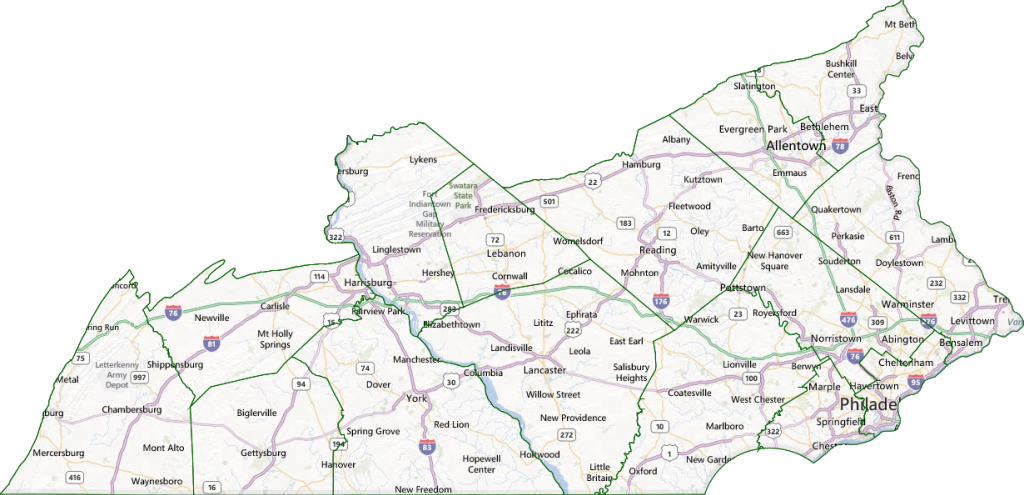 Pennsylvania undergoes the most monumental change of the states thus far, losing a majority of its landmass and a huge 46% of its population which was the highest of all the states (aside from West Virginia) and causes the state to get a considerable 8% less white. The Keystone State goes from one that is competitive for Republicans to a not even remotely possible Safe D. Obama's win at 5.5% in 2012 was the state that put him over the top in the electoral college, but now he won Pennsylvania by over 15% and by nearly 20% in 2008. Amusingly he also now would have beaten Hillary Clinton in the 2008 primary. John Kerry goes from having a close call with Bush to a slam dunk and a slew of downballot races flip.
The most important change would be that Joe Sestak won his 2010 senate election by about 5% rather than suffer a 2% loss to Pat Toomey. Dan Onorato comes within 0.4% of holding off Tom Corbett for Governor which would have been huge. However both candidates were from Allegheny County (Pittsburgh) and probably wouldn't have been running here in 2010 so who knows if an eastern PA Dem could have won, or if an investment on the part of the national party might have put the seriously underfunded Onorato, who was long viewed as a sitting duck, over the top. Worth mentioning though, both candidates still won the primary in the rump of Pennsylvania, but Onorato only did so by a very small plurality over a split field of lower tier eastern PA candidates.
Prior to 2010, Democrats would have defeated Tom Corbett for Attorney General in 2008, turning a 7% loss into a 3% win, Arlen Specter wins by just 7% in 2004 over Joe Hoeffel for US Senate, and Corbett again loses in 2004 though more narrowly at just 4.4%. Rather amazing is the shift for then former Philadelphia mayor Ed Rendell. In 2002 he was elected governor by a solid 9% in all of Pennsylvania, but by a whopping 25% landslide without Appalachian and northwestern PA.
Looking forward to future cycles, this new state is far more favorable to Democrats in the long term than the real state. Western Pennsylvania has literally been dying off as young people move away and population has declined over the past several decades and with it goes what was once the Democratic bedrock of the state. This is evidenced by Obama's 2008-2012 swing in the new Pennsylvania which was right around the national swing of 1.7%, but in the parts of the state it sheds it was nearly double that at over 3% toward Romney in vote share. In terms of the 2014 and 2016 elections, Tom Corbett would be beyond screwed and it would literally take a massive scandal for a Democrat to lose to him with his disapproval rating in the high 60s. Senator Toomey would also be almost DoA as well given his strongly conservative, Club for Growth approved voting record and what would now be a state nearly as Democratic as Illinois. Here is part of where Democrats make up for the likely loss of Joe Manchin of West Virginia in the senate and then some. A conservative Republican replaces the conservative Manchin, but a liberal Dem replaces the very conservative Toomey.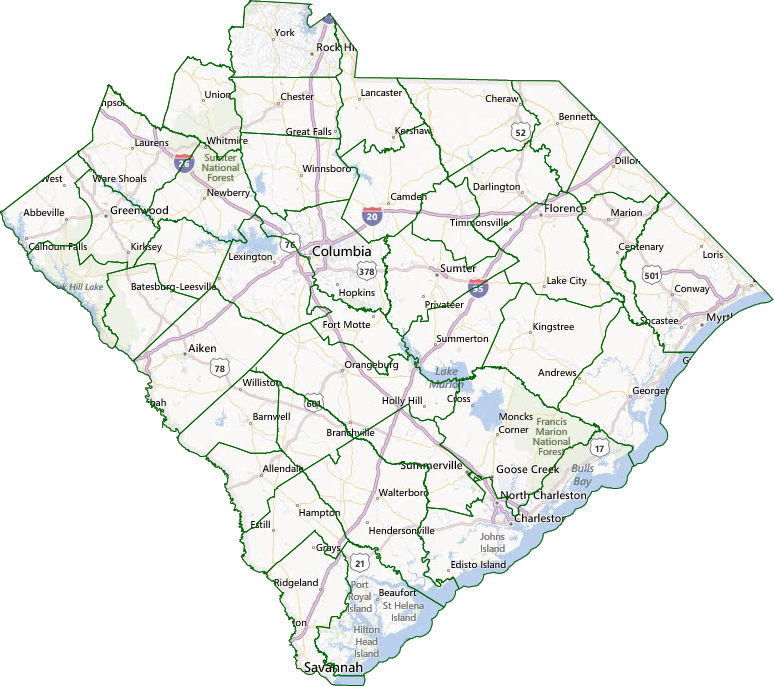 Just like neighboring Georgia, South Carolina gets plucked straight from red state status to become a key swing state. Obama's loss narrows to just 4% in 2012 and 2.8% in 2012, while local Democrats are once again in a position to be able to win statewide or at the worst be competitive. South Carolina had no downballot statewide elections in 2012, but in 2010 Democrats would have picked up the critical Governor's mansion with relatively underfunded state senator Vincent Sheheen over tea party darling Nikki Haley by a razor thin 0.09%, or 941 votes. Dems also came within 5% for the Lieutenant Governor and Education Superintendent races that year and within 4% for Attorney General. Their luck gets even better in 2006 when they would have beaten the despicable Lt. Governor Andre Bauer by 7% rather than a razor thin loss, Dem treasurer Grady Patterson holds on for another term rather than losing reelection, and Mark Sanford wins by just 5%. Rounding out the decade is 2004, when proto-tea partier Jim DeMint's senate win narrows down from 10% to just 3.6%, Lindsey Graham's first senate win becomes just 4.4% in 2002, and incumbent governor Jim Hodges loses reelection by just 1.2% to Mark Sanford rather than nearly 6%. Giving Dems one more flipped outcome is the win of the Agriculture Commissioner race in 2002 for a total of 4 changed outcomes total.
So South Carolina becomes a state where local Dems are legitimately competitive thanks to being to the right of the national party and without the fast growing heavily conservative northwest, the state isn't getting worse for the party and if anything improving slowly. Where Democrats see their biggest gain though, is from redistricting thanks to Vincent Sheheen's veto pen, which I will get to later on.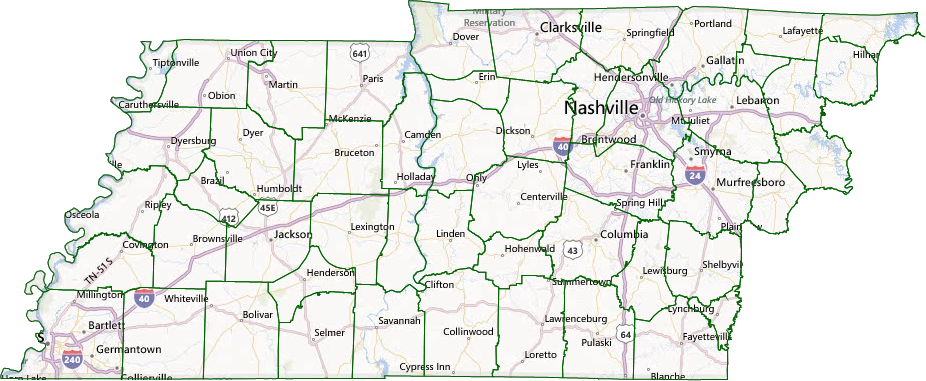 Tennessee loses the 2nd most population after Pennsylvania while getting roughly 9% less white and has the largest outright Democratic swing because of it. However, since it started from such a large Republican lean does not quite become legitimately competitive. That doesn't mean it wasn't just a few cycles ago under these lines. While Obama lost by 9% that's less than half of his actual 21% loss in the state. McCain won by just 4% while Kerry lost by just 5.4% and Gore won it by 4.7%. Looking at the downballot elections, the biggest change is that Harold Ford would have won for senate in 2006 by a very solid 6.4% rather than a 2.8% loss. Reaching back further, Tennessee political institution Lamar! Alexander only fended off a senate challenge from then congressman Bob Clement by a narrow 1.4% in 2002 rather than a solid 10%. Tennessee would have been quite Democratic until about 2010 when the Republican wave that year would have been the same avalanche it was there in reality, but eastern Tennessee long been one of the most hardcore Republican and not just conservative areas of the country and without it Republicans would have been hard pressed to win at all statewide over the past several decades before 2010.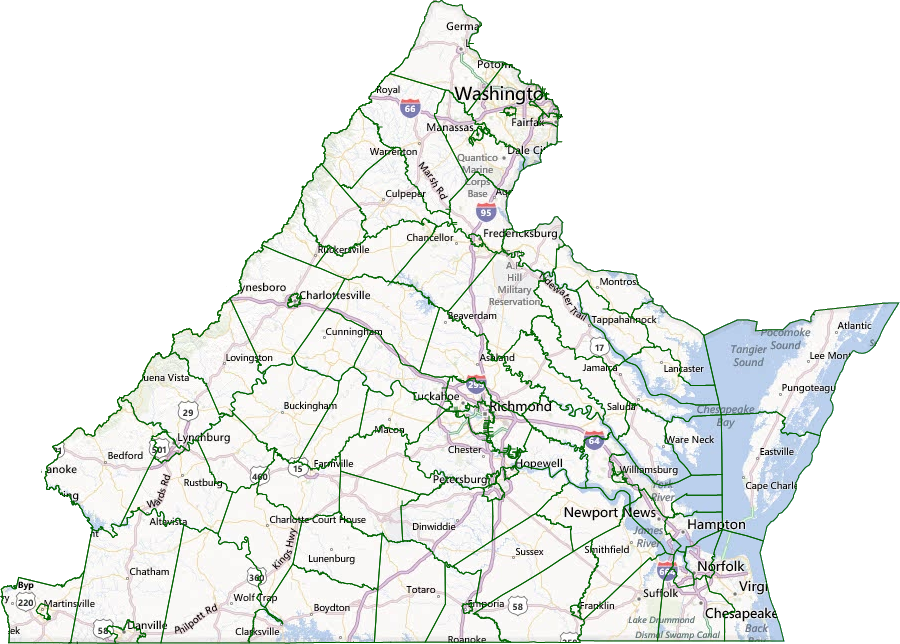 The last state of Virginia fits the overall patter of becoming more Democratic without its Appalachian region. Here it has a prohibitive effect by making Virginia nearly 3% more Democratic and turning it from decidedly purple to a Dem trending blue one. Rather than a 4% win mirroring the national margin, Obama steamrolled Romney by nearly 10% and dispatched McCain by 11%. Even John Kerry lost by just 4.6% here, while the only other Republicans to win either did so in the 2009 bloodbath or early 2000s.
Going back chronologically, the 2013 statewide elections were a lock for Dems. Incoming governor Terry McAuliffe won by 8% over Ken Cuccinelli with a 50.8% majority rather than plurality, Lt. Gov-elect Ralph Northam by over 16%, and Attorney General-elect Mark Herring by 6% rather than 165 votes (pending recount). In 2012 the US Senate race wasn't even close with Tim Kaine breezing past George Allen by 11%; Allen lost to Webb in 2006 by a larger margin as well. Dems actually manage to change the outcome in the 2005 elections by winning the Lieutenant Gov office and Attorney General's office, and then rounding out the decade was Chuck Robb losing to George Allen for US Senate by just 1.6% rather than over twice that margin in reality. Really Virginia just wouldn't be competitive for Republicans except in state elections thanks to the low turnout odd-year calendar, but in even numbered years the state votes as Democratic as Michigan at least.
So that includes all 10 states and every single one gets more Democratic at the expense of West Virginia becoming Appalachia and turning dark red. Over the course of 2000-2013 the loss of the Appalachia region of those states causes not a single Republican to win statewide who otherwise wouldn't have, while Democrats would have won 16 more statewide offices including 2 senate seats and 1 governorship, all in addition to Obama winning North Carolina in 2012. Where the new state of Appalachia has the biggest impact is in the senate rather than the electoral college. Democrats lose a conservative Dem in West Virginia while another moderate one loses there but was likely to be replaced by a Republican in 2014 anyway, while they make up for it by electing a liberal in Pennsylvania in 2010, moderate in Tennessee in 2006, and make four currently strongly Republican seats in Georgia and South Carolina Tossups while Virginia becomes totally safe.
The state by state change in downballot partisanship looks like this, measured in change in the generic Dem vote share relative to the original state: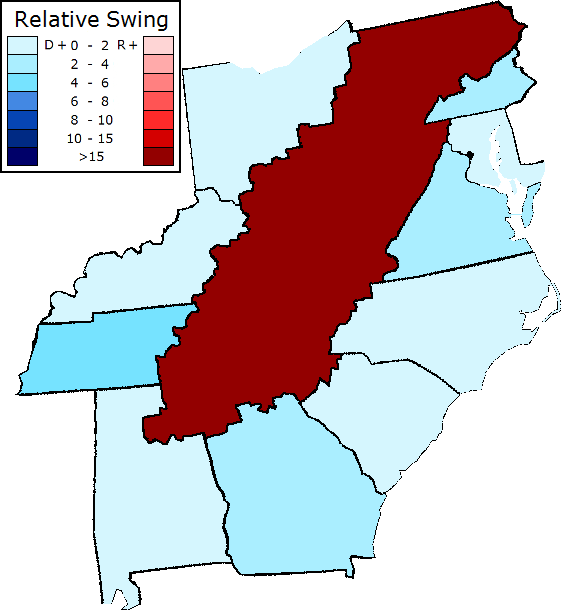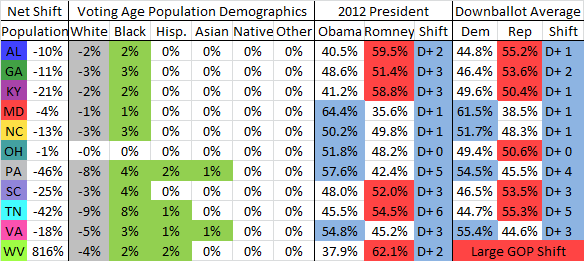 That's it for the statewide elections. Overall you had two light blue states become quite solid blue, Pennsylvania and Virginia, two critical swing states become more Dem in North Carolina and Ohio, two red states become pure tossup states with Georgia and South Carolina, while one dark red state become potentially competitive in Tennessee. The only downside for the Democrats was that West Virginia goes from being a quickly Republican trending competitive state at the local level to solidly Republican when it expands to become Appalachia.
So what about redistricting and the 2012 US House elections? To establish some uniformity, I decided to set our point of departure for creating the new state of Appalachia as being right after the 2010 elections. Rather than just take representation as was following those elections, I thought it would be more interesting to exclude those representatives or votes in those elections from areas that become Appalachia. So for example, even with the same candidates the Republicans lose South Carolina gov because those 6 northwestern counties were what put Haley over the top, while Democrats lose West Virginia Senate in 2010 meaning Joe Manchin stays around as Governor of Appalachia until 2012. To determine legislative control, I've merely included or excluded districts from a remainder state based on whether they had the majority of their 2010 population in that state or in Appalachia. To determine legislative control for Appalachia itself and deal with having legislators from all the constituent states represent varying sized districts, I simply weighted all the districts by their 2010 census population.
While I would have liked to map out Appalachia itself, that was just not feasible to do in DRA since it requires opening multiple states at once and central Appalachia in particular is pointless to gerrymander with just Obama '08 numbers given how unrepresentative that is of downballot performance. However I can tell you a few things in general about what redistricting would look like there in 2011/2012. First, the state would almost certainly have a veto-proof Republican legislative majority. Using the method I described above based on population, the composition of the states' upper and lower houses immediately prior to redistricting aggregate to a 67.4-32.6% supermajority in the upper house, and a 66.5-33.5% majority in the lower house. However, while that House majority percentage is just shy of two thirds, it seems incredibly likely that several conservative Democrats would switch parties in West Virginia and Kentucky where they've been in power for generations. Thus, Republicans would be able to gerrymander in supermajorities in the new legislature while also draw the congressional map for 2012.
The new state of Appalachia would have had 24 congressional districts and while there would have been nothing like the VRA legally stopping them from drawing all 24 to elect Republicans local considerations would have vetoed that. At the start of the redistricting cycle, Republicans would be trying to protect 2 freshman members in bluish seats, Lou Barletta and Bill Johnson, while Democrats still had 5 and 1/2 incumbents and an additional 5 Republicans had won by picking up a Democratic held seat in 2010. However, things are not as prohibitive as they may appear; indeed Republicans were able to use their control over congressional redistricting in every sub state other than Kentucky and West Virginia to reduce Democrats to just three districts in the region: one in northeastern PA, one in Pittsburgh, and one Dem drawn seat in southern West Virginia. With total control over the process, Republicans have a very obvious move of slicing up the Democratic map in West Virginia, thus netting them Nick Rahall's WV-03 district where he won by just 8% in 2012. Those local considerations I alluded to would prevent serious thought of cracking Pittsburgh for another district as that would require drawing some nasty spirals and baconmanders to unpack eastern Tennessee. The only other move possible for Republicans would be to target the Tim Holden/Matt Cartwright vote sink in northeast PA. But by not vote sinking Holden as they did in reality and not being able to slice his 2010 district four or five ways as you could do with all of Pennsylvania, you end up unleashing a very powerful general election opponent on a district he might be able to win or at the very least, seriously hinder the Republican incumbent. Thus I think Republicans would have kept that Dem vote sink of Schuylkill County (Holden's base) and Scranton and Wilkes-Barre that end up electing Matt Cartwright. The end result is that Democrats lose a district and Republicans draw a very solid 22-2. Let's take a look at the states.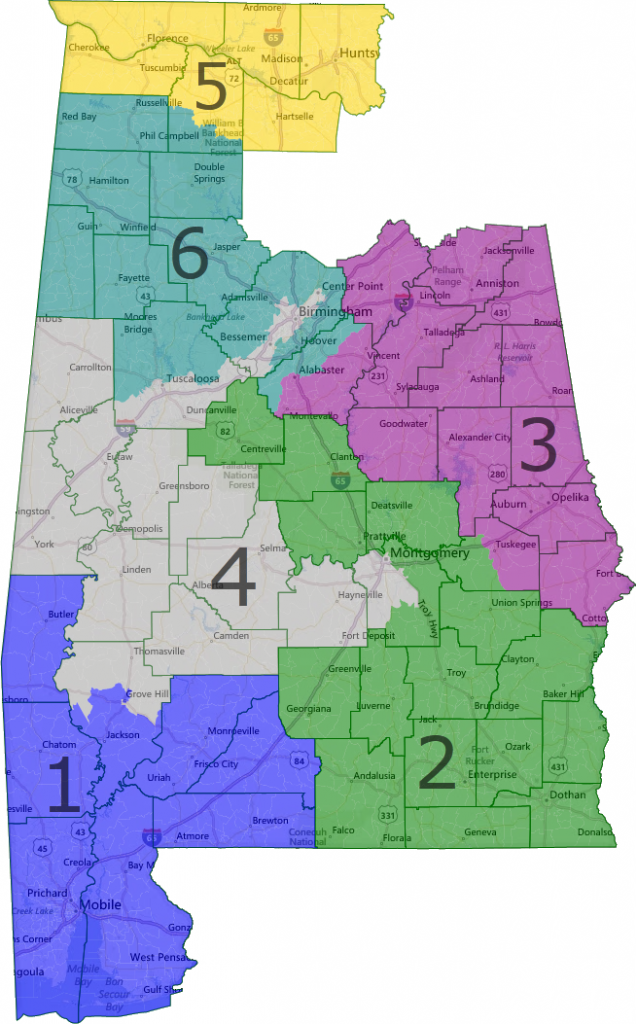 Alabama loses a district to Appalachia but is still Republican gerrymandered with their legislative majorities barely decreasing and veto-override threshold being 50%+1 anyway. The VRA mandates the presence of a black majority district which here is renumbered the 4th. Note that since pretty much every state loses at least one real life district, I've renumbered existing highest numbered districts that number but kept their original DRA color. The only district that changes radically is the 6th because despite Robert Aderholt being drawn into it from the old 4th, the majority of his district goes to Appalachia where he might have run instead. Either way, 6th district incumbent Spencer Bachus might have retired a cycle early, but all 5 districts are super safe for the GOP. No net change, congressional or otherwise.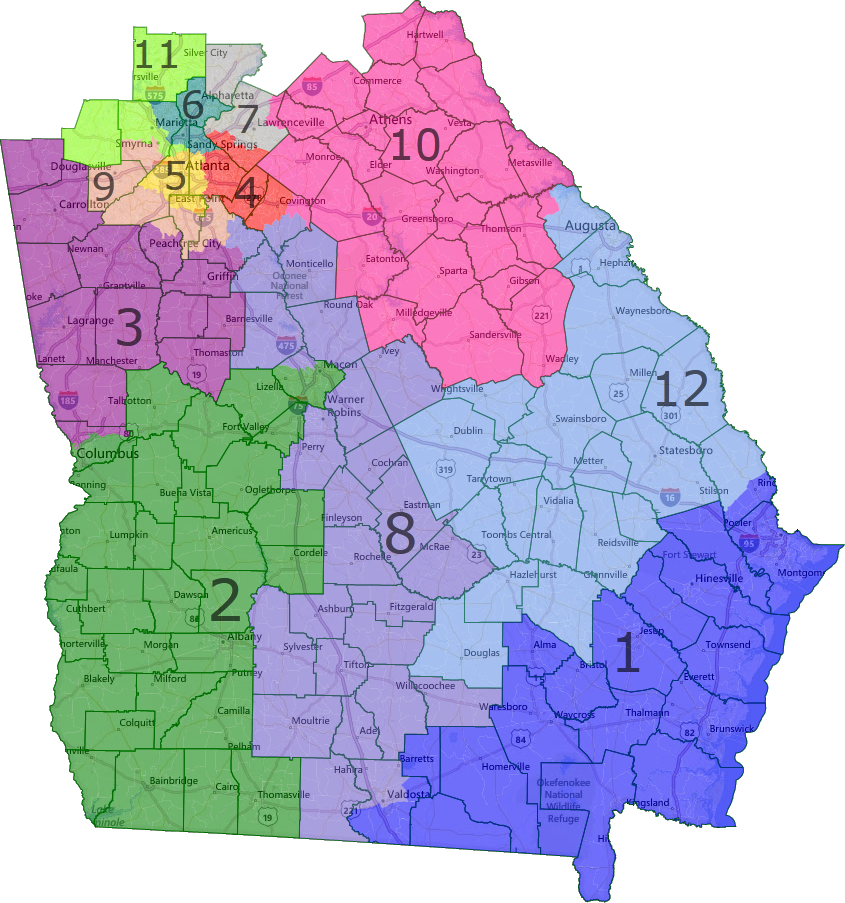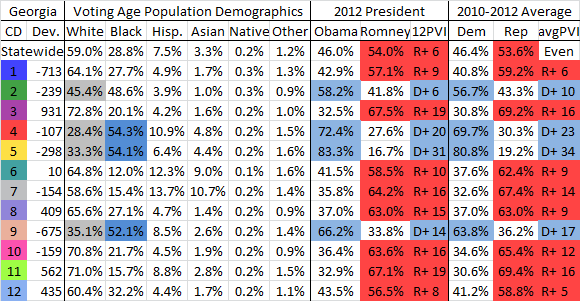 Georgia's 2011 legislature would get a few points more Democratic, but not enough to imperil their control over the process. The state loses two districts to Appalachia but is still Republican gerrymandered to produce a strong advantage. Here I've largely followed the real map while removing the two northernmost districts. This is a state that can be gerrymandered very cleanly, but nothing is different enough by any significant degree. John Barrow still holds on in the conservative 12th district though it gets marginally more Republican while both the 6th and 7th are too red to really move left considerably this decade without a serious housing boom like last decade. This map would go at least 7R 4D every time with Barrow's district being marginal for him and strongly Republican without him. For now though, no change.
However with the state legislative map (which I won't torture myself intro drawing), Republicans lose their 2013 supermajorities and with the possibility of a Democratic governor in 2018 very real, Republicans could lose their control over the district lines for next decade and with it control of the trifecta being truly up for grabs in the 2020s.
Kentucky's legislature actually gets marginally more Republican without the Appalachian delegation, but Democrats would have still held the state House and of course Dem Steve Beshear is governor and he's very much a team player. So we likely still see a compromise map like the one the legislature actually passed that minimally shores up Ben Chandler in the renumbered 5th in exchange for keeping the 1st unwinnable for Dems.
What makes this map so interesting is the circumstances of Chandler's somewhat upset loss in 2012. Kentucky has a dynamic of local moderate/conservative pro-coal Democrats doing incredibly well among the rural voters influenced by the legacy of coal mining and the unionization/industrialization it brought, but when the Dem choice at the ballot box is viewed as unequivocally anti-coal like Obama they tank hard among that demographic. With Chandler's Cap and Trade vote, the latter was more true than it was for someone like Attorney General Jack Conway in his 2010 loss to now senator Rand Paul. So the metric I like to use to measure partisan strength in Kentucky is the 2010-2011 statewide average which is massively more correlated with local races than Obama's performance, but it still only explained about half of the variation in legislative elections last year. What those numbers don't gauge well is the difference between pro-coal Dem areas and those that voted equally Dem but for reasons unrelated to coal. With Chandler's district moving north and westward in takes in marginally less of those areas, so even though the average is marginally lower, Chandler probably does just as well or better than the 48% he got in 2012. But still, running with the Cap and Trade vote seems to have doomed him as he only carried the counties Obama did.
However, this district should be marginally better for Democrats to regain either in 2014 or in the future. Those eastern KY counties like Wolfe were heavily Democratic locally, but trending sharply Republican. The opposite has been happening in the center of the state where the Democratic ticket has improved very substantially over the past two statewide executive general elections. Alison Lundergan Grimes, the presumptive Democratic nominee for senate against Mitch McConnell, should definitely carry the renumbered 5th in any situation other than a Republican wave. Jack Conway lost it by just 4% in 2010 while Bruce Lunsford carried it by 3% in 2008 over McConnell in the two most recent senate elections, so freshman Andy Barr should remain vulnerable.
Where Democrats would get hurt though is the state legislature since they were able to fairly effectively unpack the eastern strongholds to help preserve their tenuous House majority for the upcoming 2014 elections while Republicans drew the state Senate map and would make that chamber wholly unwinnable for Dems.

Maryland has very minimal change with the same number of districts as before minus just 250k people. State Dems drew a map just as messy as this entirely for parochial reasons rather than requiring that ugliness for partisan gain. They even could have targeted the Eastern Shore based 1st, but didn't and here I've largely followed their entire map. Every single district is very safe for the respective parties and the only worthwhile difference is that the state legislative Dem majorities would expand, but they already are veto-proof.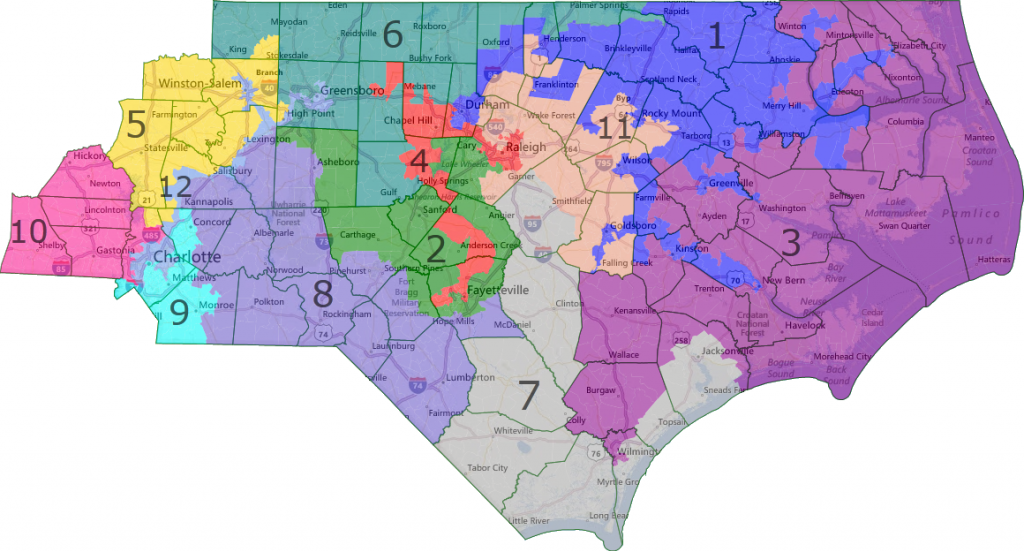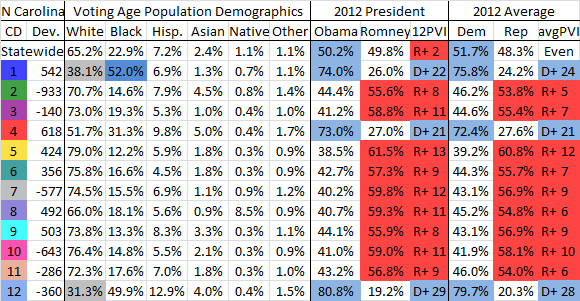 North Carolina easily wins 1st prize for most hideous and aggressive gerrymander both in real life and here, where I've assumed the GOP pulls no punches. North Carolina barely missed out on another district in reapportionment so it only loses one without westernmost NC. That forces every district to have to shed about 40,000 people which has the ironic consequence of dooming Mike McIntyre; as the state gets more Democratic without Appalachia, the congressional delegation gets even more lopsided in Republicans' favor. Every single one of the 9 Republican districts is strongly Republican and only McIntyre's 7th really gives dems a shot with him running. But with his district being forced to expand into the 3rd since the VRA 1st can't take that district's excess population, the 7th must gain heavily Republican areas like Onslow County home to the large Marine base at Camp Lejeune. Every Republican district is more or less as Republican as the actual map while the three Democratic districts are ultra-packed to soak in as many Dems as possible anywhere on the map. I can't emphasize enough how screwed up this is since Democrats not only won the House popular vote in actual North Carolina, but won it here by 4% and yet win just 25% of the districts meaning Republicans' votes counted for 3 times as much.
In the legislature Republicans would have seen slightly reduced majorities upon taking control in 2011, but with the governor being unable to veto redistricting that doesn't matter. However they would be hard pressed to preserve veto-proof majorities in 2014 without the western part of the state.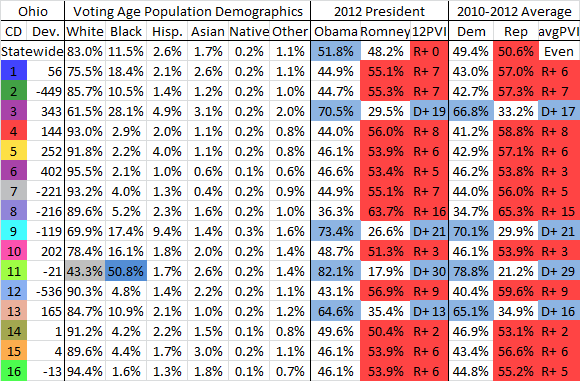 Ohio Republicans maintain solid control of the legislature with the delegation changes in Appalachia and northwestern PA largely canceling each other out to give them a similar sized majority. However the congressional map is forced to get uglier than the actual map thanks to the addition of those four Pennsylvania counties and loss of more conservative southeastern Ohio. It's still very possible to draw a solid 12-4 though with Mike Kelly's former 3rd district from Pennsylvania taking the place of Bill Johnson's Ohio 6th and assuming that number. Kelly's seat gets a few points more Dem, but still over R+5 while David Joyce in the 14th takes a minor hit with the addition of Erie, but more optimal use of conservative areas of northeast Ohio. You may notice that the 9th district looks quite funny and that is because yes, I used water contiguity between Sandusky and Lorain and Lorain and Cleveland. This could be avoided with precinct splits which I can't do, but the OH GOP wasted tons of less Dem voters in that vote sink under the actual map because they didn't need to pack it further, but here they do. That allows me to make the vulnerable districts aside from the 14th all more Republican, particularly districts like the 1st and 15th which saw strong Dem trends in 2012 but here are quite safe. (Note the 14th goes along the Erie shore.)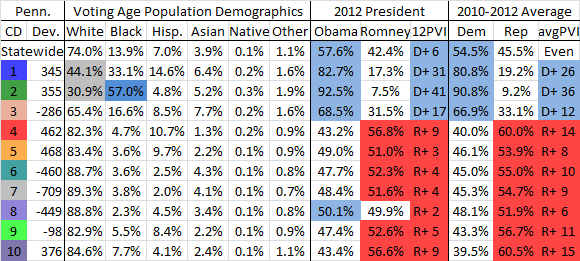 Another Republican gerrymander here with Pennsylvania losing the most districts at 8 with 7 to Appalachia and 1 to Ohio. Republicans just barely maintain control of redistricting with Tom Corbett winning the governorship by about 7,500 votes and while their pre-redistricting Senate majority decreases slightly, their House majority increases. Even with the legislative and congressional gerrymanders though, the legislature and governorship are very winnable for 2014 for Dems. The congressional map of course is a different story. Like the real map this one is pretty damn ugly and because all districts had to contract it gets even uglier with Bucks County needing to be split and go into northeast Philadelphia so it can further pack the 3rd and have the 8th relieve the 5th. I realize I drew incumbent Mike Fitzpatrick out of his district just barely, but his home town is quite Democratic and the margins for all these districts were fairly tight
All of the 5th-9th districts voted for Obama in 2008 but swung to Romney in 2012. I know the chart says the 8th narrowly went for Obama, but that's probably due to estimation error since outer Montgomery and Bucks counties swung more Republican than countywide in 2012 while my estimation method is based on county level rather than precinct results. Anyway, the trick to this map is not having to draw a district for Tim Holden and thus having to split his old district several ways. With this map he probably just runs in the Appalachia district and loses a primary. Pretty much all of the GOP districts that might be vulnerable in reality get a little safer here since I've taken areas that vote straighter tickets and replaced them with those more likely to vote Dem for president/R downballot all things equal. This is particularly helpful for Republicans in the 8th which essentially gets no more Democratic but with all of Bucks it would have been a few points more so. This is another state state where Democrats win the House popular vote and by a wide 8% yet get packed into 3 of 10 districts with few decent options.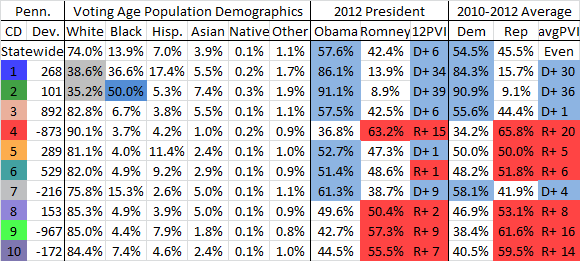 Alternatively, given how close the gubernatorial margin from 2010 was and how neither candidate was in any way an eastern Pennsylvania pol, I've mapped out what a court-drawn map could look like if a Democrat had won in 2010 and vetoed the Republican map. This map splits zero townships or localities other than Philadelphia and just a single ward in it at that so the election results are exact. Right off the bat Democrats take the 7th under any and all circumstances as it would be impossible for a Republican to win a 61% Obama district anywhere in the country for Congress. I also made the decision to split Bucks and Montgomery counties into an upper and lower district each as the historical artifact of Bucks not being split has largely been a political consideration rather than a purely CoI one. Maybe a court doesn't do that, but the impact of splitting Bucks actually helps Republicans anyway since the 8th improves a few points downballot whereas otherwise it might get parts of northeast Philadelphia. The 5th, former 15th gets considerably more Democratic and is actually about 1% more Democratic than the version charlie Dent represented from 2004-2012. This one would be a top Democratic target as one of the most Democratic districts held by a Republican, but Dent probably squeaks past by a point or two in 2012. The 6th a few points more Democratic but nowhere near as Dem as the previous decade's lines without Montgomery County. Still Jim Gerlach can't rest on his laurels and if he were to run statewide (though I don't know why he'd do that in a D+6 state), then this district is probably a Tossup. The final significant change is that Tim Holden's district is essentially resurrected with the greater Harrisburg area. It lacks his base of Schuylkill County where he had been Sheriff for years and was ultra popular, but Holden held down 2/3rds of this district with ease for 10 years prior when it was barely less Republican than the new 10th is. I think he'd considerably prefer staying here rather than facing a stiff primary challenge in the Schuylkill/Wyoming Valley vote sink in Appalachia. The 10th is probably Lean/Likely D with Holden, Likely to Safe R without him. So with just map changes, Pennsylvania could go from 7R-3D to at least 4D, probably 5D, and maybe even 6D-4R with pretty reasonable changes.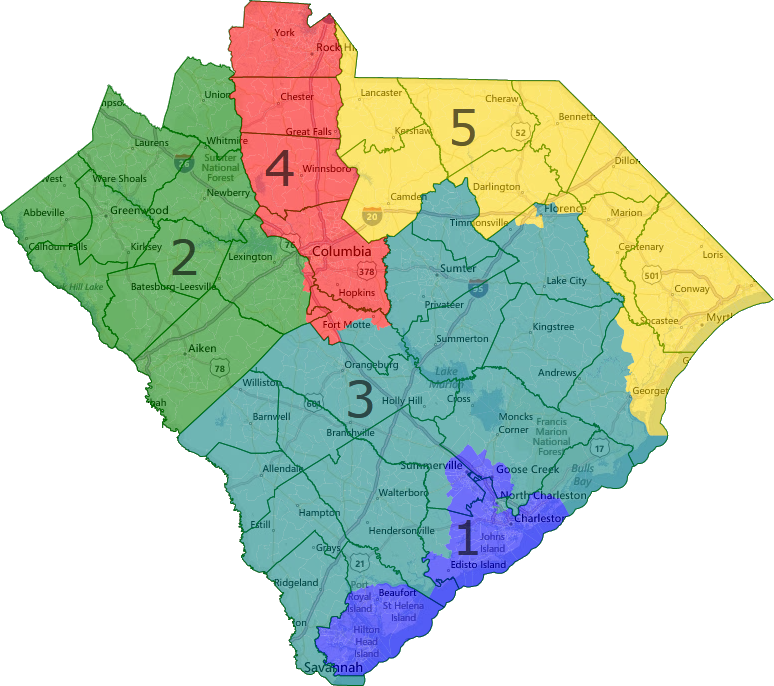 South Carolina is a surprise winner for the most remarkable change without Appalachia. Not only do Republicans lose their trifecta and with it their gerrymander with Nikky Haley losing the governorship in 2010, but they would not have held the legislature before 2010, despite their own gerrymander. Immediately before redistricting in 2011 the state senate would be split 17/17 with the Republican Lt. Gov splitting ties in their favor until he resigned in scandal in early 2012 while the House would be split 45D-49R. With Sheheen vetoing the Republican maps, those splits could very likely improve enough for Dems that they take the legislature in 2012 without a gerrymander and thus gain the trifecta in a state where Republicans currently have it on lock down.
As for the congressional map, there is utterly no reason why a non-Republican gerrymander needs to put Charleston and Columbia in the VRA black majority district. That results in Democrats automatically gaining another district in the Columbia area any way you draw the map. The main alternative to this drawing would be to put suburban Lexington County in with Columbia, but that forces York County and Aiken County into the same district which seems very unlikely. Thus I created a new 4th district there and completely dismantled the state's 7th district. In addition to those changes, Mark Sanford's district gets about 3% less Republican, meaning that the May 2012 special election would have been considerably closer but he still probably pulls it out and then holds down the seat, but maybe not.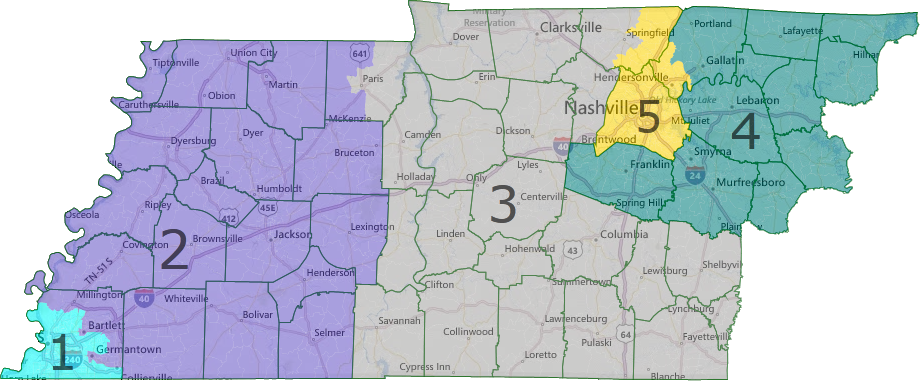 Tennessee also sees some drastic change but unlike South Carolina it is only temporary. Democrats go from having less than 40% in both chambers prior to redistricting to holding control of the state senate by the skin of their teeth in 2010 thanks to only half the chamber being up and they still only get a 10-9 majority with the exclusion of all of the Republican eastern Tennessee delegation. Tennessee is another majority-vote veto override state, so just one Democrat crossing over would allow Republicans to gerrymander the map while they would need a more challenging three of the 31 Republicans in the State House, which wouldn't happen. So assuming the Dem caucus holds, the biggest difference isn't with the congressional map but rather the state legislative map where Republicans have packed Dems into an eternal minority of just 5/33 seats in the Senate after 2014. Either way though, with the other half of the senate being up in 2012, Democrats almost certainly lose control.
The congressional map is not that much different in partisan outcome even though it would be court-drawn and actually sees a more Republican 5th district since every seat had to expand, but incumbent Dem Jim Cooper is beyond safe given his moderate record. Vulnerable scandal plagued incumbent Scott DesJarlais is removed to Appalachia, while the least Republican of their three districts is now the 3rd thanks to the Tennessee River Valley and Clarksville and the loss of the Memphis and Nashville suburbs. It's possible Marsha Blackburn abandons that district to stay in her base in suburban Williamson County in the 4th, but that district would likely see a rematch of the 2010 primary between the ultimate winner 1st term Diane Black and state sen Jim Tracy for the safe Republican seat so a split primary would be more appealing to Blackburn entering. It's cool to notice that Harold Ford carried the 3rd (as well as the state) in 2006 and in general it's to the left of original Tennessee, but I highly doubt any Democrat could even come close to winning it post 2010.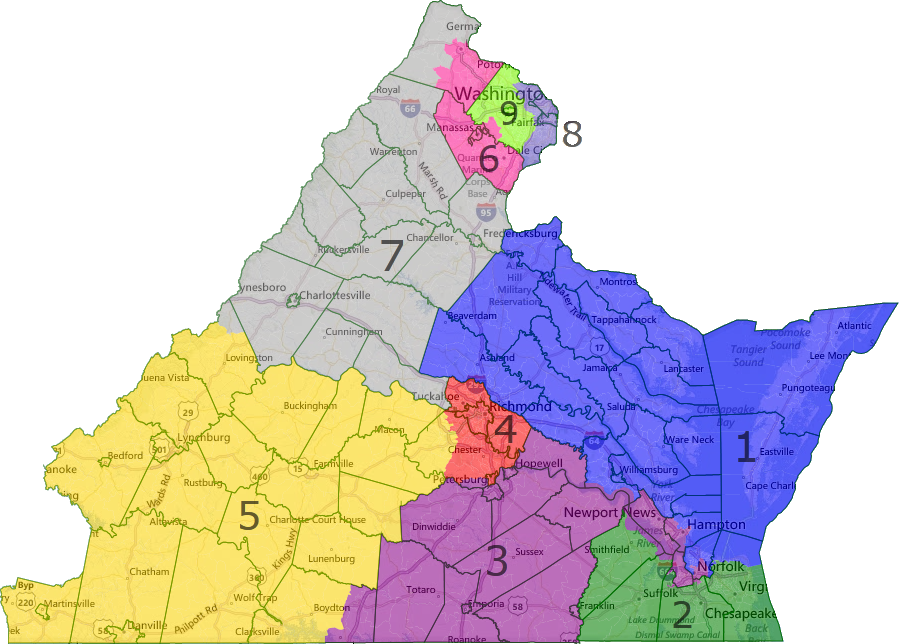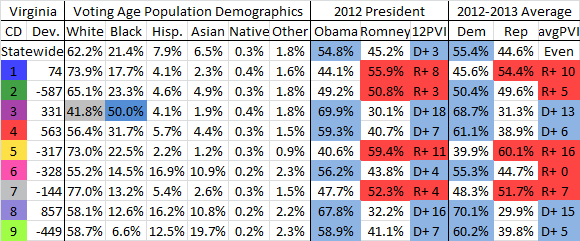 Virginia is our final state and sees Dems make major gains. Republicans only very narrowly took control of the state senate in 2011 and without their Appalachian delegation in the Blue Ridge and Shenandoah Valley, Republicans wouldn't have captured the senate, lose their House suprmajority, and we thus get a court-drawn map of the state. There are plenty of ways to draw Virginia, you could have made the VRA district based in Richmond and Southside rather than Hampton and Southside, but the result is going to largely be the same. Democrats get a guaranteed gain in either Richmond or Hampton Roads, while Frank Wolf's NOVA district moves significantly to the left. Here it's outer suburbs/exurbs with all of Prince William County and 5/6ths of Loudoun County and at half new to him and over 56% Obama I strongly doubt he could win it with presidential turnout and Wolf probably calls it a day and retires.
In addition to those two districts, Charlottesville ends up in the 7th and the loss of the Richmond suburbs turns that into an Obama '08/Romney '12 district where Eric Cantor is essentially unelectable in Virginia 2012. Former Rep. Tom Periello might have run here given his old district had considerable overlap with it and he was just coming off a narrow loss in a redder district, but another Dem could make this competitive too and it's probably a Tossup as an open seat. Finally there's the 2nd district in Virginia Beach and Chesapeake which could clearly be drawn many different ways, but as I have it drawn it is Republican leaning but pits together a hardcore fundamentalist christian conservative in Randy Forbes against "RINO" freshman Scott Rigell in a Dem trending district that on population alone is mostly Rigell's old seat. A divisive primary is certainly what Dems would have needed to win here, but it's probably Lean R.
So overall, Democrats definitely would lose 1 seat in Appalachia and very likely 1 in North Carolina, but gain a definite one in South Carolina and Virginia and a very likely 2nd in Virginia for a net increase of 1, with 1-2 more possible in Kentucky and Virginia. If Pennsylvania had somehow gotten a court-drawn map that would be an additional 2-3. In terms of 2013 control of state legislatures, Democrats break the Republican supermajority in Georgia, the supermajority in the VA-House, gain the VA-Senate, and likely gain the South Carolina legislature giving them the trifecta there instead of a Republican one. Applying those redistricting rules to the 2010 senate races, Dem Joe Manchin of West Virginia loses while Joe Sestak makes up for it in Pennsylvania for no net change in seats but an overall shift to the left in that chamber.
I hope you have enjoyed reading this two part series on Appalachia. If you would like to directly look at any of my data I have uploaded it all in the form of excel spreadsheets here. My parting question to you is one of trivia: which pre-2000 statewide elections might have seen a change in outcome without the Appalachia region in each state?