And, another week passes. Not too long ago, I took to identifying myself as "retired-in-place". That sounds so fecking old. Probably not far from truth, though. Sometime back, I read a great post from Frank Michaels, a Nashville musician and guy about my age, at Salon.com:

I Am Close to Achieving "Crotchety Old Man" Status

With about a year and a half until I turn 60, I have been ever-so-slowly giving up trying to hold on to the youthful side of my life, even though in my mind I'm still 25, full of energy, and with an unlimited future. But every time I look in a mirror, there's this grumpy-looking old man staring back at me…plus, my knees hurt, my beard would be snowy white if I didn't color it (Thanks, Just For Men!), I've had my prostate removed, my nose hair is thicker than my azalea bushes, and I'm clinging to a career in a music business where everyone else seems to be in their mid-twenties.

I guess one way to tell that you are no longer one of the "cool" people is that you no longer care whether you are or not....
Just for added age-related fun, I found this imprimatur elsewhere online, and decided to take the bait:
1. Find the song that was #1 on your 16th birthday.
2. Find that song on YouTube.
3. Post a video without shame, indignity, or compunction.
It didn't take a lot of searching for me to come up with this:
"Bridge Over Troubled Water" was numero uno on the Billboard charts the day that I turned 16. Little did I know that, in so many ways that were impossible to predict back then, this song would become a such a significant entry on the soundtrack of my life. Just FYI, here's the rest of the top 10 from the week of my 16th birthday: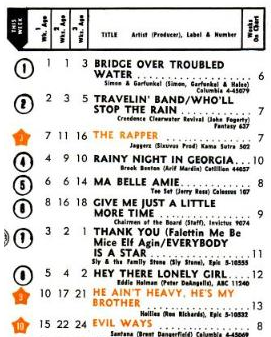 So, there's the assignment for tonight: what was the number one single on your 16th birthday? Here's a quick and easy link that might help you out. How about number two?
Enjoy the weekend!
Note: Saturday Night Music is posted every Saturday evening at 9PM ET, except for when it's not. Join us for good themes and good tunes built around the good themes.