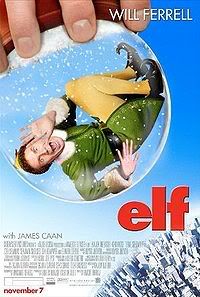 Earnest Christmas movies are not easy to make these days. We live in times when irony and jadedness seem more authentic than earnestness. Innocence is sneered at. Joy is seen as fleeting. We see people taking pleasure in simple things and feel as if they just don't understand life. It is a rare thing indeed when a major motion picture even attempts to make a Christmas movie that celebrates the innocence and joy of the season. One that did and pulled it off was 2003's ELF.
Follow below!
ELF stars Will Ferrell as Buddy, a human that was raised as one of Santa's elves at the North Pole. Once he grows up, Papa Elf (Bob Newhart) informs Buddy that his biological father lives in New York City and tells him how to find them. Buddy then sets out to the big city, along the spreading Christmas cheer to the cynical, jaded residents of New York. Buddy is wholly innocent and naïve, but he is also happy and completely comfortable in his own skin. These qualities eventually win the affection of his workaholic father (James Caan) and the heart of Jovie (Zooey Deschanel) a cute girl that Buddy meets at a store.
Though the film boasts excellent performances by Caan, Deschanel, Newhart, Ed Asner, and Peter Dinklage, the film belongs to Will Ferrell. Ferrell gives Buddy a warmth and charm that tempers all of the characteristics of Buddy that could have been very annoying. Ferrell knows exactly how far to take Buddy's antics and when to quiet things down. It is a terrific comedic performance, but ELF is a complete storytelling experience as well. Buddy's antics cause trouble for a lot of people, including his father and Jovie. Consequently, there are long moments of reflection and loneliness for Buddy and Ferrell handles these moments convincingly without loosing Buddy's core optimism.
ELF was released in December of 2003 and was a smash hit. Critics liked the movie, and audiences responded to the film's positive core. ELF went on to make 220 million worldwide and has since joined the ranks of some of the most beloved of Christmas movies. Buddy is quickly becoming a character that returns to us every Christmastime to spread a little joy - and he will be a welcome visitor for years to come.
ELF fun facts - Jim Carrey was originally attached to star.
All of the people on Santa's "nice" list are the film's crew members.
The elf named Ming Ming at the beginning of the movie is played by Peter Billingsley, who played Ralphie in A CHRISTMAS STORY.
Buddy - You stink. You smell like beef and cheese. You don't smell like Santa.

Buddy - First we'll make snow angles for two hours, then we'll go ice skating, then we'll eat a whole roll of Tollhouse Cookie dough as fast as we can, and then we'll snuggle.

Buddy - Have you seen these toilets? They're ginormous!