I did something last week I haven't done since 2000. And something else I couldn't do until last month. Follow me below the dingledoodle squigglie dKosagnocchi dividerthingie fold after a word from our sponsor...

Here at Top Comments we strive to nourish community by rounding up some of the site's best, funniest, most mojo'd & most informative commentary, and we depend on your help!! If you see a comment by another Kossack that deserves wider recognition, please send it either to topcomments at gmail or to the Top Comments group mailbox by 9:30pm Eastern. Please please please include a few words about why you sent it in as well as your user name (even if you think we know it already :-)), so we can credit you with the find!
Way back in the Stone Age when I was a young not-yet-married woman, my Mom gave me a Christmas present I never asked for, or even considered. A Dept. 56 Dicken's Village lighted house: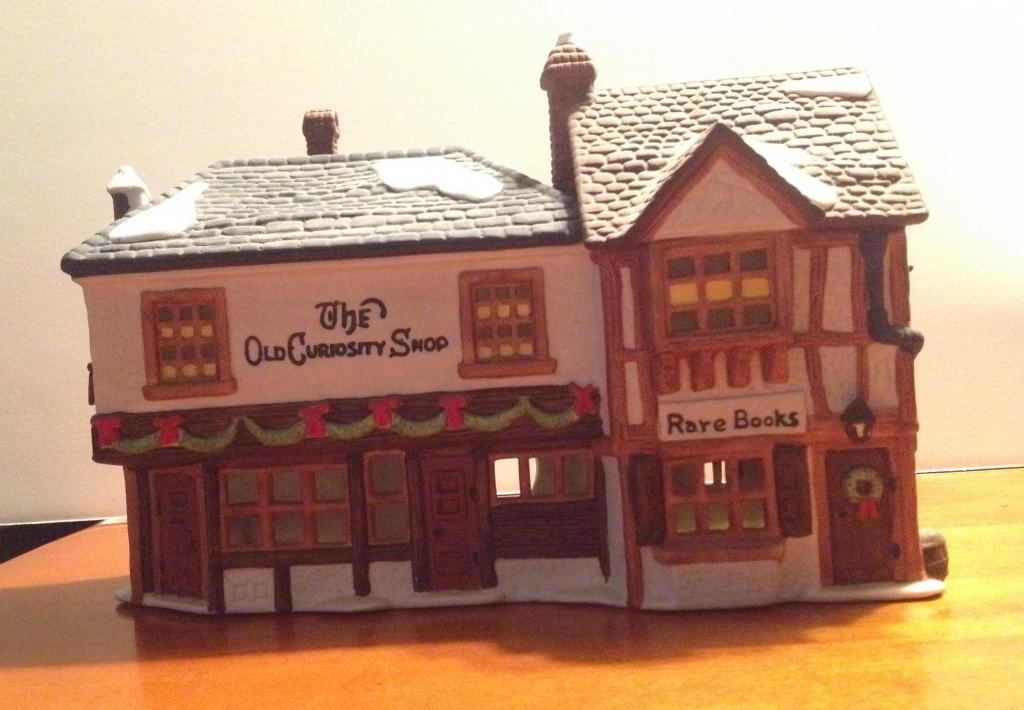 Mom loved it, and her enthusiasm was contagious. Soon I had a veritable little village, both gifts and my own purchases, and I set them up every year. Until 2001, the first Christmas season after she passed away in August from lung cancer. I couldn't bear to set them up.
When we sold Mom's house in 2002, I ended up with the vast majority of her belongings because (a) I had more room than my sister did; and (b) I knew at some point I wanted to go through things. Someday.
Last December, I finally brought down the three boxes of pictures I've had in the attic (and by boxes, I mean banker's boxes or larger!) and Mr. Brillig got us a scanner so I could digitize them. While I may never know who everyone is because there are very few members of the family alive to remember, I began in earnest to go through them a few weeks ago.
Two months ago, I finally felt able to go through the large box of her jewelry (most of it costume) without breaking into tears, and spent a wonderful afternoon with K1 looking through stuff. K1 is sporting several necklaces that I can't pull off but which look as great on her as they did on my Mom. I have to figure out what to do with most of it; waiting for my sister's next visit to see if there's anything she'd like and then I'll find someone to tell me what, if anything, may be worth a collector or hobbyist's attention.
Being able to do that gave me the incentive to finally say "It's time to put out my little houses again." Mr. Brillig helped me choose a set, and last week I set them up: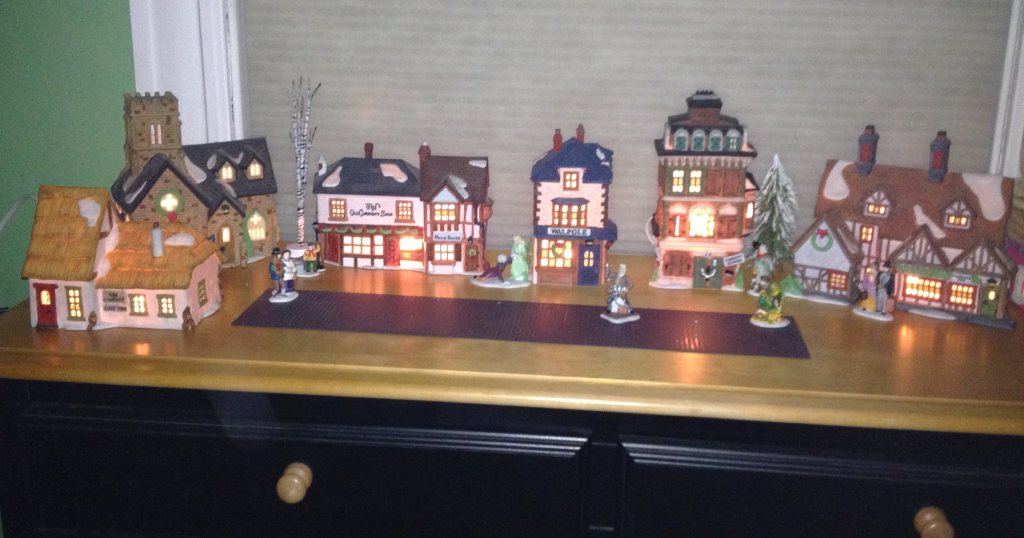 OK, so not so impressive in the daylight. They're glowing behind me now as I type, though, and I think Mom must be smiling. Probably also saying to her fellow heavenly friends "It's about damned time, what with all the care and love we put into choosing them. I thought they'd never see the outside of the boxes again!"
So yeah. I have little ceramic houses up. And by their light I'll hum carols and nibble all the indulgent sweet food we try hard NOT to have in the house the rest of the year, and play in Top Comments. And it feels right, finally.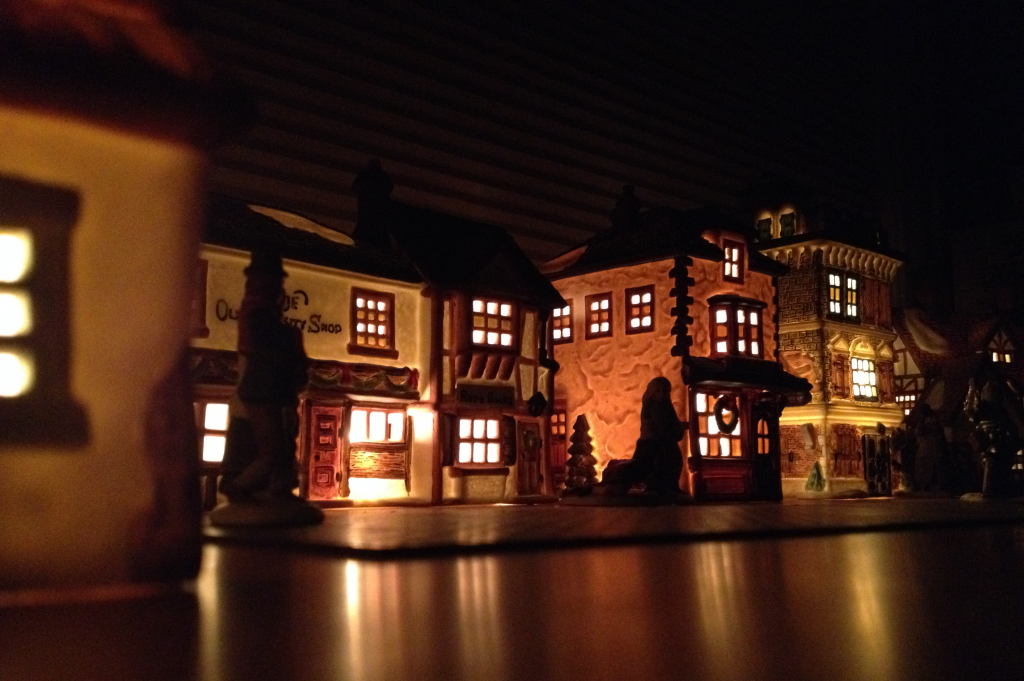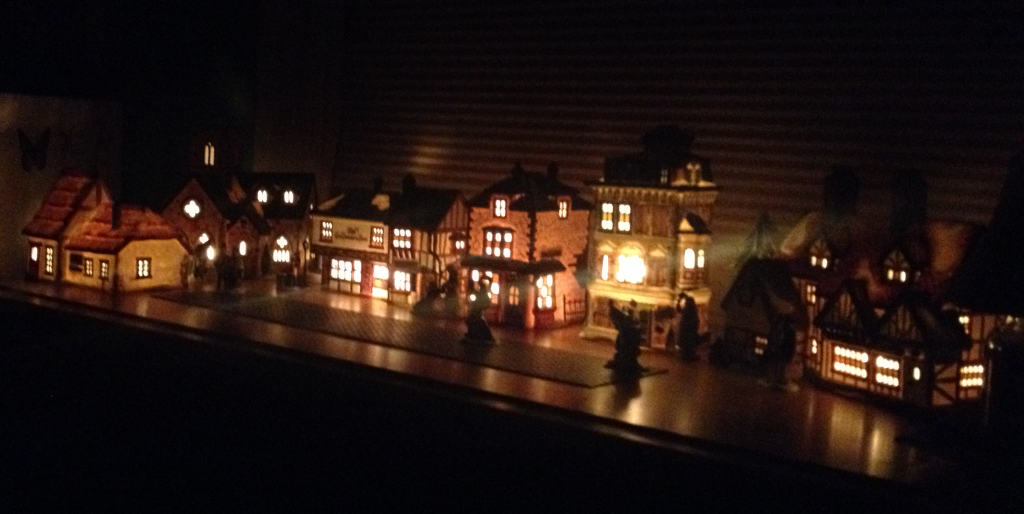 ---
Brillig's ObDisclaimer:
The decision to publish each nomination lies with the evening's Diarist and/or Comment Formatter. My evenings at the helm, I try reeeeallllyy hard to publish everything
without
regard to content. I really do, even when I disagree personally with any given nomination. "TopCommentness" lies in the eyes of the nominator and of you, the reader - I leave the decision to you. I do
not
publish self-nominations (ie your own comments) and if I ruled the world, we'd all build community, supporting and uplifting instead of tearing our fellow Kossacks down.
From watercarrier4diogenes:

Found these two comments by pat of butter in a sea of grits and DrTerwilliker in a sea of 'liberty vs mandated' vaccination policy arguments. They clarify just why there shouldn't be any argument in favor of 'religious exception', much less the 'bogus science' based ones of Jenny McCarthy and now Katie Kouric.
From ChocolateChris:

Irishwitch was aiming low and inside with this one.
From Yasuragi:

GenXangster has a winning comment!
From davehouck:

In the comments to Joan McCarter's diary Republican nightmare begins: Obamacare is 'a godsend' for people getting coverage, which included wonderful stories of people getting healthcare coverage through the ACA, there was this comment from puckmtl, which I thought put things in a really fundamentally stark perspective
From Puddytat:

From Steveningen, in my first Top Comments Diary last night. When something still has me laughing an hour after I've seen it, it must be a Top Comment.
From foresterbob:

In my Daily Bucket diary, GreenMother started this string which led to her hilarious story about a young squirrel's first encounter with snow. Everyone should read it just to be able to put "albino brain chiggers" into the proper context!
msdrown flagged this comment by Icbo.
From Yours Truly, brillig:

In weatherdude's Selfiegate, or more manufactured right-wing poutrage, jfromga explains why the outrage over one little picture.

From Joan McCarter's Computer illiterate doctor quits because of Obamacare, becomes hero to right comes RhodeIslandAspie's setup and Roadbed Guy's return!
---
Top Mojo for yesterday, December 9th, first comments and tip jars excluded. Thank you
mik
for the mojo magic! For those of you interested in How Top Mojo Works, please see his diary
FAQing Top Mojo
.
1) WTF? by snoopydawg — 111
2) To quote you: by navajo — 98
3) Small typo in your diary... by ontheleftcoast — 79
4) When... by RichM — 77
5) Child sexual abuse by karmsy — 74
6) I didn't believe it either by nomandates — 74
7) Good Lord. In eighth grade, Mr. Sinykin by Aquarius40 — 72
8) I worked at a Domino's back in the "30 minutes by ontheleftcoast — 70
9) The easiest thing anyone can do by grannycarol — 69
10) I had to look at the bottom by TDDVandy — 69
11) This is the neoliberal dream. by Richard Lyon — 65
12) The Rich hate us for our freedoms. n/t by Jim P — 64
13) Um, no... by JeffW — 64
14) Someone I know posted on FB about some of the by zenbassoon — 64
15) Pootie set to launch Christmas tree in 3...2....1 by Dem Beans — 63
16) So terrified this will pass. by MNPundit — 62
17) I'm very happy you're still posting here. by gooderservice — 60
18) Communication will be the key by Liberal Protestant — 60
19) "Grantng Corporatns 'Radical New Political Powers' by kurious — 60
20) Thank you for this diary by murphy — 59
21) that's the new name: the (Red-acteds) /nt by annieli — 59
22) For many of us, especially those who... by Meteor Blades — 59
23) As a community we cannot let this stand by hkorens — 59
24) Cheney can't even keep peace in his own family- by roseeriter — 58
25) Really? people who serve the common good... by tharu1 — 56
26) No surprise, really. by CwV — 56
27) Cokie not just a 'Villager'; by Ralphdog — 54
28) I'm not surprised, having heard this racist by BoiseBlue — 54
29) Why is the president WE elected pushing this shit? by bobdevo — 53
30) AND, for anyone who hasn't seen the photos by triciawyse — 53
---
Top Pictures for yesterday, December 9th. Click any image to be taken to the full comment. Thank you
jotter
for the image magic!