Heard the good news yet? 1.2 million Americans got covered between October and November.
http://t.co/...
— @BarackObama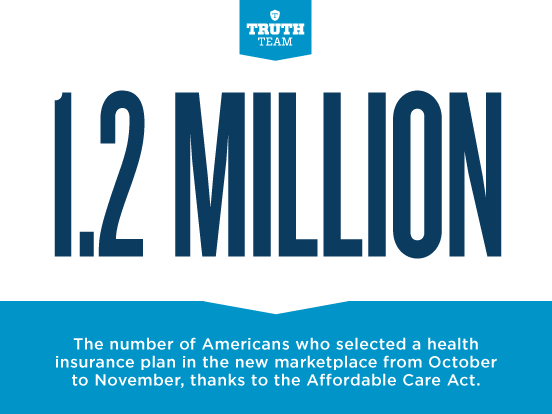 See also Brainwrap's
ongoing charting of ACA signups
.
* Good point from Steve Benen: with over a million people now on Obamacare, the GOP's "repeal and replace it with nothing" is every day less tenable. In a way, this is their own fault; we've seen how much of a firestorm arises when a few people lose insurance and the replacement isn't ready yet. Straight taking it away would make even Paul Ryan blanch.

* Paul Krugman suggests what must never be suggested: Republicans could be badly overestimating the strength of their anti-Obamacare political strategy going into 2014.

* With Healthcare.gov on its legs, the next big question is whether the administration can sell recalcitrant Republican states on Medicaid expansion. They've even got a conservative-compromise, in the form of letting very poor buy private insurance on the exchanges rather than folding them into Medicaid proper.
Norm Ornstein
:
The news that there will be no farm bill this year, after three futile years of embarrassing setbacks and turmoil, made me reflect on the larger issues. Exhibit A is the farm bill, the poster child for the state of dysfunction in Congress and American politics.

In 1969-70, my first year in Washington, George McGovern memorably took to the Senate floor to reflect on his colleagues' culpability in the Vietnam War. He said, "The walls of this chamber reek with blood," drawing a collective gasp from those on the floor and in the galleries. You weren't supposed to talk that way in the Senate. A week or so later, Bob Dole, then a freshman senator, took to the floor and ripped the bark off of McGovern for his apostasy.

But sometime later in the year, I saw McGovern and Dole walking arm in arm in the Old Senate Office Building. They forged a relationship that blossomed into a 40-year-plus friendship, based on their common interest in dealing with food issues. Dole, representing his Kansas farmers, embraced the food-stamp program on their behalf, a way to deal with farm surpluses. McGovern, with a deep passion to alleviate hunger in America, embraced a system of price supports that gave money to agribusinesses for not planting crops as a way to fund the food-stamp program.

Their alliance reflected a more than five-decade relationship between rural and urban lawmakers that made farm bills possible, a kind of model for how Congress, through compromises and trade-offs, can find majorities for legislation that primarily benefits minorities or narrower interests.

I hear @KatieShow is doing another #HPV vaccine episode with unbiased scientists for this Friday
— @DrJenGunter
More politics and policy below the fold.
The simmering feud between House Republicans and movement conservatives is finally an all-out war.

The tension exploded on Wednesday morning when Speaker John Boehner and outside conservative groups traded sharp barbs over the budget deal Rep. Paul Ryan (R-Wisc.) crafted with Sen. Patty Murray (D-Wash.). It only escalated later in the day when the leader of the right-wing Republican Study Committee forced out its long-time executive director for leaking private conversations about strategy to those organizations.
But don't worry. The budget deal will pass.
WaPo:
If the deal passes Thursday, it could mark a potentially significant shift by House Republicans from the uncompromising confrontation of recent years.
Maybe. But more likely, this...
Sooner or later, and it might as well be sooner, non-Republicans need to accept that the GOP knows exactly where its "soul" is located, and has an agenda that is impervious to significant change. What keeps getting described as a "struggle for the soul" of the party or a "civil war" is generally a fight over strategy, tactics and cosmetics, not ideology. For the foreseeable future, the conquest of the Republican Party by the conservative movement, itself radicalized by the election of President Barack Obama in 2008, is the prevailing reality of politics on the Right, and the GOP's practical options are accordingly limited to one flavor or another of that persuasion.
Josh Kraushaar
:
Many Republicans believe counter-attacks by the establishment is exactly the formula for unifying the party. It's time for more sticks than carrots, the thinking goes. But that ignores the fact that conservative voters are driving the rise of outside groups, not the other way around. These are the voters who hated the bank bailouts, resent campaign committee involvement in Republican primaries, and think politicians are too quick to "go Washington" when elected, enjoying the perks of power over the principles of politics.

These tea party voters aren't going away, and are the driving force behind the conservative opposition. That's why seven of the 12 Republican senators on a ballot next year face primary challenges, even if most aren't all-that-credible.

That means the dysfunction is here to stay, whether Republicans like it or not. It means the party will continue to look like an unruly mess for the foreseeable future, mostly being held together by their shared opposition to President Obama.