Although some have tried ...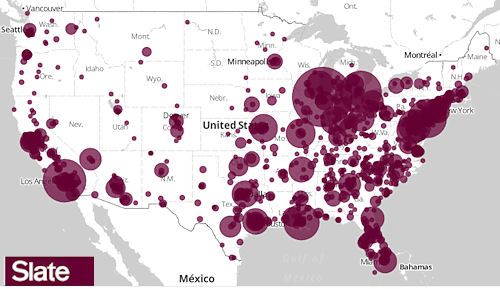 ---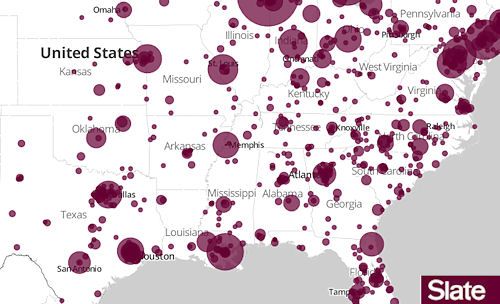 ---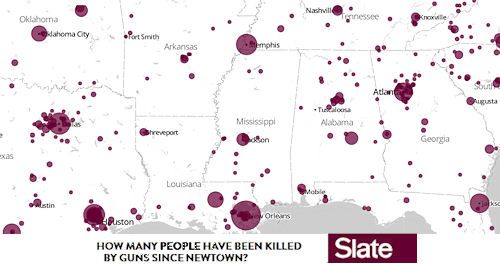 ---
---
---
Those very interactive maps can be found here ...

How Many People Have Been Killed by Guns Since Newtown?
Slate partners with @GunDeaths for an interactive, crowdsourced tally of the toll firearms have taken since Dec. 14.
by Chris Kirk and Dan Kois, slate.com

The answer to the simple question in that headline is surprisingly hard to come by. So Slate is collecting data for our crowdsourced interactive. [...]
The price of
postponing
more serious back-ground checks on gun-buyers, unfortunately
will be collected
, in this uniquely American "surcharge" ... that few bother to tally, except in ever-increasing lists of "grim statistics" ...
"Lists" that few ever to "read" ... until its unimaginable impact, strikes close to home ...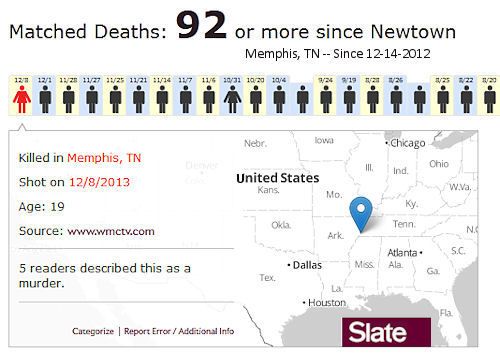 ---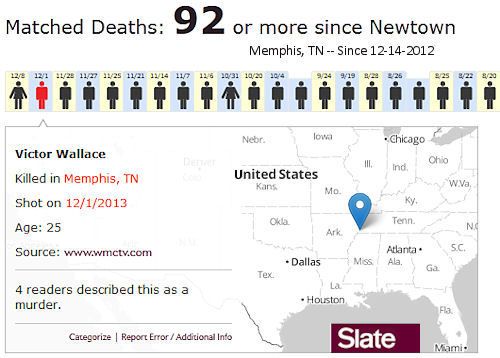 ---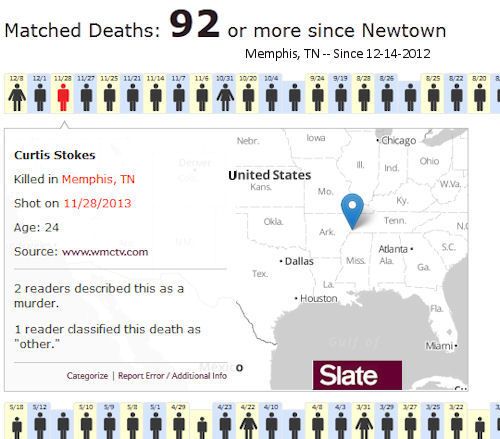 ---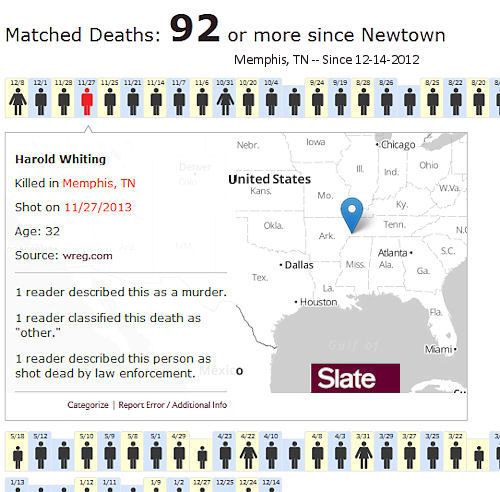 ---
MPD officer killed in hail of bullets
by Kristina Goetz, Memphis, TN, commercialappeal.com/news,
December 15, 2012
[...]
The chaotic, 8 a.m. encounter, as described by police, left Officer Martoiya Lang, a nine-year veteran and mother of four, dead, and Officer William Vrooman bleeding on the floor from bullet wounds to his leg.

Lang, 32, was shot in the upper torso and is believed to be the first female Memphis police officer killed in the line of duty. Vrooman, also 32, who has been on the force since 2007 and with the elite Organized Crime Unit since July, was treated at the Regional Medical Center at Memphis and released.

"Imagine Officer Lang waking up this morning, kissing her kids goodbye, watching them go to school, putting on her clothes to go to work and (suiting) up to hit a search warrant, not knowing what was on the other side of that door," said police director Toney Armstrong as he spoke with reporters outside The Med. "And now we know the outcome of that."
[...]




MPD officer killed in hail of bullets -- December 15, 2012


Photo by Mark Weber

A tearful Memphis Police Officer Caroline Mason (left) is comforted after two city police officers were involved in a shooting early Friday morning and taken to the Regional Medical Center at Memphis. Officer Martoiya Lang, 32, was pronounced dead at the hospital. The second officer, William Vrooman, 32, is in stable condition.
The Price of Inaction
DOES have a face
unfortunately -- whenever Gun Violence occurs,
it almost always does
.
I suspect that most victims of Gun Violence, were loved by someone ... and that most will be "dearly missed."
Afterall, THAT is what guns excel at -- producing. Permanent absences.

When they are NOT so "well regulated" as the Second Amendment implies that those wielding them, should be.


---

Memphis Photos -- Memphis, TN, commercialappeal.com/news


Martoiya Lang, slain MPD Officer -- Dec 14, 2012

Just one more of those "faces of gun violence", from one very long and very difficult to fathom Statistical List ...
Such is the Price WE pay, on an on-going, and daily basis. Just ask Memphis. Just ask Anytown, USA.
---
We Are All Newtown
Newtown Memorial Garden
"I have HOPE, hope that because of this new coalition of Americans, "change is gonna come". Newtown is no longer just a place, but a movement."

"We are all Newtown and we are all Hartford. And Baltimore, Chicago, Detroit, Aurora, Tucson, Virginia Tech, and Columbine. We all stand united in our quest to end the parade of pain. We all seek peace. PEACE."


"We are all Newtown. We choose love. LOVE! Honor with action."
~Monte Frank
Americans from very different communities are locking arms and honoring the memories of the more than 30,000 victims of gun violence since 12/14 by performing acts of kindness. In this way, those lost to gun violence will be honored with action.

#HonorWithAction
#ActsOfKindness
#Newtown

We Are All Newtown Blogathon posts from 9AM Eastern to 8PM Eastern, Saturday, December 14, every couple hours throughout the day. Featuring Monte Frank who is in Washington DC for the National Vigil For Victims of Gun Violence.