Just over one month ago, on Saturday November 16th, Louisiana's Fifth Congressional district held a runoff to replace Rodney Alexander, who had stunned political observers several months earlier by, in short succession, announcing he would not seek reelection, and then, several days later, resigning to take a position as VA Secretary for Bobby Jindal. Representative Alexander was the most senior member of the state's delegation to the U.S. House, and infamous for his deeply dishonest method of switching parties in 2004, when he first filed as a Democrat and then, just a few minutes before the filing deadline passed, refiled as a Republican, eliminating the chance of significant opposition from the party that spent considerable resources electing him just two years earlier.
The campaign to replace Alexander turned into a multifaceted, fascinating campaign, competitive and wide open—contrary to the intentions of Alexander and Jindal, who (and this is the open consensus of reporters and political insiders in the state, alluded to even by David Vitter), had colluded to create a short-notice campaign in order to benefit their favored candidate, Neil Riser, who would then have major advantages in already having wide name recognition, institutional groundworks, and money that would make him a heavy favorite in a short campaign cycle for which no other candidate was prepared. Instead, a full slate of candidates entered into the run-off (which I have written about previously), including a former congressman and a handful of current or former state legislators. The last two candidates standing were, as expected Neil Riser, and most surprisingly, the insurgent candidacy of local businessman Vance McAllister of Swarz, a fusion of a McMansion bedroom community for Monroe and small rural town. McAllister came from nowhere to snatch the coveted runoff position from a group of much more well-known and established politicians, including Clyde Holloway.
McAllister came to my attention before most other election observers, both nationally and on this site, because this district was my high school stomping ground and still serves as my home away from college. My uncle lives in Swarz, and I lived not far away from there going to high school. My grandfather and uncle know McAllister from Ouachita Christian School, where my uncle and McAllister went to school (more on that important dynamic later), and Neil Riser's wife and Chief of Staff Vicki Riser was a well-loved teacher and figure at my high school alma mater of River Oaks. This campaign was a bizarre experience for me, in that for the first time there was a competitive campaign in my backyard, and not only that, but I had a rather personal and insider take on the campaign due to the people running and our mutual associates.

Despite a complete lack of experience in politics, McAllister undercut the outsider message of state Representative Jay Morris, and coupled that with a populist messaging that resonated. He proved to be a natural politician, and most importantly, used his connections to Ouachita Christian School, OCS, to get a solid and powerful network of endorsers and interpersonal promoters in Ouachita parish and the surrounding rural areas north of there, most famously the Robertson family of Duck Dynasty fame.
Still, the results of the first round were mixed at best. Neil Riser still scored nearly double the vote total of anyone else, taking 32%, and still had the backing of virtually every establishment politician or political group in the state and in Washington. What's more, even the normally outsider-loving Tea Party groups were backing Riser, who had (contrary to his 2007 campaign) a strong record as stalwart, stubborn figure of the far-right, unyielding and virulent in his rhetoric. In between the first round and the runoff, McAllister went from 18% to 60%. What happened?
Here is a map of the election.
McAllister 50-55% - Magenta
McAllister 55-65% - Purple
McAllister 65+ - Indigo
Riser 50-55% - Red
Riser 55-65% - Brick
Riser 65%+ - Maroon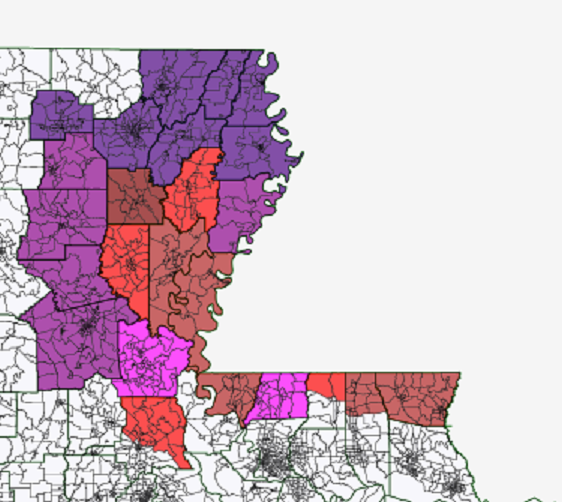 The Fifth district is quite a piece of gerrymandering, with more Parish splits than in the above image, which is my approximation. Several of the parishes may have splits I did not show, or that fall along slightly different lines than I used. What's truly stunning is how McAllister dominates the three largest parishes in the district, Lincoln, Ouachita, and Rapides, winning 67%, 69%, and 67% respectively. These three parishes account for approximately half the population of the district, and yet Neil Riser was demolished in all three.
There are several reasons behind this. On one level, the most critical stories about the perceived backroom deal between Jindal and Alexander to aid an ally and perceived up-and-coming star, originated from these big urban centers, with Alexandria's (Rapides Parish) Town Talk waylaying it in particular. Furthermore, important endorsements came in for McAllister. First was that of former Congressman Clyde Holloway (currently elected to the Public Service Commission) of Alexandria, and then came Monroe(Ouachita parish) mayor Jamie Mayo's endorsement. Even the extremely liberal former Congressman Cleo Fields, who had represented the infamous Z gerrymander that gave the state a second VRA black district from 1992 until 1996 when the Supreme Court ruled it an unconstitutional gerrymander, did robocalls for McAllister.
Facing more pressure than he had ever expected Riser went hard negative against McAllister. Who can blame him? Riser had spent years doing everything right; he thought he had covered his bases, making buddies with the establishment and crafting a sterling record as a conservative purist. Yet here he was in a run-off against a 39 year old political novice and falling behind. So Riser fell back on the tried and tested strategy of Tea Party campaigns around the country: he attacked McAllister left and right, including sending mailers out with McAllister's photo right beside Obama's and his allies called McAllister a liberal politician. In short, Riser kept running like the campaign was to get 50% + 1 of the vote in a reactionary southern Republican electorate. McAllister stepped out to openly endorse a path for citizenship for illegal immigrants and while McAllister strongly urged repealing the ACA and starting over, he also said he wanted to keep the medicaid expansion and that Louisiana should have accepted that expansion. McAllister also said that, in the meantime, since Obama is President and Democrats hold the Senate, that it would be best to try and work together to improve the ACA. When the run-off came. McAllister dominated the black vote, the remaining white Democratic vote, and romped in his base in the rural north part of the district.
McAllister frequently talked with pride about how he had never been to Washington D.C. even once, and played up his family's poor farming roots and his own ascendency to wealth (he self-funded his campaign entirely, to the tune of 400,000 dollars). He campaigned on a mostly positive note, and sold his image alongside the sort of pragmatic pro-government conservatism that has generally been the mainstay of Louisiana politics. Meanwhile, Riser's attacks had the opposite effect, and rather than turning off conservative rural supporters of McAllister, those same voters circled the wagons and doubled down, while Riser failed to emphasize his own rural roots, winning out only in his senate district (district 32, seen here in green:http://senate.la.gov/...), plus the southern edges of the district where his money and resources won out in the absence of a homefield candidate.
McAllister's sudden ascension and sweeping victory was a shocking turnaround for political observers in the state and in D.C. Coming in the slow news cycle right before Thanksgiving, his win got endless replay in the local media, and his family's first trip to Washington received its own special news segment, playing up a Mr. Smith Goes to Washington dynamic. How long this positive honeymoon and newly found star power will last is up for debate, but one thing seems pretty clear: McAllister is probably the most popular politician in northeast and north-central Louisiana right now. Alexander's resignation produced a surprising and fun to watch campaign, replete with plenty of drama and a refreshing rebuke of the status quo, including Bobby Jindal, who still mostly likely harbors delusions of running for President.
P.S. While Dkos does have reader gauges, these aren't entirely accurate. I always appreciate users who vote in my poll as that gives a more accurate count of readership. Which is always nice to know for something you worked hard on; sucks to feel like you are talking to a wall.