Good Evening, Kossacks, and welcome to WYFP.

WYFP is our community's Saturday evening gathering to talk about our problems, empathize with one another, and share advice, pootie pictures, favorite adult beverages, and anything else that we think might help. Everyone and all sorts of troubles are welcome. May we find peace and healing here. Won't you please share the joy of WYFP by recommending?
I don't have too many FPs tonight. My semester is over, and my grades are all submitted. I do not have to teach again until late January. However, blue jersey dad and I did manage to catch the cough from hell. We rarely get sick, but this one is a doozy. At night we cough and wake each other up. Since I was in the UK for a few days last week, I managed to spread this nasty bug across two continents.
Please follow me below the colonial cheeze doodle for a few thoughts on the Solstice, getting, older, community, and family.
The Winder Solstice: Today is the shortest day of the year in the northern hemisphere, and we await the return of the light. The solstice has been celebrated for millennia. Here you can see a picture of the Neolithic passage tomb of Newgrange in Ireland. On midwinter's day the sun's light shines through the light box and down the passage of this ancient monument:
I want to wish a Blessed Solstice to all those who celebrate today.
I also want to wish everyone who celebrates a very Merry Christmas. We do celebrate Christmas here at Casa Blue Jersey. Here is a picture of our small tree. We plan to finish decorating the big one tomorrow:
And, for the rest of us, here is a Festivus pole: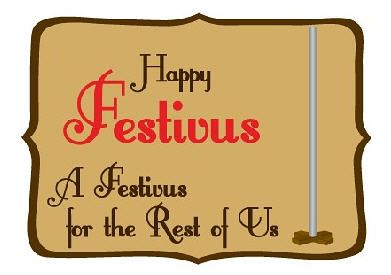 Getting Older: Tomorrow I will turn 62. I will be eligible for Social Security (although I won't be taking it yet) and half-price tickets on NJ Transit. I really can't complain about getting older; the alternative is much worse. Still, I am always surprised when I look in the mirror and see an older lady looking back at me.
As a soon-to-be senior citizen, I am worried about the future of Social Security. I am one of the lucky ones. I have a tenured job at a major university. I like to teach, and I have no plans to retire. Most folks my age are not so lucky. Folks who do hard, physical labor--roofers, carpenters, etc.--often can't do those jobs at 62. Many older folks who were laid off in the great recession have not found new jobs. We need the social safety net. We should be expanding Social Security, not threatening cuts to it.
Community: I have always thought that if we want to build a progressive political movement in this country, we need to build a progressive community. I am delighted that Kos has committed to work on community building in 2014, and that navajo has been named as the full-time director of community relations. I want to work to keep this diary series going. It is one of the oldest community series on the GOS. I wrote my first WYFP diary in January of 2007. It was only the second diary I had posted on DKos. We all need community. Many of my Facebook friends are current or former Kossacks, and we all need an ear and a place to air our FPs.
Family: I have been blessed with a wonderful husband and three great kids who are now all in their 20s. Here we all are in Italy last summer:
I am headed to the airport to pick up Son 2 who is flying in from LA. I may not be around to chat until later this evening. From our house to yours, I want to wish you all peace and joy in the New Year. Happy Holidays to all.
6:22 PM PT (annieli): adding this to BJM's page for vzfk3s