Good morning, and HAPPY NEW YEAR. Welcome to Saturday Morning Garden Blogging New Year's Resolution Edition.
We all have our gardening foibles -- things we never do well or consistently; conditions that change either temporarily or permanently; plans that we doggedly pursue which aren't really suitable for our landscape, climate or lifestyles.
So -- what are you going to commit to doing next year?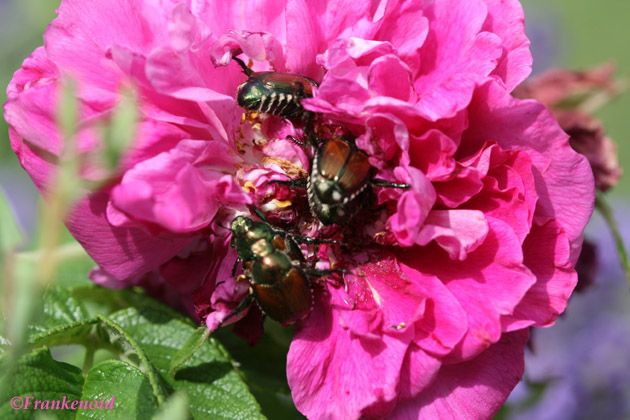 My resolution has to do with adapting to changing conditions, specifically working at controlling the Japanese beetles which I found for the first time in my garden last summer; and prophylactic treatment for powdery mildew so I can -- hopefully -- avoid it wiping out my melon crop next year. Two years of home-grown melons has destroyed my tolerance for melons that aren't ripe enough! -- Franki
Blue Jersey Mom here. My resolution is to do a better job on the vegetables. As you all know, I am mostly a flower gardener. However, dad expanded my veggie garden a year or so ago, and now I have more room for the greens. For a start, I am not planning on three months of field work this summer. That will certainly help my garden. I want to look for varieties of veggies that do well in small spaces. I plan to grow the lettuce in pots close to the house. My fall crop did really well in pots, and I can easily pick a few leaves for dinner each evening. I had good success with the eggplants and green peppers that were designed for small gardens (from Burpee's), and I am looking for a small, determinate tomato. I am also looking for a compact green squash. I green some big variegated squash last summer, but I really want some small courgettes. I also plan to put a few sunflowers in the back of the garden because I like the way they look. Wishing you all peace, joy, and successful gardening in 2014.
Missy's Brother. I have promised myself to spend more time and energy in the vegetable garden and less with flowers and landscaping. I am usually successful with all vegetables except artichokes. Years ago I grew many artichokes both to eat and for the beautiful flowers. After about a ten-year absence, I took them up again. Four years in a row I didn't get one bud, never mind keeping the plants alive. I only plant seeds that can be sowed directly in the garden soil so with artichokes I buy plants as they have a long growing season but they are expensive! I swore last year would be my last try so I bought four plants at $5.95 each. I only got the two buds below


The buds were beautiful and I showed them to everyone that stopped by my house whether they wanted to see them or not. Above right the artichokes are in soon to be boiling water. I scraped the meat off the hard leaves, chopped the soft ones and of course used the hearts, the best parts. They were saute in olive oil with some onions, fresh corn and herbs to create a wonderful side dish. Was it worth it? You are damn right and my resolution for the coming year is to have so many artichokes that I have enough to give away!
Merry Light
After the veggies are planted I'll start working on the west front garden. I've already done some work this fall. First, I had to dig up all the stuff that was in this west "holding garden", such as the asters, the dark night salvia, and some maltese cross plants that I'd put there during the last couple of years. I also dug up all the morning glories, now known at my house as the "f'n weeds". I think I'll be pulling up more next year, that's for sure.
Several years ago, I had put some bricks under the arbor that holds the climbing rose up. They subsequently were buried by the dirt that washed down from above, as it is on a hill. So I dug up the bricks, put more sand underneath and then weed fabric, plus a brick border that I hope will help keep the dirt out in the future. That chore done, I turned my attention to the back of the garden. I've planted some bulbs, put a little tree up against the back wall where the deck is, and put some stepping stones in. I'm planning on putting back some of the plants that had lived there before except I'm not going to let it get so overgrown this time!
jayden

After the past few years of ongoing record drought and the resulting battle against nature I've been giving a lot of thought about my garden plans for 2014 and beyond. I've decided that it would be prudent to change the emphasis from new plants to maintaining the ones I already have. This coming year will see less planting and more maintenance, hardscaping, and other related garden projects. Oh, I'll still find something I simply must have to plop in the ground but it won't be the main focus. Countless odd garden projects that need to get done are piling up because anymore I spend most of my time concentrating on this

and getting tangled up in this

just so I can do more of this

which leaves less time for this