This is a new map following the idea of finding the limits for a Democratic map of several states. Where are the limits for a Democratic map of the state of Washington? You can see the limits today.
The current congressional map of Washington is one of the maps with a bigger Republican bias over the states average. Time ago I designed a formula to see the bias of the districts PVI over the states average. These are the results:
+0.464: MI
+0.408: NJ
+0.360: OR
+0.340: WA
+0.322: IL
+0.272: CA
+0.250: MN
+0.250: PA
+0.248: NY
+0.233: NM
+0.225: WI
+0.164: VA
+0.150: ME
+0.138: MD
+0.131: OH
+0.100: NV
+0.086: CO
+0.040: CT
+0.011: MA
=0.000: HI
=0.000: VT
=0.000: RI
=0.000: DE
=0.000: NH
=0.000: IA
=0.000: MT
=0.000: ND
=0.000: SD
=0.000: AK
=0.000: KS
=0.000: WV
=0.000: AR
=0.000: ID
=0.000: OK
=0.000: UT
=0.000: WY
-0.031: NC
-0.033: NE
-0.041: FL
-0.050: MO
-0.143: SC
-0.143: AL
-0.150: KY
-0.167: LA
-0.222: IN
-0.222: TN
-0.250: MS
-0.286: GA
-0.300: AZ
-0.313: TX
A positive number means a pro-Republican bias, a negative result means a pro-Democratic bias. In overall terms the pro-Republican bias is bigger and is present in more states that the pro-Democratic bias, and only the Voting Rights Act keeps a little pro-Democratic bias in the maps of several southern states. In many states, the current congressional maps are very close to the most extreme Republican Gerrymander, but we see not close maps to the limits for a Democratic map in the states ruled by Democratic politicians, like you will see in this series.
In the case of Washington you will see now a 10D-0R map. It means that in a map finding the limits the 40% of the current delegation in the US House would change of hands. The current map of the state is very pro-Republican. If you wish you can to try the inverse change, to try a 2D-8R map for Washington with 8 Safe R districts. I can tell you that it is not possible. The current map for Washington is a lot closer to the Republican extreme than to the Democratic limits and has a strong pro-Republican biass.
The current Redistricting procedure is keeping decade after decade very close maps to the old Republican Gerrymanders in the state. The things are in the hands of the Democratic Party of Washington. It is possible to change the things.
If the Democratic Party does the right things where it is possible to do, the next decade the US House will not have a map with a median in R+2 seats. The median seat can be perfectly in D+.
These are the images of the map. The full data of every district is included in every image. Every district is over 57,5% Obama 2008, in the range of a PVI of D+5. It is not the nicest map, but also there is a decent number of current real congressional maps that are uglier.
OVERALL MAP: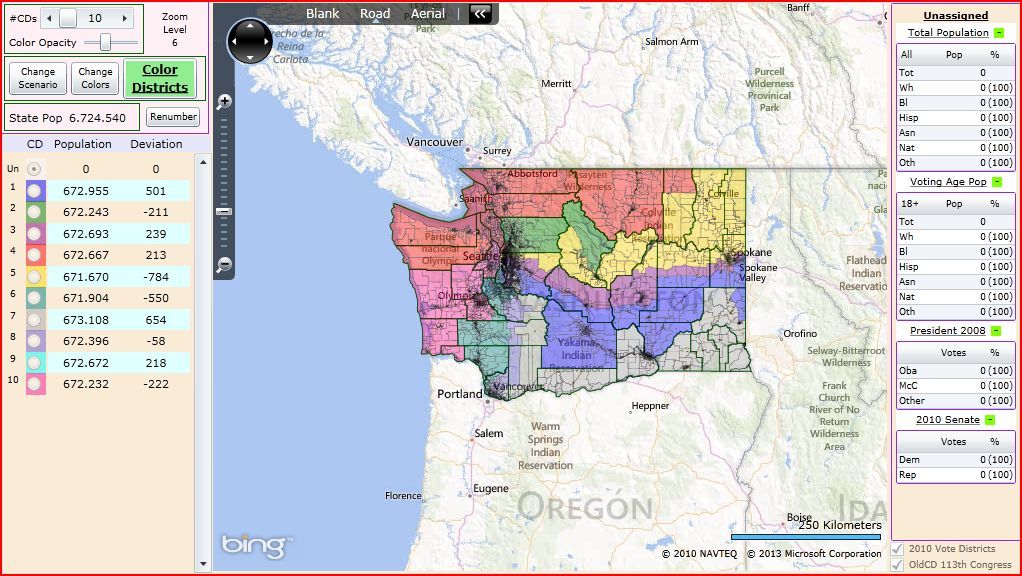 WA-01: S DelBene (D) and R Hastings (R)
WA-02: R Larsen (D)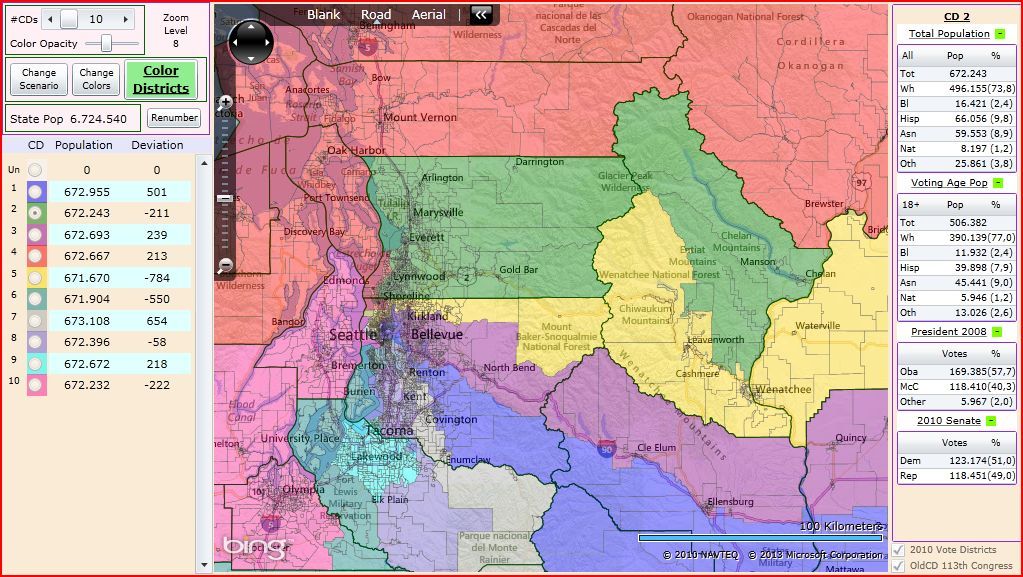 WA-03: Open by R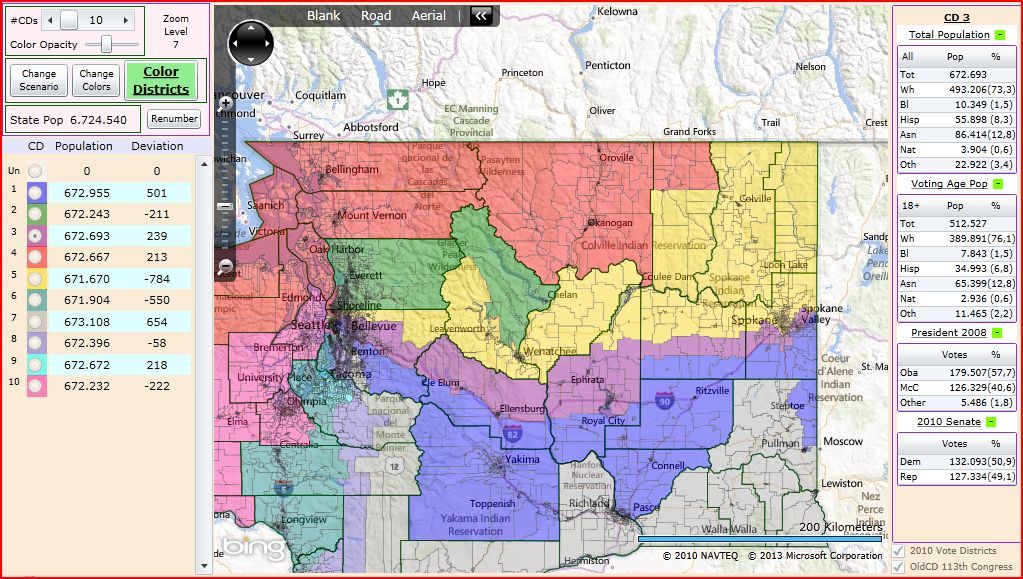 WA-04: Open by R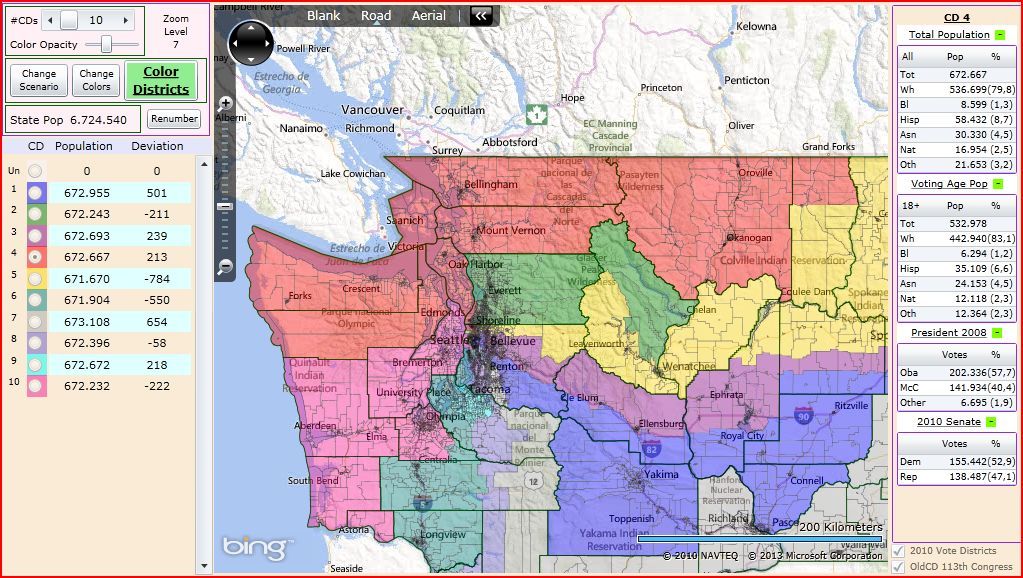 WA-05: C McMorris Rodgers (R)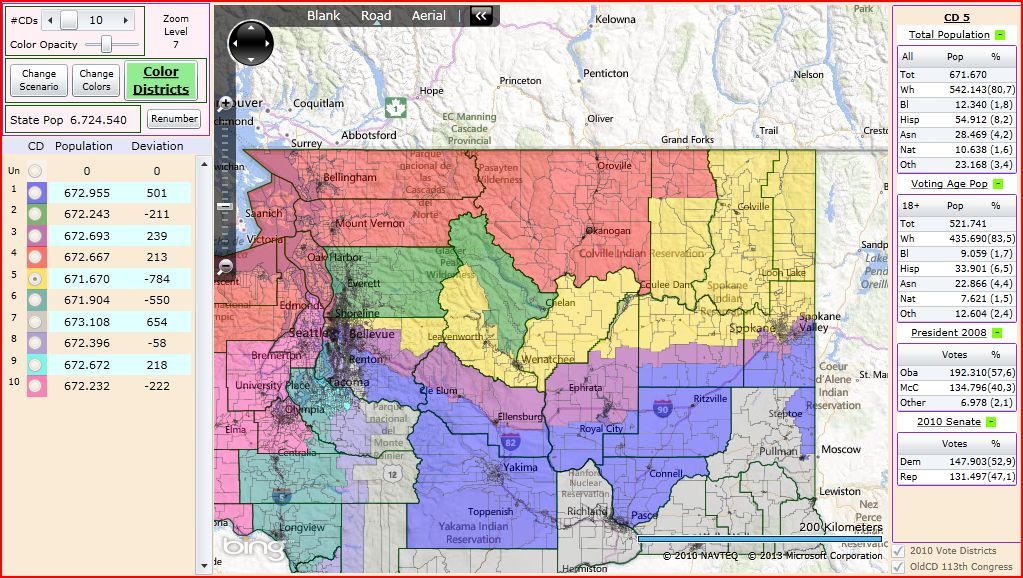 WA-06: D Kilmer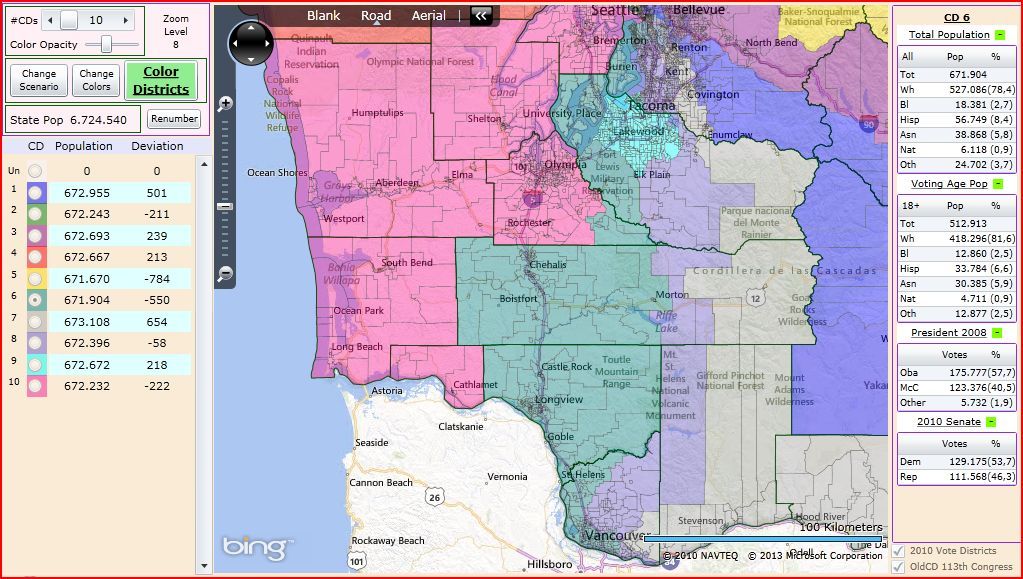 WA-07: J McDermott (D)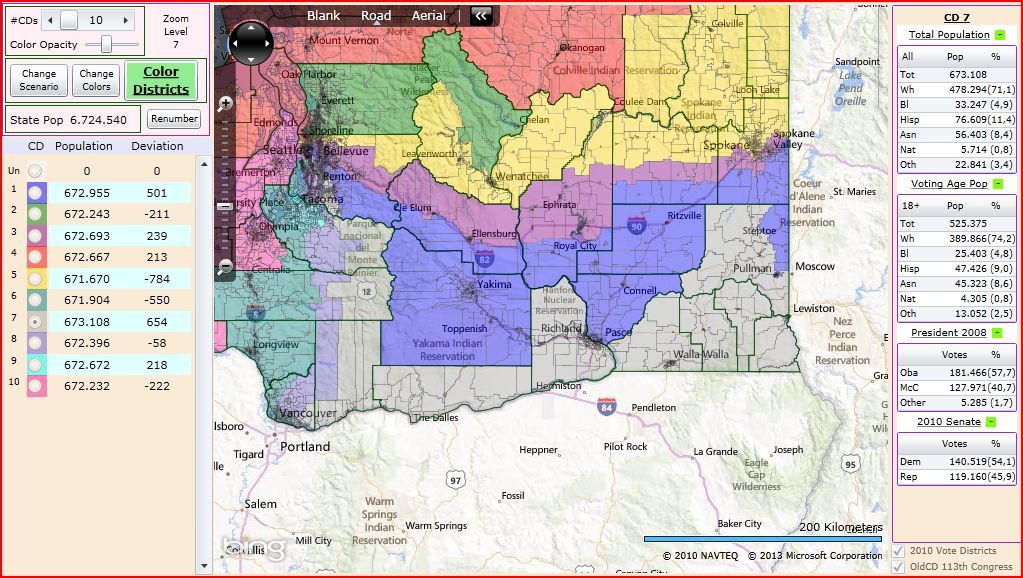 WA-08: J Herrera Beutler (R) and D Reichert (R)
WA-09: A Smith (D)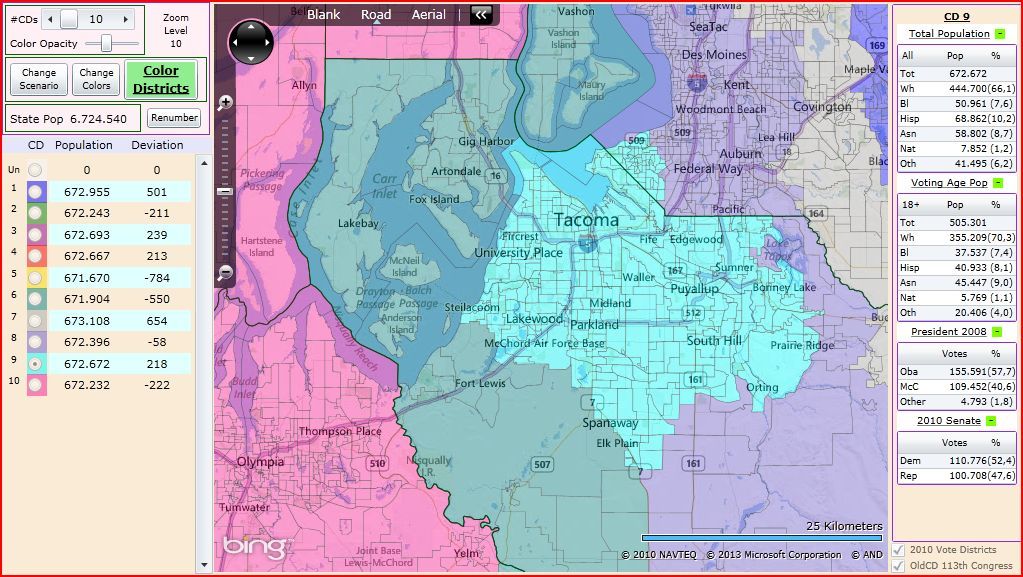 WA-10: D Heck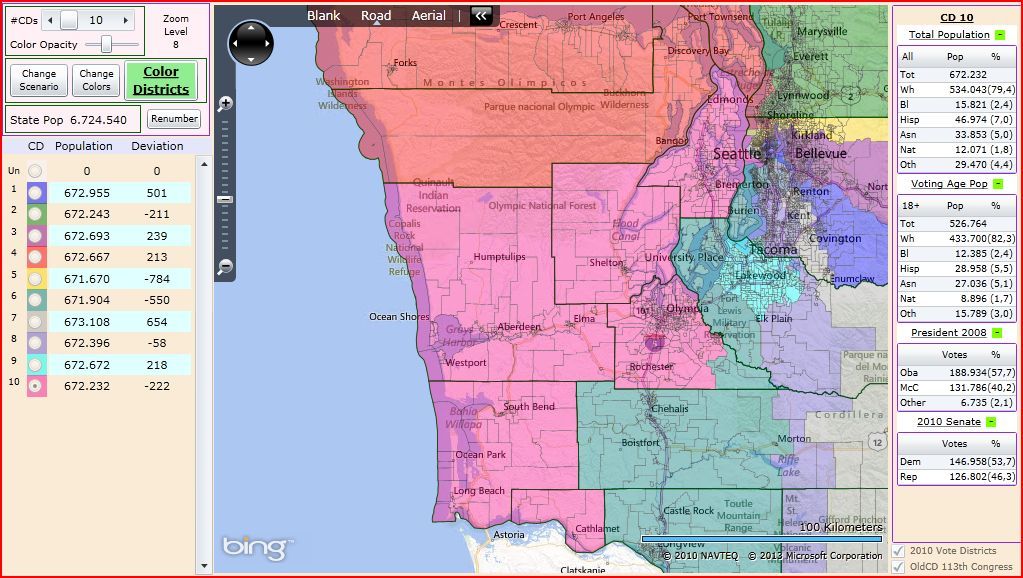 SEATTLE AREA:
FINDING THE LIMITS OF A DEMOCRATIC MAP FOR THE US HOUSE
01.- Hawaii 2D-0SD-0SR-0R map
02.- Vermont 1D-0SD-0SR-0R map
03.- Rhode Island 2D-0SD-0SR-0R map
04.- New York 27D-0SD-0SR-0 map (28-0 then still)
05.- Maryland 8D-0SD-0SR-0R map
06.- Massachusetts 9D-0SD-0SR-0R map
07.- California 53D-0SD-0SR-0R map
08.- Delaware 1D-0SD-0SR-0R map
09.- Illinois 18D-0SD-0SR-0R map
10.- Connecticut 5D-0SD-0SR-0R map
11.- New Jersey 10D-0SD-0SR-2R map
12.- Maine 2D-0SD-0SR-0R map
13.- Washington 10D-0SD-0SR-0R map
14.- Oregon
15.- New Mexico
16.- Michigan
17.- Minnesota
18.- Wisconsin
19.- Nevada
20.- New Hampshire 0D-2SD-0SR-0R map
21.- Iowa
22.- Pennsylvania
23.- Colorado
24.- Virginia
...
From a total of 152 seats, the maps for these 14 states are showing a potential of:
- 148 safe seats for the Democratic party.
- 2 swing seats with a Democratic lean and Democratic incumbents.
- 2 safe seats for the Republicans.
It gives a potential improvement of 36 US House seats (all them only from 6 of the 14 states).
When a 27-0-0-0 map for NY can be done, it mean that every option below that can be drawed (26-1-0-0, 26-0-1-0,...). Only you need to define the requirements. With lower requirements nicer looking maps can be done.
I have also finished the maps for NM and NV. Them will be published fast.