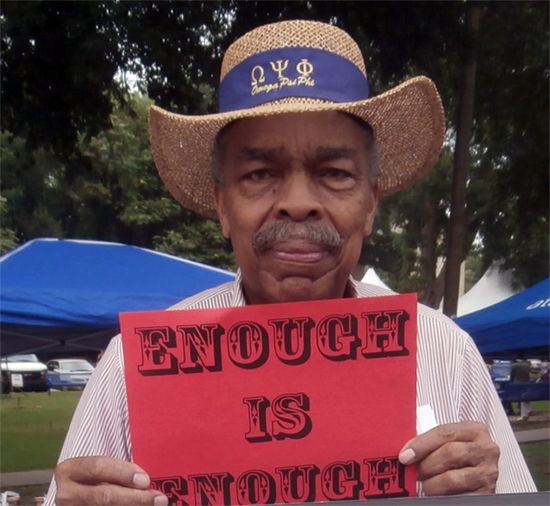 (Thanks to Kossack sc kitty for posting in comments)
Taking a page from the Moral Monday Movement in North Carolina, that has now spread to Georgia, activists in South Carolina have declared "Enough is enough!" and are heading to the SC statehouse on January 14th with these demands:

Expand Medicaid
This year, some 1,300 South Carolinians will die because state lawmakers pushing an extreme agenda refused a federal grant to expand Medicaid.

Fund education
In 2013, K-12 funding was nearly $500 million below what is required by law. Higher education funding is 40% less than in 2002, and tuition at our state colleges is among the nation's highest.

Protect voting rights
South Carolina has the least-competitive elections in the US, with 80 percent of lawmakers facing no major opposition in general elections. And instead of trying to make voting easier and more accessible, SC's political elite keep making it harder and less inclusive.
They are asking demonstrators to wear black:

We will wear black as a symbol of mourning, in honor of the 1,300 who will die this year in South Carolina because the state refused to use our tax dollars to expand Medicaid.
The
Charleston City Paper
reports:
Progressive activists in S.C. to launch 'Truthful Tuesday' at State House
Progressive activists across South Carolina will gather at the State House in Columbia next week for 'Truthful Tuesday' — an event styled after a series of protests at North Carolina's capital dubbed Moral Mondays.

"It's to really put lawmakers on notice regarding the need to expand Medicaid and protect voting rights and to fully fund public education," says George Hopkins, a College of Charleston history professor and Charleston chapter president of the S.C. Progressive Network. "Hopefully on Wednesday the 15th the headlines across the state will read 'Citizens Descend on Columbia' to demand legislators take action on these issues."

Legislators will return to Columbia on Jan. 14 to begin the second of a two-year legislative session. During the week the Legislature is in session Tuesday through Thursday. Last session, South Carolina became one of several states that chose not to expand Medicaid under the Affordable Care Act healthcare law. Lawmakers have also passed a Voter ID bill, and the last session saw efforts to curb early voting.
The coalition has been convened by:
National Association of Social Workers – SC
SC AFL-CIO
SC Christian Action Council
SC NAACP
SC Progressive Network
The SC Education Association
Get the word out to everyone you can in South Carolina, and if you don't know anyone there you can still send support.
This is how a movement grows, one day, one person, one group at a time!
Cross-posted from Motley Moose