A look at a very accomplished musician (both as a performer and a long-time music educator) who had a moment-of-truth in revealing his sexual orientation twenty years ago, as we will see after the jump .....
But first: Top Comments appears nightly, as a round-up of the best comments on Daily Kos. Surely you come across comments daily that are perceptive, apropos and .. well, perhaps even humorous. But they are more meaningful if they're well-known ... which is where you come in (especially in diaries/stories receiving little attention).

Send your nominations to TopComments at gmail dot com by 9:30 PM Eastern Time nightly, or by our KosMail message board. Please indicate (a) why you liked the comment, and (b) your Dkos user name (to properly credit you) as well as a link to the comment itself.
Even if you are not a jazz fan: one musician whose work you should know of is the vibraphone player
Gary Burton
-€" whose fifty-year career has him not only performing in the jazz world, but also as a sideman to others in different music genres, as an early pioneer of jazz-rock, a 7-time Grammy winner and as a music educator and dean at Boston'€™s noted Berklee College of Music. I first heard an album of his when I had a work/study job at a public library while attending a community college ... and have never stopped.
Last year, he released his autobiography Learning to Listen -€" which George Wein (the founder of the Newport Jazz Festival) considers the best musical biography he has ever read, due in large part to its honesty. Wein said of Duke Ellington'€™s Music is my Mistress that what was in the book was true, but that it left out way too much. I finished the book over the Thanksgiving weekend .... and came to agree with Wein, as this book being the best insight into a musician'€™s life as I can recall (and I'€™ve read several).
And Gary Burton can stand out as someone who made his living playing the vibraphone (vibes), which is an uncommon instrument. Many in the general public might only be able to name the late Lionel Hampton as a vibes player (with Cal Tjader, Red Norvo and the Modern Jazz Quartet'€™s Milt Jackson known mostly to jazz buffs). As the All-Music Guide'€™s Scott Yanow noted, Burton along with Bobby Hutcherson are the two best vibes players who came-of-age in the 1960'€™s. Gary Burton says that -€" compared to instruments such as the trumpet and other horns, violins, etc. -€" the vibes are a relatively easy instrument to get a good sound out of in a short amount of practicing. The downside? Well, they'€™re expensive and bulky to carry.
Gary Burton was born in 1943 in Anderson, Indiana: forty miles north-east of Indianapolis. In his book, Burton notes the many jazz stars born in the state (including Wes Montgomery, Freddie Hubbard, J.J. Johnson and Slide Hampton) and said he received a good musical education in the state. But he also had anxieties about his sexual orientation, which he wrote was a down-side of growing-up in small-town Indiana.
Many musicians who become known as vibes players begin (and also continue) as drummers, with Lionel Hampton and Milt Jackson as prime examples. Gary Burton came to it via piano lessons (with Bill Evans as a role model). He also found that he was blessed with perfect pitch, which helped him learn easily. And what many people will remember most about Gary Burton when he dies: will be his using four mallets (two in each hand) as a vibraphonist, most uncommon on his instrument. At least, that is what he predicts in the last paragraph of his autobiography.
He was a student at a (then) relatively unknown Berklee College of Music in Boston at the beginning of the 1960'€™s - and then found he was receiving too many offers of work to continue. One interesting sidenote: he settled in Nashville, where he worked with Chet Atkins plus Hank Garland and Floyd Cramer for a few years. He then spent time with pianist George Shearing (noting several anecdotes about Shearing using his blindness to play practical jokes) and with Stan Getz, which was quite rewarding yet trying (as Stan'€™s alcohol/drug use was at a peak in the mid-1960'€™s). Finally, he felt the time was right to strike out on his own.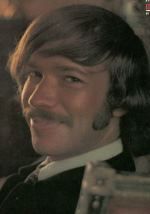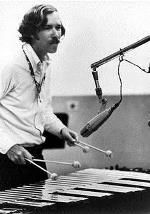 In time, he formed a version of his Gary Burton Quartet with another young, influential musician: guitarist Larry Coryell. Their four 1967 & 1968 albums (including Duster and Lofty Fake Anagram) are one possibility for the advent of jazz-rock. One reason: they were often booked by Bill Graham (as part of his wide-ranging musical tastes) to perform at the Fillmore in New York and San Francisco - with Gary Burton wearing a fringed buckskin jacket in those days when concerts catered to a wide range of performers (they even visited Carnaby Street while in London).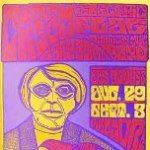 Burton, though, did have his limits as far as becoming too much like the rock acts they were paired with: shouting "Don'€™t ever play a backbeat in my band!" to drummer Bob Moses. He knew the band had to end when he saw both Coryell (and bassist Steve Swallow) rise in stature to the point where they needed to strike-out on their own ..... just as he had done a few years earlier.
One thing the experience left him with, though, was an appreciation for a vibes/guitar pairing in music. Over the years, he has been in bands with (or recorded with) other jazz guitarists such as Mick Goodrick and John Scofield ... and it was his band that first introduced Pat Metheny to the jazz world. Gary Burton even recorded a 1992 album called Six Pack -€" which included six noted guitarists such as (the recently-deceased) Jim Hall, Kevin Eubanks (formerly Jay Leno'€™s bandleader) and even B.B. King.
After establishing his career, Gary Burton was enticed to return to Berklee in 1971:€" first as an adjunct instructor, then a full-fledged faculty member ... and retiring in 2003 as an executive vice president (after having served as Dean for several years). Berklee had been founded as a music school to serve the needs of jazz musicians (for whom conservatories had not embraced for many decades). And yet despite his not wanting to become a rock musician, Gary Burton embraced the need for the school to include rock music in its curriculum - after having many name rock musicians tell the rest of the faculty their wishes in music education (which included being able to hire musicians who could read music, write charts, etc.) that tallied with the school'€™s traditional strengths. Eventually, he oversaw expansion into other types of music (including electronica) and also online seminars, summer sessions in California, etc. He left the school that year of 2003 ... in much better shape than it was in 1971.
Over the years, his work as a sideman brought him to new listeners. Besides his forays to Nashville, he also appeared on albums by Bruce Cockburn and k.d. lang plus recordings and concerts with tango music superstar Astor Piazzolla and duets with Makoto Ozone the classical pianist. And while most of his recordings have been instrumentals, he did an album with the singer Rebecca Parris in 1993.
Still, there was much about his career I did no€™t know until reading his autobiography last year. In its chapters, he has sidebar essays about many famous musicians he met over the years (from Lionel Hampton, to Miles Davis, to Milt Jackson) with many opinions expressed about their influence and demeanor. He said Duke Ellington was unfailingly polite to him (saying at one function, "Now I know this is a classy event .... if they invited you, Gary.") Yet Burton also wrote about musicians who stayed as performers too long (after their skills had atrophied to the point where they could no longer play, naming Oscar Peterson as one of them) and was delighted in his own ability to gauge which of his school'€™s students had what it takes to break-out as stars.
Easily the book'€™s common thread (besides the music) is Gary Burton'€™s intermittent discussions about his sexual orientation. He had been married twice; once in his twenties and later to the granddaughter of film producer Samuel Goldwyn (which resulted in two children). Yet all along, he harbored real doubts, and having brief, very closeted affairs throughout his life. The jazz world was long known for being homophobic and he always worried about what would happen to his career.
By the 1980'€™s (after his second divorce) he resolved to end his double life. After bringing a date to a function where he saw other Berklee faculty, he spoke to his bandmates (who said they already knew) and eventually revealed himself to the school'€™s administration, who were fine with him.
In the opening chapter of the book, he wrote of his decision neither to broadcast his orientation - nor deny it - after he had come out on an individual basis. He expected it would become known publicly in, say, a Downbeat interview. But he wound up revealing himself in a major way when he appeared on the NPR show Fresh Air with host Terry Gross in 1994.
She is married to a jazz critic (Francis Davis) and so I have heard her discuss this musical genre frequently. And Burton noted how good she is: not asking "What was it like to work with Stan Getz?" as many interviewers would, but instead "Stan Getz had a reputation for being difficult to work with -" what was your experience?" And Burton felt more comfortable responding to that, rather than having brought-it-up about a man who was no longer alive to defend himself.
But then she asked ... if his recently having come out "had affected his playing or career?" He took a deep breath ... but responded, realizing that it was now-or-never (even though she had told him before they started recording that she would leave out anything he was uncomfortable with).
Today, he is glad how things have turned out and -€" despite some health issues -€" has had a busy schedule in the ten years since leaving Berklee. He has had many Gary Burton Quartets and Quintets over the years: the latest pairs him with former student guitarist Julian Lage (yet another guitarist making his debut) plus bassist Scott Colley and drummer Antonio Sanchez, with their sophomore album Guided Tour released last August.
His legacy would appear to be well-established, besides his academic program achievements. In 1968 he was the youngest ever Jazzman of the Year (at age twenty-eight) voted by Downbeat magazine readers, and he has 21 total Grammy nominations to his credit. While he is most often seen with guitarists: his most frequent duet partner is the legendary pianist Chick Corea - and of Gary Burton's seven Grammy Award winning albums - including last year's - six are either duets with (or bands with) Chick Corea (left in photo below).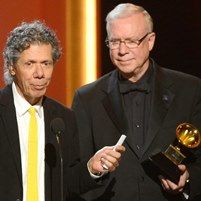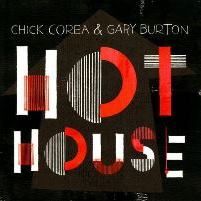 Two weeks from today Gary Burton turns age 71, he became a grandfather two years ago, was able to marry his long-time male partner last summer in Provincetown, Massachusetts ..... and also last autumn (while on tour with his quartet) finally reunited with his old guitarist Larry Coryell - for the first time in forty-five years. If that original Gary Burton Quartet (w/Coryell, Steve Swallow and either Roy Haynes or Bob Moses on drums) ever reunites: even though I've seen Gary perform twice ... I'll be in the first row.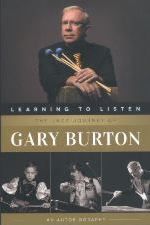 Here is Gary with his new band, performing the Mongo Santamaria classic tune Afro Blue with his current quartet in 2011 ....
And for one with lyrics: here is the Anita Baker song Good Enough, from Gary's album with singer Rebecca Parris ....
You can count on me for anything you choose
Say but the best that I can offer is love true
Still I know you wonder why
This love of mine seems do or die
As if I
Live in the clouds and you live in the sea

Now you can bet your bottom dollar
That I love you
Now for a basic fact like that
You'll need no clue

I just hope you think I'm good enough
I hope you think I'm girl enough
I hope you believe in chemistry for two
I really do, I do
Now, on to Top Comments:
-------------------------------------
From sfbaytransplant:
In the diary by ArthurPoet about how BridgeGate commenced, of all dates on 9-11 - a bemused DuzT notes that others are learning now what Daily Kos readers have known for a long time.
From
pixxer:
Also in the diary by ArthurPoet mentioned above .... I found this comment by waterstreet2013 an interesting perspective on the Fort Lee retribution scandal.
From
ericlewis0:
In my own diary about the FBI now getting involved in BridgeGate - ontheleftcoast has found the perfect way to get Darrell Issa on the case.
From
bastrop:
In the diary by Billionaires for Wealthcare about the NY Daily News turning away from the New Jersey governor - this comment from Brainwrap sums it up nicely.

Wait, there's more ... as Brainwrap wrote a diary based upon his original comment .... and jakedog42 nails it right on the head - can we get an Amen?
From
TrueBlueMajority:
In the diary by dweb8231 about what he says may be a possible fatal quote uttered by the New Jersey governor - heynonny has posted an abridged version of today's press conference.
And now for Top Comments on other subjects (yeah, there were some) .....
From besegel:
In the diary by ProgLegs about how weatherman Al Roker told off your-friend-and-mine Mr. Limbaugh about the polar vortex - Fluffybutt wonders if there is a comparable vortex associated with that fellow's radio program?
From
Cali Scribe
:
In the front page story on the GOP's legislative agenda, user OHBRAD muses on how they set their priorities while commonmass follows-up by spelling out what they really are.

Later in the same diary, portlandzoo suggests a bit of equal treatment for men's health issues ... while herefortehbeer has a new warning label for certain medications.
And from
Ed Tracey
, your faithful correspondent this evening ........
In the front-page story about how the GOP is teaching its members to be empathetic (or at least seem to be) given that they are determined to block an unemployment insurance extension .... Mr MadAsHell makes a general observation while a less-than-amused judyms9 notes that this is the sort of situation where the GOP drags out its female members to do this sort of work ... while La Gitane suspects that any help the GOP offers will be more corporate welfare or the like.
TOP PHOTOS
January 8, 2013
Next - enjoy jotter's wonderful PictureQuilt™ below. Just click on the picture and it will magically take you to the comment that features that photo.



(NOTE: Any missing images in the Quilt were removed because (a) they were from an unapproved source that somehow snuck through in the comments, or (b) it was an image from the DailyKos Image Library which didn't have permissions set to allow others to use it.)
And lastly: yesterday's Top Mojo - mega-mojo to the intrepid mik ...... who rescued this feature from oblivion:

1) Nixon: I am not a crook by Paleo — 188
2) Ignorance Vortex by Fluffybutt — 176
3) Great link… by Librarianmom — 134
4) Christie is by Remediator — 129
5) Limbaugh's Greatest Fear by The Lone Apple — 114
6) Someone needs to contact Darrell Issa immediately by FraidKnot — 109
7) Couldn't happen to a more deserving thug. by smileycreek — 109
8) I did.. by PaDemTerry — 106
9) What's so idiotic about this is that Fort Lee by Brainwrap — 103
10) I'm not a psychologist by blue aardvark — 96
11) The inner circle has been breached. by Ian Reifowitz — 92
12) Time for them to run an update on their by ontheleftcoast — 86
13) Remember that Christie wanted so badly by More Questions Than Answers — 84
14) Time for some traffic problems for Christie 2016. by Addison — 83
15) Horrifying by anastasia p — 82
16) He cannot deny knowing after the first couple by merrywidow — 79
17) Christy lied, people died. by RichM — 78
18) I think you are TOO KIND! by Tackle — 77
19) Charters should pay rent, good grief. nt by merrywidow — 74
20) As an engineer... by Alumbrados — 70
21) THIS IS WHAT OUR PRESIDENT SAID... by bobswern — 70
22) Great story. by Danno11 — 69
23) Yeah! Toast! by Stude Dude — 68
24) Story Still Has a Long Way to Go by bink — 67
25) Clearly those meteorologists planned well ahead by accumbens — 67
26) Tipped and recced. by Miss Blue — 67
27) I was thinking of another large, gas bag that by ontheleftcoast — 64
28) People are willing to put up with a lot by Puddytat — 64
29) That's what's so reminiscent of Watergate by Dallasdoc — 64
30) Your "Smaller Federal Government" at work. by here4tehbeer — 63