---
Make hay while the sun shines
We're getting a little too much sun and very little rain lately and it reminded me of our own hay making. Hay growing around here depends on steady winter rains ending prior to cutting and bailing in late spring. Farmers this year are in trouble because the seeds didn't sprout and pastures are brown so hay must be purchased from Washington and Oregon.
We decided early on that since we were raising cattle we would grow our own hay. We knew nothing about it but took classes at the local J C and purchased used equipment, though we did have a good Kubota tractor. We grew the hay, oat hay with 20% vetch added, in our flat 10 acre pasture.
Initially we rotovated the entire pasture.

Then we seeded it, adding commercial fertilizer to the seed mix.
Note the harrow following the seeder, which covers the seeds and smooths the soil.
With good timing the rains came and the seeds sprouted.

In the spring we cut the entire pasture, using a sickle bar attachment powered by the pto (power takeoff) at the rear of the tractor.
We raked up the cut hay with this rake, towed behind the tractor. As you can see it's still out in the field. Seeing that yesterday actually inspired this diary.
The rake spins the hay into an interconnected hay row such that the bailer can pick it up.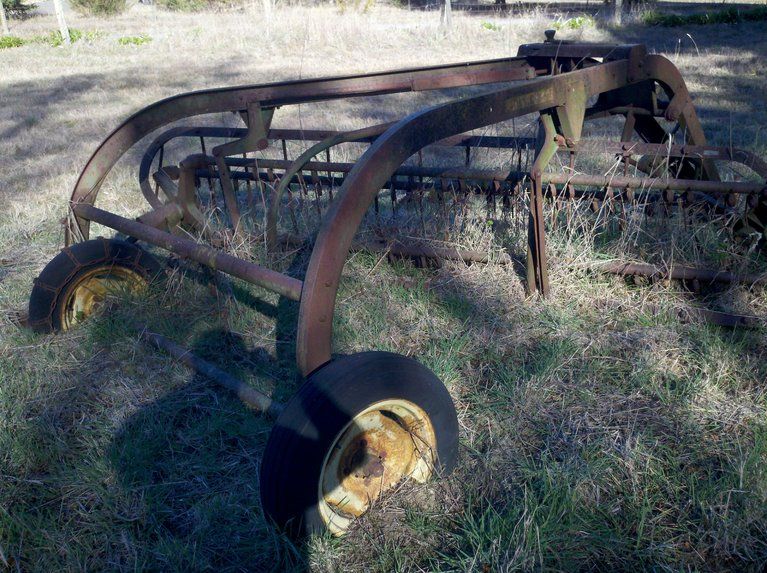 No photo of the bailer, but it was towed behind the tractor and it was powered by a 4 cylinder gas motor which had to be started with a big twist wheel (by hand) and was remarkably loud in operation.
The bales dried in the field until we picked them up and put them in the barn. We accepted any help we could get in this phase of the operation. Especially important because I was working full time and on the night shift, to boot.

This is my son, age 10. Now he's 42.
Even our border collies helped.
Our hay turned out very well. In fact, we entered a bale in the Sonoma County Harvest Fair (Yes, they had a category for that) and won the blue ribbon. Best of all, our cows liked it very much,
So hay, what do you say?
.
Kitchen Table Kibitzing is a community series for those who wish to share part of the evening around a virtual kitchen table with kossacks who are caring and supportive of one another. So bring your stories, jokes, photos, funny pics, music, and interesting videos, as well as links—including quotations—to diaries, news stories, and books that you think this community would appreciate.

Readers may notice that most who post diaries and comments in this series already know one another to some degree, but newcomers should not feel excluded. We welcome guests at our kitchen table, and hope to make some new friends as well.