Besides the fact that men are involved in it: the Bible is involved in it.
Penny for your thoughts...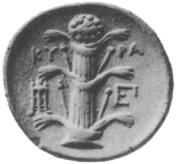 No, it's not really a penny. It's a coin from the ancient North African city of Cyrene, just up the road from Benghazi in modern-day Libya (gotta tie Benghazi into every story, dontcha know). The emblem on the coin is the plant silphium, the city's biggest export. It was popular throughout the Mediterranean as a spice and medicine, so much so that the Cyrenians harvested it to extinction.
It's chief medicinal use was as an abortifacient, stimulating the uterus to expel its contents. There are a lot of other herbs with similar effects--angelica, the cohoshes, pennyroyal--and their uses have been known for centuries. Medical texts mention other tried and true methods of dropping off unwanted passengers as well.
All these methods were known, and practiced, in the places and times when men wrote the books that were much later compiled into the tome we know as the Holy Bible, that black-bound mass of scripture, stricture and contradicture taken by millions to be the absolute, literal Word of God, to be followed to the letter and laid as the foundation stone for all earthly law.
And you know what? There is not a single word in that collection about abortion. Nothing. Zip. Nada. There's a bit in Exodus 21 about fines due if, during a brawl, a pregnant woman is injured and later miscarries, but that's about it.
Think about it. These people who were so obsessed with rules they prescribed the number of paces you could walk from your property on the sabbath, who were ready to stone your ass for eating shrimp or wearing wool blends, who were surrounded by practicing abortionists, never made a peep about it. It was something that was understood a woman and her health care provider might, upon rare occasion, decide was necessary. And that was, apparently, okay.
Yesterday, thousands of people braved the snow and cold to make their annual protest march against this ancient practice, claiming the authority by the command of God the right to prevent women and their doctors from making those decisions. Many held high copies of that black-bound tome.
Which is utterly silent on the subject.