A look at a game-show contestant (with an interesting background) who became a cultural phenomenon ten years ago, after the jump …..
But first: Top Comments appears nightly, as a round-up of the best comments on Daily Kos. Surely you come across comments daily that are perceptive, apropos and .. well, perhaps even humorous. But they are more meaningful if they're well-known ... which is where you come in (especially in diaries/stories receiving little attention).

Send your nominations to TopComments at gmail dot com by 9:30 PM Eastern Time nightly, or by our KosMail message board. Please indicate (a) why you liked the comment, and (b) your Dkos user name (to properly credit you) as well as a link to the comment itself.
Ten years ago this coming autumn, reports began to speak of someone in the news, who was … a quiz show contestant. That isn't unprecedented, as the story of
Charles Van Doren
– who broke a nearly 50-year silence a few years back in an essay in the
New Yorker
– was big news in the 1950's, as told in the film
Quiz Show
in 1994. More recently (in 1999), the first contestant to win the grand prize on
Who Wants to Be a Millionaire
went through his fifteen questions without using any lifelines … until the final question, when he phoned his father … merely to tell him he actually didn't need his help, but wanted him to know he was about to win a million … which was replayed on news shows, too.
But the story of Ken Jennings may be the most compelling: for his unusual background, that someone you'd expect to be a Republican isn't, and his likeable, boy-next-door disarming manner. Before looking at his rise to stardom, a look at what got him there.
---------------------------------------------------------------------------------------
Ken Jennings was born in May, 1974 in Edmonds, Washington (and after years living elsewhere, he lives in the greater Seattle region today). As his father worked for international firms, Ken spent several of his early years living in South Korea and Singapore. (Crucially, he watched Jeopardy! on the Armed Forces television network). A member of the Mormon Church, he graduated from Brigham Young and was a software engineer for a Utah firm as he turned age thirty in the spring of 2004.
Jeopardy! was the brainchild of television host Merv Griffin, whose other business holdings (real estate, syndication, hotels, etc.) made him far wealthier than any of his TV shows ever did. In my youth it ran during the daytime, hosted by the unflappable Art Fleming - who bantered with his guests while offering clues worth ….. $10 and up ($20 and up in Double Jeopardy!) in those 1960's days - when prize money was small as a result of the 1950's quiz show scandals (especially those offering huge prizes for the era). The stand-up comic Robert Klein appeared on one of the celebrity shows and got off to a bad start. How bad? At the first commercial break, he joked that Art Fleming recounted the scores, saying something like "Phyllis Newman, $450, So-and-So, $120, Robert Klein: just watching". (He did say he got back into the game and had a wonderful time).
After a five-year hiatus (1979-1984) off-the-air, Merv Griffin brought the syndicated show back … this time to the early evening slot after the TV network news, yet before prime time began. It is often preceded by (or followed by) Wheel of Fortune - and I recall a stand-up comic saying networks should show Wheel first (before Jeopardy!. Imagine, he said, watching people on Jeopardy! fighting to respond to Norse mythology … then watching someone on Wheel saying "Stitch in time saves …... gee, I don't know … beef? Can I buy a vowel?" (Point taken).
But one rule of the show from its inception until the beginning of the 2003-2004 season (from September to June) was: contestants who won that day's match and thus came back (to face two new challengers) were limited to five appearances. If they achieved that pinnacle: they retired as an undefeated champion (although they would later return to participate in periodic Tournaments of Champions).
But at the beginning of the 2003-2004 season, the five-time rule was eliminated: whoever wins that day's match, you keep coming back until someone beats you. In the several months before Jennings arrived on the show in June, 2004, no one had won more than eight matches. And in fact, Ken Jennings almost did not win Match #1. His Final Jeopardy question Who is Jones? – referring to the athlete Marion Jones – could have been disallowed for ambiguity. But the favorable ruling on his response was a reflection on the lack of news reporting on female athletes ... that who else could it be? And so he was champion when the season ended later that June, and picked-up at the beginning of the new season in September.
And how. Ken Jennings kept on winning, winning and winning. And that's when he became a celebrity, mentioned not only on shows like Entertainment Tonight, but also the evening news. I recall one clip of Jay Leno making a joke about George W. Bush needing to replace an adviser who had left the Administration ... and the audience responding when he suggested Ken Jennings for the job. The producers of Jeopardy were happy, as their ratings were up 22% from the previous year.
There were some lighter moments along the way, as for example this clip where he gave a racy response to one clue (earning a smiling rejoinder from host Alex Trebek). The other contestant who (eventually) gave the correct answer .... had the same thought, too.
Still, I rarely tuned-in to the show (even though I watched it in my youth and did so from time-to-time in recent years) as I am often not home when it's on and just couldn't bring myself to record it. And so I waited for news of the end of his reign … as his combined winnings now exceeded $2-1/2 million.
And finally that autumn, it did happen (which rumors spread that "tonight would be the night"). Ken Jennings had a streak of 74 wins in a row, with all but nine of them being clinched even before Final Jeopardy. I watched Match #75, and he missed both Daily Doubles. Still, he had a lead going into Final Jeopardy (14,400 vs. 10,000) of his only eligible challenger, Nancy Zerg. (The other contestant had a negative score and was eliminated from the match).
And here is the 2-minute clip of the end of his 74-game winning streak in Final Jeopardy.
Nancy Zerg, as it turned out, lost her next match … but had that one shining moment. H&R Block not only didn't mind Jennings not guessing them .... they capitalized on their new-found notoriety by offering Ken Jennings free services for the rest of his life. Among the many celebrity appearances he made was on ABC's Live with Regis and Kelly ….. and telling Regis Philbin that – when Regis was the host of Who Wants to Be a Millionaire – he, Ken Jennings ........ had failed to qualify for that show.
The producers of Jeopardy, though, were concerned about the fairness of having Ken Jennings be the show's all-time leader … when so many prior champions were limited to five appearances. And so later that year, they scheduled a 75-match Ultimate Tournament of Champions - with 145 players from the past twenty years, competing for a $2 million first prize. And Ken Jennings finished second to a prior champ Brad Rutter – who became the show's new all-time earnings leader. Both appeared against the IBM Watson computer six years later (and lost). With winnings from appearances on other quiz shows, Ken Jennings is the all-time money-winner (over $3 million) in cumulative quiz show appearances.
He is the author of four books (including Brainiac which is partly his life story and partly a look at trivia in general). He has been a guest host/producer of other trivia shows, won a "top rookie" in the one crossword puzzle competition he competed in, and says that when he is introduced to new people: is wary that they will try to stump him.
When you know of his Mormon background and clean-cut appearance, many people assume that he is a Republican – but is in fact a Democrat. He laughed that when he was recruited (by both Harry Reid and Chuck Schumer) to be a Democratic candidate for the US Senate seat held by Orrin Hatch … he knew 2004 would be a bad year for the Democratic Party.
One place that you can run into him is in the Sunday newspaper magazine Parade – where he has a Kennections weekly feature. This asks five questions about general news/culture ….. and the five answers together help you ask "What is the Kennection?" (amongst the five responses). In addition, he runs an interactive news quiz on Slate each week.
Ken Jennings turns age 40 later this year, and just came out with a series of children's quiz books ..... and one suspects there'll be more where that came from.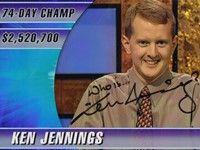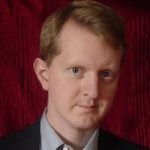 Now, on to Top Comments:
-------------------------------------
From Pam from Calif:
In the front-page story about subpoenas being received by the Christie administration: this comment from commonmass is excellent, and needs to be included in tonight's Top Comment's diary.
Speaking of which ... from
commonmass:
In the diary by heavy mettle about the scandal surrounding Gov. Christie's major Hurricane Sandy contractors - ontheleftcoast does the math ... and wouldn't you know: OTLC scores a (pun-intended) daily double ....
From
Eyesbright:
In the front-page story about the indictment of pundit Dinesh D'Souza indicted for illegal campaign contributions - DailyKos member ontheleftcoast has a wonderful way with words. Heck, I even like his/her sigline.
From
Chrislove
:
In cabaretic's diary Bisexuality: What We Have Here is Failure to Communicate, Wee Mama, as always, offers some sage words of wisdom in this comment. I'm nominating it for the last line.
From
gizmo59
:
In Hunter's diary about an Iillinois politician blaming teh gay for autism and tornadoes, boran2 correctly identified God's true plague.
And from
Ed Tracey
, your faithful correspondent this evening ........
In the front-page story about the mysterious disappearance of Texas congressman Steve Stockman - and let's hope he's all right, for the sake of his family - yours truly, the Separated at Birth guy, just couldn't resist nominating quill ... who thinks it's a bit of performance art by William Shatner - the congressman's doppelganger.

In the front-page story about the legal problems now facing former Virginia governor Bob McDonnell - Uncle Moji speculates that if McDonnell faces legal proceedings ... he may ruefully recall a legislative initiative he supported ten years ago.

And in that above-referenced font-page story about Dinesh D'Souza - and more than most any other GOP pundit, his downfall (ousted from a Christian college presidency in 2012 and now perhaps this) is a deserved plate of instant karma - after others took note of his being sponsored at Dartmouth College by wingnut welfare sugar daddies, Ezekiel in Exile relates that to his own story and how aspiring liberal and conservative writers face different worlds ... and I agree with commenter devtob who believes it would merit its own diary.
TOP PHOTOS
January 22, 2013
Next - enjoy jotter's wonderful PictureQuilt™ below. Just click on the picture and it will magically take you to the comment that features that photo.



(NOTE: Any missing images in the Quilt were removed because (a) they were from an unapproved source that somehow snuck through in the comments, or (b) it was an image from the DailyKos Image Library which didn't have permissions set to allow others to use it.)
And lastly: yesterday's Top Mojo - mega-mojo to the intrepid mik ...... who rescued this feature from oblivion:

1) So what if the wife submits her resignation by ontheleftcoast — 245
2) Struggling to keep up by salmo — 168
3) Here's NJ Newsday with more color and "huh, that's by JVolvo — 107
4) Nah by kovie — 107
5) Nice quick action! by Semblance — 102
6) Did you see the item in the midday thread? by ontheleftcoast — 100
7) Not just the MSM's fault... by CenPhx — 96
8) Warren is not a foreign policy expert by sc kitty — 95
9) This story is leggier than Cyd Charisse. by Mogolori — 94
10) Scott also threw Black under the bus by Christian Dem in NC — 93
11) When the NYT shamelessly runs a story on Pg. 5... by bobswern — 92
12) Thanks! by hulibow — 86
13) It's fitting by NMDad — 83
14) Worst part of this is that Christie will now have by rontripp — 83
15) This woman is so screwed. by HappyinNM — 82
16) I strongly disagree! by leevank — 81
17) Lolz :) by ericlewis0 — 81
18) Castle Rock is not out in the sticks by blue aardvark — 81
19) Now THAT's a good idea right there nt by 420 forever — 80
20) The thing with Team Christie -- by The Pool Man — 79
21) And I'd think new Virginia State by Onomastic — 79
22) Scene by blue aardvark — 78
23) One more thought: D.C. wants you to feel... by bobswern — 77
24) Yes, but you did not mention that by barry s — 76
25) The Cult of Chris Christie by deminva — 75
26) Remember back in 2001-2003 by bear83 — 73
27) and Chris Hayes had Breaking News by Chamonix — 73
28) Now it gets really interesting by ksh01 — 72
29) Glacial geologist here, and... by DaytonMike — 72
30) The special Agents assigned to the case are: by Billionaires for Wealthcare — 70