Former AG @KenCuccinelli takes direct shot at AG @MarkHerringVA over #GayMarriageVA on his fb page.
http://t.co/...
— @ryanobles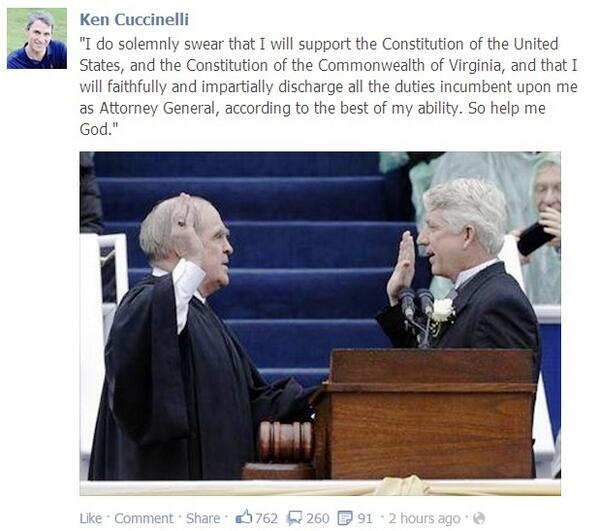 Greg Sargent
:
Both the Pew and CBS polls find large majorities believe the income gap is growing, and both find that more Americans want government to do something about it. Both also find solid majority support for raising the minimum wage, extending unemployment benefits, and (in Pew's case) taxing the rich to help the poor.

Both polls also find that only Republicans don't think government should act to reduce inequality. This is reflected in the GOP economic agenda. As Jonathan Chait explains, this agenda continues to be premised on the ideas that there is, if anything, too much downward redistribution of wealth, that government shouldn't interfere in the market by, say, raising the minimum wage, and that safety net programs lull people into dependency (Paul Ryan's Hammock Theory of Poverty).

But here's the thing. That basic set of assumptions — and the resulting positions on some of the individual policies being discussed – are held overwhelmingly by Tea Party Republicans; and not nearly as much by non-tea party Republicans.
Center for Economic and Policy Research
:
For all its many flaws Obamacare will prove to be a great thing for the simple reason that it will guarantee most of the population affordable health care insurance. The key group here is not the uninsured, many of whom will be able to get insurance as a result of the law, but rather the bulk of the under age 65 population whose insurance depends on their job. For the first time, these people will be in a situation where if they lose their job, they will still be able to get insurance they can afford. (Yes, I know that not everyone will find the insurance available through the exchanges affordable, hence the use of the word "most.")

Anyhow, it is fascinating to see the continuing vitriole of the right against Obamacare, which is bearing ever less relationship to reality.
As expected, [Mike] Huckabee quickly explained to his supporters who the real victim is here ("I am apparently the worst conservative ever or at least the most annoying one according to the left wingers in Washington today"), but the question is, why do they keep doing this? After all, every Republican knows by now that their party has a problem with women; Mitt Romney lost their votes by 11 points. The simple answer is that they can't help themselves, but more specifically, it's a combination of ignorance, contempt, and Puritan morality that inevitably leads to these eruptions. And it's going to keep happening.
TPM
:
A federal judge has temporarily blocked a Missouri law that would have placed additional requirements on Obamacare's so-called navigators, groups that have received federal funding to help people sign up for coverage under the law.

U.S. District Judge Ortie Smith issued a preliminary injunction blocking enforcement of the navigator law. He suggested in his opinion that Missouri lawmakers did not have the authority to regulate the activities of navigators who were working on behalf of HealthCare.gov, the insurance marketplace run by the federal government, which is serving Missouri and 35 other states.
TPM
:
A solid majority of Kentucky Republicans support the state's decision to expand Medicaid under Obamacare, according to a new poll, standing in stark contrast to Senate Minority Leader Mitch McConnell's opposition to the provision.

The Foundation for a Healthy Kentucky poll, reported by NPR-affiliated WFPL, found that 60 percent of self-identified Republicans said they support expansion. In total, 79 percent of Kentuckians agree with Democratic Gov. Steve Beshear's decision to expand coverage to low-income people under the health care reform law.
BuzzFeed
:
23 Reasons Richard Sherman Is Actually One Of The Most Likable Players In The NFL
Get to know football's most polarizing player a little better.
Business Insider
:
What happens when Bill Gates challenges the world's greatest chess player to a match? An embarrassment of a match that lasts only 79 seconds.

Gates challenges Magnus Carlsen to a match on Skavlan, a Norwegian talk show, and, from the outset, is completely outmatched. For what it's worth, one chess enthusiast in our office claims that "Bill Gates sucks at chess."
Matt Yglesias
on the Keystone XL pipeline:
The Difference Between Organizing And Policy Analysis
Think Progres
s:
A federal judge ordered Friday night that Marlise Muñoz, the Texas woman who has been kept on life support against her and her family's will, be removed from her ventilator and respirator...

The hospital has until Monday to remove Muñoz from life support.