I often wondered where the rich, deniers and fossil fuel executives would go when climate change impacts become far worse than the impacts we see now. I figured that after they created this climate crisis with their greed, they would use their riches gained from deregulation and owning lawmakers to create a privatized safe haven for them. A haven that uses green energy despite years of fighting and lying about climate change and the benefits of green energy.
Well, now we have the first of these climate change privatized cities for the rich.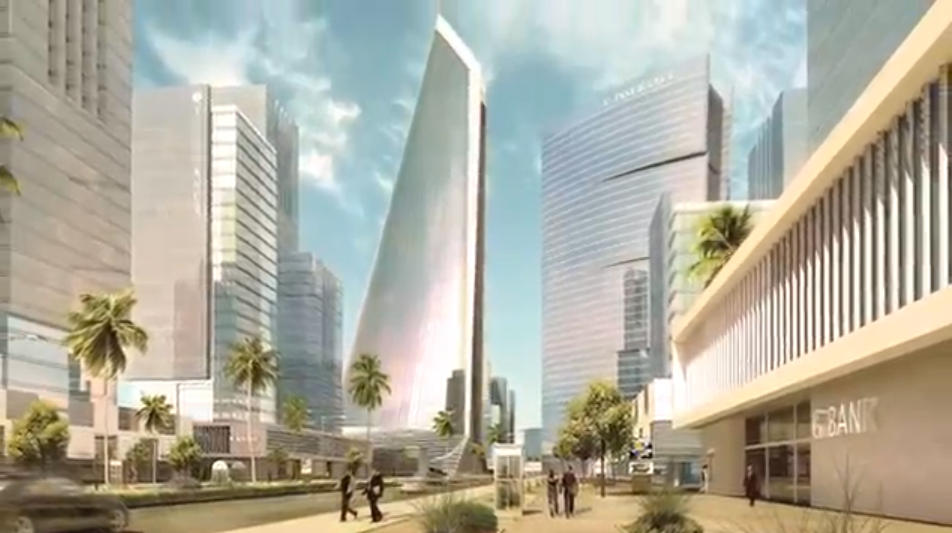 In 'New, privatized African city heralds climate apartheid', Martin Lukacs writes about how a new city, Eko Atlantic, under construction in Lagos, Nigeria, "augurs how the super-rich will exploit the crisis of climate change to increase inequality and seal themselves off from its impacts." The city is being constructed on an artificial island created for it by taking sand dredged from the ocean to reclaim land that had been washed away by the sea over 100 years. This privatized city is built for and by the rich to give them a safe haven from climate change impacts, complete with a sea wall to protect them. It is designed as a city that glitters with "shiny towers of luxury apartments and retail outlets, skyscrapers with Lagos's most profitable businesses, parks, and a man-made marina. …Soon, two hundred and fifty thousand wealthy Nigerians and foreigners will be living in Lagos's own version of the futuristic cartoon "The Jetsons."

Eko Atlantic is seen as a "gleaming vision" which has no room for anyone who is not rich. This vision is consistent with years of local history where the Lagos government displaced or forcibly removed the poor from their homes to make land available for the rich. Communities evicted, sometimes "violently evicted" and, in one case, homes were set on fire by the police to "clear space for construction equipment." Over the past 15 years, "more than one million of the city's poor have been forcibly ejected from their homes in largely unannounced, government slum clearances." Brutal means have been used to "clear the land of the poor" to make room for the rich. A 27-year old pregnant mother was flogged by the police as she tried to gather her personal possessions from her home being seized. Government backhoes plow through hundreds of homes or "government speedboats bearing machete-carrying men cleared out the floating neighborhood of Makoko, making some 30,000 people homeless."
Eco Atlantic, a little larger than Manhattan, is being constructed on an artificial island comprised of "sand dredged from the ocean floor." (A virtual tour of the land is here.) This city is not a public city, but privatized: Funding from private developers to construct the city and the city's operations are privatized for utilities (electricity, water, sewage), transportation (mass transit) and "police" (security). It is a privatized, gated city with "gates" of private security, cameras and money:

Eko Atlantic is where you can begin to see a possible future – a vision of privatized green enclaves for the ultra rich ringed by slums lacking water or electricity, in which a surplus population scramble for depleting resources and shelter to fend off the coming floods and storms. Protected by guards, guns, and an insurmountable gully – real estate prices – the rich will shield themselves from the rising tides of poverty and a sea that is literally rising. A world in which the rich and powerful exploit the global ecological crisis to widen and entrench already extreme inequalities and seal themselves off from its impacts – this is climate apartheid.
The city will provide
"luxuries" that "most of Lagos currently lacks
, such as uninterrupted power, clean drinking water and fibre-optic connections." Eco Atlantic will be protected from coastal erosion and flooding by the "Great Wall of Lagos," a sea wall with concrete blocks that will surround the city.
The city's business district is designed as a "powerhouse for corporate, financial and commercial activity." The business district has a "spectacular central boulevard that will be about 2 kilometres long and 60 metres wide. It will be similar in size to the Champs-Élysées in Paris or Fifth Avenue in New York."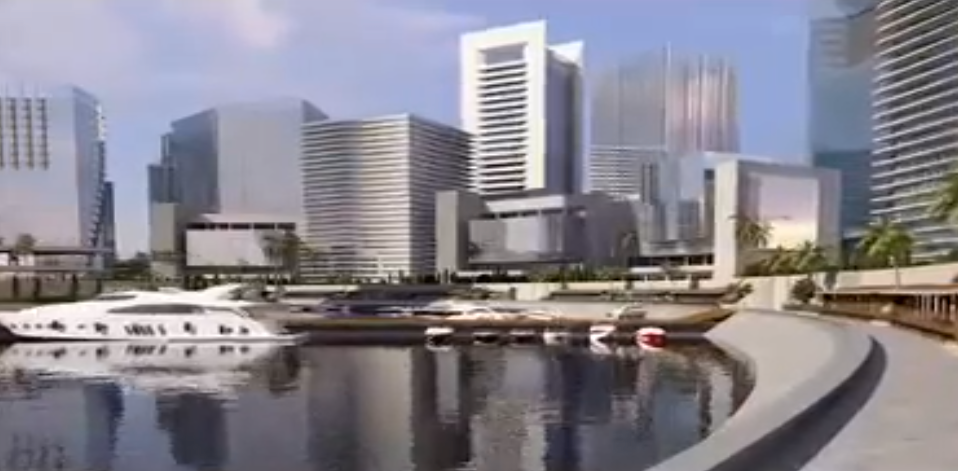 The city is designed around the business powerhouse concept, providing features for the powerful, rich and elite. There is the "Eko Mall, a luxury outlet for retail and commercial use." There is a marina that provides space for more than 250 yachts, located next to 5-star hotels: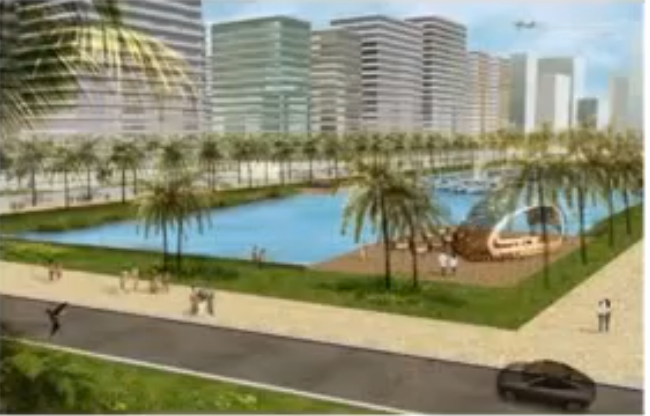 Prices are for the elite. "The Eko Atlantic City project is a purely an elitist project. It is a project that is designed not just for the rich, but for the super-rich. It is brazenly expensive." One website estimates that an average plot might cost between 5 and 6 million for waterfront plots and half those amounts for "inner city plots."
Sixty-five percent of Lagosians, or 11 million people, earn "$2 or less a day." Some in Lagos worry that the "government wants to protect only the city's rich from rising sea levels."
David Frame, Managing Director of South Energyx Nigeria Limited, a subsidiary of the Chagoury Group, and the developers, defended the "brazenly expensive" prices of land plots in the city: "Would you expect to find a low cost housing in the centre of London or New York?" A refrain repeated at a roundtable to discuss Eko Atlantic City project:

When asked whether there would be a low-cost housing estate in #Eko Atlantic City when completed, the Lagos State Commissioner for Environment, Mr. Tunji Bello retorted, "are there low-cost houses in New York City?...Is there anywhere in the world where the poor live beside the ocean view?"
Eko Atlantic, a city for the
rich and powerful
, and a new home for fossil fuel companies responsible for climate change:
Those behind the project – a pair of politically connected Lebanese brothers who run a financial empire called the Chagoury Group, and a slew of African and international banks – give a picture of who will be catered to. Gilbert Chaougry was a close advisor to the notorious Nigerian dictatorship of the mid 1990s, helping the ultra-corrupt general Sani Abacha as he looted billions from public coffers. Abacha killed hundreds of demonstrators and executed environmentalist Ken Saro-Wiwa, who rose to fame protesting the despoiling of the country by Shell and other multinational oil corporations. Thus it's fitting for whom the first 15-story office tower in Eko Atlantic is being built: a British oil and gas trading company. The city proposing to head off environmental devastation will be populated by those most responsible for it in the first place.
Eko Atlantic provides a privatized city to shield some responsible for climate change while continuing to exploit people and natural resources:
Prepare for the elite, like never before, to use climate change to transform neighbourhoods, cities, even entire nations into heavily fortified islands. Already, around the world, from Afghanistan to Arizona, China to Cairo, and in mushrooming mega-cities much like Lagos, those able are moving to areas where they can live better and often more greenly – with better transport and renewable technologies, green buildings and ecological services. In Sao Paulo, Brazil, the super-rich – ferried above the congested city by a fleet of hundreds of helicopters – have disembedded themselves from urban life, attempting to escape from a common fate.
Some predict that Eko Atlantic will become a model for more cities. Given that Eko Atlantic is praised by political leaders, including former
President Clinton
, we may see more gated cities. Let's hope that people remember that "Gilbert Chagoury, one of the powerful businessmen behind the project, has
contributed
between $1 million and $5 million to the Clinton Foundation."