Watch live video here.
6:38 PM PT: Love this picture: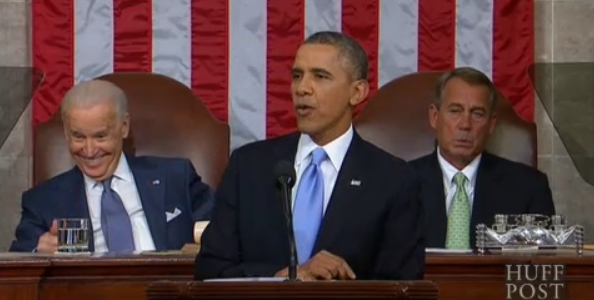 6:39 PM PT: Another slam on Congress:

And if Congress wants to help, you can concentrate funding on proven programs that connect more ready-to-work Americans with ready-to-be-filled jobs.


I'm also convinced we can help Americans return to the workforce faster by reforming unemployment insurance so that it's more effective in today's economy. But first, this Congress needs to restore the unemployment insurance you just let expire for 1.6 million people.
Loved the way he said "you" —dripping with the disdain and contempt congressional Republicans deserve.
6:42 PM PT: Biden is also wearing a blue tie, as you can see. As I mentioned earlier, none of this purple or red nonsense.
6:44 PM PT: Another plea to congressional Republicans to stop sucking so bad:

Last year, I asked this Congress to help states make high-quality pre-K available to every four year-old. As a parent as well as a President, I repeat that request tonight. But in the meantime, thirty states have raised pre-k funding on their own.
6:47 PM PT: Good line, delivered with passion:

Today, women make up about half our workforce. But they still make 77 cents for every dollar a man earns. That is wrong, and in 2014, it's an embarrassment. A woman deserves equal pay for equal work. She deserves to have a baby without sacrificing her job. A mother deserves a day off to care for a sick child or sick parent without running into hardship – and you know what, a father does, too. It's time to do away with workplace policies that belong in a "Mad Men" episode. This year, let's all come together – Congress, the White House, and businesses from Wall Street to Main Street – to give every woman the opportunity she deserves. Because I firmly believe when women succeed, America succeeds.
6:49 PM PT: And another knock on Congress for being knuckle-dragging Neanderthals:
In the year since I asked this Congress to raise the minimum wage, five states have passed laws to raise theirs. Many businesses have done it on their own.
6:49 PM PT:
To every mayor, governor, and state legislator in America, I say, you don't have to wait for Congress to act; Americans will support you if you take this on. And as a chief executive, I intend to lead by example. Profitable corporations like Costco see higher wages as the smart way to boost productivity and reduce turnover. We should too. In the coming weeks, I will issue an Executive Order requiring federal contractors to pay their federally-funded employees a fair wage of at least $10.10 an hour – because if you cook our troops' meals or wash their dishes, you shouldn't have to live in poverty.
6:50 PM PT: More goodness:

Tom Harkin and George Miller have a bill to fix that by lifting the minimum wage to $10.10. This will help families. It will give businesses customers with more money to spend. It doesn't involve any new bureaucratic program. So join the rest of the country. Say yes. Give America a raise.
6:52 PM PT:
.@SenTedCruz chuckled as POTUS name-checked @senmarcorubio
— @mikememoli
6:53 PM PT: To be honest, John Boehner looks like he has something he really wants to burp up. It's just a coincidence that the president just started talking about Obamacare.
6:56 PM PT (Barbara Morrill): New thread here.