Now that all fourth quarter fundraising reports have been published and conveniently compiled by Daily Kos Elections, it's time I released my initial US House of Representatives race ratings for the 2014 cycle. As with my US Senate ratings from last week, these ratings are a prediction of confidence in a particular party winning each congressional district in November using the following categories:
Safe - That party has over a 95 percent percent chance of winning. The other party has no realistic options for victory under present or expected circumstances.
Likely - That party has over an 80 percent chance of winning and is the heavy favorite. However it is possible that the situation might change and the other party has a potential path to victory.
Lean - That party has over a 60 percent chance of winning and is a narrow, but clear favorite. This race will be competitive and it is quite plausible that the other party could win with changing circumstances.
Tossup - Both parties have less than a 60 percent chance of winning and the heavily contested race could easily go either way even if one party might be favored from week to week.
With that system in mind, let's take a look at the playing field mapped out and in chart form.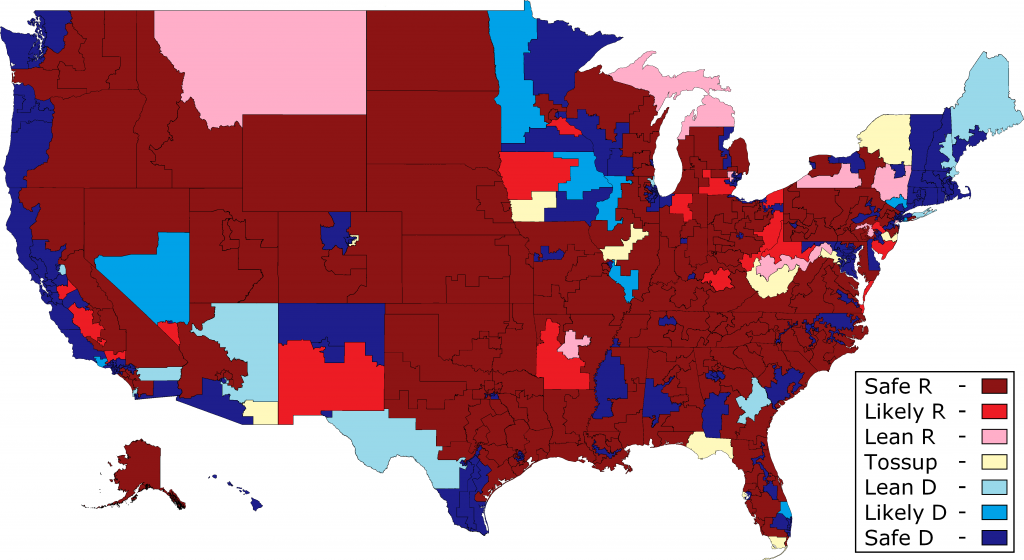 (click through map for full-sized image | click for more detailed interactive Google map)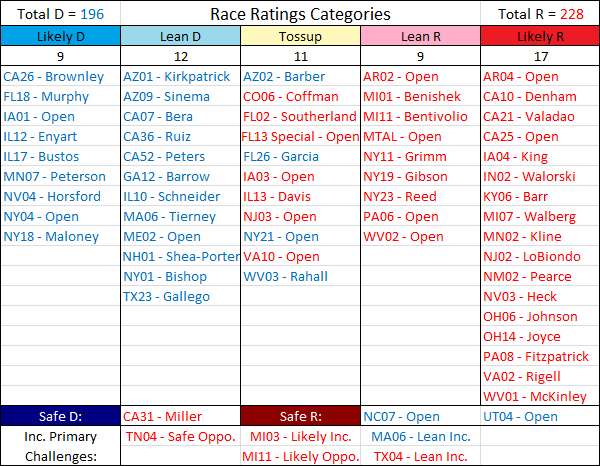 (All races not listed are safe for their incumbent party)
All 435 seats are up for election in 2014 with Democrats controlling 201 and Republicans 234 and I rate 377 of those as being safe for one party or the other. Adding all of the seats leaning one way or the other yields 196 for Democrats and 228 for Republicans with 11 being Tossups. If that category is eliminated, forcing me to assign every seat to a party then I arrive at 205 Democrats and 230 Republicans which results in a net gain of 4 for Democrats. Because of extreme partisan gerrymandering which likely cost Democrats control of the house in 2012, they would need a very favorable national environment and maybe even more Republican retirements to have a serious shot at control in 2014. As of right now I am expecting the national popular vote or generic ballot to be fairly close with a very slight Democratic edge, which is not nearly enough for a Democratic house. Therefore I would give Republicans a greater than 95 percent chance of maintaining their hold on the chamber for a rating of Safe Republican overall.
Currently I would surmise that 8 seats change parties and 2 change hands in a primary with Republicans easily picking up the open NC-07 and UT-04, Democrats easily taking over CA-31, while they probably gain CO-06, FL-02, FL-13, IA-03, and NJ-03 but those five not with a high amount of confidence. Additionally Republican primary challengers should prevail with ease in MI-11 and TN-04. Since there are far too many races to write up all of them individually or even all of the non-safe ones, I'll only go into detail about the 32 general election races rated Lean or Tossup below the fold, but feel free to ask me to elaborate on races that are not listed.
Tossup
Arizona's 2nd - Ron Barber - (D)
Barber won a very close race in 2012 against Air Force Colonel Martha McSally and she is running for a rematch in this 50-50 district centered on Tuscon. McSally has so far had very impressive fundraising while Barber hasn't lagged too far behind. Still this is a Romney district with a considerable Hispanic population that turns out poorly in midterms, but Barber has now won here twice already. As one of the most endangered Democratic incumbents I could definitely see Barber's district going either way.
Colorado's 6th - Mike Coffman - (R)
This is perhaps the marquee house race of the cycle in the Denver suburbs pitting the quite conservative Mike Coffman against former state house speaker and fundraising dynamo Andrew Romanoff. Both the incumbent and challenger raised roughly $2 million in 2013 alone and that pace shows no signs of stopping. Given how narrowly Coffman won with a 2 percent plurality in 2012 while Obama carried his district by 6 percent and how he has a fairly conservative record to defend, I'm betting Romanoff pulls it out here which would yield a net Democratic gain, but as with all the races in the Tossup category I wouldn't be surprised by either candidate winning.
Florida's 2nd - Steve Southerland - (R)
This district is prime Blue Dog territory with state and local Democrats almost always outperforming President Obama's 6 percent loss. US Senator Bill Nelson won Florida by 13 percent and nearly matched that in the 2nd with an 11 percent win. Alex Sink lost the 2010 gubernatorial election by 1 percent but won by a fairly comfortable 7 percent in the district. Democrats also dominate local elections here in all but a few counties. With that being said, one should view this as more of a 50-50 district than one that leans slightly Republican. Incumbent Steve Southerland only won by 6% despite facing an opponent who was very underfunded most of the cycle and was probably hurt by his primary from the left of the former Democratic incumbent in 2010 and possibly his race as well. Democrats are running Gwen Graham who is the daughter of very popular former US Senator Bob Graham and unlike their 2012 candidate, Graham has been dominating the fundraising game and out-raised Southerland in multiple quarters. Unusually for a house race this far out, there have been multiple general election polls of the district showing Southerland to be fairly unpopular. With Republican governor Rick Scott despised here and the general unpopularity of the state Republican party potentially dragging down the rest of the ticket, this will be a very competitive race and I would wager that Graham narrowly picks up the seat for her party.
Florida's 13th Special Election - Vacant (Last Held by Bill Young) - (R)
20-term incumbent Bill Young passed away late last year in this very evenly divided district and there is now a special election in March to replace him. Democrats have nominated former state chief financial officer (equivalent to treasurer) and narrowly losing 2010 gubernatorial nominee Alex Sink while Republicans have nominated lobbyist David Jolly. Sink has a commanding monetary advantage though both party committees and PACs have been flooding the district with money, but Jolly has only been raising a fairly modest amount for such a prominent special election. While Sink took a lot of heat for the way she ran her campaign in 2010, for example burning through 5 campaign managers, Jolly's background is an opposition goldmine with his extensive lobbying record and oddly enough political donations to a slew of Democratic officeholders including their senatorial committee and disgraced and convicted former Rep. Jesse Jackson Jr. Polling here has been unreliable as the two firms to release recent numbers, McLaughlin and St. Pete Polls, have a sizable record of Republican-skewed polls in recent years. I almost want to rate this as Lean Democratic given Jolly's flaws and Sink's prior 2010 win in the district, but until the ad wars start to have an impact I think Sink's chances of victory are somewhere between 50 and 60 percent which would result in a Democratic gain.
Florida's 26th - Joe Garcia - (D)
On his third try representative Garcia was elected to the house in 2012 by a wide margin over scandal-mired incumbent David Rivera while this region of southern Florida swung strongly to Obama thanks to an improvement among Cuban-Americans and other Hispanic demographic groups. Despite Obama's 7 point win here though, Cuban-Americans especially demonstrated their willingness to split tickets in 2012 and downballot this is a very evenly divided district. Garcia has been raising a solid amount of money, but has been damaged by having a senior staffer resign and face prosecution over an incredibly pointless and foolish ballot fraud scheme. Republicans are gunning hard for the seat and their candidate, Miami-Dade County school board member Carlos Curbelo, has raised a respectable amount of money thus far. However this district is trending Democratic, Garcia is an incumbent, and has a considerable cash on hand advantage. As with the 13th district I would be willing to bet Garcia wins, but with less than 60 percent confidence.
Illinois' 13th - Rodney Davis - (R)
Freshman Davis won by the narrowest margin of any congressional Republican in 2012 with a 1002 vote plurality over perennial candidate David Gill. While Gill raised a modestly sufficient amount of money, had good ads, and was eventually supported by the DCCC after defeating their preferred candidate in the primary, he still lost in part because his politics were too liberal for this conservadem district and had a left of center independent John Hartman soaking up over 7 percent of the vote. Democrats typically outrun Obama's 2012 performance downstate and this district is very evenly divided. They landed their strongest possible candidate with former prosecutor and 3rd judicial circuit chief judge Ann Callis, who also has the advantage of being from the right part of the district in Madison County while Gill was from somewhat more removed Bloomington. Both Callis and Davis have posted strong fundraising, but Callis still has to get through the primary against more liberal professor George Gollin who has pledged to run a clean campaign. I am expecting this to be one of the closest Tossup races in the country if the national environment is evenly divided, but incumbency has its advantages and Rodney Davis is probably more likely to win than not.
Iowa's 3rd - Open - (R)
Tom Latham shocked the election-watching world when he announced his retirement in December after 10 terms in the house. A close ally of speaker Boehner, Latham had an image as a centrist and locked down his very marginal house district. President Obama won the 3rd district by roughly the exact same 4 percent margin he won by nationwide, but there has oddly not been a rush of candidates from both parties to enter the race. Democrats have coalesced around former state senator Staci Appel while the Republican field is still wide open with state secretary of state Matt Schultz and former state senator and losing 2010 nominee Brad Zaun running, but other names still considering given the shortcomings of those two candidates. Appel had raised a decent amount of money in 2013 despite spending most of that time running against a heavily favored popular incumbent and no Republicans had posted notable fundraising numbers in the fourth quarter, but expect both parties to spend very heavily here. While Appel has a mediocre track record when it comes to her two races for the state senate, this district is a lot friendlier and she will have full establishment backing. While it could absolutely go either way, I would choose Appel to pick up this seat for the Democrats in November if forced to decide.
New Jersey's 3rd - Open - (R)
As with Iowa's 3rd, New Jersey's 3rd saw a shock retirement by two term incumbent Jon Runyan who was quite secure in this marginal district in south Jersey. Democrats have cleared the field for Burlington County freeholder (county councilor/commissioner equivalent) Aimee Belgard while the Republican field is still wide open. Losing 2013 US Senate special election nominee Steve Lonegan has entered the race, but comes with some very major flaws. For one, Lonegan was the mayor of Bogota which is a small town in North Jersey nowhere near the 3rd district. Secondly, he is far too conservative for a swing district and would likely be an underdog to Belgard. However the local Republican Party establishment is very opposed to his bid and is intent on the nomination going to someone more electable, but thus far it is unclear what the GOP primary field will look like. Given how this district went for Obama twice and Republicans might nominate Lonegan given his name recognition and appeal to conservative primary voters, the district is certainly no worse than a Tossup for Democrats and I wouldn't be surprised if Belgard were to win and give Democrats yet another pick up.
New York's 21st - Open - (D)
While most of the Winter's surprise retirements in swing districts were favorable to Democrats, three time winner Bill Owens' decision to forego reelection definitely was not. This district and region of New York has long been Republican historically, but has seen a steady trend towards the Democratic Party over the last several election cycles. Democrats haven't yet established who will run for their party though a few names are still considering. Republicans have former RNC staffer Elise Stefanik already in the race, yet it is far from certain whether she will be the nominee or not. Given how Obama won by 6 percent here in 2012 and 5 percent in 2008, one might think that Democrats are slight favorites here, but on the other hand the Republican bench and history of winning in this district are quite extensive and I would not be surprised if they were to flip the district.
Virginia's 10th - Open - (R)
Another retirement for Republicans was not completely unexpected. 17-term congressman Frank Wolf announced his retirement in December, just a week or so after Democrats landed probably their strongest possible candidate with Fairfax County supervisor John Foust. As expected, state house delegate Barbara Comstock announced for Republicans and will most likely be their nominee, setting up a very expensive showdown in suburban northern Virginia. While Mitt Romney narrowly carried this district in 2012, US Senator Tim Kaine won it that year and Obama won it in 2008. However midterm turnout particularly among Democratic-leaning minorities in places like Prince William County drops off considerably and will be a major impediment to John Foust in November. Right now I'd predict a Comstock victory, but with the district's make up, her solidly conservative record, and Foust's strong candidacy, this one will be close all the way to election day.
West Virginia's 3rd - Nick Rahall - (D)
Along with Ron Barber, 18-term congressman Nick Rahall is one of the two most endangered Democratic incumbents in the house. West Virginia's 3rd is likely the district with the lowest amount of partisan polarization in the country, but thanks to the Democratic Party's stance on fossil fuels like coal over the last 6 years and the rapidly declining price of the resource due to competition from natural gas, this coal-heavy district has had a less than stellar economy and its hordes of conservative Democrats have abandoned the party in droves in recent presidential elections. Rahall holds Romney's best district for any Democratic incumbent running in 2014, but amazingly this district has likely voted for a just a single Republican at any level beneath the presidency over the last 80+ years. Given how low polarization is here, I wouldn't be surprised in the slightest if Rahall lost by 10 or won by 10, but Republicans have recruited a fairly strong candidate with party switching state senator Evan Jenkins. The incumbent was caught napping in 2012 after running a lackluster campaign where he only won by 8 despite a huge spending advantage, but Rahall is taking notice in 2014 and posted an incredibly strong fundraising total last quarter in this inexpensive district. He will also benefit from not having President Obama at the top of the ticket in a straight ticket voting state where the president is loathed. Democratic US Senate nominee Natalie Tennant similarly is a Tossup to win this district as it has been more Democratic than the state in all roughly 150 statewide elections over the past half century and should vote for her if she keeps that race within single digits.
In short this is a district with a personally very popular Democratic incumbent, but rapidly changing party dynamics and the (D) next to his name make him incredibly vulnerable.
Lean Democratic
Arizona's 1st - Ann Kirkpatrick - (D)
Congresswoman Kirkpatrick won a strongly Republican version of this district in 2008 before being defeated by a respectable margin in the 2010 wave. Redistricting made this seat a modest but crucial amount more favorable to her party and then incumbent Paul Gosar ran in another district leaving the 1st open and Kirkpatrick won by 3 percent in 2012. She has built up a reputation as a moderate who is nonetheless very popular among the district's sizable Navajo population which has allowed her to win in past campaigns. Kirkpatrick has also built up a considerable fundraising advantage and the Republican field is fractured. That has enabled her to achieve a modest yet clear advantage, but this is still a district that voted for Mitt Romney by nearly 3 percent and Republicans will contest it heavily.
Arizona's 9th - Kyrsten Sinema - (D)
Like Kirkpatrick, Sinema benefited from redistricting which created this new Democratic leaning district in the Phoenix metro area. Though she long had a very liberal record, was a Ralph Nader supporter in 2000, and is both a non-theist and the first openly bisexual member of Congress, Kyrsten Sinema is also a very deft politician and has been maneuvering toward the middle during her first term which hints at future statewide ambitions. This is a district which voted for Obama by slightly more than his 4 percent national win and Sinema has been raising enough money to hold a small advantage over the divided Republican opposition which consists of a rematch between 2012 nominee former Paradise Valley (which is outside the district) mayor Vernon Parker and Air Force veteran Wendy Rogers. Barring a significant change in circumstances, Sinema is on track for a modest win.
California's 7th - Ami Bera - (D)
First term representative Ami Bera was also a beneficiary of redistricting which made his district slightly more Democratic than the one he lost by a very respectable margin to then incumbent Dan Lungren in 2010. Bera has since worked to establish a moderate record and has a considerable fundraising advantage over the multi-candidate Republican field. Relatively moderate Republican former congressman Doug Ose is running, but many in his party view him as a RINO and are supporting 4th district congressman Tom McClintock's chief of staff Igor Birman. Regardless of his opponent though, Bera should be favored in this heavily suburban Democratic leaning district where state government employees are a bulwark of the Democratic voting base.
California's 36th - Raul Ruiz - (D)
Telegenic freshman Raul Ruiz pulled off a major upset in 2012 when he knocked off 14-year incumbent Mary Bono Mack in a narrowly Obama district by nearly double the president's margin. This is one of the least Democratic seats the party holds in California and midterm turnout dynamics put them at a disadvantage, but the electorate here is overwhelmingly white and Ruiz has both a strong monetary advantage over likely opponent state assemblyman Brian Nestande and very considerable campaign skills. Once California Democrats have flipped a district they generally don't lose it back with an incumbent and I fully expect Ruiz to prevail in November.
California's 52nd - Scott Peters - (D)
Republicans landed perhaps their strongest challenger to a Democratic incumbent in the state with former San Diego city councilor and narrow 2012 mayoral loser Carl DeMaio. He has raised a very impressive sum for this race and starts with very high name recognition and the full backing of the national party, however he also holds some very conservative policy views despite having a moderate image on social issues as an openly gay man. Freshman incumbent Scott Peters already defeated the most imposing candidate Republicans could have chosen in 2012 when he beat multi-term incumbent Brian Bilbray by just over 2 percent and Peters has worked hard to burnish his moderate credentials. Peters is personally very wealthy but he has thus far not self-funded a substantial amount and instead raised a very competitive amount and holds a slight cash on hand advantage over DeMaio. Though there have been some highly dubious polls showing DeMaio with an advantage, it would take a significant downturn for the party's fortunes nationwide for Democrats to lose a district Obama won by nearly 7 percent with a non-offensive incumbent to a relatively conservative challenger.
Georgia's 12th - John Barrow - (D)
One of the biggest failings of Republicans when they deviously gerrymandered congressional maps nationwide was their inability to defeat Blue Dog John Barrow. Despite sitting in a district Mitt Romney won by nearly 12 percent, Barrow won by a fairly comfortable margin over a flawed opponent in 2012 and this cycle is shaping up to look little different. Barrow is personally very popular with an entrenched image as a moderate and even a conservative on many issues such as gun control and has thus far not landed a very solid opponent. Likely Republican nominee and 2012 primary loser Rick Allen finished 2013 with just $100k cash on hand to Barrow's $1.2 million and it is uncertain whether the national party will even make a serious play for the district. It is too early to move an incumbent in such a red district to Likely Democratic, but if Allen's woes persist, no other challenger emerges, and Barrow maintains his fundraising pace, I would be surprised if this district is still in play by the Fall.
Illinois' 10th - Brad Schneider - (D)
First term congressman Schneider won a very narrow race against then freshman representative Bob Dold! in one of the most Democratic districts then held by a Republican. Partly thanks to a native-son boost and his typically strong performance in moderate suburban areas, President Obama carried this district by a solid 16 percent in 2012 while Schneider won by just 1 percent. However once this sort of district falls to a Democrat it would be incredibly unusual for it to revert to its Republican roots. Schneider has worked to present himself as a business-friendly Democrat, but Dold! is running for a rematch and has kept pace with the incumbent's fundraising. While Dold! is a very strong candidate, the district's partisanship and Schneider's incumbency should be enough to carry him to victory. Bob Dold!
Maine's 2nd - Open - (D)
Incumbent congressman Mike Michaud is running for governor leaving his heavily rural yet Democratic leaning congressional district open. Republicans landed a strong candidate in 2002 and 2012 losing nominee and former state senate president Kevin Raye, however he has to contend with former state treasurer Bruce Poliquin running to his right in the primary. The Democratic primary is shaping up to be a contest between state senator Emily Cain and state senate majority leader Troy Jackson, though with backing from national donor groups like EMILY's List, Cain currently has an advantage for the nomination. The general election should be competitive in a state with high elasticity like Maine, but this seat voted for Obama by nearly 10% and Raye already lost his best opportunity to win the district when it was open during a favorable national environment in 2002 and got demolished in 2012. New England's elasticity has been steadily falling though as voters there are increasingly becoming reliable Democrats and unless the national environment turns sour for the party, Democrats should hold the 2nd district.
Massachusetts' 6th - John Tierney - (D)
Despite being cleared of any wrongdoing by the house ethics committee and having literally zero evidence linking him to his wife's tax fraud scheme for which she was convicted, Tierney has been scarred by the aura of scandal which caused him to win by just 1 percent in a district Obama carried by 11 percent in 2012. Since that was his first election after the alleged scandal broke and he survived it, one would expect Tierney to be in a stronger position in 2014, but that would be misguided. Not only is his 2012 Republican challenger running again, the relatively centrist and openly gay former state senator Richard Tisei, but Tierney also faces a primary challenge from the center by veteran Seth Moulton. Though he was out-raised by both challengers in the most recent quarter, Tierney still has a considerable cash on hand advantage and his incumbency and impeccable progressive credentials will be a major advantage against first time candidate Moulton. However even if he makes it to the general he could be damaged even further and as such Democrats cannot rest easy regarding this district and it could very plausible shift towards Republicans over the course of the campaign. If Moulton manages to win the nomination he would be a heavy favorite as a self-described centrist in this decidedly Democratic-leaning district.
New Hampshire's 1st - Carol Shea-Porter - (D)
The former congresswoman surprised many in 2012 when she won by a larger margin than Obama did in her district in a rematch with the man who defeated her in the 2010 wave. Carol Shea-Porter was perhaps the least likely Democrat to ride into office in the wave of 2006, essentially being a liberal party activist elected over someone thought to be a secure incumbent, but she has proven to be an effective legislator and solid liberal in a very swingy district even if not the strongest candidate for the office. Once again, 2014 is likely to see former one-term wonder Frank Guinta face Shea-Porter for a 3rd consecutive election, but with three wins to her name and a state becoming increasingly hostile to Republicans, Shea-Porter should hold on for a fourth term so long as Republicans are without a clear advantage nationwide.
New York's 1st - Tim Bishop - (D)
6-term incumbent Bishop won by the narrowest margin of any race in 2010 and saw that margin widen to 5 percent in a rematch in 2012. Bishop has drawn another strong opponent in this marginal Long Island district with state senator Lee Zeldin running as the preferred establishment candidate for Republicans. Complicating things for them however is George Demos, a wealthy former SEC prosecutor who has self-funded his campaign to the tune of $2 million already. Bishop has posted unimpressive fundraising numbers and will have to work hard to maintain his hold on this swingy district that nearly voted for Mitt Romney. Fortunately for him is that he has the advantage of incumbency and the potential for a scorched earth primary late into the Summer for his opponents.
Texas' 23rd - Pete Gallego - (D)
Freshman congressman Pete Gallego ran a very impressive race in 2012 and was one of just two congressional challengers to defeat an incumbent in a constituency carried by the opposing party's presidential candidate. Gallego has strong moderate credentials and fits South Texas well as a Blue Dog, pro-life, Hispanic in a seat with a near majority Hispanic electorate. Up for a rematch is the man he defeated in 2012, former Rep. Quico Canseco who has to make it through the primary against candidates he narrowly defeated in 2010. Canseco and the other Republicans have posted utterly pitiful fundraising numbers thus far and if things continue in this manner it is unlikely that the national Republican Party will seriously contest the 23rd district.
Lean Republican
Arkansas' 2nd - Open - (R)
Tim Griffin had just two terms under his belt when he announced his surprise retirement last year. This is the most Democratic seat in Arkansas both at the presidential level and downballot. While the state has fairly low polarization it is seeing partisan alignment much quicker than resource-extraction states like West Virginia or Kentucky are. US Senator Mark Pryor should almost certainly carry the 2nd district, but Republicans have a strong candidate in banker French Hill who raised an imposing $570k in just 2 months in the race. Democrats are intent on putting up a fight here with popular former North Little Rock mayor Pat Hays running as their candidate though he raised less than half of what Hill did. Even though this district is consistently about 5 percent more Democratic than the state, that still gives it a decided Republican lean and unless a clear Democratic edge develops nationwide it would be hard for the party to gain this seat in 2014.
Michigan's 1st - Dan Benishek - (R)
Two term tea party congressman Dan Benishek proved to be a very weak incumbent in 2012 when he won by less than 1 percent in a district Romney won by over 8 percent. Though historically very friendly to socially conservative labor Democrats, Michigan's upper peninsula has been trending steadily Republican leading to Benishek's election in 2010. This cycle Democrats are running retired Army Major General and former sheriff Jerry Cannon who even out-raised the incumbent in the most recent quarter. With Benishek's lack of popularity and the outright damaged image of the state Republican Party, this district should remain competitive. However Cannon is what is referred to as a troll, that is someone who is from south of the Mackinac bridge linking the upper and lower peninsulas, and voters in the upper peninsula have a tendency toward provincialism in their voting patterns. The one poll of this district during the height of the shutdown revolt against Republicans in October showed Benishek deeply unpopular, but his standing has undoubtedly rebounded some since then. Whether it will be enough to reelect him or if it was enough for him to cruise to victory is an open question, meaning his district remains in play.
Michigan's 11th - Kerry Bentivolio - (R)
Freshman representative Kerry Bentivolio's 2012 election was completely accidental given how he was a some dude primary challenger to multi-term incumbent Thaddeus McCotter when McCotter's campaign imploded and he resigned due to ballot fraud. Since McCotter's scandal occurred after the deadline to put one's name on the ballot, Bentivolio's only opposition was from write-ins and he won the nomination with ease. Bentivolio is very conservative for this light red suburban district and had plenty issues an opponent could work with, but Democrats were stuck with underfunded candidate Syed Taj who lost narrowly in this gerrymandered seat while Bentivolio simultaneously lost McCotter's old, more Democratic district in the special election to replace him, demonstrating just how effective the Republican gerrymander was.
In 2014, Republicans are gunning heavily for this accidental congressman and primary opponent David Trott has run circles around the incumbent in regards to fundraising. Though the likely nominee at this point, Trott is no perfect candidate himself as a well known foreclosure king in an area heavily buffeted by the Great Recession. Democrats are hoping to use that record to defeat Trott, but struggled to recruit a strong candidate and neither of the two running so far have raised a considerable amount of money. The district voted for Romney by just over 5 percent, but voted for Democratic US Senator Debbie Stabenow by over 6 in 2012 and is not out of reach for a skilled Democrat, particularly against a flawed opponent. It would not surprise me though if Trott becomes a strong favorite in the general election and national Democrats don't seriously contest the district further in the cycle.
Montana's At-Large - Open - (R)
One-term representative Steve Daines is vacating this seat to run for the state's open US Senate seat where he is a probable favorite. Montana has long been much friendlier to local Democrats than national ones and reelected incumbent US Senator Jon Tester by nearly 4 percent despite a Romney win of 14 percent in 2012. Democrats have coalesced around congressional staffer John Lewis who has raised a decent amount of money, while Republicans have a wide open field with former state senators Ryan Zinke and Corey Stapleton being the most prominent entrants so far. If Democrats' fortunes improve overall, a rising tide might carry Lewis into office, but for now Montana's decided Republican lean should be enough to result in a modest advantage for that party's eventual nominee.
New York's 11th - Michael Grimm - (R)
Sophomore congressman Michael Grimm narrowly won in a major upset in 2010, but has been surrounded by allegations of campaign finance scandal ever since and just recently after the State of the Union address he threatened to kill a reporter in a video that went viral. Though the aftermath of that incident has been slow to develop, this race was already going to be highly contested given the marginal nature of his district and a well-funded challenger in former NYC city councilman Dominic Recchia. Sitting in one of just three districts that voted for McCain in 2008 and Obama in 2012, Grimm won by a surprisingly modest 5% last cycle despite having a considerable spending advantage over a lackluster opponent. If his SOTU outburst incident, or especially his developing campaign finance issues further damage his image with the public he could easily lose, but for now his incumbency, his opponent being from Brooklyn in a Staten island dominated district, and a seat where Republicans usually do better than Romney give Grimm the advantage for now.
New York's 19th - Chris Gibson - (R)
Gibson has one of the bluest seats of a congressional Republican but has so far maintained an image as a centrist. However Obama still won here by over 6 percent and Gibson won by just over 5.5 percent against an unimpressive Democratic challenger in 2012. This cycle he faces wealthy self-funder Sean Eldridge who is the husband of Facebook co-founder Chris Hughes. Fortunately for Gibson though, Eldridge is a first-time candidate with a poor resume as he has the image of a carpetbagger and someone who only uses his spouse's money without having worked a real job. It would not surprise me if Gibson ended up winning by high single digits, but the nature of the district and having a much better funded opponent than previously should keep this race competitive for now.
New York's 23rd - Tom Reed - (R)
First elected by a solid, but unimpressive margin given it was the wave of 2010, Tom Reed won by a shockingly narrow 4 percent over a completely ignored challenger in 2012. That put this seat firmly on the radar for Democats who are running Tompkins County legislator Martha Robertson, who even out-raised the incumbent this most recent quarter, but Reed still maintains a cash on hand advantage. Like other seats in this category, the district lean of a 1 percent Romney win and Reed's incumbency give him a narrow advantage, but this could potentially change with a pro-Democratic shift in the winds.
Pennsylvania's 6th - Open - (R)
The last of many shock Republican retirements saw 6-term well-entrenched congressman Jim Gerlach opt out of reelection in this marginal district in the greater Philadelphia area. Though it voted for Obama in 2008 and US Senator Bob Casey and state attorney general Kathleen Kane in 2012, it voted for Romney by over 2 percent in 2012 and has a clear, narrow Republican lean in closely contested elections. Republicans have a very strong bench here while Democrats have consolidated around first time candidate and recent party switching businessman Mike Parrish. Though the Republican field is still quite open, whichever candidate emerges should most likely be able to hold this district for their party thanks almost entirely to partisan gerrymandering.
West Virginia's 2nd - Open - (R)
This district including Charleston and the expensive D.C. media market in the panhandle became open with 7-term incumbent Shelley Moore Sapito running for US Senate where she is heavily favored. Though it has typically been slightly more Republican friendly than the state in recent elections, it is worth repeating just how low partisan polarization is in West Virginia. The likely Democratic nominee is attorney and former state party chairman Nick Casey who has a clear cash on hand leadm but posted a very weak sub-$100k fourth quarter haul after a solid third quarter. However Republicans have a clown car of candidates running and at this stage it seems as if the front-runner could be former Maryland state party chairman and state senator Alex Mooney who was defeated in a marginal district in 2010 of all years. If Mooney is the nominee this race certainly has the potential to heat up as West Virginia voters are quite provincial, but for now it seems more likely than not that the Republican nominee will be favored over Casey regardless.