This cartoon from @dallasnews could make Christie's trip slightly awkward. (cc @SteveKornacki) (via @DemFromCT)
http://t.co/...
— @GideonResnick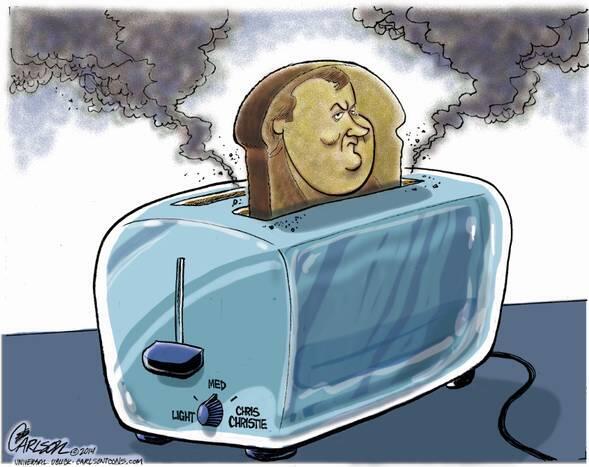 Brian Beutler
:
For better or worse, the press is obviously more drawn to controversy and failure than to conciliation and success. Among other things, Tuesday's CBO report concluded that the Affordable Care Act will quickly make up ground it lost during the two-month Healthcare.gov outage. Premiums are lower than expected. The phantom "Obamacare insurance bailout" that Republicans are trying to repeal will likely result in a multibillion-dollar windfall for the government. That windfall reflects greater-than-expected insurance company profits, which means premiums will fall or rise less than expected. Obamacare will stimulate job growth in the near term and so on.

The thing that grabbed everyone's attention, though, was the conclusion that the law will induce millions of people to either leave the labor force or cut back on their hours. But here's the thing: The implications of that finding are at worst contestable. Most people would agree that it's not a great thing if people who want to work more decide not to because their insurance would drop too much to make the pay increase worth it. But most people also probably think it's a great thing if people in their early 60s can retire early, or people in their 40s can start a business, or people in their 30s can raise their kids at home because they're no longer locked into their jobs for the health insurance.

And yet, all of yesterday's inaccuracies reflected the same basic, but major error, which was that Obamacare would lead to job losses. Layoffs rather than voluntary exodus. And to the extent that people got the phenomenon right, the dominant interpretation was that this would be a bad thing. That perhaps the only circumstance under which it's understandable to stop working is if you Go Galt.
Ryan Cooper
:
After the CBO report on Obamacare landed yesterday, finding that Obamacare would reduce labor supply by the equivalent of 2.5 million jobs, conservatives were beside themselves with glee. They blared that Obamacare is a job-killer, abetted by irresponsible mainstream journalists. Politico characteristically declared that facts don't matter, that the spin is all that matters and the spin is bad. The "Jobless Care Act," yelled the WSJ editorial page.

Conservatives might have a small point about the labor market. But the real point about this mini-flap is that it reveals once again that their carping about jobs is transparently ridiculous.
Re CBO coverage: "If you are explaining, you're losing" say the pundits tendentiously. Except if you're Chris Christie. Then it's premature.
— @DemFromCT
Added from
Greg Sargent
:
CBO director: Obamacare will reduce unemployment
with video. More politics and policy below the fold.
My job is to assess not the rightness of each argument but to deal in the real world of campaign politics in which perception often (if not always) trumps reality. I deal in the world as voters believe it is, not as I (or anyone else) thinks it should be. And, I'm far from the only one. In the wake of my piece yesterday, I got two e-mails from very senior Democratic campaign operatives. Here they are verbatim.
Matt Yglesias
:
But an interesting issue this raises is whether it's really true that perception often trumps reality in campaign politics. My read of the literature is that it mostly doesn't work that way, at least not in big general elections. "The fundamentals"—most of all the state of the economy—tend to drive election outcomes. Not exactly because "reality" is what matters most. It doesn't make much sense for voters to say "the economy's doing badly so I blame the president and so I'm also going to vote against state legislature candidates of the president's party," but that's how elections appear to work.
Josh Barro:
The Buried Lede In The CBO Report: Obamacare Will Raise Wages
EJ Dionne
:
Oh my God, say opponents of the ACA, here is the government encouraging sloth! That's true only if you wish to take away the choices the law gives that 64-year-old or to those parents looking for more time to care for their children. Many on the right love family values until they are taken seriously enough to involve giving parents/workers more control over their lives.
Sarah Kliff
(who is leaving WaPo to join Ezra):
CVS executives said the decision could cost billions of dollars in revenue because cigarettes draw so many customers to their stores. But by jettisoning tobacco products, CVS can further define its pharmacies as full-fledged health-care providers and strike more profitable deals with hospitals and health insurers. CVS stores already are home to more than 750 MinuteClinics, the country's largest chain of pharmacy-based health clinics, offering flu shots and diagnosis of common ailments like ear infections and strep throat.
Jonathan Cohn
:
Buying cigarettes just got a little more difficult. On Wednesday morning, CVS Caremark announced that it would stop the sale of tobacco products from its drugstores. The announcement says a lot about what's happening to smoking in this country. But it may say even more about what's happening to the health care system.
Michael Brendan Dougherty
:
But of course, if amnesty and an increase in legal immigration pass, the Republican Party will adapt. Parties don't doggedly hold on to vote-losing principles — they just find new vote-winning principles. Former constituencies find their old causes transmuted into new ones, and new political alliances are formed.