Annalize5's quilt, showing the backing. She called today! She's out of the hospital and loving her quilt.
Meteor Blades suffered a heart attack in early November -- not to worry, he's okay! But the community wants him to have a quilt as an expression of relief and as a token of love and respect for someone who is a real pillar of Daily Kos -- as a journalist, as an activist, as an inspiration and example, and as a builder of community.
This is going to be a big quilt, in a star pattern like the one I made for INDN's List:
Meteor Blades' quilt will feature a star in shades of blue set on a field of red. There are 200 diamonds in the pattern and we currently have 145 messages. We need more messages to fill the star -- so please don't be shy about giving a message! Something short (not much room to write in) and heartfelt would be perfect!
HOORAY! We are done! Thanks, everybody!

Building a star, from the inside out. The green fabric is the backing to Annalize5's quilt.
What is a community quilt? It is a quilt containing messages from you, written in the comments, which I will transcribe in archival ink on muslin. Words have power. This star is going to shine with your love -- and it will be something MB will treasure forever.

The star grows... The light blue fabric is from Adrian's quilt backing.
It takes time and material to make a community quilt -- and making them is a living for me and my sister. If you would like to contribute toward the cost of making this special quilt, here is a PayPal button -- or message me for an address should you prefer a check. $15/message is suggested although some give more to cover for messages of those who cannot afford to donate. Ann and I so appreciate your support. This is a squeaky tight month for us and we are grateful for your generosity.

It's growing! The next round will be a turquoise tie-dye print, because DFH.
These people and groups have left messages for the star so far:
1. escapee
2. JaxDem
3. Chacounne
4. Cronesense
5. Betty Pinson
6. Nannyboz
7. Got a Grip
8. nomandates
9. One Pissed Off Liberal
10. Vetwife
11. rubyr
12. SecondComing
13. Timaeus
14. Ojibwa
15. high uintas
16. Hulibow
17. DallasDoc
18. mcjoan
19. kj in Missouri
20. Roger Fox
21. a gilas girl
22. Gizmo59
23. TrueBlueMajority
24. akmk
25. CanyonWren
26. BlackSheep1
27. Dragon5616
28. mommyof3
29. 2thanks
30. BadKitties
31. blueyedace2
32. Oortdust
33. JoanMar
34. Missy's Brother
35. Radical simplicity
36. LoE & Hobbs
37. ramara
38. Lorikeet
39. Pam from Calif
40. Brecht
41. Yasuragi
42. WarrenS
43. Randallt
44. mrsgoo & the mr too
45. broths
46. akogun
47. Begone
48. cfk in the Thumb of Michigan
49. Richard Cranium
50. CroneWit
51. paradise50
52. 3goldens
53. davehouck
54. Tara the Antisocial Social Worker
55. Sidnora
56. Steveningen
57. Heart of the Rockies
58. joy of fishes
59. JayRaye
60. jakedog42
61. Polly Syllabic
62. Lavorare
63. akogun
64. VetGrl
65. Mother Mags
66. joedemocrat
67. emeraldmaiden
68. Ekaterin
69. Miss Blue
70. citisven
71. Cali Scribe
72. DoingBusinessAs
73. Hundred Acre Wood (not to be attributed)
74. One bite at a time
75. UnaSpenser
76. mimi
77. Viginwoolf
78. Silver Willow
79. BeninSC
80. sofa turf
81. scamperdo
82. Kitsap River
83. Puddytat
84. Steve Crow
85. renzo capetti
86. rebel ga
87. Native American Netroots
88. First Nations News & Views
89. DK Greenroots
90. vcmvo2
91. Avilyn
92. OLinda
93. NonnyO
94. Kit RMP
95. earicicle
96. GreyHawk
97. kharma
98. translatorpro
99. brillig
100. NormAl1792
101. Overdrive
102. Kimoconnor
103. Deep Harm
104. tardis10
105. HedwigKos
106. Greg Dworkin
107. roses
108. yawnimawke
109. jwinIL14
110. Allergywoman
111. Patience John
112. Jpmassar
113. Damnit Janet
114. Ethans
115. Gorette
116. Dov12348
117. barbwires
118. maggiejean
119. belinda ridgewood
120. cooper888 and gotmooned
121. 4Freedom
122. Corvaire
123. Murasaki
124. Spirit of Life.
125. Asterkitty
126. loggersbrat
127. weck
128. Proud Mom and Grandma
129. Elsa Cade
130. janis b
131. annetteboardman
132. BentLiberal
133. Tim Dee
134. Lotlizard
135. Pandoras Box
136. Dee Oliver
137. Glen the Plumber, remembrance, and TLO
138. simple
139. Diana in NoVa
140. Otteray Scribe
141. beach babe in fl
142. side pocket
143. kate mckinnon
144. Daily Kos staff.

This is being quilted now for a lady who has cancer. The messages were drawn by a group of her friends. We do take commissions like this!
We have just received the fabric for the quilt for irishwitch and her husband. We're ready to start work on it -- but if you would like to slip in a message, there is still time! Message me if you would like to be included in the irishwitch quilt.

Quilt commissioned by peregrine kate for her mother. The messages are from family. Title: "A Mother's Heart".
These are the community quilts completed to date:
1. othniel (cellulitis and ensuing complications, RIP)
2. exmearden (cancer of heart and lung, RIP)
3. MsSpentyouth (brain tumor)
4. Moe99 (lung cancer, RIP)
5. Michelle Caudle (ovarian cancer, RIP)
6. BFSkinner (lupus)
7. Kitsap River (long wait for kidney donor that ended 2/18/11)
8. Frederick Clarkson (blood clots)
9. Dreaming of Better Days (lymphoma)
10. one bite at a time (lost house and belongings to fire)
11. Timroff (cellulitis)
12. Sol Fed Joe (multiple cancers and health problems)
13. Brubs (AIDS, immune reconstitution syndrome)
14. rserven (gall bladder infection with dangerous complications)
15. grndrush (brain tumor, RIP)
16. ImpeachKingBushII (needs liver transplant)
17. andsarahtoo (lupus)
18. Frank Cocozzelli (muscular dystrophy)
19. luvsathoroughbred (breast cancer)
20. Predictor (stroke and HIV)
21. Austex54 (caretaker to othniel)
22. Theodore Olbermann, RIP
23. cskendrick (antibiotic resistant infection)
24. Keith Olbermann (caregiver to father)
25. Juan (cancer)
26. Ana (a young horse belonging to Juan, hit by truck)
27. MA Liberal's mother (Alzheimer's)
28. Charles CurtisStanley (caretaker to Kitsap River)
29. Lorikeet (cervical cancer)
30. Dr. Lori (metastatic cancer)
31. ulookarmless (cancer, heart condition, stroke, RIP)
32. riverlover (caregiver to husband suffering from liver failure, now widowed)
33. Melody Townsel (caregiver to dying father, now deceased)
34. dadanation (AIDS)
35. Dr. William F. Harrison (leukemia, RIP)
36. Larry Bailey (sudden loss of partner to heart attack)
37. ramara (adopted son with fetal alcohol syndrome)
38. Noor B (herniated disk from car accident)
39. Louisiana 1976 (fibromyalgia, severe arthritis, depression)
40. stumpy (MS, stroke, RIP)
41. bleeding heart's niece (cancer, RIP)
42. escapee (failure of corneal surgery)
43. SarahLee (lymphoma, Lyme Disease)
44. Bustergirl (ovarian cancer)
45. mimi's niece (cancer, RIP)
46. ZenTrainer (breast cancer)
47. Miss Blue (severe injury to shoulder, anxiety over coverage for surgery)
48. Granny Doc (bladder cancer, RIP)
49. mango (heart attack)
50. nudger (ovarian cancer, RIP)
51. DaNang65 (heart condition)
52. Lt. Choi (exhaustion)
53. Nurse Kelley (spinal stenosis)
54. Ben Masel (lung cancer, RIP)
55. Otterary Scribe (caregiver, grieving grandfather, grieving widower)
56. Aji (autoimmune diseases incl. fibromyalgia, inflammatory arthritis, & Chronic Epstein-Barr Virus Syndrome)
57. JaxDem (suddenly widowed)
58. DavidW (AIDS and other undiagnosed illness)
59. Jester the Marine (facing amputation of leg)
60. peregrine kate (endometrial cancer)
61. mimi (grief due to family illnesses)
62. alliedoc (endometrial cancer, RIP)
63. labwitchy (diffuse scleroderma)
64. Daily Kos (celebrating community)
65. belinda ridgewood (sudden loss of her mother)
66. princesspat (blood clots, deep vein thrombosis)
67. Scott Olsen (severe head injury)
68. SensibleShoes (caring for sister with brain cancer)
69. Joanna (cancer)
70. cany (grieving caretaker of mother with dementia)
71. Patriot Daily News Clearinghouse (breast cancer)
72. Scottie Thomaston (intense chronic pain from spine, kidney stones)
73. paradise50 (throat cancer)
74. woodtick (caregiver to mother with Alzheimer's)
75. BeninSC (mulitple fractures from bicycle accident)
76. Adrian (colon cancer)
77. Smoh (breast cancer, stroke, depression)
78. slksfca (sudden onset of arthritis requiring hip replacement)
79. arizonablue (grief and exhaustion)
80. Lorikeet (grieving widow - this quilt was a gift from the Rescue Rangers)
81. remembrance (breast cancer) and Glen the Plumber (her caregiver)
82. MassHarry (colon cancer)
83. Regina in a Sears Kit House (severe immune problems from Lyme Disease)
84. nannyboz (grief for father, crippling back pain requiring surgery)
85. raina (grief)
86. earicicle (breast cancer)
87. AntKat (cancers of the throat, RIP)
88. Alma (breast cancer)
89. DarkHawk98 (lung cancer)
90. llbear (brittle diabetic)
91. michelewin (grief and trauma)
92. Dave in Northridge (grieving widower)
93. racheltracks (complications from knee surgery)
94. Ebby (grief and stress)
95. Leaves on the Current (cancer)
96. Carol in San Antonio (cancer)
97. commonmass (grieving widower)
98. Clytemnestra (DES daughter, debilitating abdominal pain and bleeding)
99. Oke (survived life threatening pulmonary infection, COPD, depression)
100. shanikka (diverticulitis, intestinal abscess and life threatening infection)
101. Serpents Choice (grief)
102. smarx (caregiver to mother who has dementia)
103. FloridaSNMOM (COPD, chronic pain, anxiety over access to health care)
104. Timaeus (enormous hernia requiring major surgery)
105. paradox (cyclic vomiting syndrome, PTSD, depression)
106. UnaSpenser (Lyme Disease)
107. LoreleiHI (reversals of fortune, homelessness, hearing loss, PTSD)
108. Vetwife (caregiver to husband and other family members)
109. namvetkato (PTSD, Agent Orange related illnesses including heart disease, spinal stenosis, and intense chronic pain)
110. Annalize5 (lung cancer, diabetes and other chronic ailments)
See also these three posts about the community quilt project:
KosAbility: A Virtual Quilt for Sara and Ann, from Community Quilt recipients
We Have Something to Say to YOU, Sara R and winglion!
Community Quilt FlashMob Brightens up NN13
These quilts are planned:
MA Liberal (caretaker to her mother who has dementia)
Ellinorianne (rheumatoid arthritis and fibromyalgia)
MsGrin (life long heart problems requiring multiple surgeries)
2thanks (caregiver)
PAYPAL LINK FOR METEOR BLADES' QUILT - THANK YOU!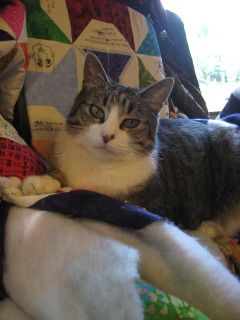 Boots says, "Thank you for supporting community quilts!"
Namaste.