The editors of
The Nation
announce Project 45
:
American presidential election campaigns are absurd. Absurdly expensive. Absurdly long. Absurdly structured. And absurdly narrow in the range of ideas and options offered to a nation with an absurdly low level of voter participation. If ever there was a time to rethink how this country chooses its chief executive, this is it. And we don't mean that in some rhetorical sense. We mean that this is the time, right now—two years before the first caucuses and primaries, thirty-three months before the November 2016 election names the forty-fifth president—to get serious about the process. That's why The Nation is launching what we call "Project 45," an initiative that refuses to accept the assumption that the 2016 campaign has to be dictated by insiders. We will identify and promote the reforms (and reformers) that offer the promise of a more open, inclusive and democratic process.

Why worry about 2016 now, when there are so many other pressing issues? Because the power brokers who profit from our system's many imperfections are busy locking down the next election.

The Republican National Committee voted in January to compress and control the schedule of caucuses and primaries that will choose the party's 2016 nominee; this is one part of a broad strategy to limit debate and undermine the ability of grassroots candidates to build momentum. The party also hopes to move its convention from late summer to as early as June. RNC chair Reince Priebus says he's implementing "reforms to put Republican voters, not the liberal media, in the driver's seat," but that's just the party line for public consumption. The GOP establishment's real goal is to strengthen the hand of big money, and to make it easier for an acceptable candidate to prevail in the primaries, secure the nomination and maximize post-convention fundraising. And don't think Democratic Party insiders won't feel pressure to mirror that top-down strategy, especially if they sense that their nominating process might evolve into anything other than what former Montana governor—and potential candidate—Brian Schweitzer warns could be a "coronation" of former Secretary of State Hillary Clinton. In its January 27 cover story, Time asked, "Can Anyone Stop Hillary?" The magazine's conclusion was that "her unseen candidacy dominates the political galaxy."

So it's settled, right? Let's hope not. First of all, Clinton has yet to toss her smartphone into the ring. Those who "know" that she will might want to check with former President Mario Cuomo. Besides, even the most ardent "Ready for Hillary" campaigners should recognize that her party, her country and even her candidacy are ill served if she has no real competition. If 2016 is the year Republican bosses will control and amplify their party's message as never before, and Democrats prepare for a Clinton coronation, then fresh ideas will be marginalized. That increases the likelihood that the campaign will be a money-drenched exercise in broadcast and digital character assassination that discourages participation and frustrates change. Faced with this prospect, progressives must focus on 2016 now in order to expand the debate and make real the promise of democracy. […]

To be clear: this is not a "stop Hillary" exercise. We recognize the former secretary of state's strengths, along with her appeal to millions of Americans who know it is time for a woman president, including many individuals and groups at the base of the Democratic Party. We understand that keeping the presidency out of right-wing Republican hands has value—especially when the forty-fifth president's appointments could address the many crises created by the pro-corporate activism of the Supreme Court's current majority. These understandings cannot, however, become an excuse to close off debate and limit options. So we will engage with and examine potential contenders like Schweitzer and Maryland Governor Martin O'Malley, prospects like Vermont Senator Bernie Sanders and Massachusetts Senator Elizabeth Warren, and any others who might emerge. Through it all, we will encourage primary competition that brings new ideas and new approaches into the process.

Once the nominees are chosen, we will pay attention to serious independent and third-party candidates, who in the best tradition of Progressive Bob La Follette, Socialist Norman Thomas and Ralph Nader, present radical ideas that will eventually be viewed as common sense. We'll draw attention to ballot access and debate access fights, recognizing that voters deserve a broad discourse, and that front-runners become better contenders—and better presidents—when they're forced to expand their frame of reference. […]
---
Blast from the Past. At Daily Kos on this date in 2010—Operation Rescue Offers $10,000 Bounty for Doctors:
We saw how this strategy played out in Kansas, with tragic consequences. Operation Rescue collects "evidence" of wrongdoing by abortion providers. It then lobbies law enforcement to investigate the "evidence." In the case of Dr. Tiller, the organization found its ally in Phill Kline, now under investigation for ethics violations, who spent years investigating and intimidating Dr. Tiller and his clinic. Dr. Tiller was tried and acquitted of all charges, but that didn't stop Operation Rescue from continuing to claim that Dr. Tiller had performed illegal abortions.

When the law fails to hold abortion providers accountable for performing a legal medical procedure, Operation Rescue supplies information to an extremist who appears willing to take the law into his own hands, as Scott Roeder did.
In his murder trial, Dr. Tiller's assassin, Scott Roeder, claimed that his decision to murder Dr. Tiller was, in part, a result of the unsuccessful prosecution of Dr. Tiller.
---
In new image from Mars Curiosity, Earth is an evening star
http://t.co/...
http://t.co/...
— @pourmecoffee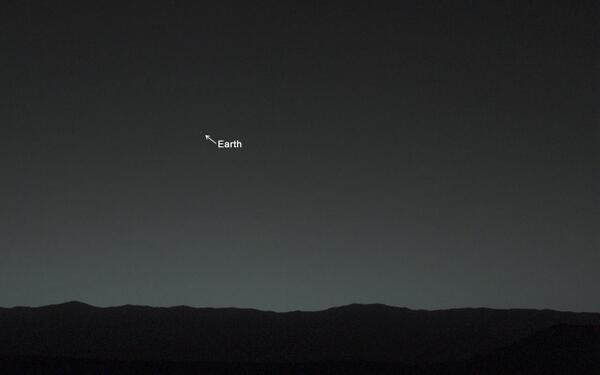 ---
On
today's Kagro in the Morning show
,
Greg Dworkin
rounds up Sochi news, CBO fallout (including the Jonathans Corner on the subject), and the future of quant vs. gut journalism.
Armando
brings a roll of pennies to add 2 cents at a time for further CVS & CBO discussion. Another mention of Sochi's hacking problems then brings us to a trademarked (not really)
KITM
storyline merging exercise: Organized Crime, Legitimate Business, or Rival Political Party? You Make the Call.
---