Welcome to the Tuesday meeting of the Coffee Hour here at the Street Prophets group. This is an open thread. In an attempt to inspire our imaginations today, I thought I'd bring up the topic of the kelpie.
For those unfamiliar with the kelpie, it is a supernatural shape-shifting horse that haunts the rivers and streams of Scotland. The kelpie would disguise itself as a beautiful peaceful horse in order to entice the weary traveler. Anyone who tried to ride the horse would be drowned as the horse plunged into the depths of the water.
When the kelpie appeared as a horse, it is often described as being white with a curly mane and tail. In some stories the mane is described as being sky blue. Some say that its skin was like that of a seal, smooth but cold to the touch.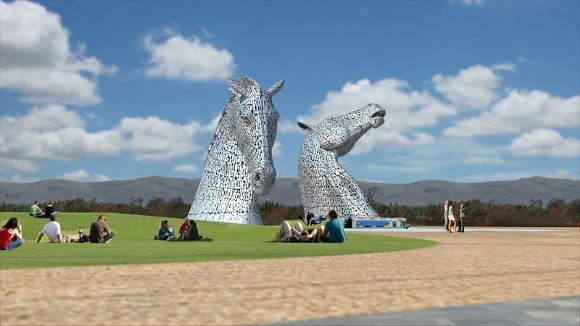 Shown above is a pair of 20 meter high sculptures known as The Kelpies. They stand next to the Forth and Clyde Canal in Falkirk in Scotland.
The kelpie could also transform itself into a beautiful woman in order to entice men into their traps.
Among the ancient Celts, waterways such as rivers and streams were places of special spiritual power. In the pantheon of gods and spirits, many were associated with water. The traditional kelpie stories are found primarily in western Scotland.
This is an open thread. Feel free to talk about your experiences with the kelpie or with other shape-shifters. It's okay to change the subject and talk about what's been happening, what you've been thinking about.