U.S. Uninsured Rate Drops in 2014 from
Gallup
NY Times
on Sen. Cruz and the winning more on debt limit:
"In my view, every Republican should stand together against raising the debt ceiling without meaningful structural reform to rein in our out-of-control spending," Mr. Cruz said Wednesday. However, when asked if he thought a default on the nation's debt was an option, he said, "Of course not."

But Mr. Cruz's high-profile gambit created the drama of the day.

Senate Republicans — unwilling to default on the nation's debt but hoping to avoid voting for any debt ceiling increase — seethed at Mr. Cruz's move, which many said was purely political and which forced them to scramble to produce at least five votes to end debate and move on to a final vote.
Mitch McConnell must have loved it.
Progressives and liberal lawmakers who are working hard to block the massive free trade deal being negotiated by the Obama administration have just gotten a big boost from someone they'd been aggressively courting: Nancy Pelosi.
More politics and policy below the fold.
"We're seeing a healthy growth in enrollment," said Health and Human Services (HHS) Secretary Kathleen Sebelius in a conference call with reporters. According to Sebelius, an additional 6.6 million Americans have been deemed eligible for Medicaid or the Children's Health Insurance Plan (CHIP) during the first four months of the open enrollment period.
Sam Baker
:
Obamacare Enrollment Is Back on Track
Julie Rovner
:
After January Surge, More Than 3 Million Have Enrolled In Obamacare

Reaction to the January numbers was, not surprisingly, mixed.

Brian Haile of Jackson-Hewitt, who has been urging officials to move the open enrollment to dates that don't conflict with holiday spending, says the unexpectedly strong January signups prove his point.

"Given the cash flow pinch at the holidays, most lower- and middle-income consumers wait for their tax refund before they take on new financial obligations," Haile said in a statement. "So the key to enrollment success among low and middle income Americans is to offer products when those consumers have the cash to purchase what is for sale."

Insurance consultant Robert Laszewski, however, was less impressed. "The feds made a big deal in the release about getting an improved age result," he wrote in an analysis of the numbers. "But the greater challenge for them is the overall low number of people enrolling."
I like they they identify the extremely knowledgable Laszewski for what he is: on the side of insurance plans.
ACA enrollment in the federal marketplace growing faster than in state exchanges. Catching up from Oct/Nov problems.
http://t.co/...
— @larry_levitt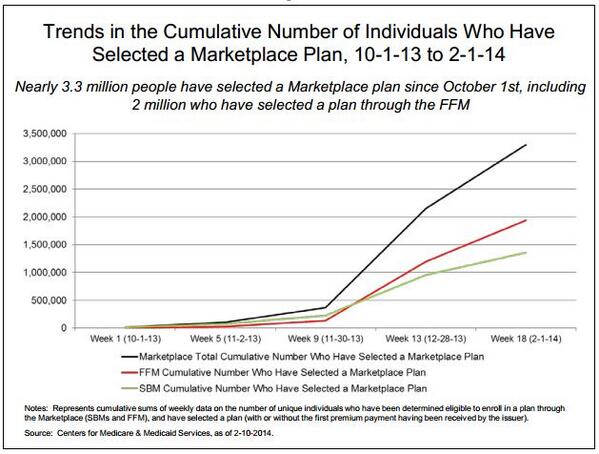 In terms of the mammogram study covered yesterday
here
,
CBS
:
The BMJ researchers said that the current screening guidelines may be too much, and should be reconsidered.

Breast cancer screening guidelines in the U.S. have been a source of debate in recent years.

The U.S. Preventative Services Task Force, a panel of medical experts that advice the government, said in 2009 that women should only get mammograms every two years starting at 50. Before that age, the decision to be tested should be between the woman and her doctor, which usually meant it was not recommended unless the woman had high risk factors for breast cancer like specific genes or family history.

The panel argued that many mammograms lead to false positive results, and were detecting cancers that were too small to need treatment, leading to unnecessary procedures.

A later JAMA study showed that women who followed the panel's recommendation were at no higher risk of late-stage cancers than women who got the test every year. However another study found that in women over 50 who had mammograms, for every one life saved, there were three women who were overdiagnosed.