Tonight we join with our neighbors in Kentucky to grieve for their native son, Private First Class Joshua A. Gray, who died in Afghanistan on Monday.


The beautiful logo was created by Timroff

I Got The News Today (IGTNT) is one of the oldest continuous series on Daily Kos. It is a way for our community to pay respect to those who have died as a result of war.
Private First Class Joshua A. Gray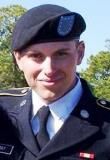 Joshua A. Gray was from Van Lear, which is an unincorporated coal town in Johnson County, Kentucky. Loretta Lynn's birthplace was in Butcher Hollow (or "Holler") just two miles southeast of the tiny town. Each year, the area is visited by thousands of fans of Loretta Lynn and of her younger sister, Crystal Gayle.

Gray was known at his school in Paintsville, Johnson Central High School, as "Josh." He graduated in 2011. According to a WKYT online article:
After being voted "Most Memorable" by his senior class, it's obvious that Pfc. Joshua Gray was a man who left an impression on many at Johnson Central High School.

"Josh not one time ever said anything rude. Never said anything that would hurt someone's feelings," said Brenda Porter, who used to teach Gray at Johnson Central...

"When I found out he was in the service, I was very proud that he had chosen to do that but very scared too."
Joshua enlisted in the Army in November of 2012. He completed training at Fort Jackson in South Carolina, was assigned to Fort Gordon, and then to Fort Benning in Georgia.
Private First Class Gray was assigned to Fort Drum, New York, in October. He was with the Headquarters and Headquarters Battalion of the Army's 10th Mountain Division. The 10th Mountain Division was originally the only unit of its size in the US Army with specialized combat training in mountainous and arctic conditions. The division retains its "mountain" designation for historical purposes but is now a light infantry division.
The PFC deployed with his unit last month to Afghanistan and served at Bagram Airfield. It is the largest U.S. military base in Afghanistan and is located next to the ancient city of Bagram, in the Parwan Province. While there, he helped maintain and operate satellite communications.
The 21-year-old Army soldier died, February 10th, at Bagram Airfield in Afghanistan, from a "non-combat related incident." The death is under investigation. Army officials released no further details.
Upon hearing of his death, many who knew him from his school days, reminisced about him to Kentucky's
The Independent
newspaper. The first quote is from Tim Adams, district director of operations for Johnson County schools:
"Josh was an exceptionally bright young man. He just had that air about him that he attracted people to him," he said, later adding he was not surprised to find out Gray had signed up for military service.

"He was a very giving young man," he said, remembering Gray sometimes skipped academic team practice so he could volunteer to tutor a member of the school's basketball team.

Angie Carriere taught Gray to play music while he was a young boy living in Floyd County.

"Josh was a student of mine when I taught music at Mountain Christian Academy in Martin. He was a bright and gifted student. He was in my violin/fiddle class. He never wanted to learn to read music, instead he insisted on playing his music 'by ear.' Actually, he never really needed the music, he could just listen to the song and play it," she said.
Gray earned the Army Commendation Medal, the Army Good Conduct Medal, the NATO Medal, the Overseas Ribbon, the Army Service Ribbon, the National Defense Service Medal, the Global War on Terrorism Service Medal, the Afghanistan Campaign Medal and the Expert Marksmanship Badge.
Private First Class Joshua A. Gray is survived by his mother and his father. Funeral plans have not been announced. Whenever the services are held, it is certain that flags will be lowered all over Kentucky for its fallen son.
**********************
Helping our troops:
If you wish to assist our military and their families, consider contributing to Fisher House. Donating to Netroots for the Troops provides care packages that make a real difference in a military person's life. To assist the animal companions of our deployed military, information is available here. Also, you could visit:

When our veterans come back home, they need jobs. Look at the programs of Hire Heroes USA and Welcome Back Veterans to see if you can help out.
About the IGTNT series:
"I Got the News Today" is a diary series intended to honor, respect, and remember the fallen, and to remind us that each casualty has family and friends who received the terrible news that their loved one has died. US service members whose names have been released by the US Department of Defense will usually be diarized two days after the official announcement on the DoD website. This allows the IGTNT team to cover each person more fully, but still in a timely manner. Click the IGTNT tags below to see previous diaries in the series, which was begun by i dunno, and is maintained by i dunno, Sandy on Signal, Monkeybiz, Noweasels, Blue Jersey Mom, Chacounne, twilight falling, SisTwo, Spam Nunn, True Blue Majority, CalNM, Wide Awake in Kentucky, maggiejean, Jax Dem, The Fat Lady Sings, Ekaterin, & Joy of Fishes. These diaries are heartbreaking to write, but show our community's respect for those who have died.
Please bear in mind that these diaries are read by friends and family of the service members mentioned here. May all of our remembrances be full of compassion rather than politics.