My Dad had his 82nd birthday on Valentine's Day a year ago, and then passed away six days later. A tribute to him is here. I am so grateful for the support from the Daily Kos community and the wonderful friends and neighbors who helped my family through it.

In addition to the sudden new void in the universe, we had practical concerns. We had been concerned for several years about the safety of the house full of stairs when both Mum and Dad were there, and now it was time to face the truth. Mum could no longer live in the house where we all grew up.
When I flew east for the memorial, I suggested to Mum that I simply take her back to Washington with me, and we would get her to a safer place and then sort it all out. She wasn't ready, and she held out for another two months. In April, we needed to take on the task - emptying the house, of forty seven years of memories, and forty seven years of junk.
A special welcome to anyone who is new to The Grieving Room. We meet every Monday evening. Whether your loss is recent or many years ago, whether you have lost a person or a pet, or even if the person you are "mourning" is still alive ("pre-grief" can be a very lonely and confusing time) you can come to this diary and process your grieving in whatever way works for you. Share whatever you need to share. We can't solve each other's problems, but we can be a sounding board and a place of connection.

My brother came in for a week and took the first swing. My sister followed and did some more damage. I batted cleanup. The task - get everything that mattered into a moving pod, everything else gone, and the house ready to show to prospective buyers. All this while trying to be responsibly green - recycling and diverting to reuse everything that we could.
We had a three day yard sale on the front lawn - every item free. It would have been just wrong to haggle over whether we got five bucks or ten for some old table. So friends, neighbors, and people who saw the Craigslist ad came by and we gave them parts of our history.
The work required focusing on the urgent tasks of the moment, but the unending series of flashbacks arrived through each day.
One summer day when I was a kid, we walked up Hunter Mountain., As we went up the slopes, we found these discarded plastic caps from the new snow making machines they were installing, and we named them widgets. It became a game to find as many widgets as we could, and give them to Dad to put in the pack.

We passed the top of the ski area and continued along the trail toward the fire tower. It was a long way, and I was tired. But still, there were widgets. I persisted in hopes of finding the next one.

In the small room at the top of the fire tower, there was a map table with a sighting device that the ranger could use to determine the direction of a fire. In the very center of the table, on the pivot point of the sighting tool, there was a widget. I think that was the moment that I figured out what Dad had been doing.
With some unbelievable help from friends and neighbors, we moved mountains. As in, mountains of stuff. We got it done. BUT - with a couple of days to go, we had to give up on the sorting. There was just too much. If it looked even remotely interesting, it went into the moving pod, from which its destination was the storage unit. And there it still sits.
A box at a time, I sort through the stuff.
My wife says "You're quiet tonight. Been going through more boxes?"
Yep.
It's not all sad, it's not all grieving. Sometimes it's contemplative. Trying to understand the meaning of objects that have been cast loose from their human mooring. Asking my Mum about them. Deciding which items have a place in our lives. Which can go. Which need to hang around at least until the estate finally gets settled. Which ones I need to make sure to share with my daughter.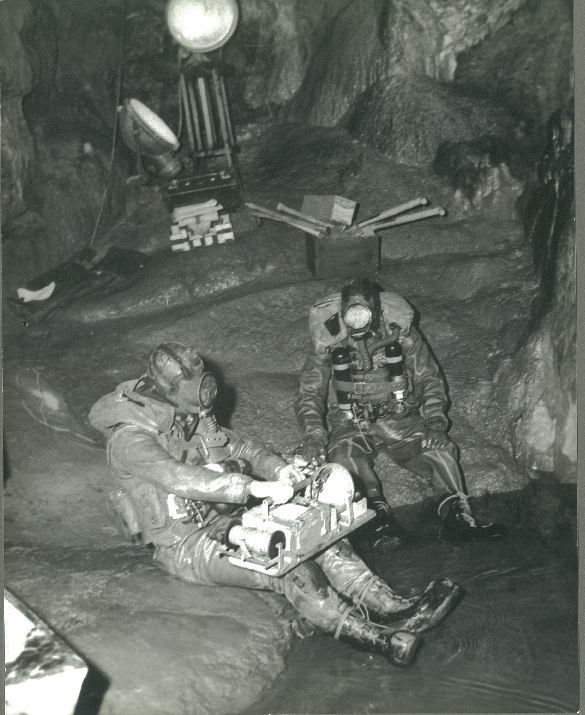 Dad was a pioneering cave diver in the 1950's. In the 80's he took up diving again and even did some cave diving.

In 1988, I went on a diving trip to Bonaire with my Dad. He liked to take his time and look carefully at the reef for critters that the rest of us were missing. I was impatient and wanted to check out the next stretch of reef.

On my most recent dive trip I was paired at random with another tourist. As we circled the wreck at 90 feet, I wondered what the rush was.

This spring, my daughter and I plan to go to Bubble Makers, her first SCUBA class.

Part of the sorting process is remaining mindful that lots of the things weren't that meaningful to my Dad when he was with us. A book he bought, or was given, years ago, and may or may not have read. A brief letter or card from someone, but I can't read the signature. The endless collection of transaction records, that he saved just in case.
But some are priceless. One at a time, we welcome them into our household and our lives. And they help us remember what he cared about most.
My Dad cared about recognizing the efforts of the those who came before us. He treasured his friendship with the very first SCUBA cave divers of all. He made sure to recognize everyone who had helped him find the Scanning Electron Microscope (SEM) as a field for his research.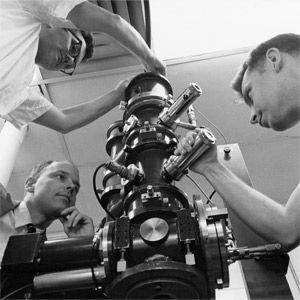 Dad wrote the book about the SEM. Literally. The book. It took him seven years.

Several times during the past year, we had received notifications of special sessions at scientific conferences, arranged in honor of Dad's memory, such as the Oliver Wells Memorial Symposium on the Scanning Electron Microscope (SEM) at the Microscopy and Microanalysis 2013 annual conference.

Dad built one of the first SEMs ever for his doctorate - here he is (top left) with a second generation SEM in the early 1960s.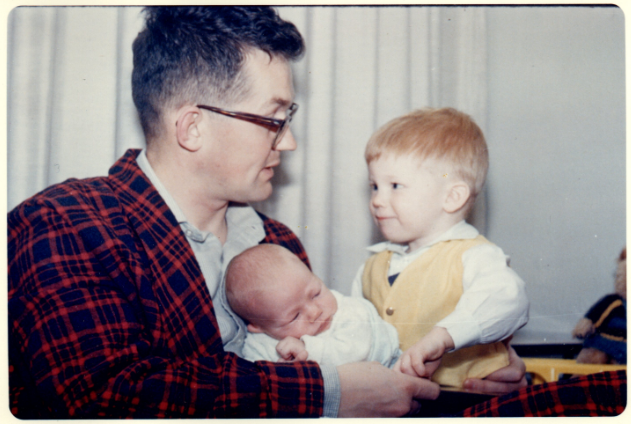 More than anything, my Dad cared about taking care of the generations to follow him. His grandfather made his way out of poverty - running away from his
four year appointment as a draper's apprentice
- by dint of writing skill and persistence. The lesson was not lost on my Dad.
Dad made sure, really sure, we had the skills, education, and opportunity to establish our own households and in turn be able to take care of our children. So any time I see or touch something that was once his, it reminds me of the one commitment he would most want me to make - to take care of those who come next.

I take this to heart, and also interpret it generally. I have one child. She and her peers won't have a great future unless there is a
healthy environment, healthy people, and a community
to share the world with.
Some day I'll make it through all of the boxes. Every so often, there is time for another one, in the seams between everything else that's on the omnipresent list.
The next box awaits.
Daddy, I will always miss you.