Every day is a new day and with that, a new opportunity.
EVERYONE is welcome and please join us each morning at 7:30 AM PACIFIC
to tell us what you're working on, share your show & tell, vent, whatever you want...
...this is an open thread. Nothing is off topic.
Ever Been to a Rodeo?
Hi Buckaroos. It's February again and February in Tucson means rodeo. It's time for La Fiesta de los Vaqueros. Rodeo used to be a big deal in the Old Pueblo, even today the kids in Tucson Unified get the day off to watch the Rodeo Parade which takes place on Thursday. I thought I'd share some observations on the subjects of ranching, cowboys and rodeo.
First a short disclaimer. I know some will be offended by rodeo. They see it as cruelty to animals and I suppose it is, the calf in this picture is about to get a nasty surprise. On the other hand, it's not like that elegant Spanish/Mexican spectacle of death known as a bullfight which is descended from the Roman coliseum.
Rodeo is a test of actual skills used in old-time cattle ranching. If it's cruelty to animals, so is killing them and eating them.
Cattle ranching, as practiced in Northern Mexico and the Southwestern United states, is a function of geography. There's a lot of land but it's mostly cactus and brush, there isn't much good pasture. The solution was to have huge ranches and just turn the cattle loose to forage for themselves. Of course every now and then you'd have to go find 'em all and round 'em up to count 'em, brand 'em and sell 'em. The word rodeo just means round-up.
I remember there used to be this hoity-toity shopping street in L.A. They had high-priced shops where you could buy Gucci, Panucci and Louie V. The name of the street was Rodeo Drive. The locals called it ro-DAY-oh drive. That was not all pretense. We usually pronounce it RO-dee-oh, but ro-DAY-oh is actually the correct pronunciation. It's a Spanish word and it was borrowed from the Mexicans along with the whole cowboy vaquero culture.
When Gringos first started arriving in Northern Mexico, they were actually invited into Tejas by the Mexican Government, by the way, in hopes that they would be a buffer against the Comanche, they didn't know anything about cattle ranching.
They had to learn the whole business from the Mexicans. They had to learn the practices, how to run a rancho. They had to adopt new tack, Americans back east rode saddles without horns or cantles. So just naturally, they picked up the language too. Almost all of what we think of as cowboy terms are Spanish. Rodeo, from the verb rodear, to surround or round-up, lariat, from la riata, the rope, buckaroo is obviously from vaquero, literally cowboy. It just goes on and on, mustang, from mesteño, wild animal, bronco, coarse, as in unbroken and of course chaparreras or chaps. Now, this guy Ralph Lauren was one of these Rodeo Drive type cowboys, he had a whole line called Chaps. I want to make the point here that there ain't no such thing as "ass-less chaps." If chaps had asses they'd be pants. Chaparreras are leather covers designed to save the wearer's pants, and legs, when he rides in the thick, tangled brush, or chaparral, where cattle sometimes hide.
Anybody who's interested in modern day cattle ranching and cowboyin' in the Southwest should read the fiction of Baja Arizona's own J.P.S. Brown, in particular The Outfit. OK, that's all I got this morning. Have you ever been to a rodeo? Got a cool link to share? What's going on where you're at today?
Talk to me.

Community Service Announcement:
Saturday Morning Garden Blogging is celebrating their Ninth anniversary soon with a focus on fundraising opportunities for local elections. All of Kossack Land is invited to present their local candidate and their campaign to the SMGB team for them to highlight.
From Frankenoid:



It is a mid-term election year and now — during the subdued primary process — is our chance to get not just Democrats, but more progressive Democrats, into our state, county or municipal offices.

Call it planting the seeds for a harvest next November.

Kosmail the group before Thursday, February 20th, with some information about your candidate, the position being sought, and a link to a donation page. I'd really appreciate it if you could put it in ready-to-plug-in format so I can just do a copy and paste into the diary — and you can encourage your candidate to come and participate.


So
submit the details
of your local candidate to the Saturday Morning Garden Blogging group and they'll help you promote within their long-running diary series. Readers should try to connect with others in their regions through the comments.
More from Frankenoid:

Many times newcomers to dKos can't quite figure out why we have all these groups for gardening and home repair and crafting and painting and books: this is a site for politics!

Let's show them why community matters: at the most basic level without community there is no purpose to politics and it becomes nothing more than a scrim behind which factions scramble in a zero-sum game for short-lived political advantage.
The goal of the New Day series is to connect Kossacks locally to each other to strengthen the progressive movement. Franky's excellent idea is right on the mark for this.
Thanks, Frankenoid!

Latest Updates on Kossack Regional Meet-Up News Below the New Day sunrise cloud
:: COMMUNITY BUILDING UPDATES ::
Let's build communities!

Every region needs a meatspace community like SFKossacks.
We take care of each other in real life.
I urge YOU to take the lead and organize one in your region.
Please tell us about it if you do and we're here for advice.
•
THINK GLOBALLY, ACT LOCALLY
>>>Instructions on
HOW TO FORM A NEW DAILY KOS GROUP
NEW GROUPS IN THE PROCESS OF ORGANIZING:


Send a Kosmail to the organizers and ask for an invitation to the group.

• Northern Indiana Area: Kosmail Tim Delaney

• Long Island: Kosmail grannycarol

• Northern Michigan: Kosmail JillS

• Nebraska: Kosmail Nebraska68847Dem

• Westburbia Chicago Kossacks: Kosmail Majordomo

• Caprock Kossacks (Panhandle/Caprock/Lubbock/Amarillo area) : Kosmail shesaid

• West Texas Kossacks (including Big Bend Region and El Paso) : Kosmail Yo Bubba

• Vermont Kossacks: Kosmail 4Freedom

• California Central Coast Kossacks: (San Luis Obispo & Pismo Beach area) Kosmail CentralCoaster

Note to the above new leaders: Feel free to leave a comment any day reminding readers about your new group. Also, tell us about your progress in gathering members. Kosmail me when you've chosen a good name for your group and have created a the group. Then I'll move you to the NEW GROUPS LIST. When you've planned a date for your first event I'll make a banner for you to highlight your event in our diaries and your diaries.
These are the groups that have started since * NEW DAY * began. Please Kosmail navajo if you have started a group before that.
NEW GROUPS LIST:

• California Central Valley Kossacks - Formed: Jul 29, 2012, Organizer: tgypsy

• New England Kossacks - Formed: Aug 6, 2012, Organizers:
Clytemnestra for Lower New England (Conneticut, Massachusetts, Rhode Island)
nhox42 for Upper New England (Maine, New Hampshire, Vermont)

• Houston Area Kossacks - Formed: Aug 7, 2012, Organizer: Chrislove

• Kossacks in India - Formed: Aug 14, 2012, Organizer: chandu

• CenTex Kossacks - Formed: Sep 9, 2012, Organizer: papa monzano

• Central Ohio Kossacks - Formed: Sep 26, 2012, Organizer: VetGrl

• Kansas City Kossacks - Formed Oct 15, 2012, Organizer: Statusquomustgo

• Phoenix Kossacks - Formed Oct 16, 2012, Organizer: arizonablue

• Chicago Kossacks - Formed: Oct 31, 2012, Organizer: figbash

• Koscadia the Pacific Northwest coast from Northern California to Alaska
- Formed Oct 17, 2012, Oganizer: Horace Boothroyd III based in Portland, OR

• Boston Kossacks - Formed: Nov 7, 2012, Organizer: GreyHawk

• Motor City Kossacks South East Michigan (Detroit) Area - Formed: Nov 10, 2012, Organizer: peregrine kate

• Pittsburgh Area Kossacks - Formed: Nov 12, 2012, Organizer: dweb8231

• Salt Lake City Kossacks - Formed: Nov 17, 2012, Organizer: War on Error

• Twin Cities Kossacks - Formed: Nov 17, 2012, Organizer: imonlylurking

• Dallas Kossacks North Texas - Formed: Nov 21, 2012, Admins: Catte Nappe and dalfireplug. Please contact them to join the group. An Event Organizer needed.

• The Southern California Inland Empire Kossacks - Formed: Dec 3, 2012, Organizer: SoCaliana

• Los Angeles Kossacks - Formed: Dec 17, 2012, Organizer: Dave in Northridge

• Northeast Ohio Kossacks - Formed: Jan 16, 2013, Organizer: GenXangster

• Kansas & Missouri Kossacks - Formed: Jan 17, 2013, Organizer: tmservo433

• I-77 Carolina Kossacks who live from Columbia, SC to north of Winston-Salem, NC. - Formed: Jan 30, 2013, Organizers: gulfgal98 and eeff

• Indianapolis Kossacks - Formed: Feb 6, 2013, Organizer: CityLightsLover

• Southwest Ohio Kossacks - Formed: May 10, 2013, Organizer: Dr Erich Bloodaxe RN

• Northern Arizona Kossacks - Formed: Jul 5, 2013, Organizer: Sam Sara

• Mexican Kossacks - Formed: Apr 14, 2013, Organizer: roberb7

• New York Hudson Valley Kossacks - Formed: Oct 27, 2012, Organizer: boran2

• North Carolina Triangle Kosmopolitans - Formed: Aug 2, 2013, Organizer: highacidity

• Silicon Valley Kossacks - Formed: Oct 31, 2013, Organizer: Glen The Plumber

• Seattle and Puget Sound Kossacks - Formed: Dec 17, 2013, Organizer: EagleOfFreedom

• Las Vegas NV Kossacks - Formed: Oct 22, 2013, Organizer: miracle11
ESTABLISHED GROUPS LIST: (List will grow as we discover them)

• SFKossacks Founded by navajo, Formed: May 2, 2005

• Maryland Kos Founded by timmyc, Formed: Feb 23, 2011. Contact: JamieG from Md for a group invite.

• New York City Founded by Eddie C - Contact the group organizer for meet-up events: sidnora

• Baja Arizona Kossacks, Event Organizer: Azazello

• Three Star Kossacks Tennessee, Founded by maryKK, Formed: Apr 8, 2011

• Nashville KosKats, Founded by ZenTrainer Formed: Jan 30, 2012

• Virginia Kos Founded by JamieG from Md, Formed: May 3, 2011

• Kos Georgia Founded by pat208, Formed: Feb 13, 2011

• Colorado COmmunity Founded by Leftcandid, Formed: Feb 13, 2011. Organizer: ColoTim

• New Mexico Kossaks Founded by claude

• Philly Kos Founded by mconvente Formed: Aug 29, 2011

• DKos Florida Founded by ThirstyGator, Formed: Feb 14, 2011, Currently organizing: Kosmail Vetwife to be included in next event.

• Oklahoma Roundup Founded by BigOkie, Formed: Feb 13, 2011, Currently organizing: Kosmail peacearena to be included.

• DKos Asheville Founded by davehouck, Formed: Feb 13, 2011 - Organizing Assist by: randallt

• San Diego Kossacks Founded by La Gitane, Formed: Nov 18, 2011

• Massachusetts Kosmopolitans Founded by mem from somerville, Formed: Feb 13, 2011

by roberb7 ♥ for Mexican Kossacks
roberb7, who is the organizer of the newly formed Daily Kos Group Mexican Kossacks, provides a well-written recap of the recent Democrats Abroad event in Puerto Vallarta. Tom Hayden, a member of the California State Assembly for 18 years, was the guest speaker.
Please visit roberb7's diary for his excellent photos and a nicely detailed summary of the event. Enjoy! You can join Mexican Kossacks by sending a Kosmail to roberb7.

by GreyHawk ♥ for BOSTON KOSSACKS
While GreyHawk had many Kossacks sign up to attend his lunch and museum event, some had to cancel at the last minute because of a large snow storm rolling in. Four intrepid souls managed to attend: GreyHawk, HawkWife, Knockbally and deltadoc. I've always said that even two Kossacks is a meet-up and a very worthwhile one.
GreyHawk and his attendees pulled together a terrific re-cap diary with each person's written perspective and all the photos each Kossacks took of the snow and food pr0n. It's a fun diary and a great example of one way to document these meatspace events.
There's only one photo of some of the Kossacks who attended. So I'm going to post one of mine I took of GreyHawk and HawkWife when I met them in Providence at NN12.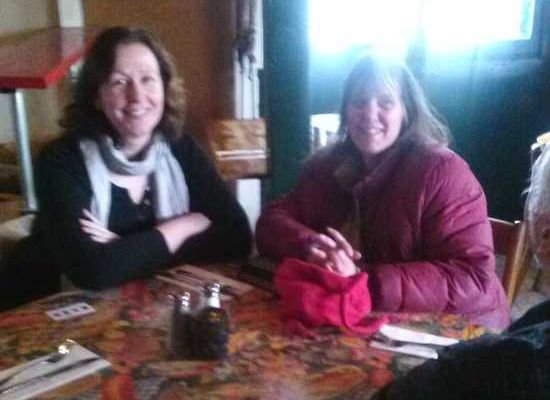 Left Photo: knockbally and HawkWife - Right Photo: GreyHawk, HawkWife & ember
Please visit GreyHawk's diary for many MORE photos plus food pr0n! Enjoy! You can join BOSTON KOSSACKS by sending a Kosmail to GreyHawk.

by EagleOfFreedom ♥ for Seattle and Puget Sound Kossacks
I'm so impressed with the Seattle Kossacks, right now. EagleOfFreedom offered to take up the reins of collecting local Kossacks for camaraderie and action. In a very short time he started the group, communicated with me, set the event and got almost a dozen folks to join the ranks in person. Kudos!
So, you Seattle Kossacks, you've got a group now and John Crapper has offered to be an admin of the group. How swell is that?
SEATTLE KOSSACKS! Look for each other in the comments and gather together, invite one another and let's see more folk show up at the next event. AND the next action event.
To quote one of the attendees:
Once again Kossacks prove they are for real.
L-R: N in Seattle, Regina in a Sears Kit House, bleeding blue, doingbusinessas
L-R: ?, John Crapper, EagleOfFreedom, mlharges
All photos courtesy of mlharges
Please visit EagleOfFreedom's diary for MORE photos! Enjoy! You can join Seattle and Puget Sound Kossacks by sending a Kosmail to EagleOfFreedom.

SFKossacks Welcome Matching Mole and bwren
with a Birding Event Plus Dinner
by navajo ♥ for SFKossacks
Last Sunday, matching mole, who flew in from the East Coast, and bwren, who flew in from Seattle, were picked up and chaffeured by the founder of Dawn Chorus, lineatus. She drove them to meet with other SFKossacks and Central Valley Kossacks to do some bird watching in the Grizzly Island Wildlife Area on San Francisco Bay. I'll leave the telling of that story up to lineatus in her Sunday morning series.
I'll be covering the dinner we had that evening to welcome our out-of-towners.
Please visit navajo's diary for descriptions of above photos and access to MORE photos! Enjoy! You can join SFKossacks by sending a Kosmail to navajo.


by randallt ♥ for DKos Asheville
Wow, the standard setters for Daily Kos group organizing just one-upped the bar again! Not only do they meet for socializing, they get themselves on radio shows to advertise the event, they invite local candidates and progressive causes to speak to our Kossacks and then fully cater an event to reward all attendees. Wow. Just wow.
More than 30 Kossacks got together amping up and organizing the Asheville atmosphere for getting out the vote. Here's one photo:
L-R: DKos Asheville Kossacks
Please visit randallt's diary for many MORE photos! Enjoy! You can join DKos Asheville by sending a Kosmail to randallt.


by Dave in Northridge ♥ for Los Angeles Kossacks
LAKossacks at it again, please see diary for food pr0n details.
L-R: DuckTape, Dave in Northridge, joemarkowitz, Shockwave and SanFernandoValleyMom
L-R: susans, Kathy, otoelbc, Jerico, Joe Bacon, mr. gmats and gmats
Please visit Dave in Northridge's diary for many MORE photos! Enjoy! You can join Los Angeles Kossacks by sending a Kosmail to Dave in Northridge.


by ericlewis0 ♥ for New York City
Wow. Boom! ericlewis0 blew us all away on Sunday. He provided a LIVE BLOG of the NYC event complete with photos and bonafide commentary from the attendees. Amazing!
Photo 1 L-R: In the orange, thankgodforairamerica, ghchaucer2, sidnora, joanbrooker, dave g & kathny Photo 2 L-R: Plf515, Laura Clawson, mets102, son of broccoli, Communitygis, no exit, designthefuture & mattc129
Please visit ericlewis0's diary for the live blog commentary from the attendees! Enjoy! You can join NYC Kossacks by sending a Kosmail to sidnora.
sidnora promises her faithful follow-up diary and she could likely have food pr0n. I hope so. I live for explicit photos of the fries at Spitzer's Corner.

:: Events Currently on the Books for Kossacks ::

Tuesday, February 25th

Kansas-Missouri Kossacks Attend State Rally at the Capital

Equality Kansas, the ACLU of Kansas, Americans United for Separation of Church and State, and MAINstream Coalition are hosting an Equality Rally

TIME: 1:00 PM (Stay for a Kossack dinner? Interested? Kosmail: tmservo433)
LOCATION: Kansas State Capitol
300 SW 10th Ave • Topeka

ORGANIZER: Send tmservo433 a kosmail to attend.

RSVPs:
1. tmservo433
2. RazzBari3

Maybees:

Latest diary: Kansas Democrats Rally at the Capital February 25. Kossacks should be there


Saturday, March 15th

Sacramento/Central Valley Kossacks Demonstrate at "Don't Frack California"

TIME: 1:00 PM
LOCATION: California State Capitol
1315 10th St. • Sacramento

RSVPs:
1. Anthony Page aka SecondComing
2.
3.

Maybees:

Latest diary: Quick re-mention of March 15 statewide "Don't Frack California" demonstrations

Saturday, April 5th

Seattle & Puget Sound Kossacks Meet-up

TIME: Noon - 3:00 PM
LOCATION: Pyramid Alehouse, Brewery & Restaurant
1201 First Avenue South • Seattle

ORGANIZER: Send EagleOfFreedom a kosmail to attend.

RSVPs:
1. EagleOfFreedom
2. Reetz
3.
4.
5.

Maybees:

Latest diary: Seattle & Puget Sound Kossacks Arrive




Saturday, May 3rd

DKos Asheville Kossacks Meet-up

TIME: 1:00 PM
LOCATION: The Bywater
796 Riverside Dr. • Asheville

ORGANIZER: Send randallt a kosmail to attend.

RSVPs:
1. randallt
2. davehouck
3. Joieau
4. Gordon20024
5. SteelerGrrl
6. SteelerGuy
7. GulfGal 98
8. Otteray Scribe
9. flwrightman
10. people power granny

Maybees:
Audri
Mr Audri


Latest diary: [Waiting for linked diary]

Send navajo a kosmail if you post a diary about an event so we can update our round-up.

Okay. Floor's open.
Tell us what you are doing on this NEW DAY?