The Daily Bucket is a regular feature of Backyard Science where we report on our recent nature observations. That might be that our favorite river is finally ice free, that the dogwood trees are starting to bloom, wild turkeys are gobbling up on the ridge, or your winter birds are beginning to disappear from your feeder as the urge to head back north grows stronger with each passing day. Whatever you've noticed will be welcomed here so please let us know what's happening in your neighborhood.
During the GBBC we unknowingly photographed a snow bunting that was hiding in a large flock of lapland longspurs, not noticing it until we were going through our pictures on the computer that evening. Snow buntings are extremely rare this far south and neither of us had ever seen one so it was very exciting when we discovered we'd accidentally taken a picture of one. But unfortunately it wasn't much of a picture and after a diligent search for another, we found only one other picture that had captured it and it was even worse than the first one we found. We quickly decided a return trip was in order to see if we might get lucky and find it again and hopefully get some better pics this time around. So a couple of days later we found ourselves standing in the exact spot where we'd found it two days before. Alas, it, and all the longspurs were nowhere to be found. We looked all throughout area but weren't able to find it or even any of the hundreds of longspurs. Apparently they had all taken wing and were now somewhere between here and their northern breeding grounds. So after giving up on the bunting we headed down the road to another wetland that we hoped would have, if not a bunting, at least an interesting assortment of other birds. We weren't disappointed and were happy to see this wetland was teeming with waterfowl of a dozen different species, along with many assorted song birds and raptors and others.
Below the squiggly is a sampling of what we found there.
Here's the bunting from a couple days earlier that didn't wait around to give us a second look.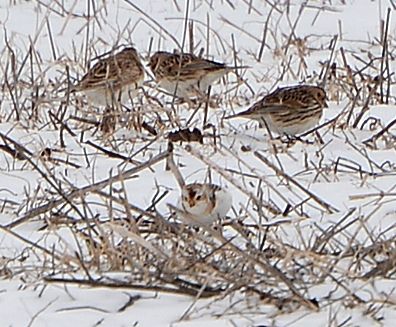 Northern Mockingbird

Horned Lark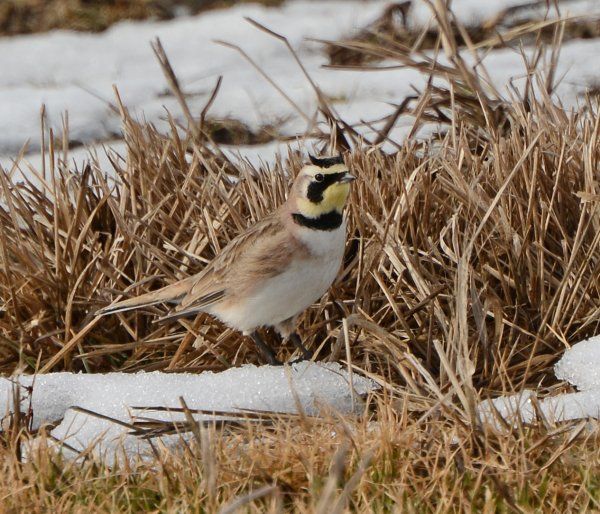 American Tree Sparrow

Eurasian Tree Sparrow, (life bird for both of us!)

Ring-billed gull

Specklebellies (White-Fronted Geese)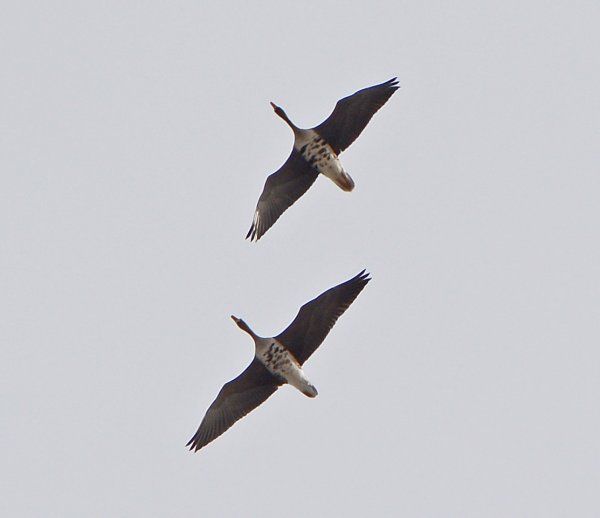 Great Blue Heron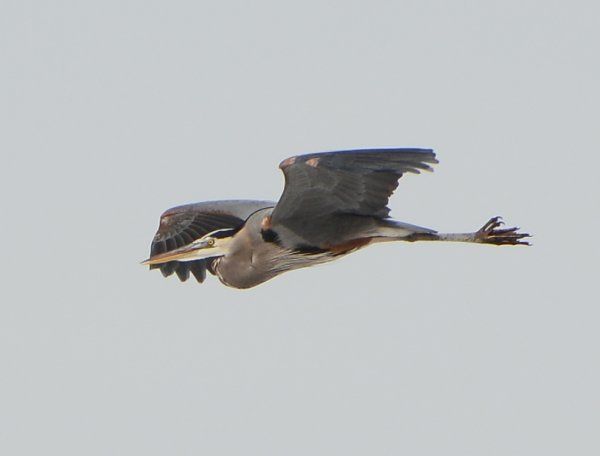 Trumpeter Swan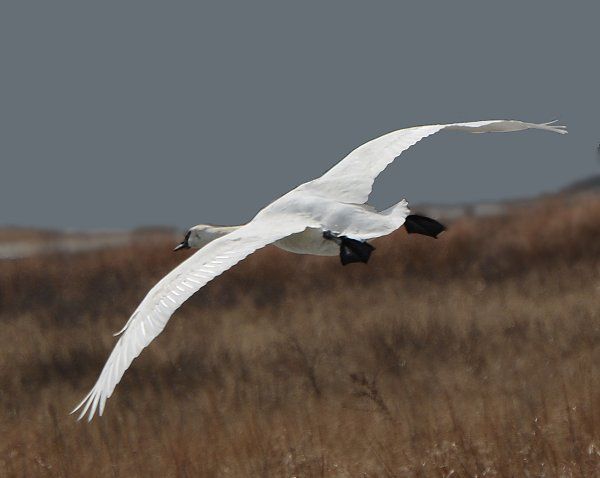 American White Pelicans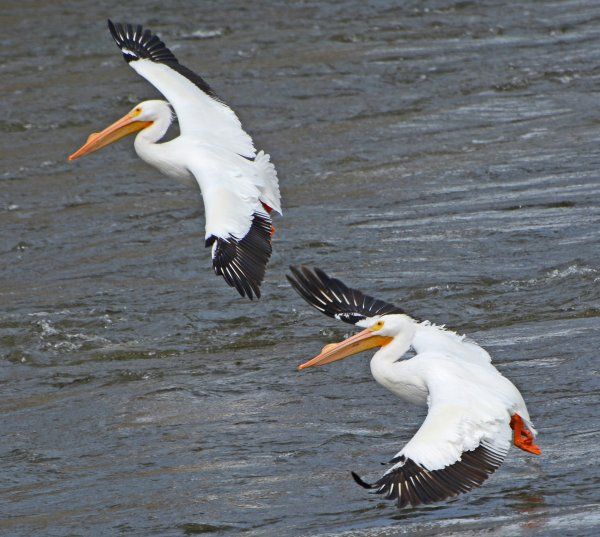 Common Goldeneye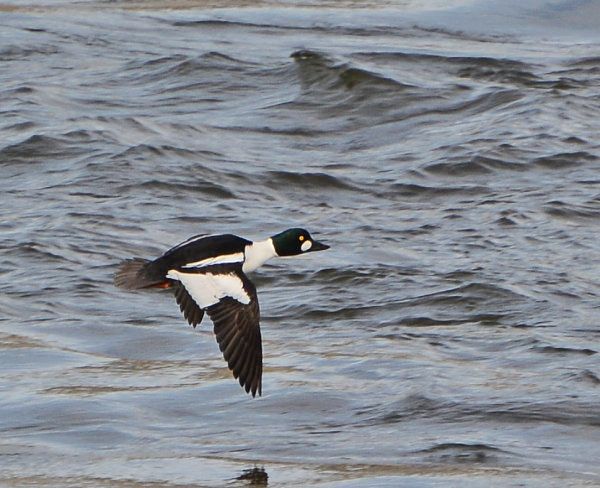 Mallards and Pintails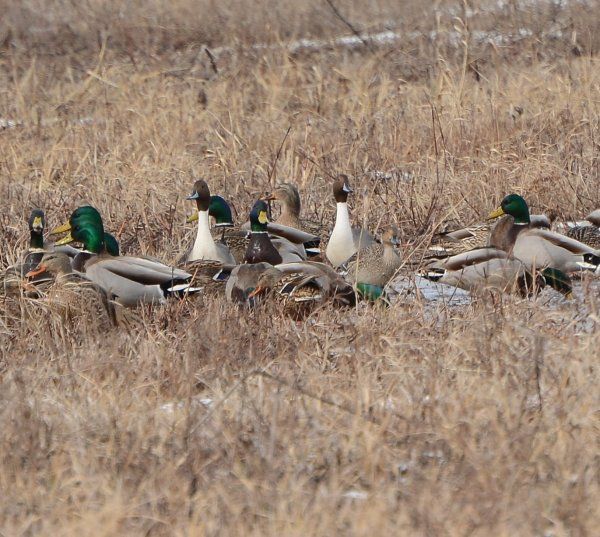 Mallards and Canadas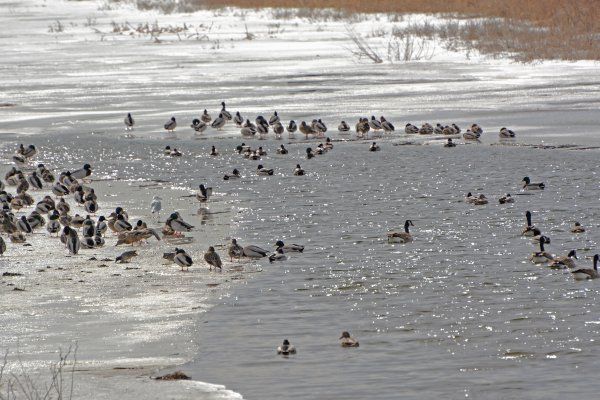 Northern Shovelers

Northern Harrier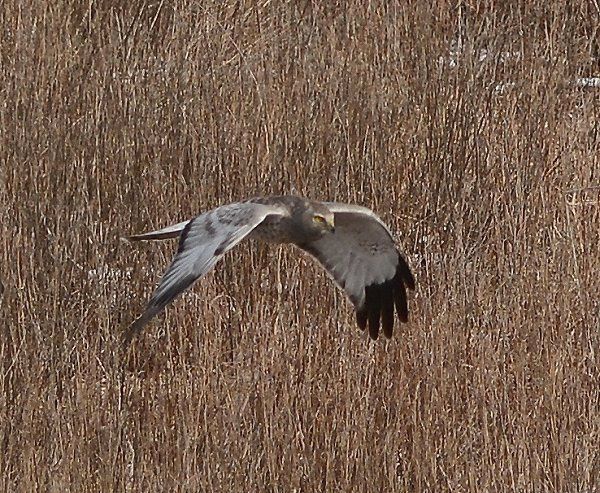 This morning it was 54 degrees by daylight and many birds in the backyard were feeling it. I took my recorder out and recorded bird song for ten minutes. I heard, in order of frequency;Crows, Cardinals, Tufted titmice, Chickadees, Red Shouldered Hawks, Robins, Pileated woodpeckers, Redbelly woodpeckers, Eastern bluebirds, Bluejays, Goldfinches, and one Northern Flicker. Not all were singing their spring songs, some were just chattering, but it's more bird sound than I've heard for a long time.
Your turn;