Automated Greetings!
And welcome to your regular Friday Street Prophets open thread diary. Did you know that it's Wednesday?
Well, it's dark and early on Wednesday morning when I'm writing this. In a few hours I'll be driving off in search of snow. With any luck I'll find some. It has been a warm and mostly snowless winter for the Czech Republic. Our neighbors to the south in Austria however, they're getting plenty of fresh snow. Lungau here I come! I don't know if I'll be able to get online Friday-- cheap accommodation doesn't necessarily mean free internet access. So I'm posting this to the SP group queue and hoping any visitors who boldly post comments on Friday or over the weekend will forgive me if I don't manage to make an appearance in my own diary to hand out the cookies personally.
A few thoughts and a picture below the ginger hairball--
I didn't really get any painting done this week-- not unless you call staring at my latest and still unfinished oil painting and trying to decide where all the mistakes are "painting". I'd like to put one more day of work into it and call it quits.
Here's the current state of things: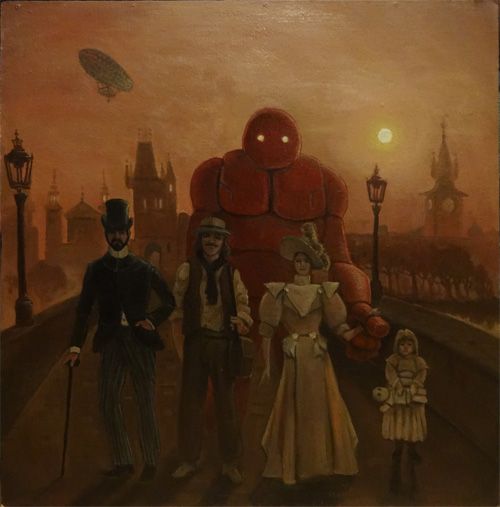 I have been getting a lot of work done on a website design for a friend of mine. I've been using a program called Flash Catalyst that came with a bundle of software I bought a few years ago. It's one of those programs that had tremendous potential but Adobe decided to stop selling it in 2012. Plenty of bugs in the works that they never bothered to correct but I still enjoy working with it. With Adobe turning their whole product line into monthly subscription deals I suppose the next time I go shopping for software I'll be looking elsewhere.
So, slowly some of the unfinished projects of yesteryear are getting done and my mind is already on different things. I want to do more writing this year and finally publish a couple of eBooks. There's an art contest or two I'd like to enter. I'm hoping to put together a proposal for a graphic novel and get it funded through a site like Kickstarter. This spring I'm planning on trying some more ambitious wheel-thrown pottery techniques and fire up my woodfire kiln once or twice over the summer.
With a bit of luck I'll be too busy for any of that.
I now have three varieties of hot pepper seedlings out in the livingroom. Tiny little things; I feel bad leaving them for a few days, but there will be somebody around to keep an eye on them. I wonder what the growing season will be like with the winter so warm. I noticed that the garlic I planted in the autumn was already sprouting when I visited our garden last weekend.
Near the garden is a nearly 17 year-old oak tree. It's a tree that I transplanted so I've got a pretty good idea of how old it is. I rescued it from the middle of a campsite almost 16 years ago in the summer of 1997. It was just a wee seedling then. I've enjoyed watching it grow. It's a year older than my #1 Son. Maybe in another year he'll be taller than me too. It doesn't seem like that many years ago the tree was shorter than I am. They grow quite slowly those oak trees. It also doesn't seem so long ago that #1 Son was easily cradled on one of my forearms. Now I think he'd have an easier time picking me up than I'd have of lifting him. Some days I think I'm almost ready for that. I hope I'll not have much need of being lifted. I'll be careful on those slopes-- try not to wrap myself around any trees.
Oak trees grow slowly, kids grow fast-- it's all relative. That tree is well over twice my height. I've still got nearly an inch on the kid. I never did catch up to my own tall father.
Is it too early to be thinking about grandkids?
So many plans for the future...
I guess that's what this diary is about: resisting, embracing and planning for the future. Which is always a bit of an uncertain prospect I think.
And here I am, posting a diary into the future. Here's hoping that even further into the future I'll be around to check and see if anyone has left a comment.
Surely you don't mind if I post a reply at you say, on Monday?
I'm thinking about the long drive into Austria later today. I'm looking forward to exploring a region of the Alps a bit to the south of my usual haunts. My thoughts keep returning to my sons and how sure and skilled they are on skis. We'll be with some friends that I've never gone skiing with before and I'm wondering who I'll be skiing with; I suspect I won't be attempting to keep up with the lads. Oh well, perhaps I'll see them at lunch. Do you think there might be Knoblauchsuppe?
That's about it for me this week. I think there's a cup of coffee and some breakfast in my immediate future and then I'll take a minute to just relax and enjoy the moment I'm in.
This has been Marko the Werelynx, writing to you from the fuzzy-headed depths of the past.