We spend another sad evening in mourning for a man who died far from home. Master Sergeant Aaron C. Torian was a highly-decorated Marine serving on his sixth overseas deployment. He had traveled twice to Iraq and three times to Afghanistan. The trip to Afghanistan was to be his last before he retired, and it would be the Marine Corps last deployment in that area. Plans are to have Marines pull out of the region when they are finished with the current mission.


The beautiful logo was created by Timroff

I Got The News Today (IGTNT) is one of the oldest continuous series on Daily Kos. It is a way for our community to pay respect to those who have died as a result of war.
Master Sergeant Aaron C. Torian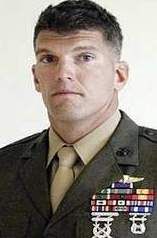 Aaron C. Torian was born on June 28, 1977. While Aaron was considered to be a native of Kentucky, his family spent several years in Maryland. He was a 1995 graduate of Thomas Stone High, located in Waldorf, Maryland. The family later moved back to Paducah, Kentucky, which was identified as his home town.

Aaron joined the Marine Corps and obtained his master's degree in instructional leadership at Tennessee Tech University in 2003.

For the year of 2005, he was named the Second Marine Division's Non-Commissioned Officer of the Year. An article from the Marines' website gives details of the award ceremony:
Maj. Gen. Richard A. Huck, the division's commanding general, presented the team leader with Company B, 2nd Reconnaissance Battalion, with a plaque and a Navy and Marine Corps Achievement Medal here Mar. 16. Huck congratulated Torian for serving as a role model to hundreds of NCOs throughout his infantry division.

This distinction recognizes Marines who excel in job performance, physical fitness and leadership skills, all traits Torian exhibited while participating in Operation Phantom Fury, the push through Fallujah, Iraq in late 2004.

Then a lance corporal, he said he worked around the clock, learning every weapon system to effectively lead his five-man unit through the insurgent-riddled streets.
Torian joined MARSOC in 2006, and was assigned to 2d Marine Special Operations Battalion, Marine Special Operations Regiment, U.S. Marine Corps Forces Special Operations Command, which is based at Camp Lejeune in North Carolina. He was deployed to Afghanistan's Helmand Province late last year and was helping to train Afghan soldiers in combat operations.
There is a touching article in the
Ukiah Daily Journal
about a person who met Aaron last year, before he was promoted from Gunnery Sergeant to Master Sergeant in September:
Last summer I had the opportunity to meet Aaron at a family barbecue in Santa Rosa. It was a pleasant evening; Aaron talked about his life in the Marine Corps, and his most recent accomplishment of purchasing a home for his family. Aaron also talked about what he treasures the most: his wife, Jurley, and his children, Elijah, 9, Laura Bella, 4, and Avery, 2.

While Elijah and Laura Bella ran around the yard, Aaron talked about his new house. He liked the house because it was just far enough away from his Marine Corps base that when he got home he could stop being a Marine for a few hours, blend into the crowd while his family watched a movie, or focus on being a "great dad and husband," he said.

Aaron, who had completed his master's degree while he was in the Marine Corps, opted not to become an officer. It wasn't because he didn't like the officers, but because he liked being part of the action; he liked being one of the guys.
On February 15, 2014, the Master Sergeant was conducting training with Afghan soldiers on how to handle improvised explosive devices (IEDs). When the soldiers encountered a problem, Torian ran to help, but the IED exploded.
Although he was rushed to the nearest medical facility, the 36-year-old's wounds were critical. It was planned to transport him to Germany when his condition was more stable. His family was informed of his injuries just hours before it became evident that Torian would not survive. The base Chaplain remained by Aaron's side until he passed away.
The
WPSD news site
published these remarks from Aaron's mother:
Esta Smith had 36 wonderful years with her son Aaron Torian. He was a standout soccer, basketball and football player, earning a scholarship to play at UT-Martin. But after September 11, 2001. Smith said Aaron had other ambitions.

"He called me one day. I was working and he said, 'mom I just completed my physical. I joined the Marines.' I couldn't believe it. But I was proud at the same time," she said...

Aaron wrote home earlier this year. A hand written note sent to his mom at the end of January is one of the last letters Smith received. In it, Torian thanked his parents for sending a care package and expressed his love for his family.
Awards earned by Master Sergeant Aaron Torian include the Purple Heart, Navy Commendation Medal with Combat Distinguishing Device, Navy and Marine Corps Achievement Medal, Combat Action Ribbon with gold star, Sea Service Deployment Ribbon with three stars, Global War on Terrorism Expeditionary Medal, Global War on Terrorism Service Medal, Iraq Campaign Medal, Afghanistan Campaign, and the Good Conduct Medal.
US Marine Master Sergeant Aaron Torian will be buried at Arlington National Cemetery with full military honors. He is survived by his wife; their three children; his mother, Esta and his step-father, Jim.
**********************
Helping our troops:
If you wish to assist our military and their families, consider contributing to Fisher House. Donating to Netroots for the Troops provides care packages that make a real difference in a military person's life. To assist the animal companions of our deployed military, information is available here. Also, you could visit:

When our veterans come back home, they need jobs. Look at the programs of Hire Heroes USA and Welcome Back Veterans to see if you can help out.
About the IGTNT series:
"I Got the News Today" is a diary series intended to honor, respect, and remember the fallen, and to remind us that each casualty has family and friends who received the terrible news that their loved one has died. US service members whose names have been released by the US Department of Defense will usually be diarized two days after the official announcement on the DoD website. This allows the IGTNT team to cover each person more fully, but still in a timely manner. Click the IGTNT tag below to see previous diaries in the series, which was begun by i dunno, and is maintained by i dunno, Sandy on Signal, Monkeybiz, Noweasels, Blue Jersey Mom, Chacounne, twilight falling, SisTwo, Spam Nunn, True Blue Majority, CalNM, Wide Awake in Kentucky, maggiejean, Jax Dem, The Fat Lady Sings, Ekaterin, & Joy of Fishes. These diaries are heartbreaking to write, but show our community's respect for those who have died.
Please bear in mind that these diaries are read by friends and family of the service members mentioned here. May all of our remembrances be full of compassion rather than politics.