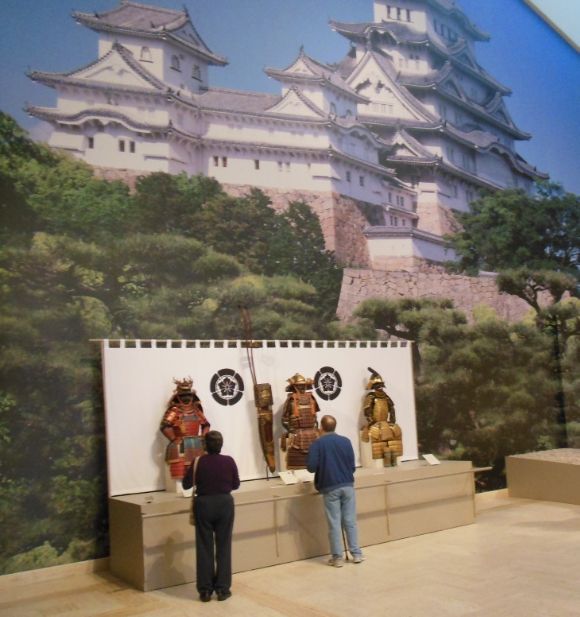 Samurai means "those who serve" and the word is derived from "saburau" meaning "to serve the nobility." This warrior class began to emerge after the system of conscripting peasant foot soldiers was abolished in 792 and military responsibilities were privatized. While Japan was nominally ruled by the emperor, who was considered semi-divine and revered by all, the actual power rested with the daimyō: feudal lords who employed their own militias and vied with one another for power. The samurai worked for these lords.

Like the knights of medieval Europe, the samurai were mounted warriors who rode into battle wearing protective armor. The photographs of samurai armor which follow were taken at a special exhibit at the Portland Art Museum of some of the holdings of the Ann and Gabriel Barbier-Mueller Museum: The Samurai Collection.
An important element in Samurai armor was leather which was used in making both the cuirass body armor across the chest) and the helmet. Leather was lighter and less expensive than iron. When used in horse armor, lacquered leather allowed for lightweight and functional protection. However, there were Buddhist proscriptions against killing animals and as a result leather workers were treated as outcasts in Japan. Leather craftsmen, although well paid for their work, were not allowed to live within the walls of the castle towns.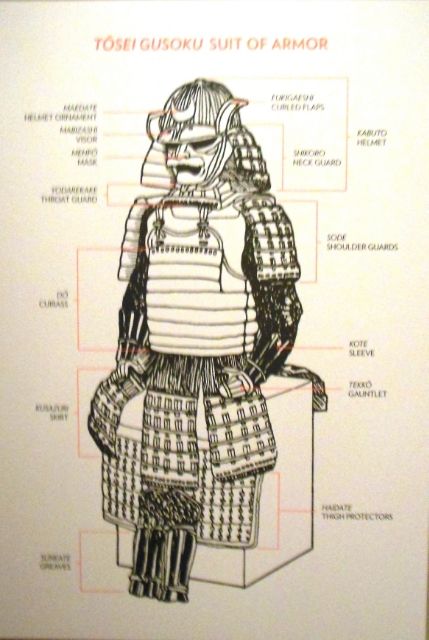 Shown above is armor from the second half of the sixteenth century. Overlapping scales were laced together in parallel rows. The use of gold lacquer helped to create a dazzling effect.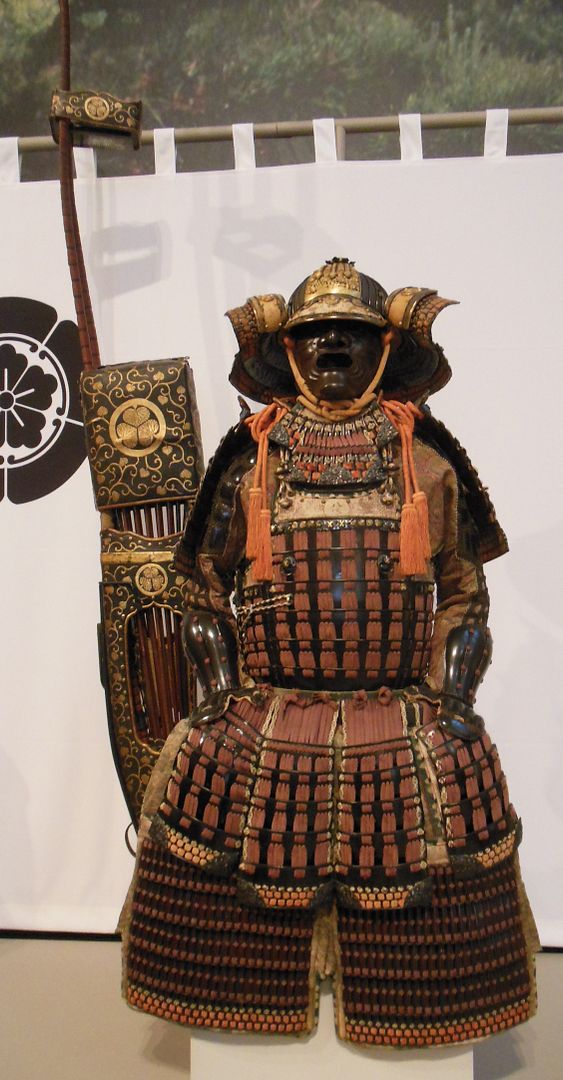 The armor shown above was made for the Niwa family in the seventeenth or eighteenth century. The cuirass was made using horizontal iron plates held together with parallel lacing.

Also shown is a traditional Japanese longbow which is 7-8 feet long with the grip at one-third the length from the base. It took great skill to craft the bow to make sure that the two unequal arms extended an even pull on the arrow.
The armor shown above contains emblems of the Buddhist deity Fudō Myōō—the dragon engulfed in flames on the helmet and the Sanskrit letters on the sleeves—which are intended to offer the warrior divine protection.
Shown above is a late eighteenth century suit of armor.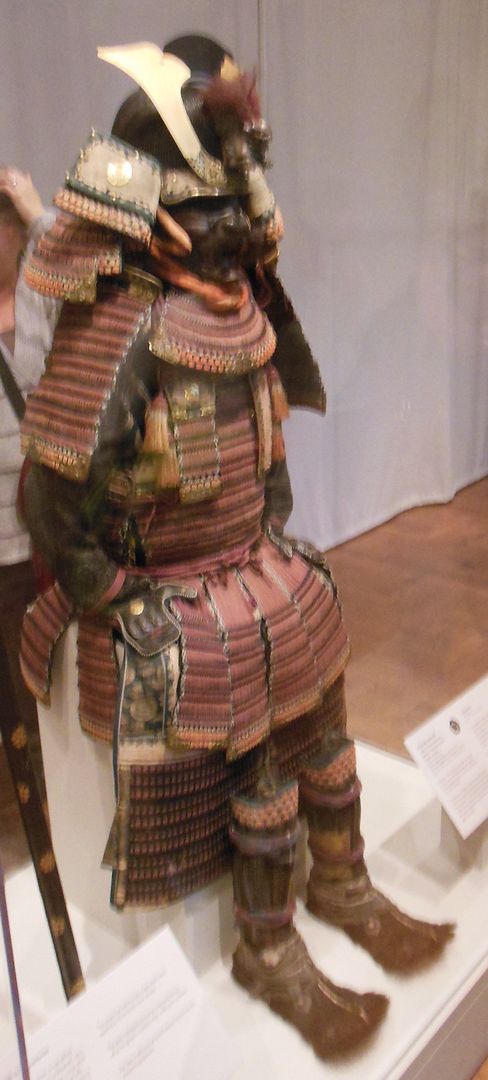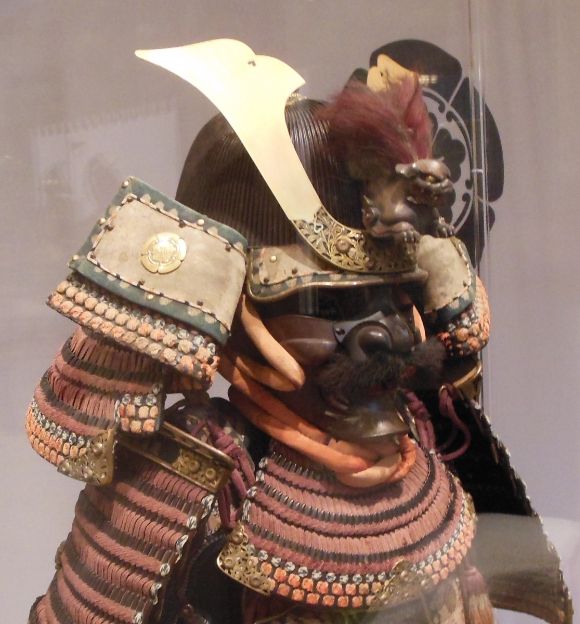 The suit of armor shown above is from the 15th-16th centuries, a time when the frequency and intensity of warfare had increased.
The cuirass is the oldest part of Japanese armor. The cuirass shown above was constructed from small silver-lacquered iron scales that have been tightly laced together with white silk cords.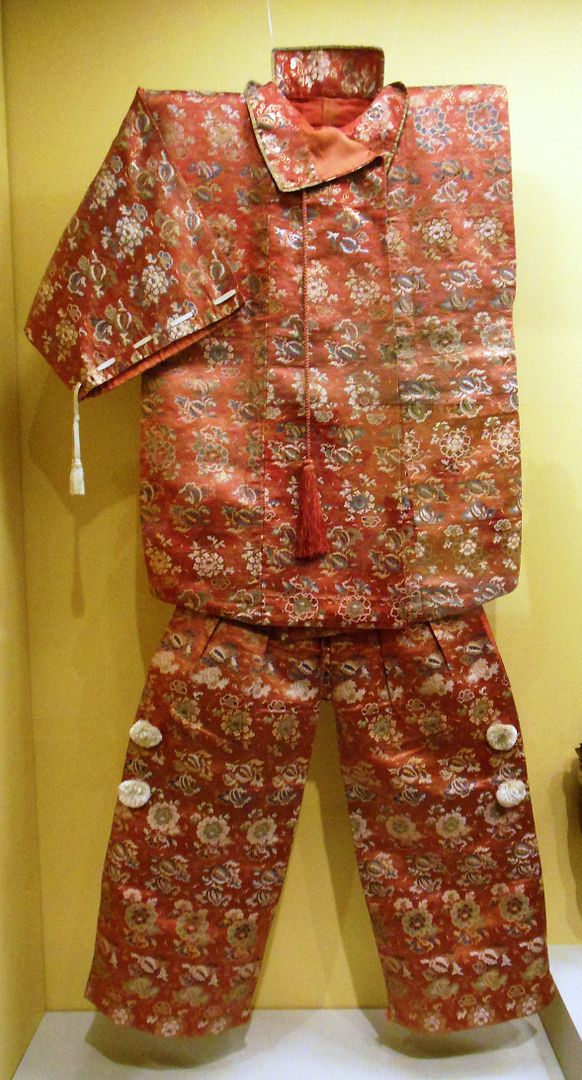 The trousers and jacket shown above would have been worn under the armor.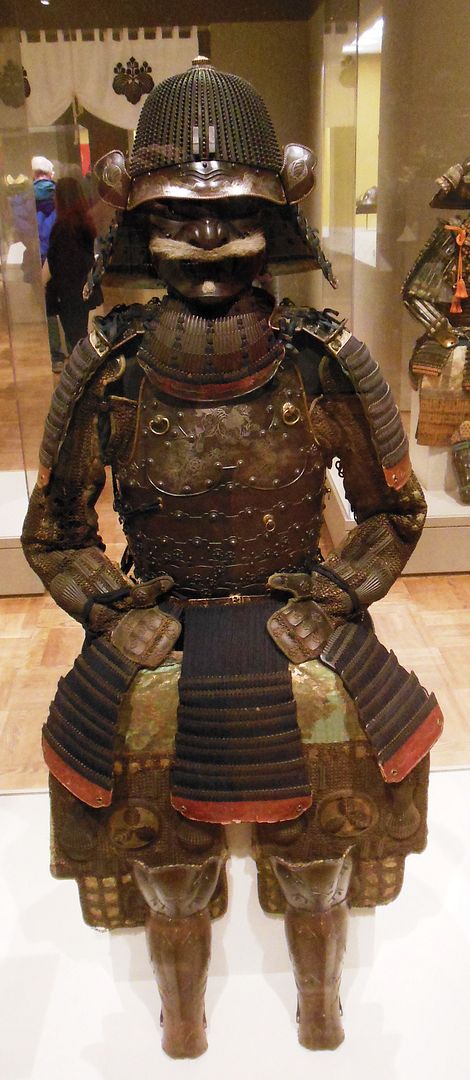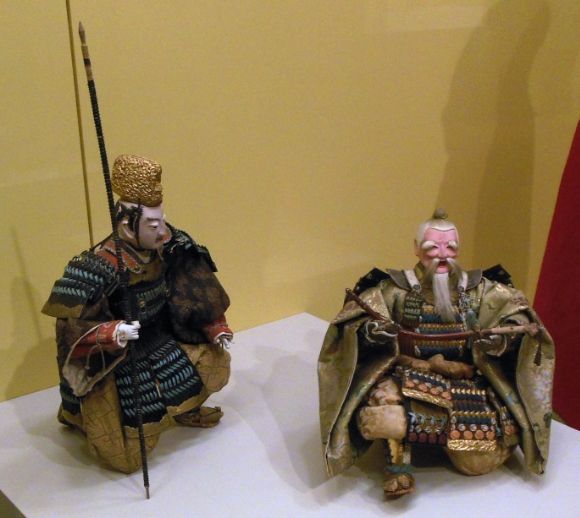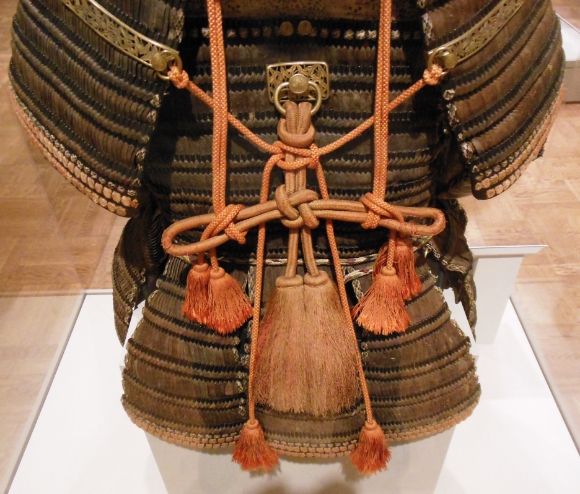 The intricate knots used on some of the armor are shown above.
Samurai armor is a work of art. Stephen Turnbull, in an article in The Art of Armor: Samurai Armor from the Ann and Gabriel Barbier-Mueller Collection, writes:

"The typical suit of Japanese armor is an artistic creation that invariably stimulates feelings of awe and wonderment in those who gaze upon it for the first time. The awe lies in the intricacy and elaboration of its craftsmanship; the wonder is best expressed by the all too common question, 'Why would anyone want to fight in this?'"