Today in Nagoya, Japan a man attempted to kill as many people as he could. He rented a car and then deliberately drove it into a crowd hitting whomever he could. His rampage ended when he struck a tree. He reportedly told police, "I tried to kill people with the car."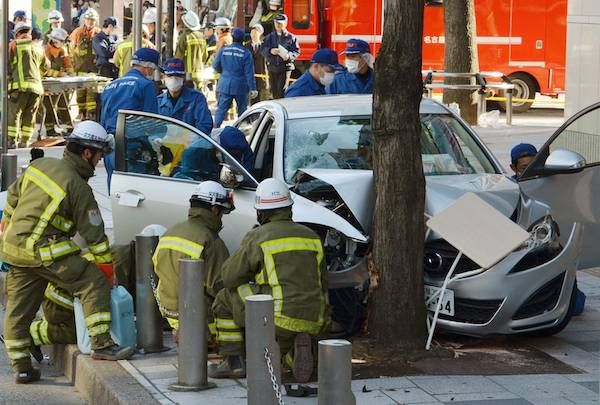 Car used in the rampage in Nagoya. Photo by Kyodo.
Thirteen people were injured. One man has a broken hip
There were no fatalities and as of this writing none of the victims is reported to be in a life-threatening condition.
A man flips out and goes on a rampage. It's an all too familiar story. However, in this case the man lived in Japan, where they do not have free access to firearms with large capacity magazines. He injured thirteen people and killed none.
There are dangerous crazy people in every culture in every part of the world.
There is only one developed nation where they have free and easy access to firearms.
That is our country and in our country when somebody flips out and goes on a rampage, there is inevitably a much higher body count.
Firepower matters.
We need strict and common sense gun laws now.
The Second Amendment was about preventing the central government from developing a standing army that could be used as an instrument to suppress states' rights. That theory was put to the test during the Civil War. It failed.
The Second Amendment is a dangerous anachronism and it ought to be repealed.