Many moons ago, when Darling Spouse and I first bought our house, I did what any gardener would do when confronted with an acre of untouched land. I grabbed my shovel and started digging. Over the years, I surrounded the house and patio with perennial gardens, full of high maintenance roses and low maintenance daylilies and everything in between. We even had a small garden pond installed, guaranteed to be less maintenance than the same expanse of lawn (a blatant lie).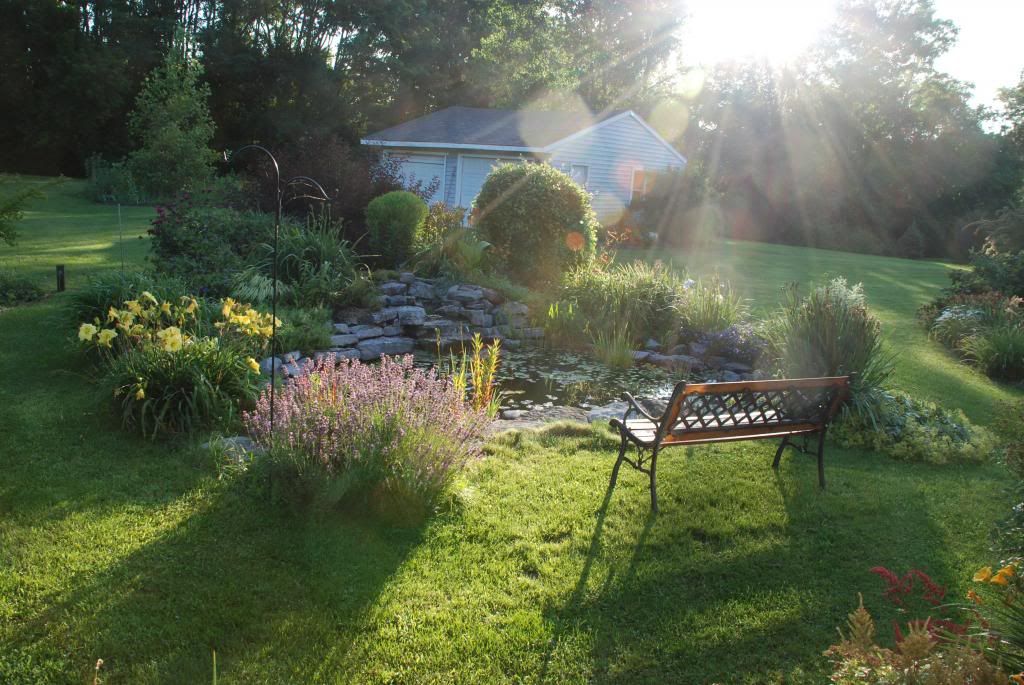 It is important to note that my method of gardening was fairly traditional. Bugs were bad things to be gotten rid of by any means necessary, weeds were not tolerated and the only considerations were aesthetic. I was not concerned with wildlife except where it destroyed my plants. Then it was unceremoniously routed out.
In the best of times, gardening puts a strain on one's body. Generally, this is a good thing if one takes care not to overdo. Gardening is considered to be good exercise, both mental and physical. Then, of course, you get the fanatics. You know the ones, out with the dawn, in with the owls unless someone provides them a floodlight to work at night. Nut cases. Gardening wackos. People like me. While it could be described as a mild psychosis, it can lead to some really nice gardens (she said modestly).
Unfortunately, it also leads to physical breakdowns. In my case, after several years, my poor, abused back finally shouted "Enough!" Loudly. Lots of doctors, cortisone shots and back surgery ensued and as of today I'm restricted from doing certain activities. No more digging for hours, no heavy lifting. One doctor even told me to give up gardening. I said fine, I'll just give up breathing while I'm at it.
A compromise was reached. Moderation became the watchword. A little gardening, a little lounging on the patio making notes of what I did, a little more gardening. I've got the best garden notes for the last 3 years than I had for the last 15!
Unfortunately, moderation meant watching my garden succumb to anarchy. I could not keep up with the weeds and had to watch previously lovely areas overcome by evening primrose and quack grass. Roses I had nurtured were outcompeted and died miserable deaths and even the daylilies look a little desperate. Still, I do the best I can and try to reclaim a little bit at a time with the help of the hubby and the patio.
One thing about lounging on the patio I discovered was a tendency to stare off into space while contemplating the next (moderate) round of action. If you stare at one spot intensely, even if you're not paying real attention, any motion will catch your eye and, if you have nothing better to do anyway, you might develop an interest in what is moving and go chase after it.
Bugs became fascinating. Oh, I had an interest prior to this but mostly in how to get rid of the darn things munching on my plants. Now, though, check it out! That wasp just grabbed a munching caterpillar and stuffed it in a hole in the ground! Why, I wondered, would it do that? And look at that butterfly – why is it checking out those weedy plants with no flowers when there's a smorgasbord of perennials loaded with blooms right over here? And what in the world is that critter??
These questions required answers, so, in the past 3 years, I've spent a ton of money on guide books and nature and wildlife books and books about gardening for wildlife. I answered my questions above and found a billion more. Interesting bugs led to interesting critters that eat them, especially birds. I found that the weeds I've so despised are actually preferred by all the living beasties visiting my yard.
Amaranth, evening primrose, even the dreaded quack grass all provide winter seeds for birds. Letting the black-eyed Susans go to seed allowed me hours of pleasure watching goldfinches doing acrobatics to get at the seeds.
This was an epiphany of sorts. My observations and readings opened my eyes to an entire new dimension of my garden which I had previously been blind to. My garden was not there just to please me but could also become a haven for all these incredible creatures I had simply not noticed before. Since then, I've had the pleasure of watching nesting birds raise their families in boxes I provided or shrubs I've grown. I've watched dragonflies of every sort patrolling our pond while frogs and toads hunt them.
Now, when I work in my garden, I save some of the prettier weeds for the butterflies to lay eggs on. The black-eyed Susans can seed around a little more freely than before. I've even become almost fond of goldenrod. One of my projects last year was to document all the species that live on goldenrod. It's amazing how many there are. That's a topic for another diary, though.
What's funny is that now when I'm trying to reclaim a portion of my garden for plants I want, rather than pride of accomplishing something, I feel vaguely guilty, wondering what little ecosystem I'm disturbing.
Hurting my back is not something I'm happy about. However, I might never have discovered the fascinating world all around me if I hadn't been forced to slow down and look. I wish more people had that experience. It could make a huge difference to the creatures whose habitats we are destroying.
What about you folks? Do you have garden features designed just for wildlife?

"Green Diary Rescue" is posted every Saturday at 1:00 pm Pacific Time on the Daily Kos front page. Green Diary Rescue has been good to Backyard Science, so take a minute to recommend, comment, and then link to your other off-Kos groups.