A daily series, Connect! Unite! Act! seeks to create face-to-face networks in each congressional district. Groups regularly socialize but also get out the vote, support candidates and engage in other local political actions that help our progressive movement grow and exert influence on the powers-that-be. Visit us every morning at 7:30 A.M. Pacific Time to see how you can get involved. The comment thread is fun and light-hearted, but we're serious about moving the progressive political agenda forward.
What political event(s) brought you to Daily Kos?
It's my blogiversary!
Well, it was really Thursday, but I had a hellish day at work that day and didn't have much time to be on line. So I moved my celebration to today.
Yay! Happy blogiversary to me! Ten years at Big Orange! It's my party and I'll blog if I want to!
A lot was going on in February 2004. The New England Patriots won the Super Bowl, apparently undistracted by Janet Jackson's wardrobe malfunction. Clocks won the Grammy for Record of the Year. Governor Romney (gag!) was freaking out because the Massachusetts Supreme Judicial Court said civil unions would not be good enough to comply with its decision in Goodridge. Gavin Newsom issued marriage licenses to same-sex couples in San Francisco.
My mom had a leg amputated in February 2004. It was the beginning of three years of pain and wound care and frequent hospitalizations for her, and increasingly intense eldercare for me. The 24 hour nature of Daily Kos was a lifesaver. When she could not sleep from the pain, when I could not sleep from the worry, the blog was always there.
I was an enthusiastic supporter of Howard Dean and had already been lurking here for a long time because folks at Blog for America kept linking to DK stories about the Dean campaign. So I'm pretty sure that the reason I finally signed up for an account in February 2004, after all those months of lurking, was because I was upset that Howard Dean had officially dropped out of the presidential race.

John Kerry was mowing down the early primaries and slowly everyone was making way for him. What was the point of staying at Blog for America? Although I read Democratic Underground and Atrios and Digby, this seemed to be a really welcoming place for unreconstructed Deaniacs. So I ended up here. I discovered the Daily Show and Keith Olbermann. I'd been a political junkie all my life and had never known more than one or two others. There was great joy in feeling I had found a community of like minded people, especially at a time when the political situation in the country was driving me batty.
2004 was very highly anticipated. So many of us were angry about 2000, and desperate to avoid eight years of W. It's almost hard to believe in today's political atmosphere that back then people were called unpatriotic traitors for speaking out against the president, or protesting the wars. It was freeing to be in a place where harsh criticism of Republicons and the Bush 43 Administration was shouted from the rooftops. This blog was one of the oases of sanity where folks could gather and speak the truth and feel they were not alone.
And it wasn't just the presidential year or anti-war sentiment that drew people in. Many came because of Senate and House candidates, and other downticket races. We raised money. We phonebanked and canvassed and registered voters. Other folks were less interested in politicians than in issue-based advocacy: marriage equality, climate change, torture, attacks on voting rights, erosion of civil liberties. We signed petitions and went to demonstrations. Every now and then a national RWNJ like Bill-O would make a crack about Daily Kos and it would drive the curious to check us out. Some of them were trolls and were quickly dispensed with, but others had their eyes opened and ended up staying. That whole year was crazy. I had no idea of the even wilder election cycles and pie fights to come.
So what was going on in your political and personal world at the time YOU arrived at Big Orange? Was there a specific issue or candidate or campaign that drew you into this corner of the blogosphere?
What political event(s) brought you to Daily Kos?
Start up soundtrack

Latest Updates on Kossack Regional Meet-Up News Can Be Found Below the Orange Group Hug.
Let's Build Communities!

Our team is here to provide support and guidance to new and existing volunteer leaders of each regional and state group, helping them with recruiting, organizing and executing social and action events.
We invite you to join in this effort to build our community. There are many ways to pitch in.
If there isn't a group to join near you, please start one.

Instructions on HOW TO FORM A NEW DAILY KOS GROUP

List of All Existing Meatspace Groups




---


THINK GLOBALLY, ACT LOCALLY

by Dave in Northridge ♥ for Los Angeles Kossacks
About 20 Kossacks showed up by the time everyone arrived with two new Kossacks (since mid-November) and five people attending their first meet-up. L.A. is making progress!
Here's one photo:
L-R: gmats, Roman Smith, recoveringConservative, Brecht, Shockwave, Chiwere, Moody Loner, susans, Dave in Northridge, Floja Roja, joemarkowitz, 714Day & Gay CA Democrat
Next event will be the LAKossacks rolling out the red carpet for out-of-towner Shanikka on March 15th for lunch! Venue will be announced soon.
Please visit Dave in Northridge's diary for many MORE photos plus food pr0n! Enjoy! You can join Los Angeles Kossacks by sending a Kosmail to Dave in Northridge.


by roberb7 ♥ for Mexican Kossacks
roberb7, who is the organizer of the newly formed Daily Kos Group Mexican Kossacks, provides a well-written recap of the recent Democrats Abroad event in Puerto Vallarta. Tom Hayden, a member of the California State Assembly for 18 years, was the guest speaker.
Please visit roberb7's diary for his excellent photos and a nicely detailed summary of the event. Enjoy! You can join Mexican Kossacks by sending a Kosmail to roberb7.

by GreyHawk ♥ for BOSTON KOSSACKS
While GreyHawk had many Kossacks sign up to attend his lunch and museum event, some had to cancel at the last minute because of a large snow storm rolling in. Four intrepid souls managed to attend: GreyHawk, HawkWife, Knockbally and deltadoc. I've always said that even two Kossacks is a meet-up and a very worthwhile one.
GreyHawk and his attendees pulled together a terrific re-cap diary with each person's written perspective and all the photos each Kossacks took of the snow and food pr0n. It's a fun diary and a great example of one way to document these meatspace events.
There's only one photo of some of the Kossacks who attended. So I'm going to post one of mine I took of GreyHawk and HawkWife when I met them in Providence at NN12.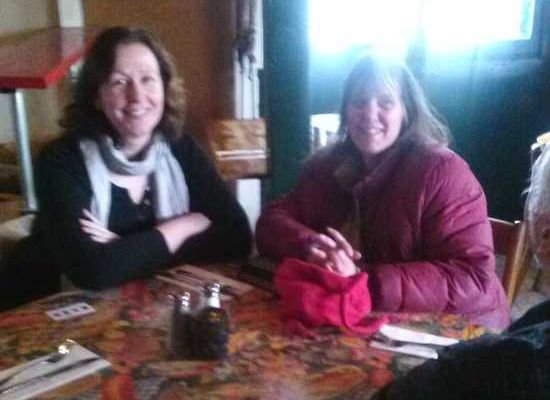 Left Photo: knockbally and HawkWife - Right Photo: GreyHawk, HawkWife & ember
Please visit GreyHawk's diary for many MORE photos plus food pr0n! Enjoy! You can join BOSTON KOSSACKS by sending a Kosmail to GreyHawk.

by EagleOfFreedom ♥ for Seattle and Puget Sound Kossacks
I'm so impressed with the Seattle Kossacks, right now. EagleOfFreedom offered to take up the reins of collecting local Kossacks for camaraderie and action. In a very short time he started the group, communicated with me, set the event and got almost a dozen folks to join the ranks in person. Kudos!
So, you Seattle Kossacks, you've got a group now and John Crapper has offered to be an admin of the group. How swell is that?
SEATTLE KOSSACKS! Look for each other in the comments and gather together, invite one another and let's see more folk show up at the next event. AND the next action event.
To quote one of the attendees:
Once again Kossacks prove they are for real.
L-R: N in Seattle, Regina in a Sears Kit House, bleeding blue, doingbusinessas
L-R: ?, John Crapper, EagleOfFreedom, mlharges
All photos courtesy of mlharges
Please visit EagleOfFreedom's diary for MORE photos! Enjoy! You can join Seattle and Puget Sound Kossacks by sending a Kosmail to EagleOfFreedom.

SFKossacks Welcome Matching Mole and bwren
with a Birding Event Plus Dinner
by navajo ♥ for SFKossacks
Last Sunday, matching mole, who flew in from the East Coast, and bwren, who flew in from Seattle, were picked up and chaffeured by the founder of Dawn Chorus, lineatus. She drove them to meet with other SFKossacks and Central Valley Kossacks to do some bird watching in the Grizzly Island Wildlife Area on San Francisco Bay. I'll leave the telling of that story up to lineatus in her Sunday morning series.
I'll be covering the dinner we had that evening to welcome our out-of-towners.
Please visit navajo's diary for descriptions of above photos and access to MORE photos! Enjoy! You can join SFKossacks by sending a Kosmail to navajo.

Event Organizers! Please contact wink from Netrootsradio.com by KosMail to schedule airtime with them to live broadcast your Event. Wink & Justice will then promote it on The After Show radio program!

Tuesday, February 25th

Kansas-Missouri Kossacks Attend State Rally at the Capital

Equality Kansas, the ACLU of Kansas, Americans United for Separation of Church and State, and MAINstream Coalition are hosting an Equality Rally

TIME: 1:00-4:30 PM Rally 5:00 PM Kossack Dinner
Kosmail: tmservo433
LOCATION: Kansas State Capitol
300 SW 10th Ave • Topeka

ORGANIZER: Send tmservo433 a kosmail to attend. He needs some fellow Kossacks to perform some easy tasks. Please see his diary link below to see if you can help.

RSVPs:
1. tmservo433
2. RazzBari3
3. Bluebarnstormer
4. Kangaroo
5. Geiiga
6. Geiiga's spouse

Maybees:

Latest diary: Kos-Meetup & Rally at the Kansas Capital, February 25


Saturday, March 15th

Sacramento/Central Valley Kossacks Demonstrate at "Don't Frack California"

TIME: 1:00 PM
LOCATION: California State Capitol
1315 10th St. • Sacramento

RSVPs:
1. Anthony Page aka SecondComing
2.
3.

Maybees:

Latest diary: The California Frack Wars: Episode 3 Revenge Of The Greed

Quick re-mention of March 15 statewide "Don't Frack California" demonstrations

Saturday, April 5th

Seattle & Puget Sound Kossacks Meet-up

TIME: Noon - 3:00 PM
LOCATION: Pyramid Alehouse, Brewery & Restaurant
1201 First Avenue South • Seattle

ORGANIZER: Send EagleOfFreedom a kosmail to attend.

RSVPs:
1. EagleOfFreedom
2. Reetz
3.
4.
5.

Maybees:

Latest diary: Seattle & Puget Sound Kossacks Arrive




Saturday, May 3rd

DKos Asheville Kossacks Meet-up

TIME: 1:00 PM
LOCATION: The Bywater
796 Riverside Dr. • Asheville

ORGANIZER: Send randallt a kosmail to attend.

RSVPs:
1. randallt
2. davehouck
3. Joieau
4. Gordon20024
5. SteelerGrrl
6. SteelerGuy
7. GulfGal 98
8. Otteray Scribe
9. flwrightman
10. people power granny

Maybees:
Audri
Mr Audri


Latest diary: [Waiting for linked diary]

navajo maintains the above event list. Kosmail her if you have any diaries
about your event or if you have changes or additions.

EVERYONE is welcome, tell us what you're working on,
share your show and tell, vent, whatever you want.
This is an open thread. Nothing is off topic.