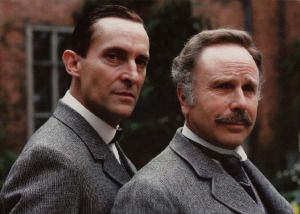 Since this is my natal day, I beg YOUR indulgence, as I indulge myself with another parody, this time of my favorite fictional detective.
With EXTREME apologies to the estate of the late Sir Arthur Conan Doyle.
(If you will, try to imagine Holmes being played by the one and only Jeremy Brett, and the excellent Edward Hardwicke as Dr. Watson)
'The Case of the Missing Supplement - by Dr. John H Watson, M.D.,
Indian Army, R'td.'
'Dash it all! I say, Holmes - you've taken the last crumpet!' I looked across to where my friend was stretched out in his easy chair in front of the fire at 221B Baker Street. Those remarkable eyes, which were capable of piercing the deepest mystery, were now languidly surveying a small plate, strewn with the last vestiges of my favourite tea-time treat. 'Well, my dear Watson, it was either that or resort to a certain 7% solution. Besides which, I am sure that you could ring down to Mrs Hudson and she would oblige. However, ' he continued, glancing through the frost-rimed window, 'I rather think that you had better tell her that we have a visitor. That determined young lady, who has just fought off the attentions of a beggar - ex-Indian Army, I think to judge by his ill-fitting wooden leg - seems to be headed in our direction.' As I rose from my chair there was a knock on our door, and Mrs Hudson admitted a smartly dressed young woman, wearing a fur-trimmed cape and muff to keep out the bitter winter cold.
'Please be seated', said Holmes to our guest. 'My name is Laurie Sims', said the young woman, in a charming accent which betrayed her origin as being from one of the former Colonies. 'Yes, Miss Sims, and I am sure that my colleague, Dr. Watson and I will do everything to help you obtain your brother from his kidnappers....Quick, Watson! The sal volatile! I'll catch her....' This was uttered as the by-now unconscious young American slid towards the floor. Holmes chaffed her wrists, as I applied the astringent to her nostrils. As she was helped back to a sitting posture she cried, 'How could you know?' 'Child's play, my dear Miss Sims. You laid a copy of this morning's Times on the table alongside you as you sat. It is turned to the Personal column, with a distinct ring - indelible pencil, I think - around the seventh entry down, which reads, if my memory serves, "3rd Supp., JTNC, Marble Arch, 10pm, exch. Robert".
Your brother's name - he is the elder, I fancy - is Robert, is it not?'
'Yes, but.....'she started to reply. At this point, I could restrain myself no longer. 'Great Scot, Holmes! How on earth do you know that this concerns the fabled 'Lost Supplement' of the Journal of Tickles and Nasty Coughs?' 'Elementary, my dear Watson. Miss Sims is obviously a librarian. Observe the excessively worn shoes, due to walking through miles of stacks - caused by the pernicious 'on call' system - the over-long hemline to her costume - to maintain decorum when she reaches to the higher shelves, and the general air of poverty-stricken intelligence which hangs about most denizens of such stores of knowledge. Also, there is the small matter of the buff envelope, partially concealed beneath her cape, with the letters 'JTNC, Vol. 5, Supp. 3', written on it.' My hands trembled, as Miss Sims wordlessly held the envelope out to me. There, before my disbelieving eyes, was the legendary supplement, whose very existence had been debated by medical men for more than 30 years. At last, I beheld 'Minor Irritations of the Epiglottis - What To Do In An Emergency'.
Holmes grabbed his warm cloak (and Miss Sims) and roared, 'The game's afoot, Watson! Come, we must meet with the best brain in all of London.' Once outside, and pausing only to elbow a passing lame beggar out of the way, Holmes yelled for a 'growler' (we were too large a party for a Hansom). 'Where are we going, Mr Holmes?' gasped our client. Turning from speaking with the cabbie, Holmes replied, 'To see my brother, Mycroft, at his club. We have not a moment to lose', and we whirled away into the gathering fog.
When we reached our destination, I eased Miss Sims out of the cab (we had to step across a drunken lout dressed in a ragged Indian Army uniform, who was lying prostrate in the gutter). Mycroft and Sherlock Holmes were already deep in whispered conversation as we entered the magnificent foyer of the Diogenes Club, of which the elder Holmes brother had been a co-founder. 'My dear Miss Sims, I am afraid that your presence here - though enchanting - will cause something of a stir, as you are, it seems, a lady. Please allow me to show you into a withdrawing room, which has sometimes been used to solve such problems.' With these words, Mycroft Holmes ushered us all into a private room to the left of the main entrance. 'I shall be brief. Sherlock does seem to require some help with this, I fear', and the elder Holmes began to walk in a tight circle. 'We must preserve your brother's life at all costs, whilst saving the document for posterity'. Mycroft was just getting into his stride when a commotion at the door drew our attention. Into the room limped a wild figure, dressed in a ragged Indian Army uniform and dragging a semi-conscious young man. He held aloft a large glass globe, connected to a length of rubber tubing which trailed through the door behind him. A commanding voice rang out, 'Let no-one move. I have a fully charged gold-leaf electroscope here, which I have connected to the gas main, and I am not afraid to use it!' 'Ah! Professor Moriarty, I presume? said the younger of the two Holmes brothers. The master criminal snarled at Sherlock, 'Hand over the Supplement, or it will be the worse for her brother', and shook the obviously drugged figure in his hand like a drowned rat. 'Your feeble disguises were your undoing, Moriarty. The business with the false wooden leg was pathetic. Now YOU must answer for your crimes.' With that, Sherlock Holmes hurled himself at the gas-filled globe, neatly catching it as it fell. At the same instant, Mycroft literally pulled the rug from under the Professor, and the archfiend was propelled through the still-closed window in a cascade of glass. Sherlock neatly lobbed the glass globe after him and the fog was lit up by a flash and the dull roar of an explosion, along with several screams. 'I say, Holmes! That wasn't cricket, old man' I stated with some heat. 'Why? Because I lured Moriarty here?' quizzed my old friend. 'No. Because that delivery was most definitely underarm' I replied.
'Ah, yes, but we have saved the young man, and who knows, we may even get a letter of thanks from their Library of Congress', and with that he turned to his elder brother with a warm smile. 'Assuming that the Bodleian doesn't want the Supplement, of course~~'